Mineheart's Interior Design Awards 2020
MIDAS 2020 SUBMISSIONS & WINNERS
MIDAS, Mineheart Interior Design Awards, is open to all interior designers working on projects of any size, provided they include the use of Mineheart works.
WELCOME TO THE MIDAS 2020 SUBMISSIONS & WINNERS
be sure to comment beneath the entries below that you favour and be sure to have your say
SELECTION PROCESS
● Submitted projects will be published here and on our social media channels, encouraging likes, shares and votes throughout March and April.
● The 5 projects that have the most engagement including likes, comments and shares by 14th April will be presented to our judges, and a winner will be selected by 30th April.
WINNING ENTRY RECEIVES
● Engraved Mineheart MIDAS Crystal Trophy ● A £1500 Mineheart Gift Card
4 FINALISTS RECEIVE
● 2nd Place Prize £750, 3rd Place £500, 4th & 5th Place £250 Mineheart Gift Card
MAY FAWZY - Director British Institute of Interior Design
May Fawzy Director of British Institute of Interior Design. May graduated with a degree in Interior Architecture before working as an Interior Architect in Egypt for several years working on large commercial practices including airports. After moving to the UK May worked for Margolis Office and Scott Brownrigg before establishing her own workplace design practice, MF Design Studio Ltd. MF Design Studio is an Award Winning Boutique Interior Architecture consultancy based in Surrey and London. They specialise in projects that require high-quality interior architectural and design standards. Their team of experts provide interior architecture / design, workplace strategy, space analysis and space planning services to the commercial sector; corporate workplace and commercial offices.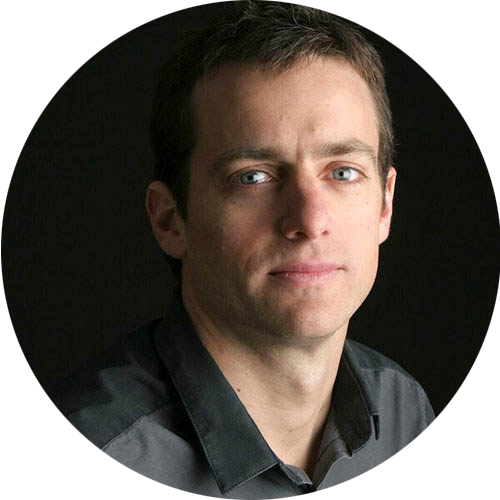 JAMIE ANLEY - Co-Director of Beautiful Corporations
Jamie Anley is the Co-Director of Beautiful Corporations, a consultancy that supports global businesses in shaping a better future for all people and the planet. Disrupting conventional thinking, Beautiful Corporations has developed specialised strategies and communication campaigns for landmark initiatives, such as the Paris Climate Change agreement in 2015. Jamie also founded the creative agency JAM (Design & Communications ltd) in 2002, an organisation famous for holding the cutting edge of delivering progressive and strategic creative leadership for global brands. Jamie is committed to helping businesses contribute to creating a happier and healthier world in beautiful and deeply innovative ways.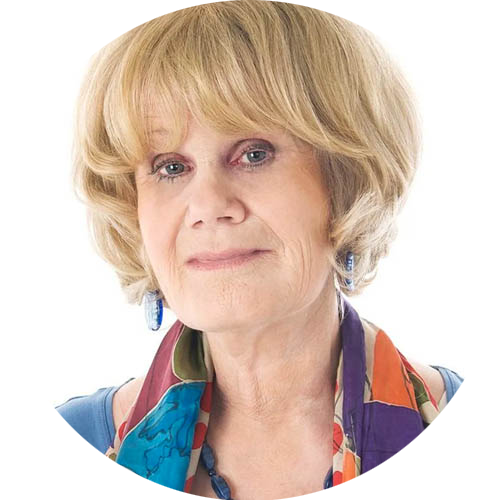 BARBARA CHANDLER - Specialist Design Editor London Evening Standard
Specialist design editor, writer, and consultant London Evening Standard and best-selling photographer who has exhibited widely, including prestigious shows in London's West End. Barbara Chandler is also well-known as a specialist writer on design and the home, currently contributing regularly to Homes & Property at the London Evening Standard, for whom she has written for over 20 years. She has also written for Ideal Home magazine, the Sunday Times, House & Garden and many other publications. She has won many Awards, including Contribution to the Design Industry, Furniture Writer of the Year, and Home Improvements Journalist of the Year. Currently, Barbara Chandler chaired the judges of the annual Homes & Gardens Designer Awards, and writes a monthly column for this magazine. Homes & Gardens gave Barbara Chandler a Lifetime Achievement Award in 2016.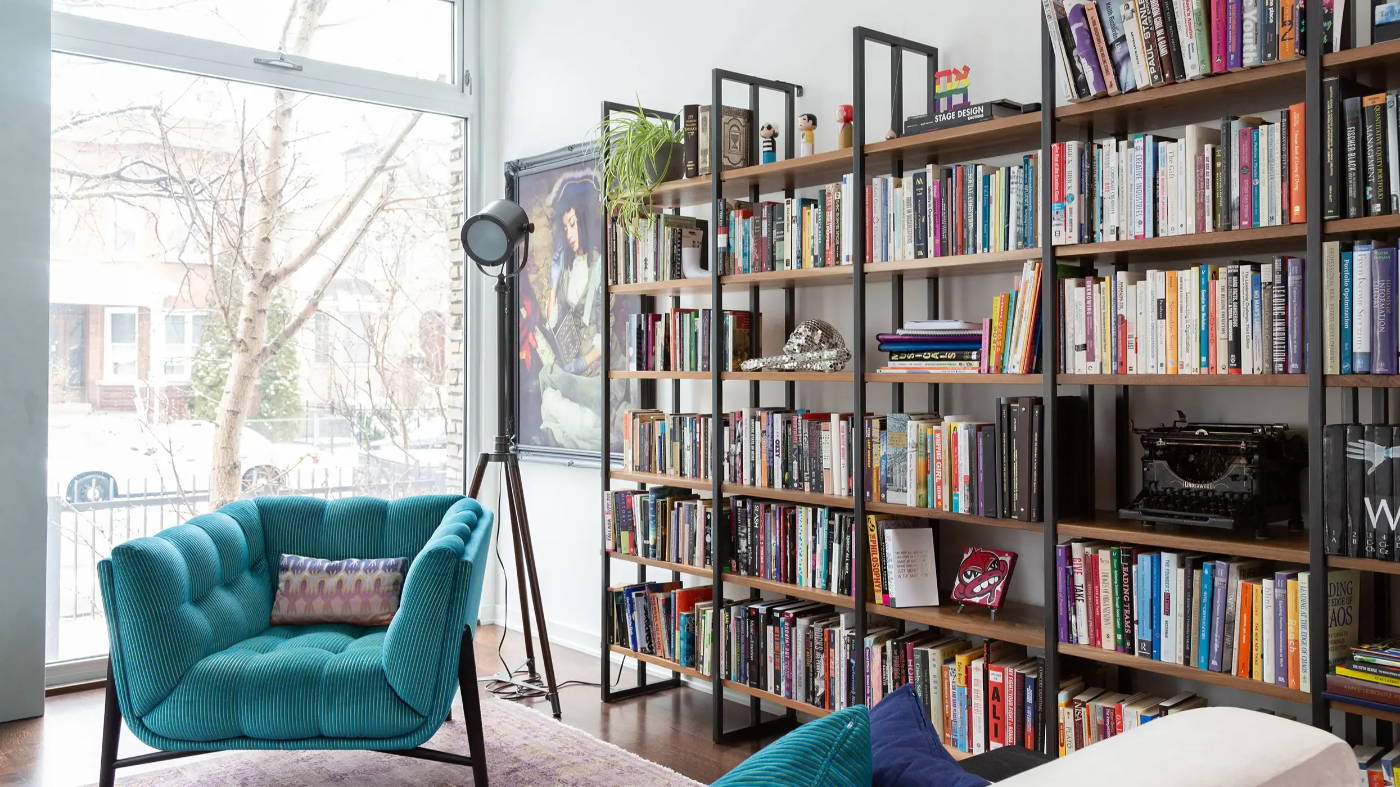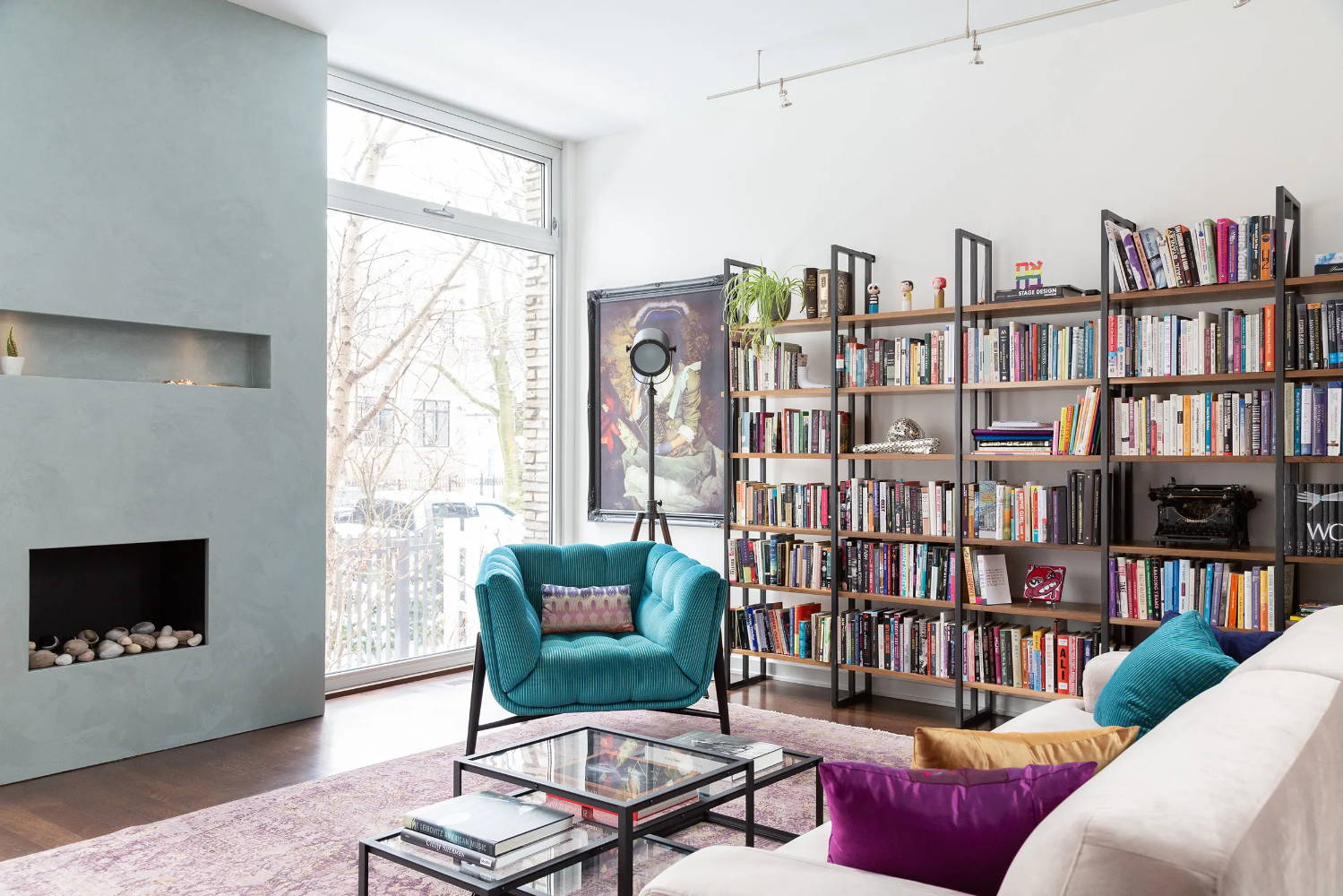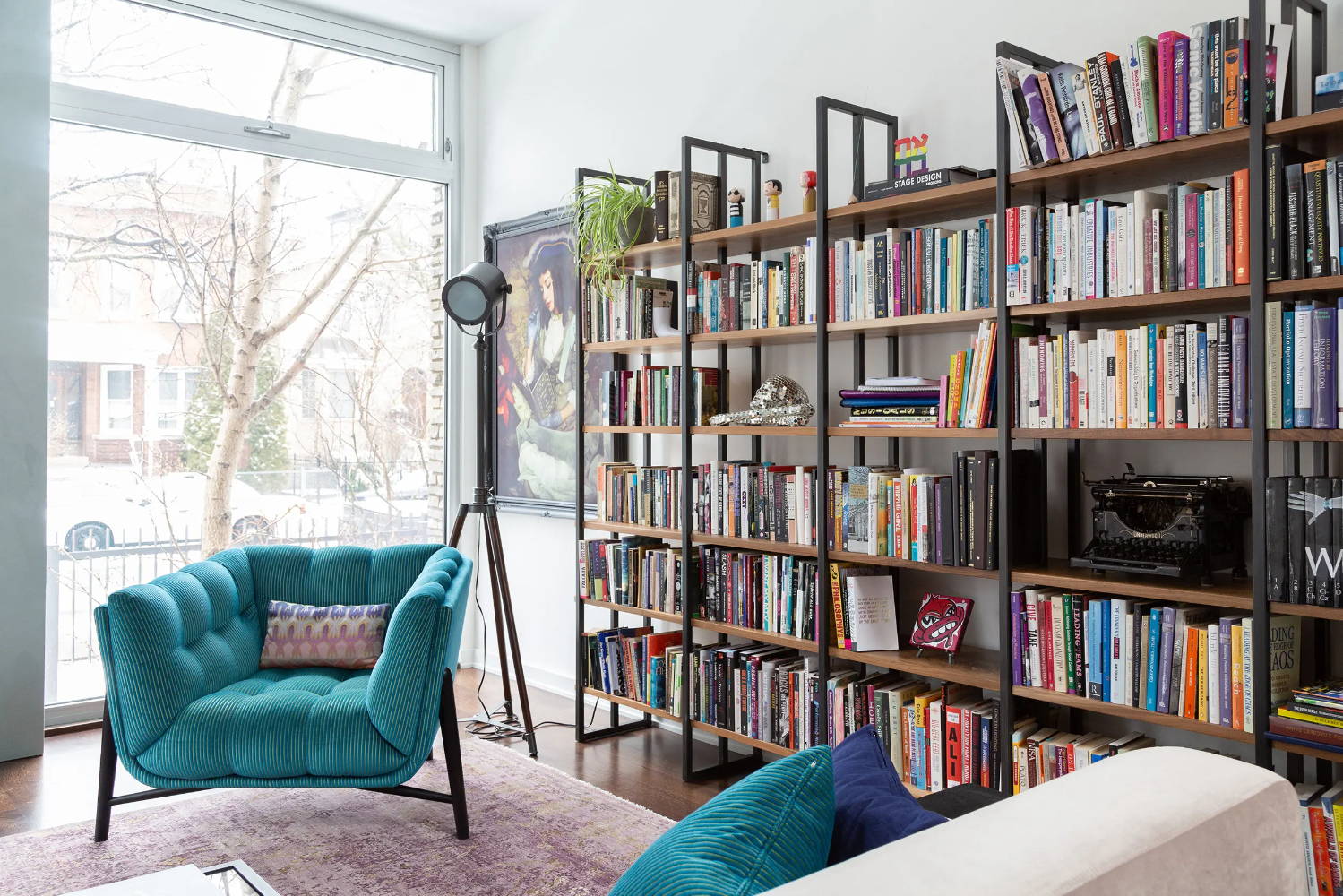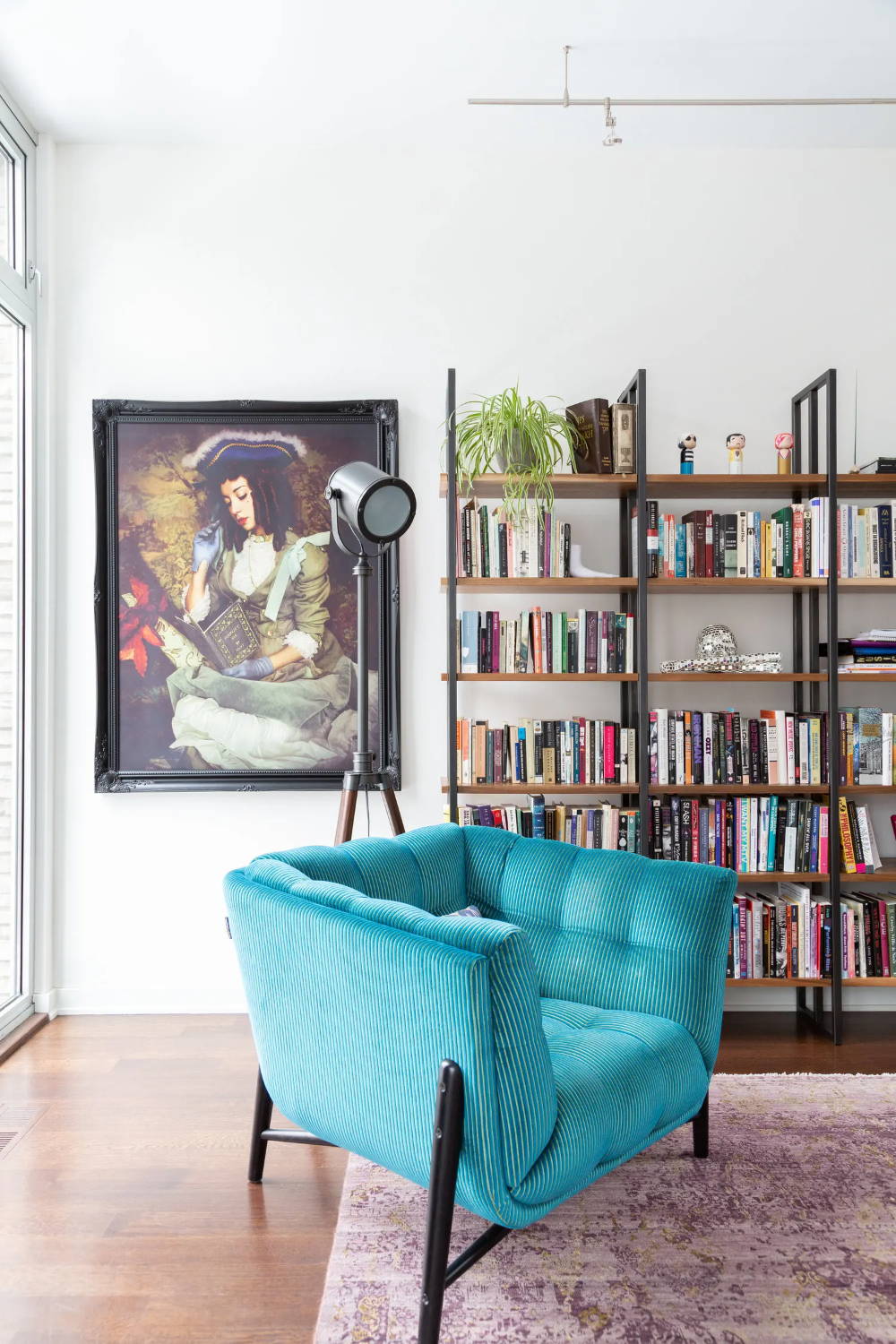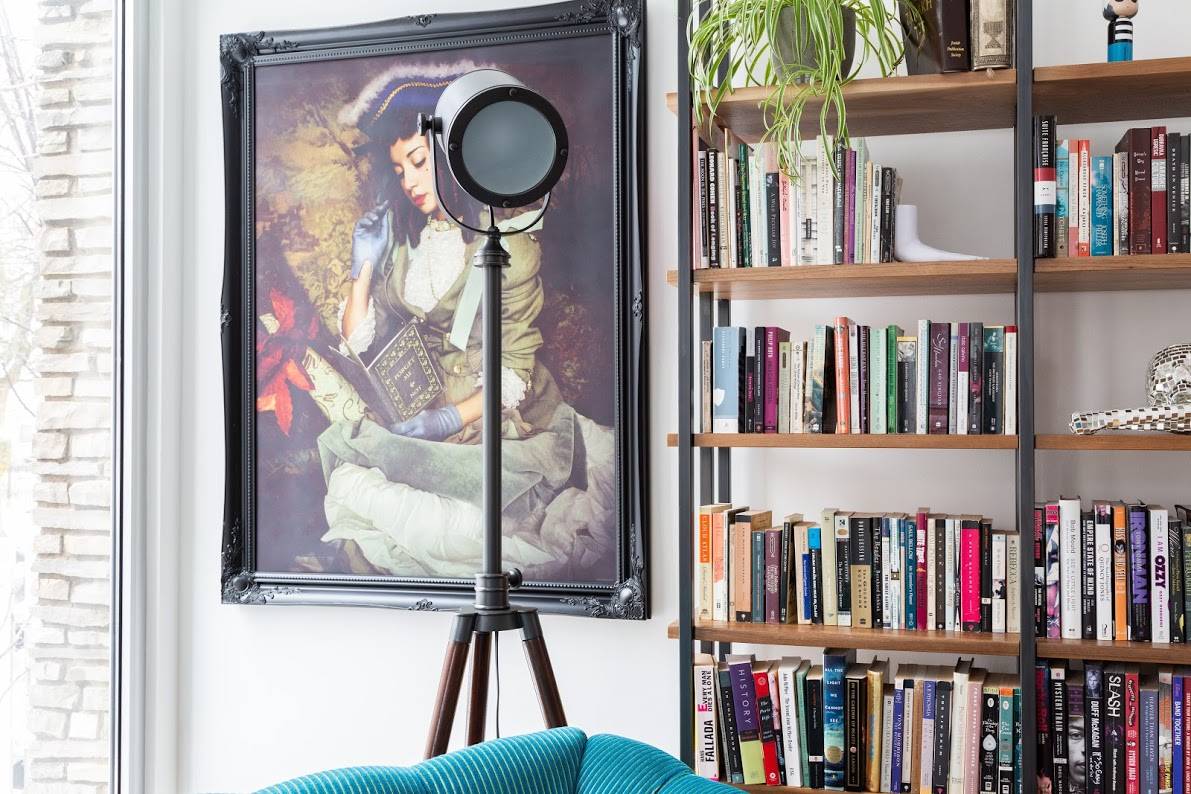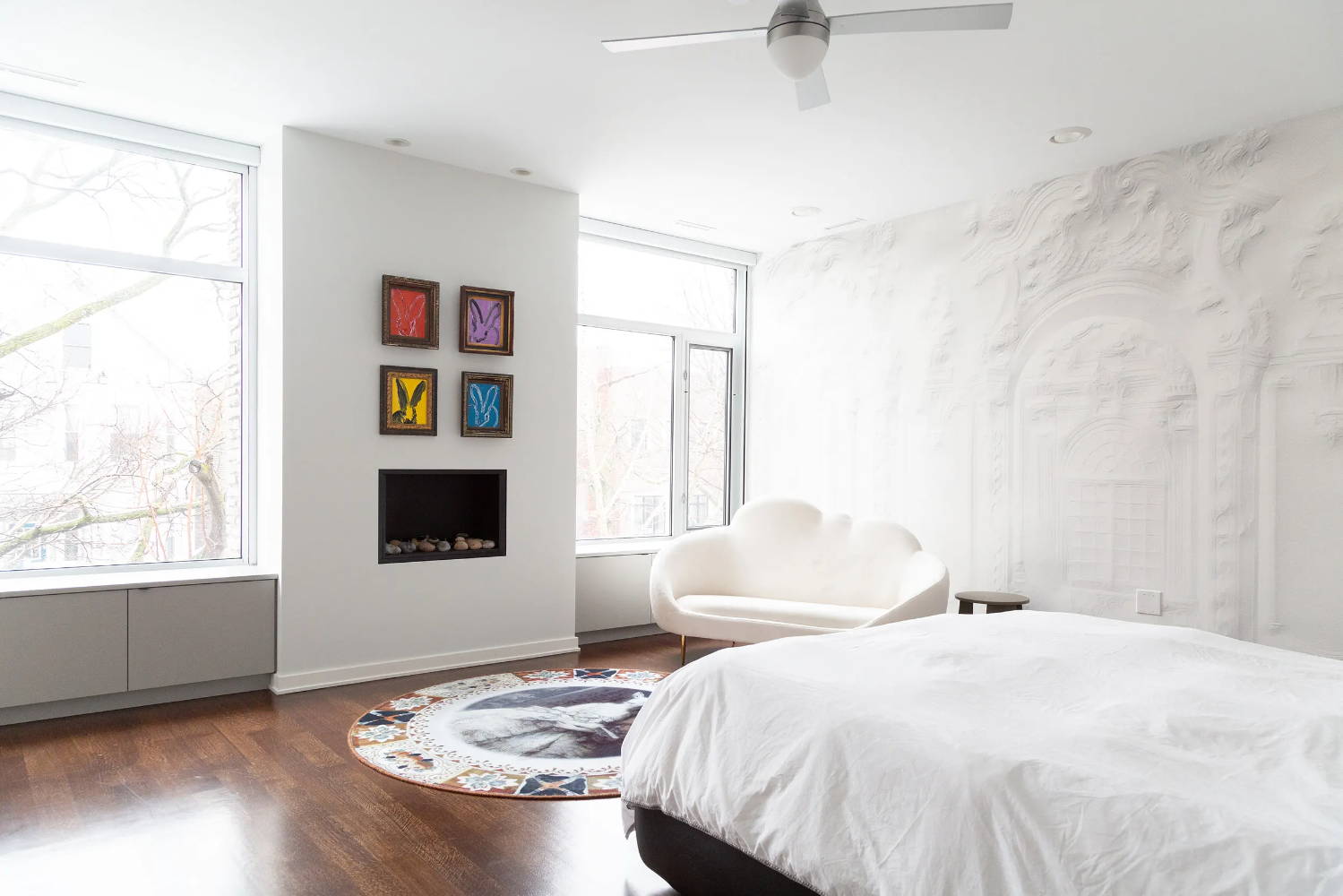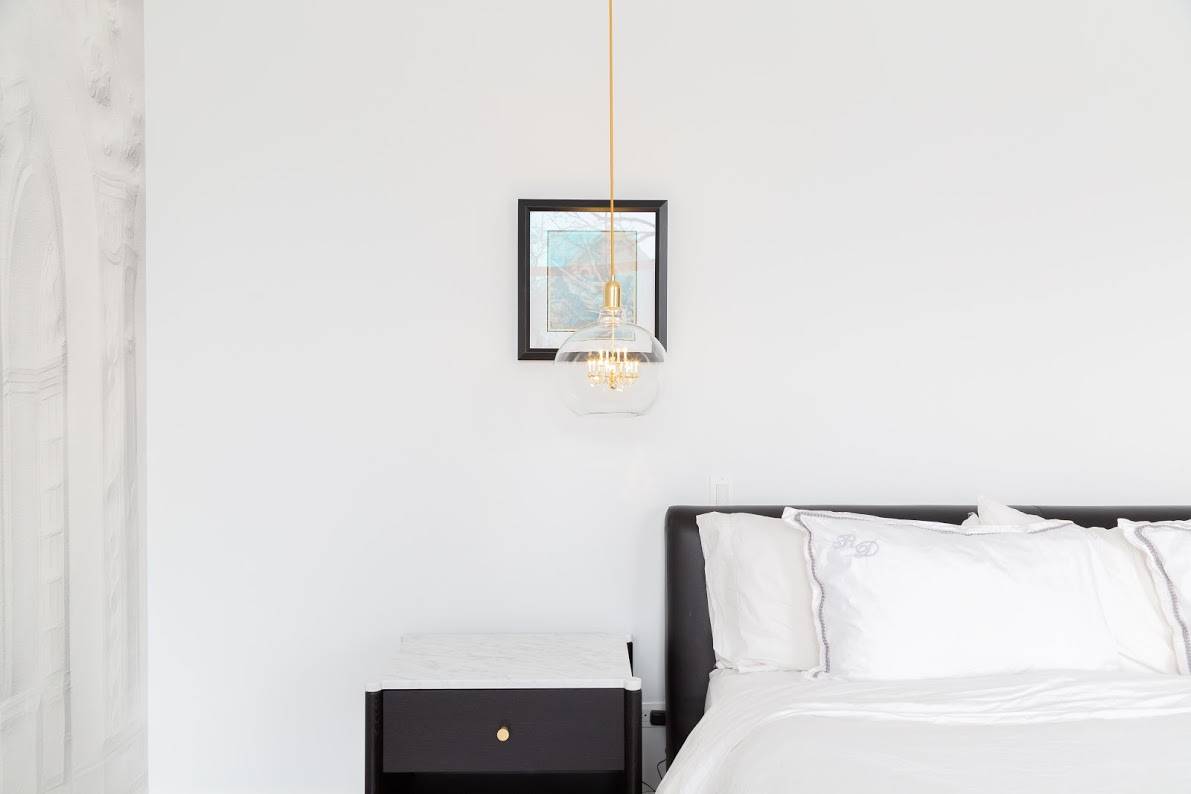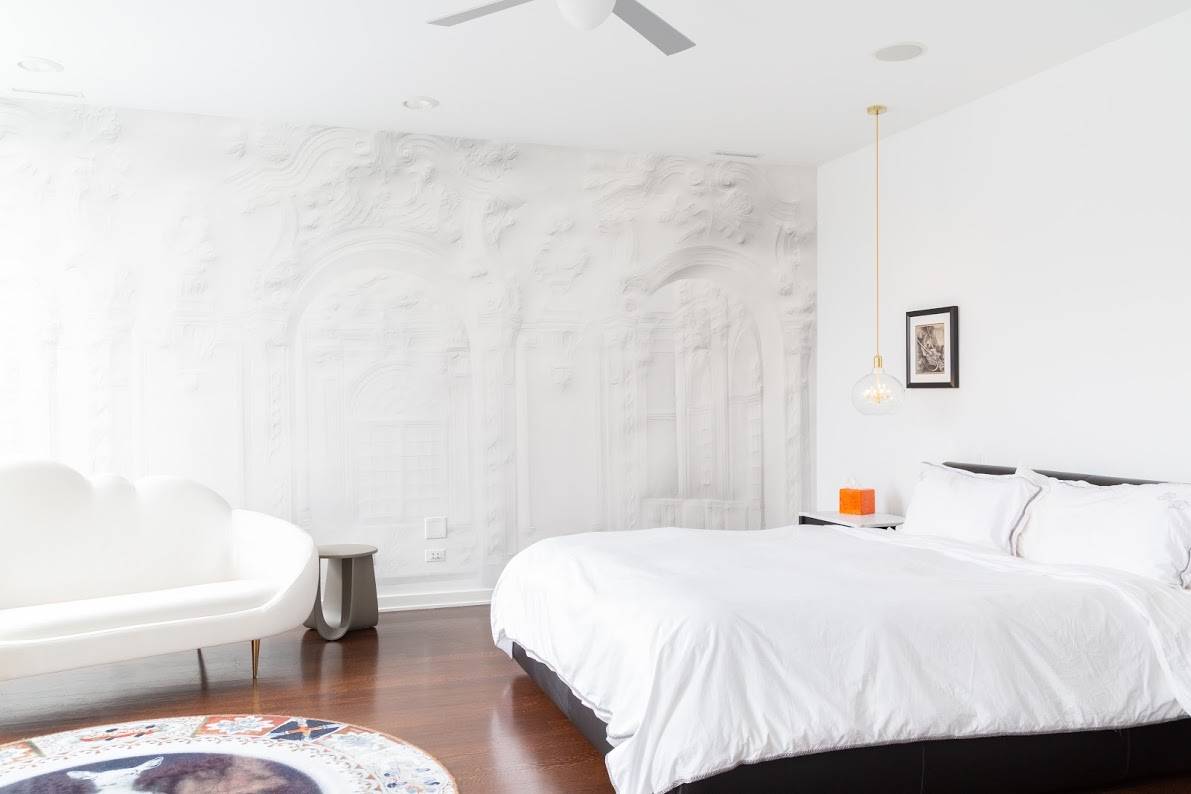 Rosco Village Single Family Home - About The Project
ANOTHER TOUCH OF WHIMSY
Designed by Interiors by Mika
Designs used: Blue Brown Persian Faux Cowhide Rug, The Goat Rug, King Edison, Paper Palace Wallpaper Mural
Design and décor for a single family home in Chicago, IL , inspired by the family's love of modern art, literature and entertaining (completed in 2019.) Essential elements slated for redesign were a library room to showcase the family's large book collection and a serene master bedroom. In the library room, a custom made bookcase, measuring 12 feet wide by 8 feet tall was designed to hold the family's large collection of books. The room itself was divided into several sitting areas: 1. A cozy , inviting reading space including a velvet teal accent chair, a photographer's tripod floor lamp and a feature piece - "Forget me not" art by Mineheart, 2) Cafe table with two side chairs for a private conversation or studying, 3) An area for socialising, with a large, comfortable sofa facing the contemporary fire place. In the master bedroom, the client was seeking a quiet and calm atmosphere which we achieved by creating a bedroom bathed in white, from the white painted walls to the white cloud sofa and the white textured mural wallpaper. The three-dimensional white wall covering by Mineheart adds depth and interest. Sporting curvaceous, cumulus-like lines, the matching cloud sofa appears to float near the simple white fireplace and the fun and whimsical goat area rug .Lastly, a miniature gold chandelier inside the Mineheart King Edison pendant light adds another touch of whimsy to the master bedroom. Interior Design - Mika Wegner Avni Interiorsbymika.com Photography - Rachel Loewen - loewencreative.com.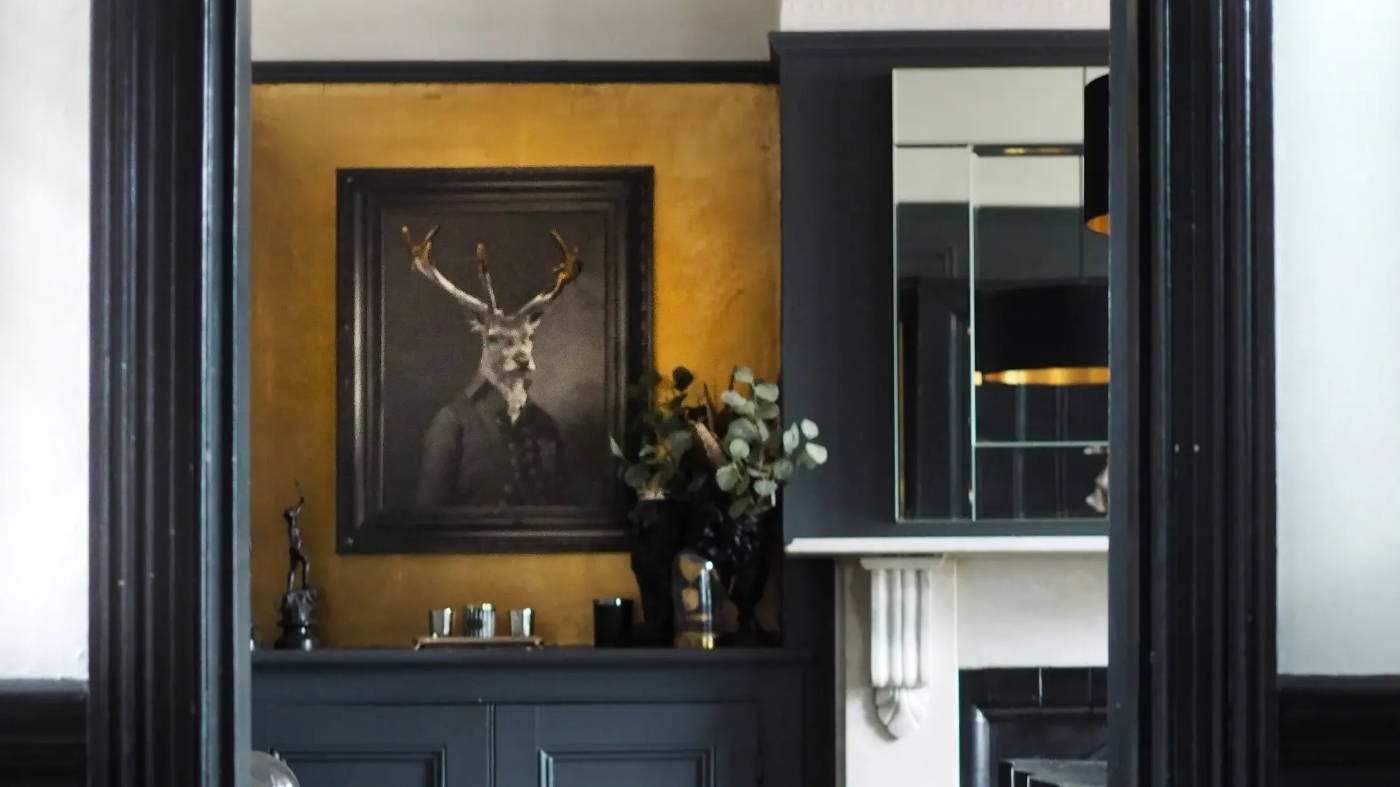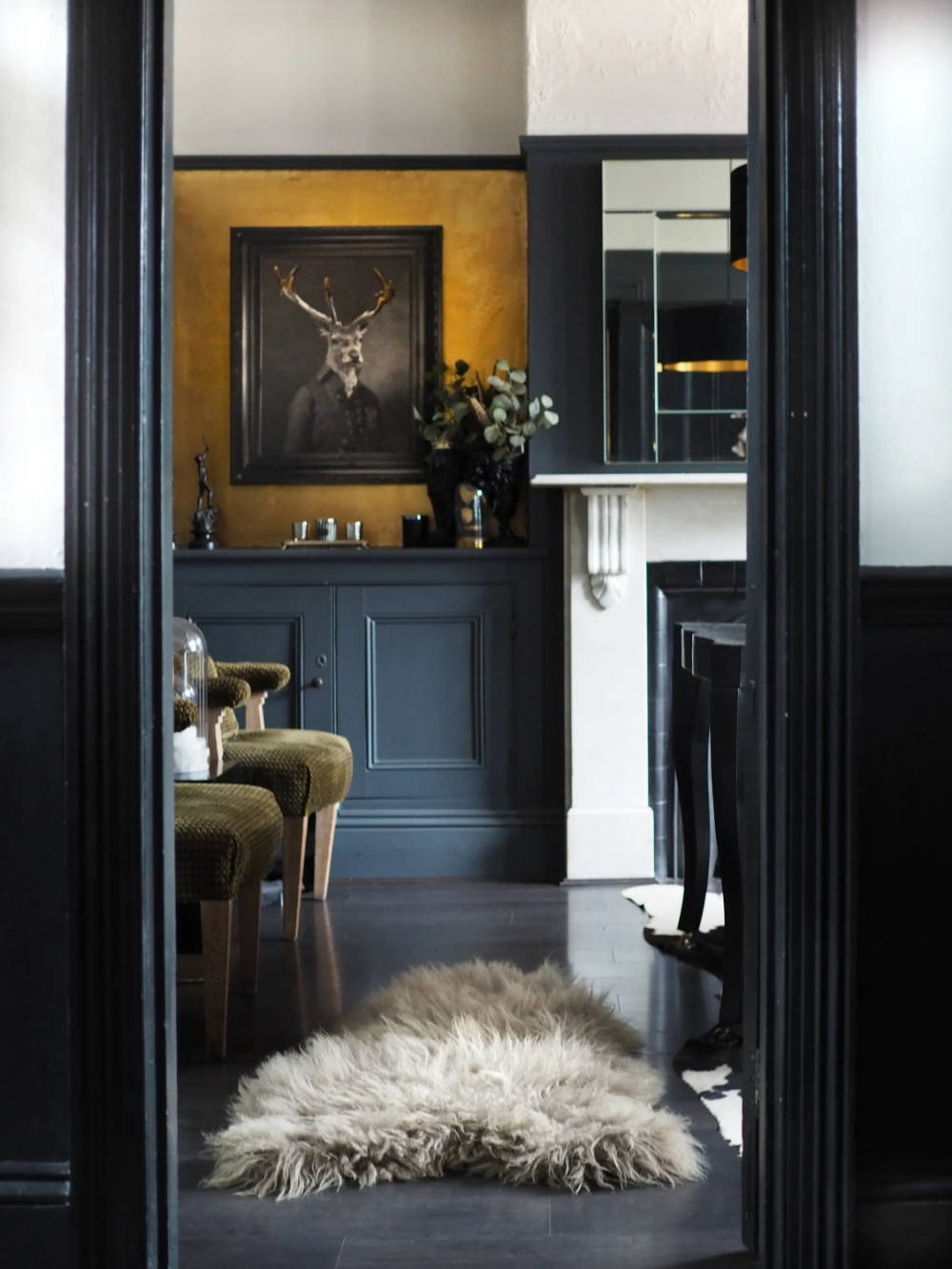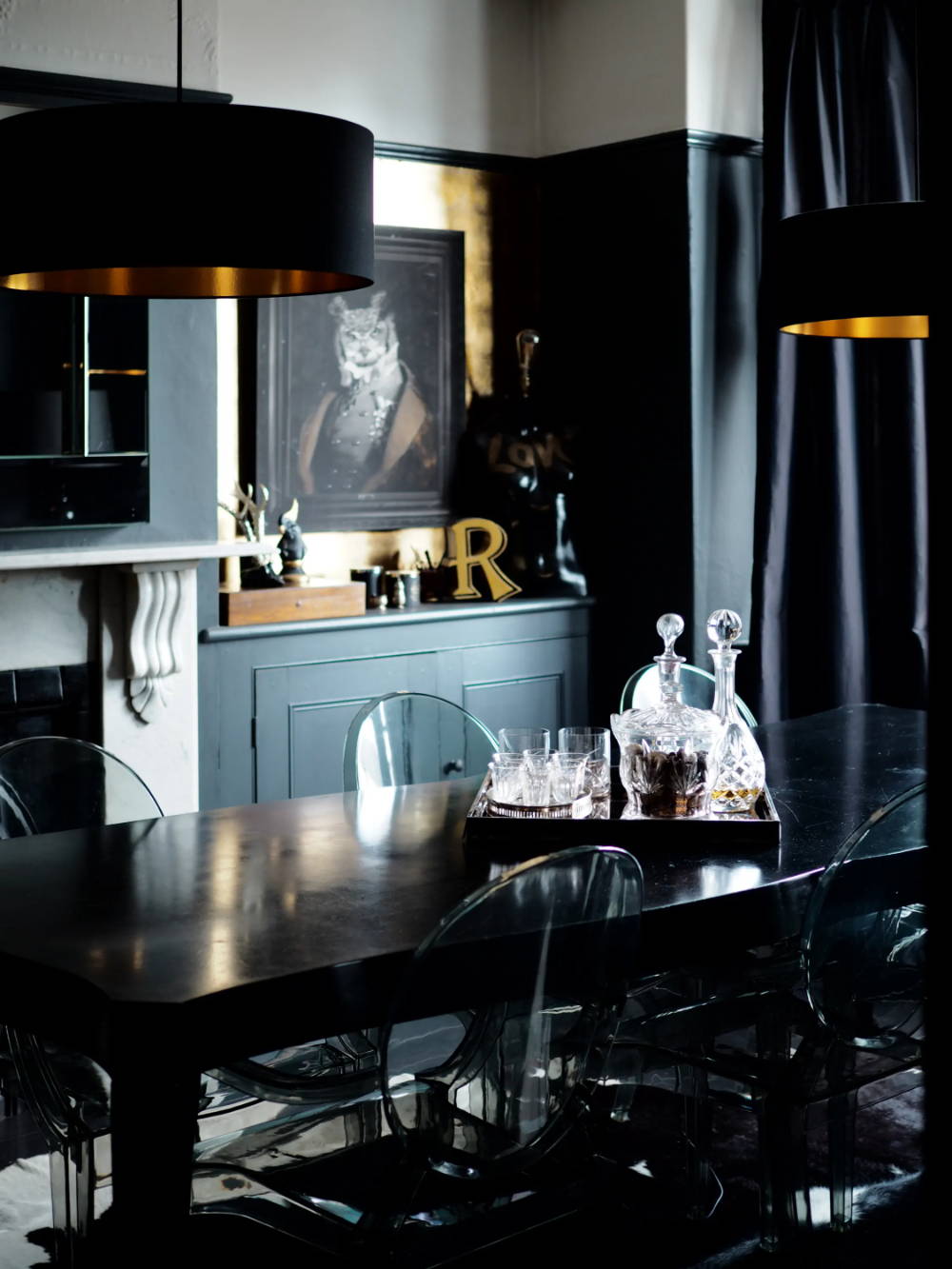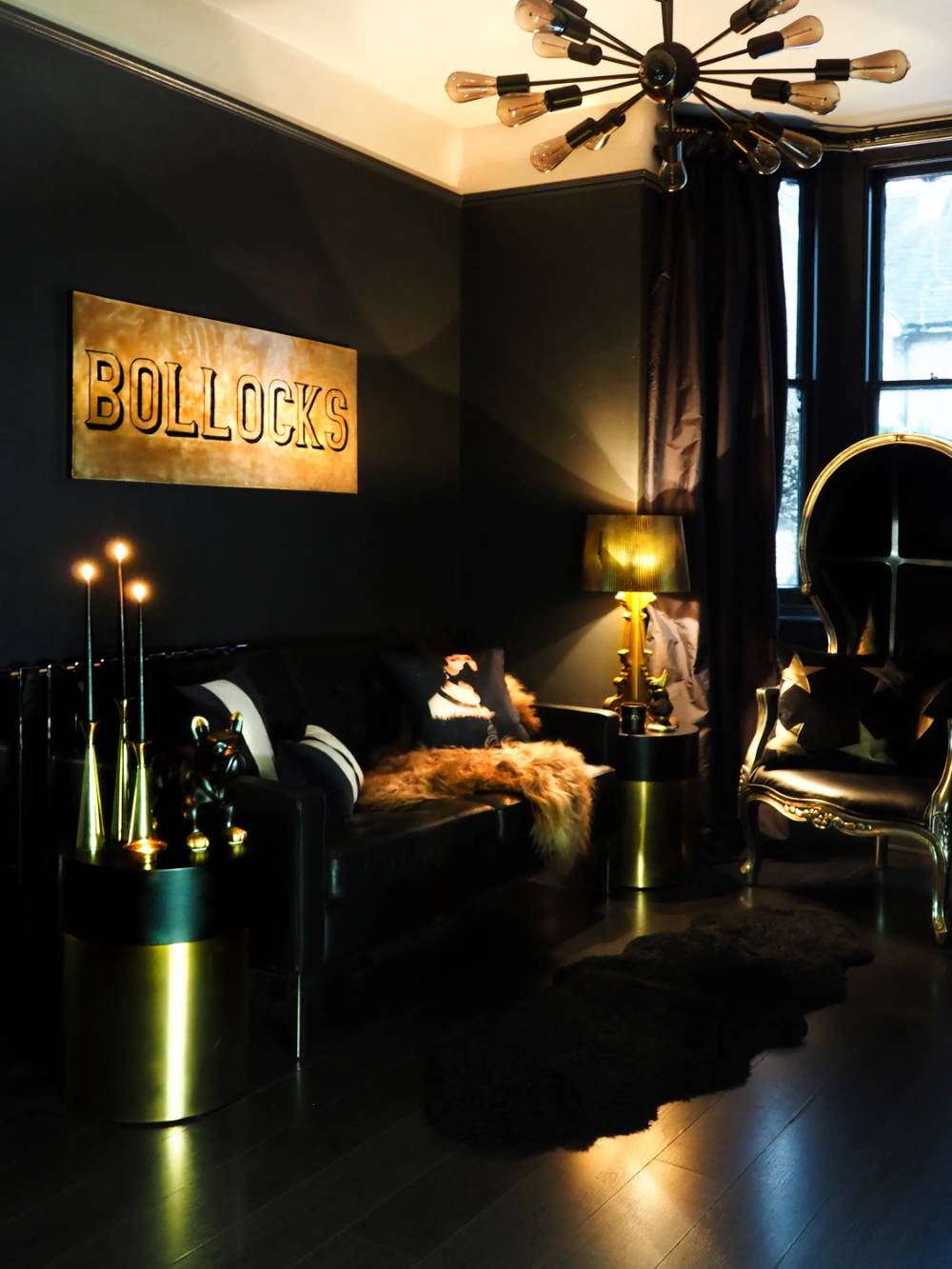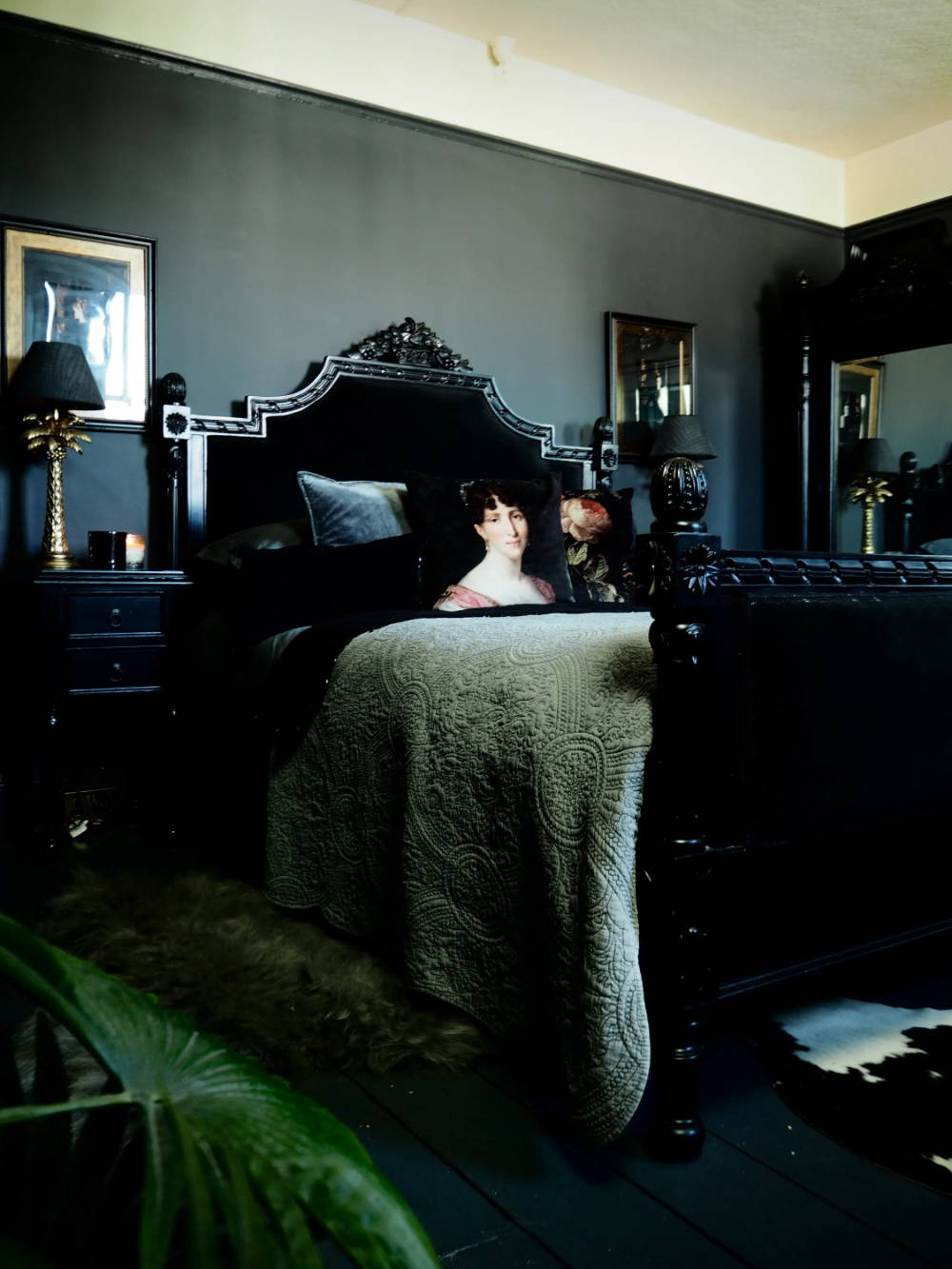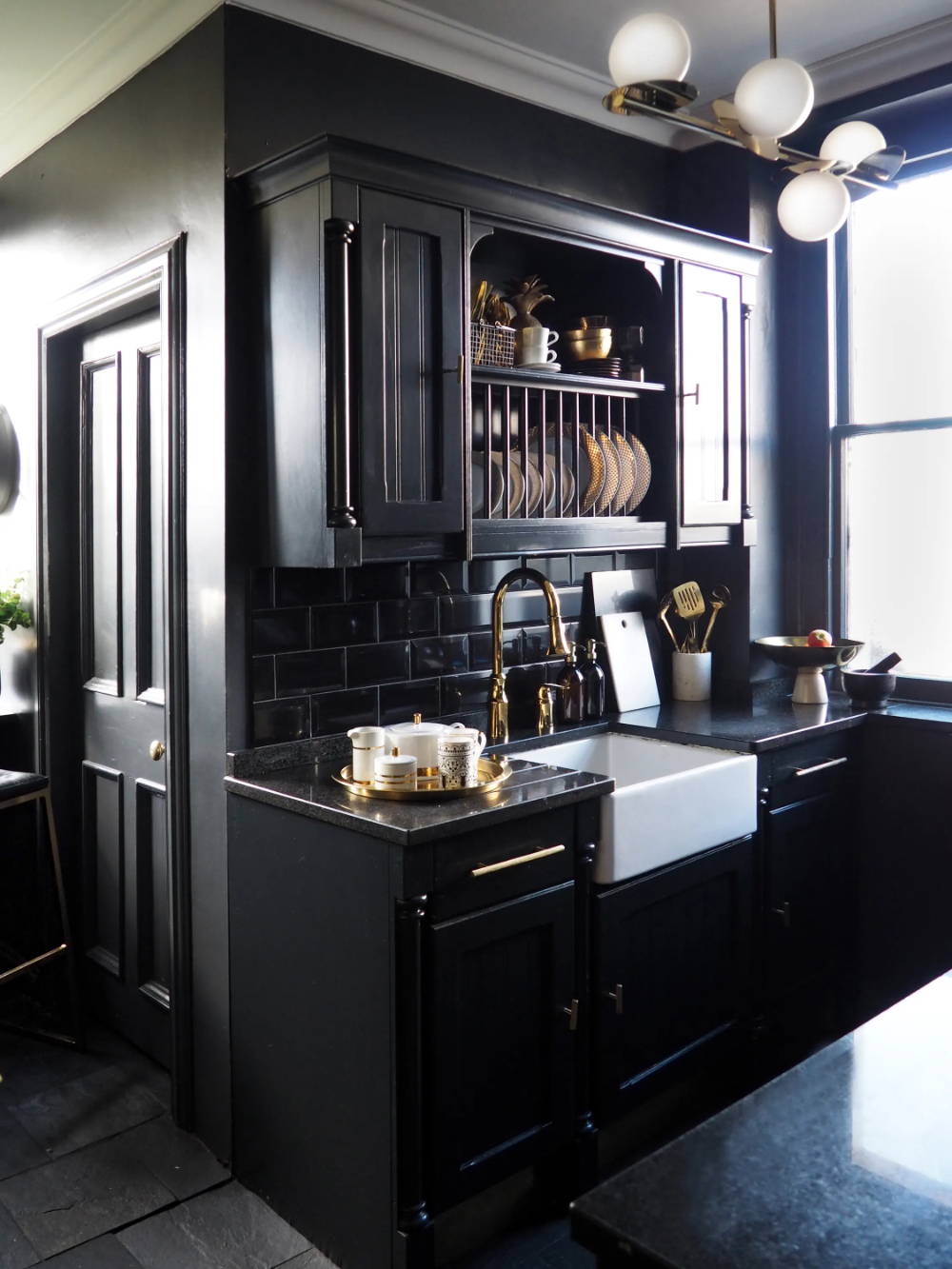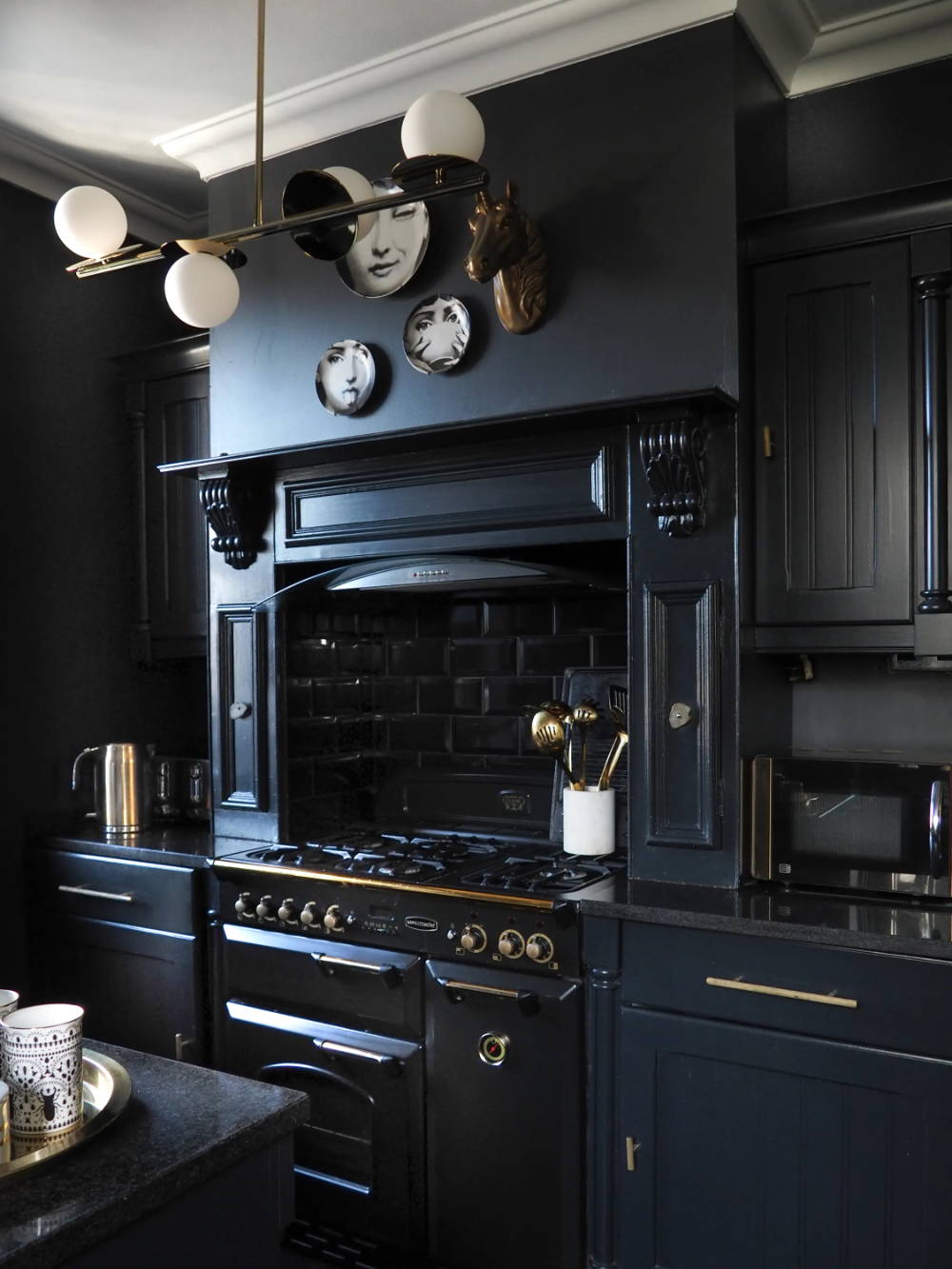 Sensory Home Design - About The Project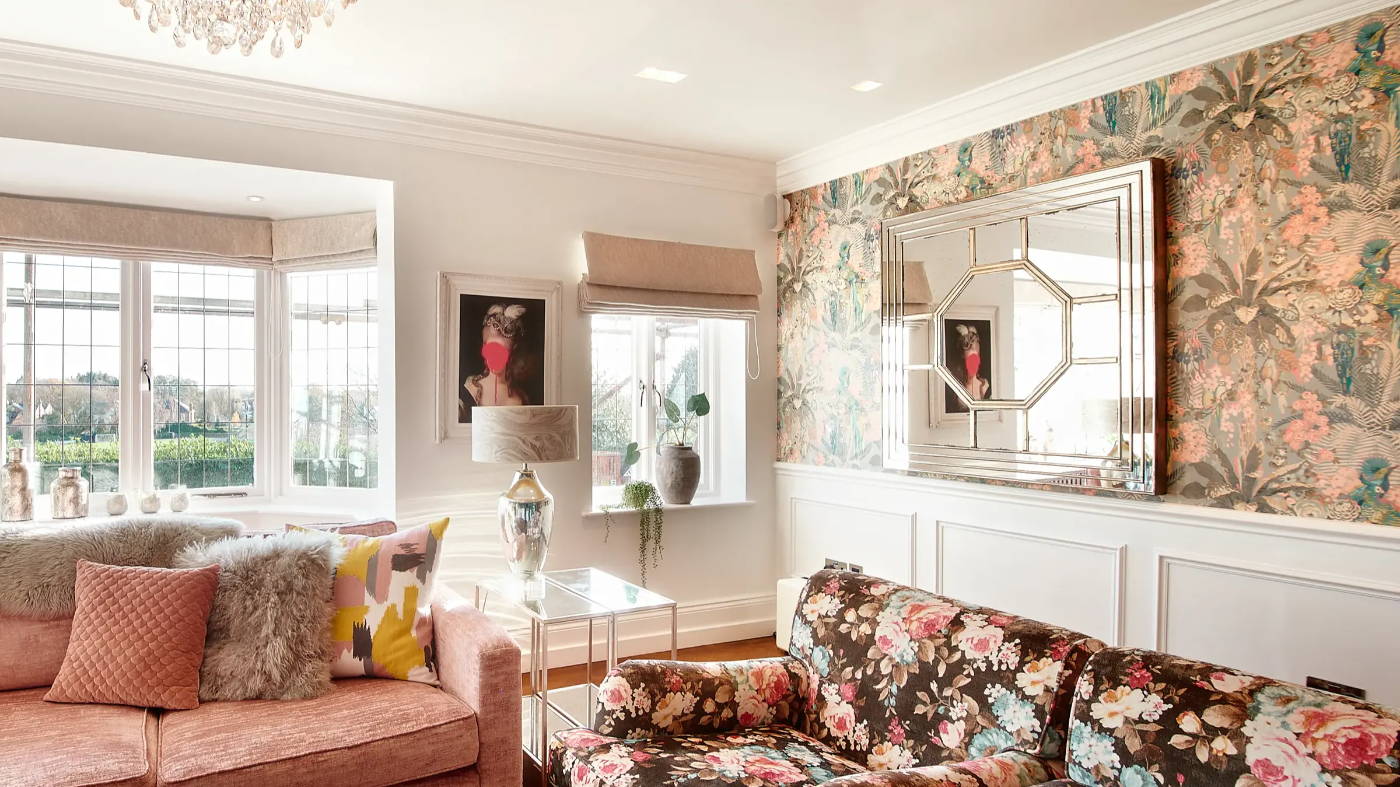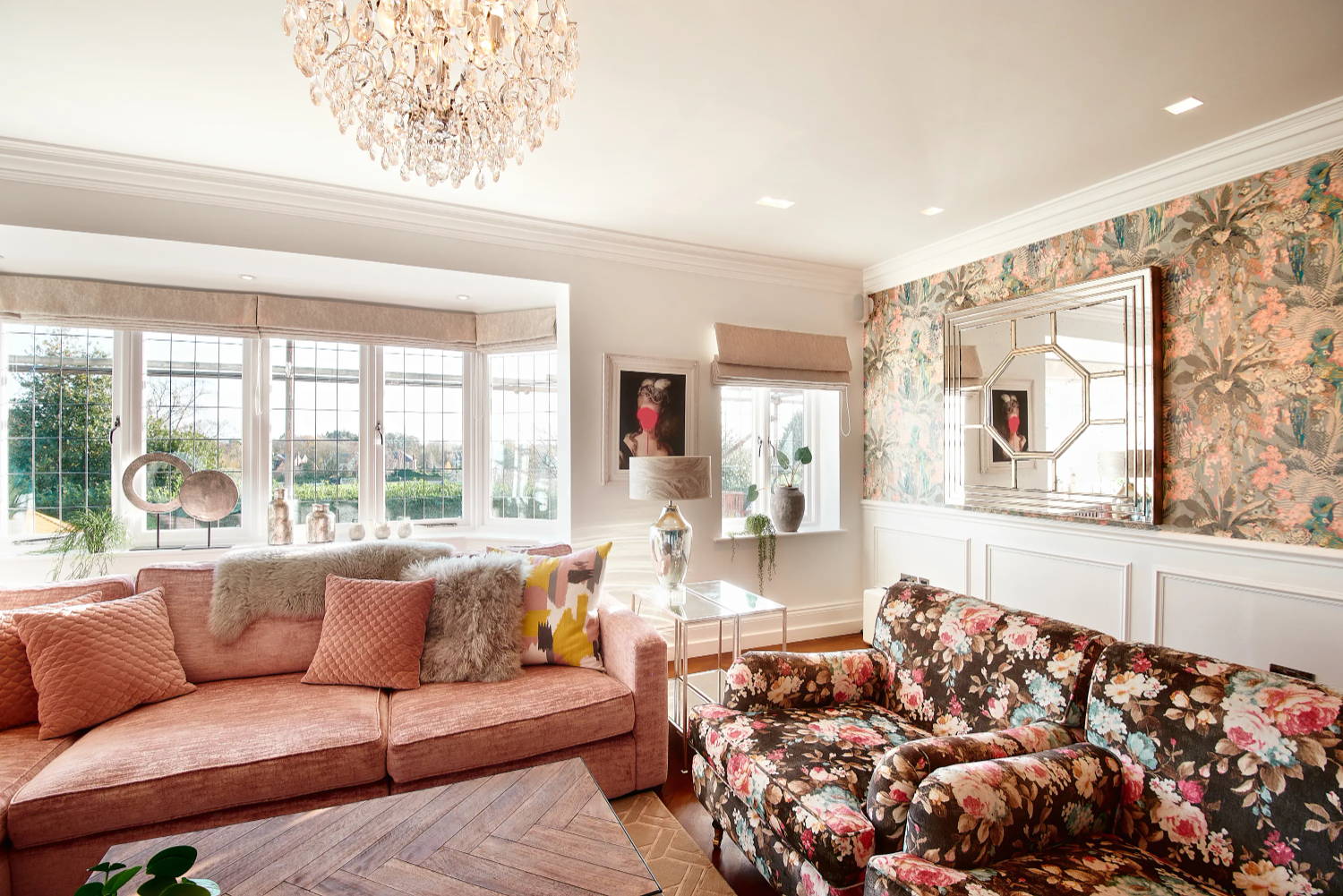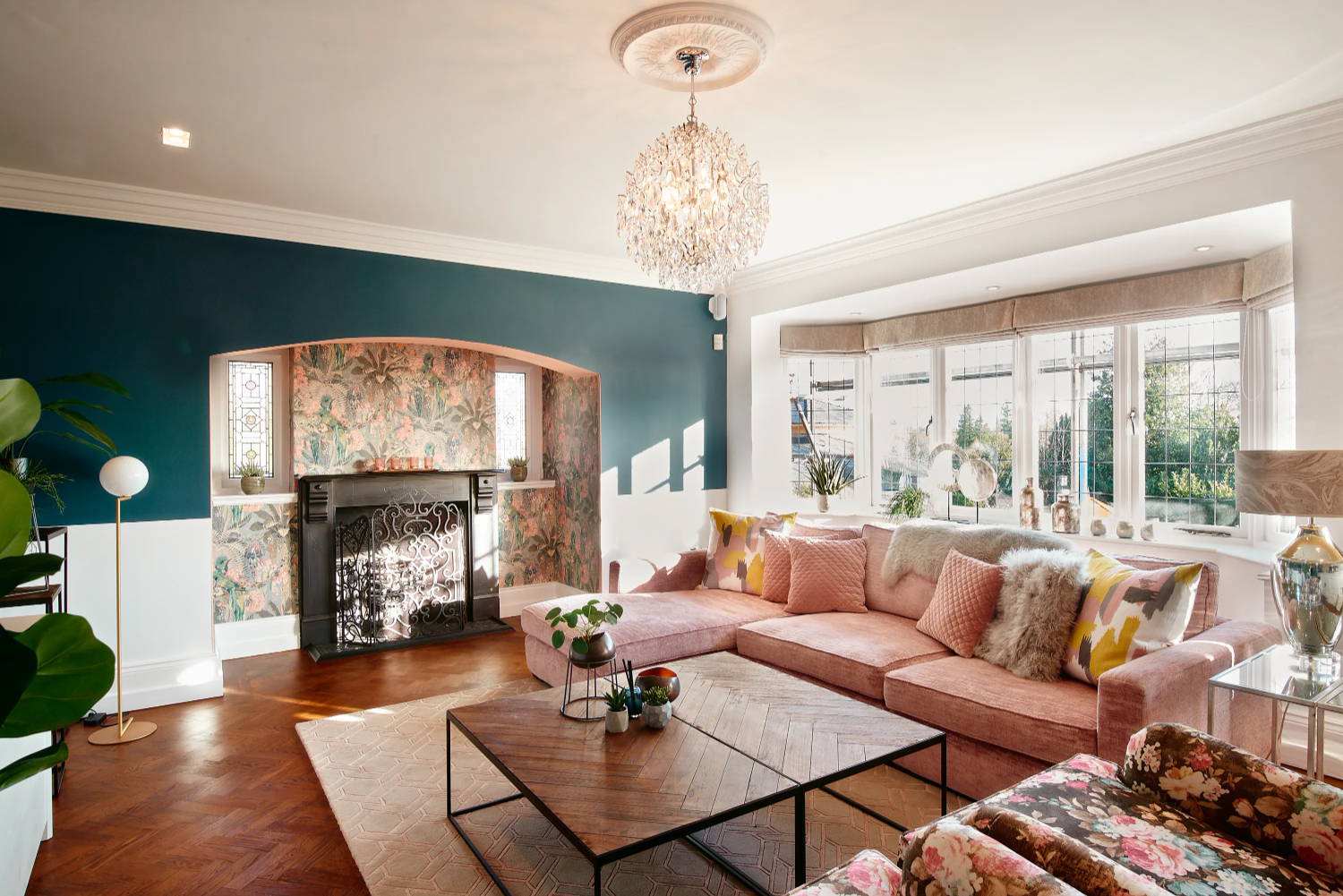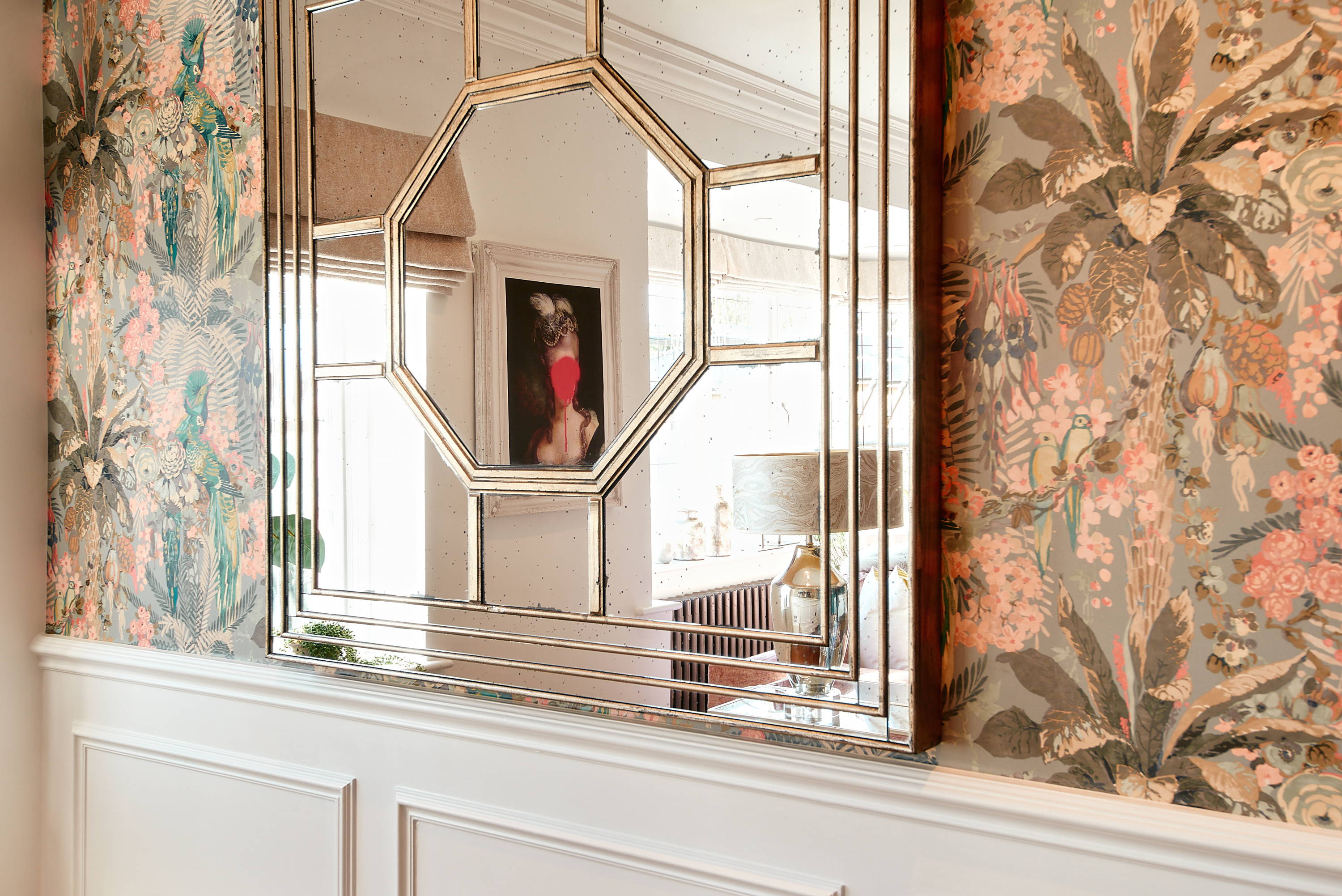 A reflection of Madame Blush - About The Project
DRAMA I WAS LOOKING FOR
Designed by Mia Horton Interiors and Design Ltd
Designs used: Madame Blush Canvas
The first time I bought a Madame Blush was as a wedding gift for my sister in Sweden and ever since I have been looking for the perfect interior project to buy another one. This very large, traditional, period property in Cheshire needed a splash of colour and there was only one thing that could bring a modern yet traditional feel to this living room... a madame with the iconic spray painted face! The pink really pops in the room and adds just the kind of drama I was looking for. My client loves the contrast from the old parquet flooring and the panelled walls. I absolutely love seeing her reflection in the very large mirrors - the centre of the mirror perfectly frames her in all her glory. I think it's the reflection that makes you do a double take and wonder... who was she, Madame Blush?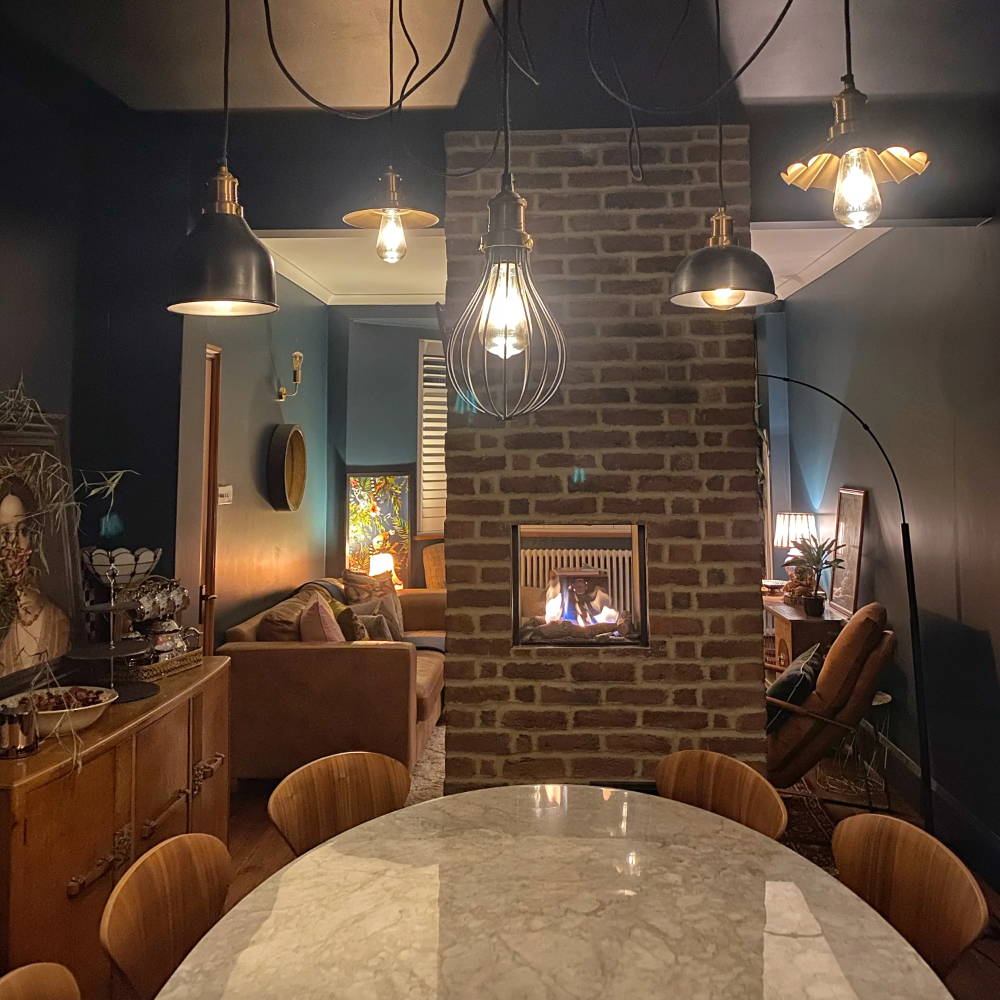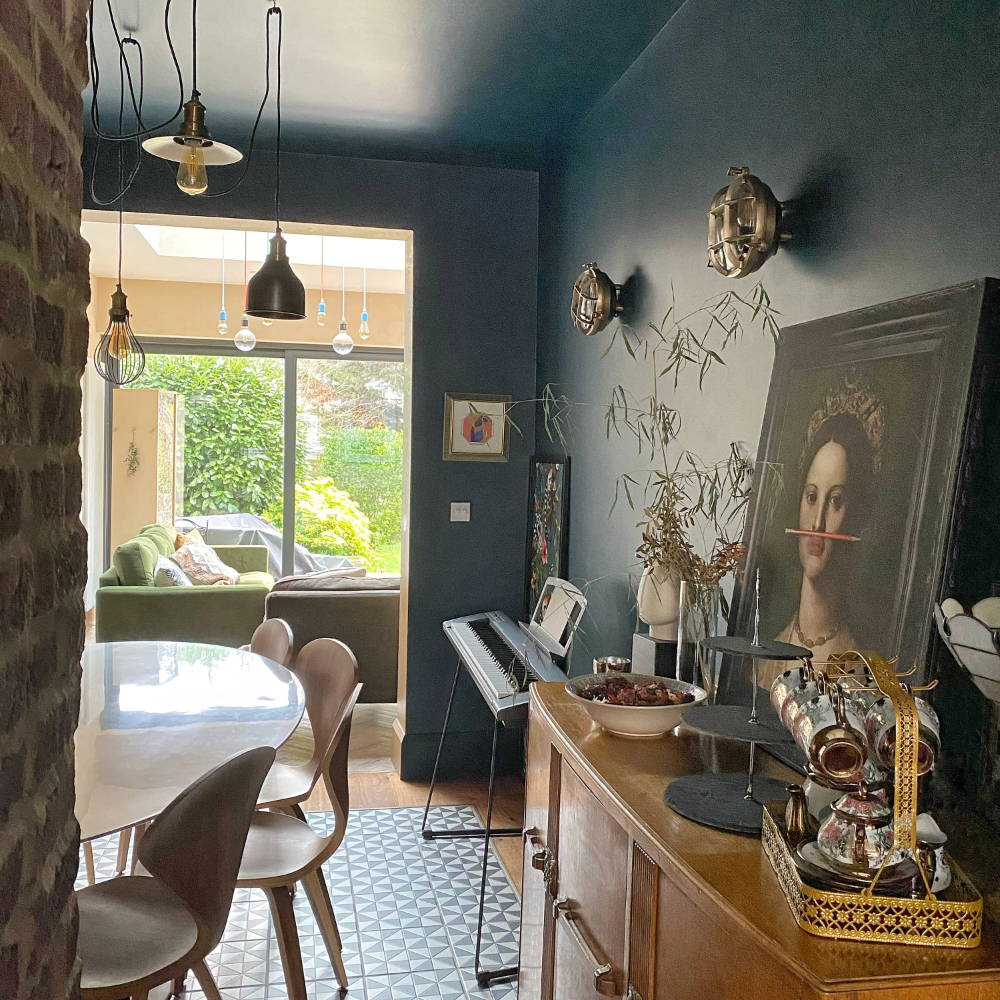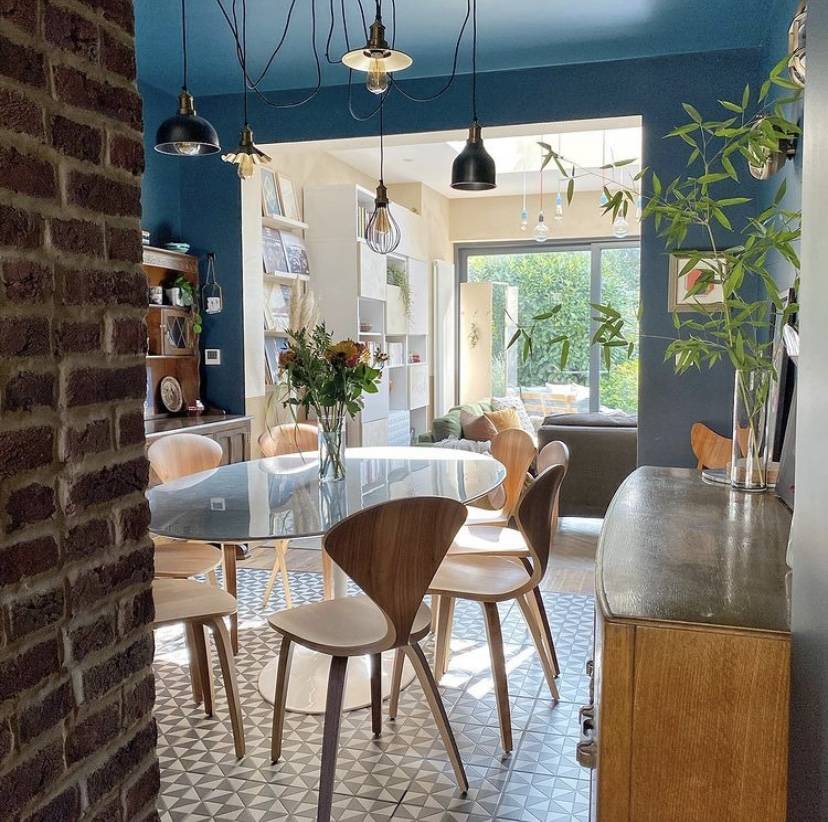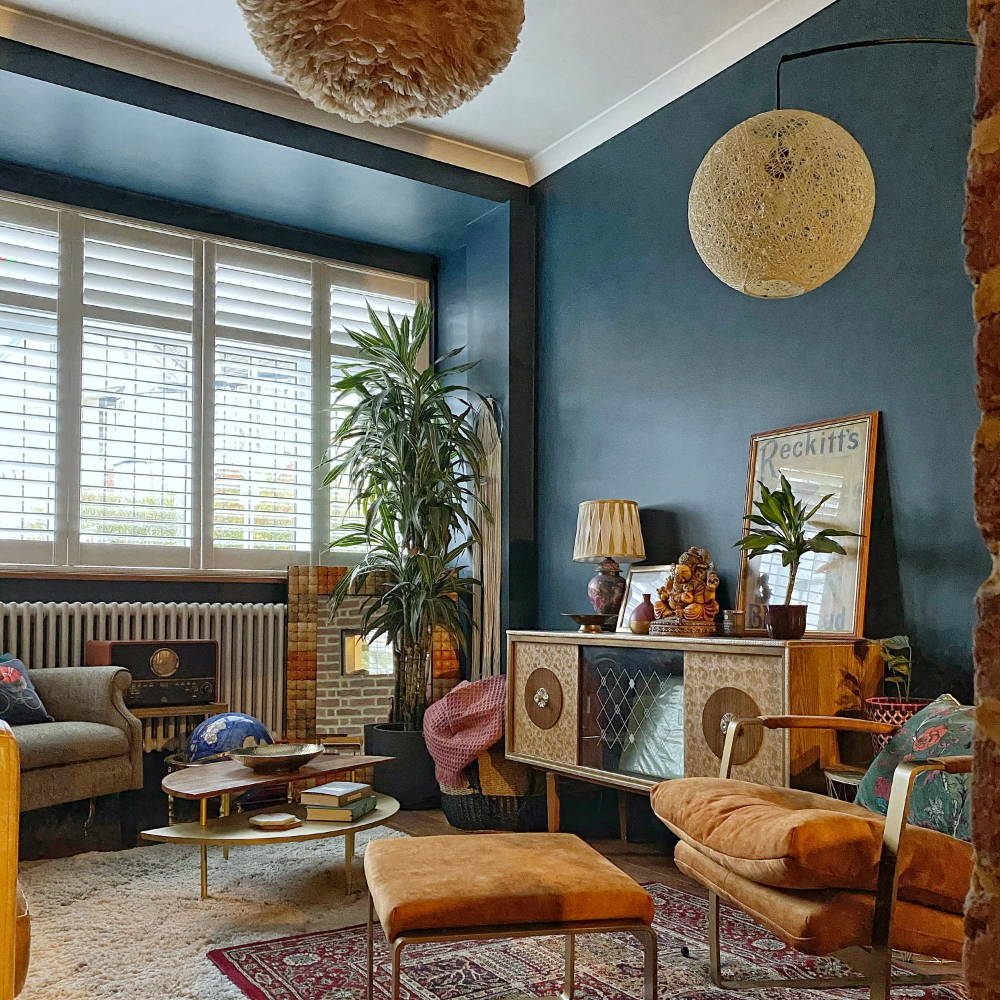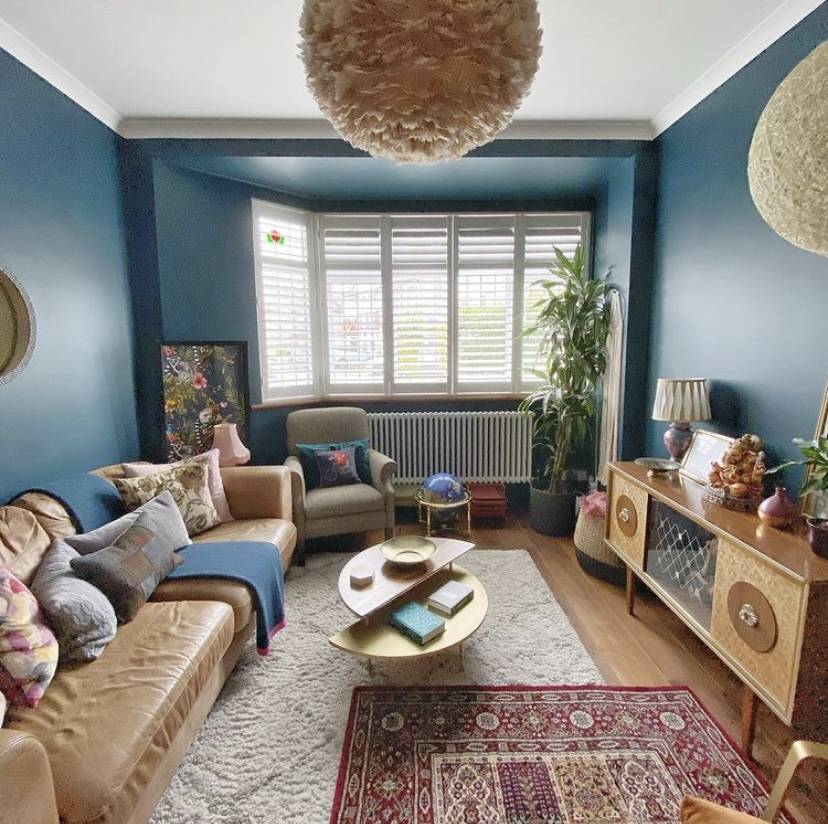 Broken plan living/dining room - About The Project
INSPIRED LAUNCH OF OFF THE WALL INTERIORS
Designed by Off The Wall Interiors
Designs used: Orange Pencil Canvas
This is my own broken plan living/dining room in Barkingside, London - the room that inspired me to launch Off the Wall Interiors and start designing homes for others. This space was once two separate rooms of unequal and impractical sizes. We opened it up to create a living and dining area that would be used mainly in the evenings and then gave definition to two spaces by introducing a double sided fireplace and employing other more subtle zoning techniques. The Orange Pencil is the heart of this space, injecting fun and contrast into the dark, moody atmosphere and capturing the very essence of Off the Wall!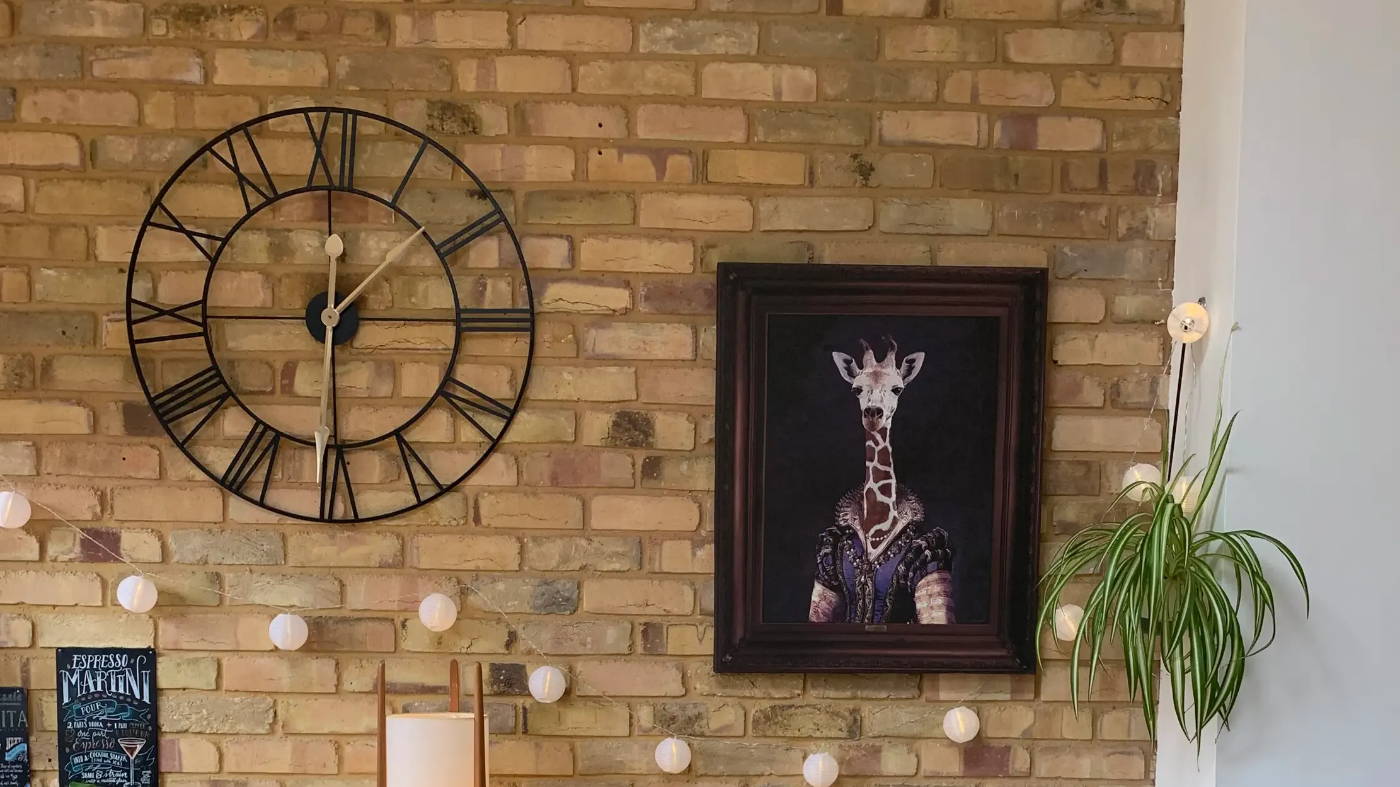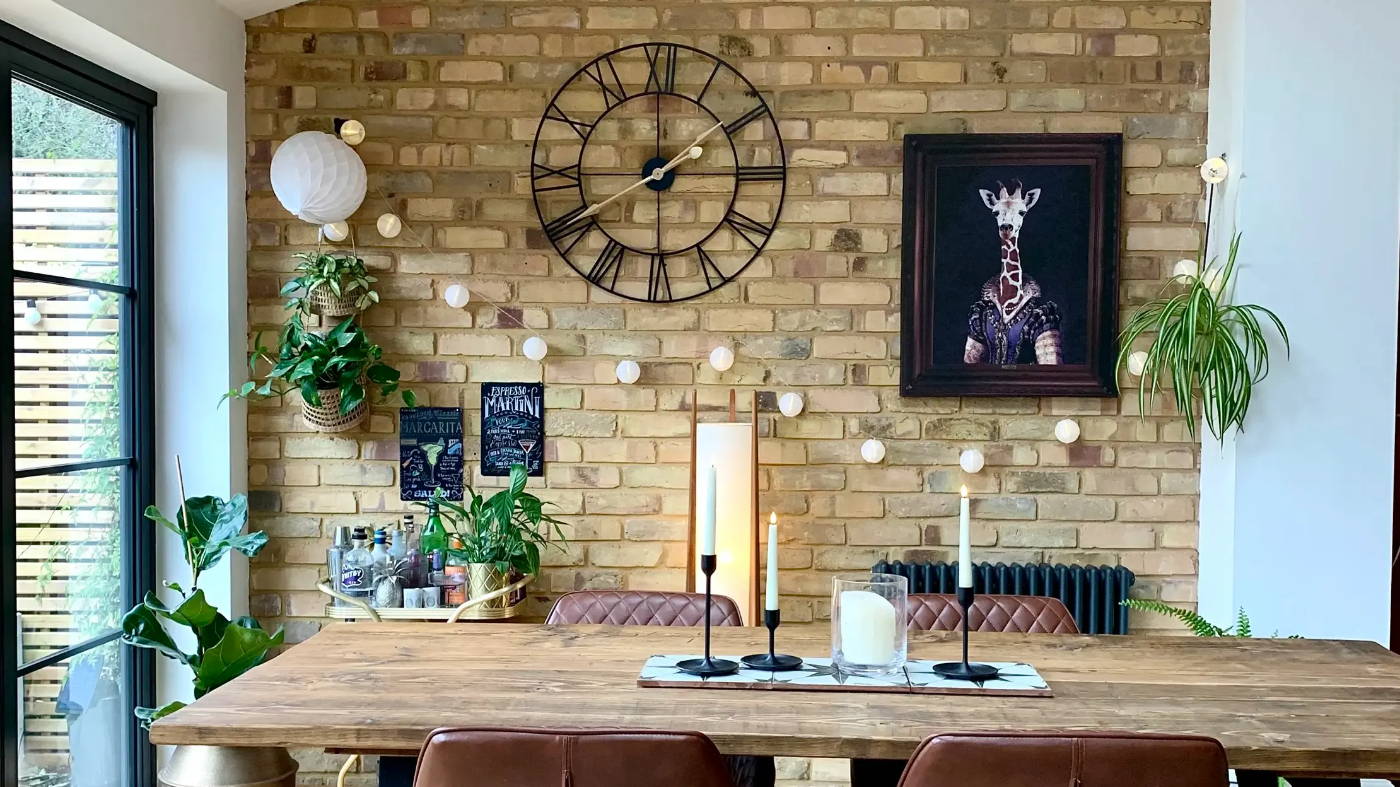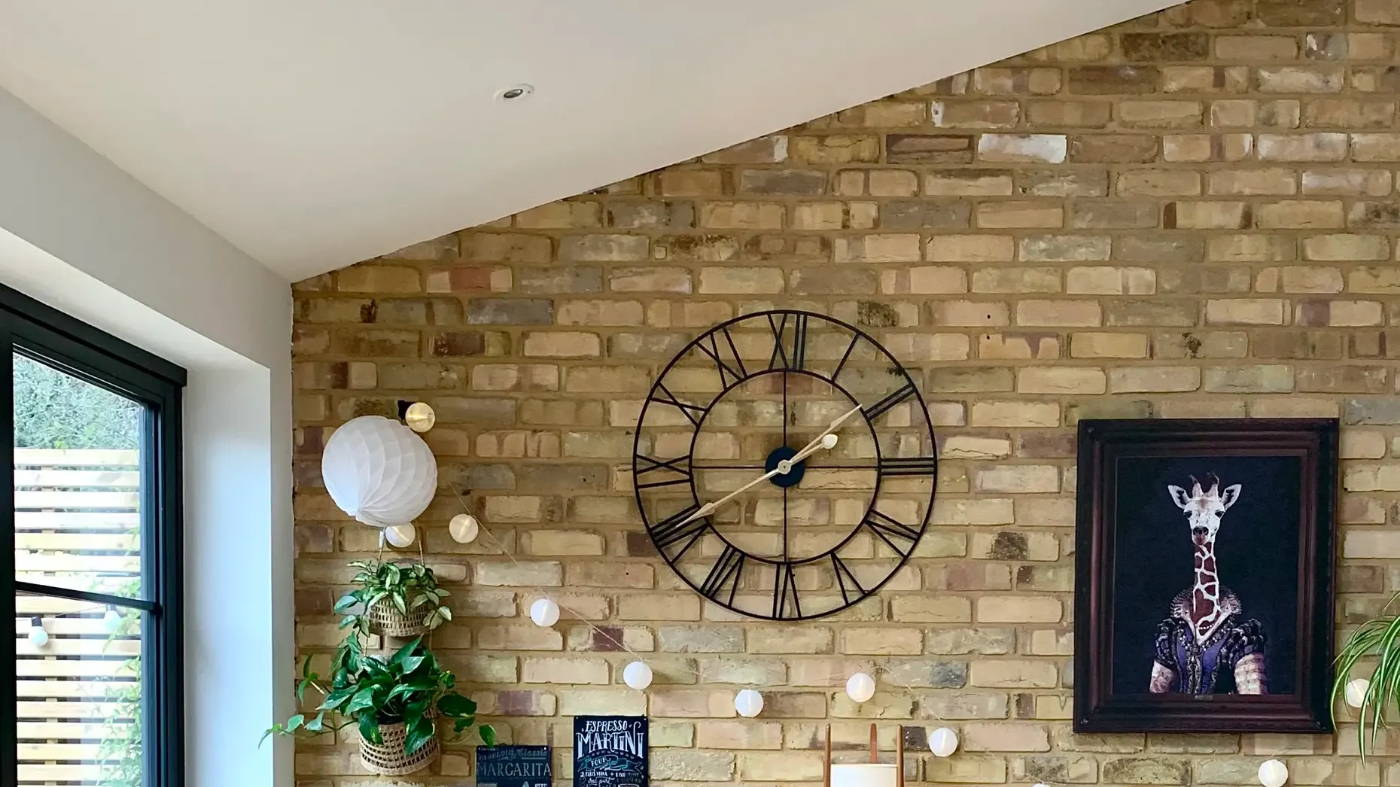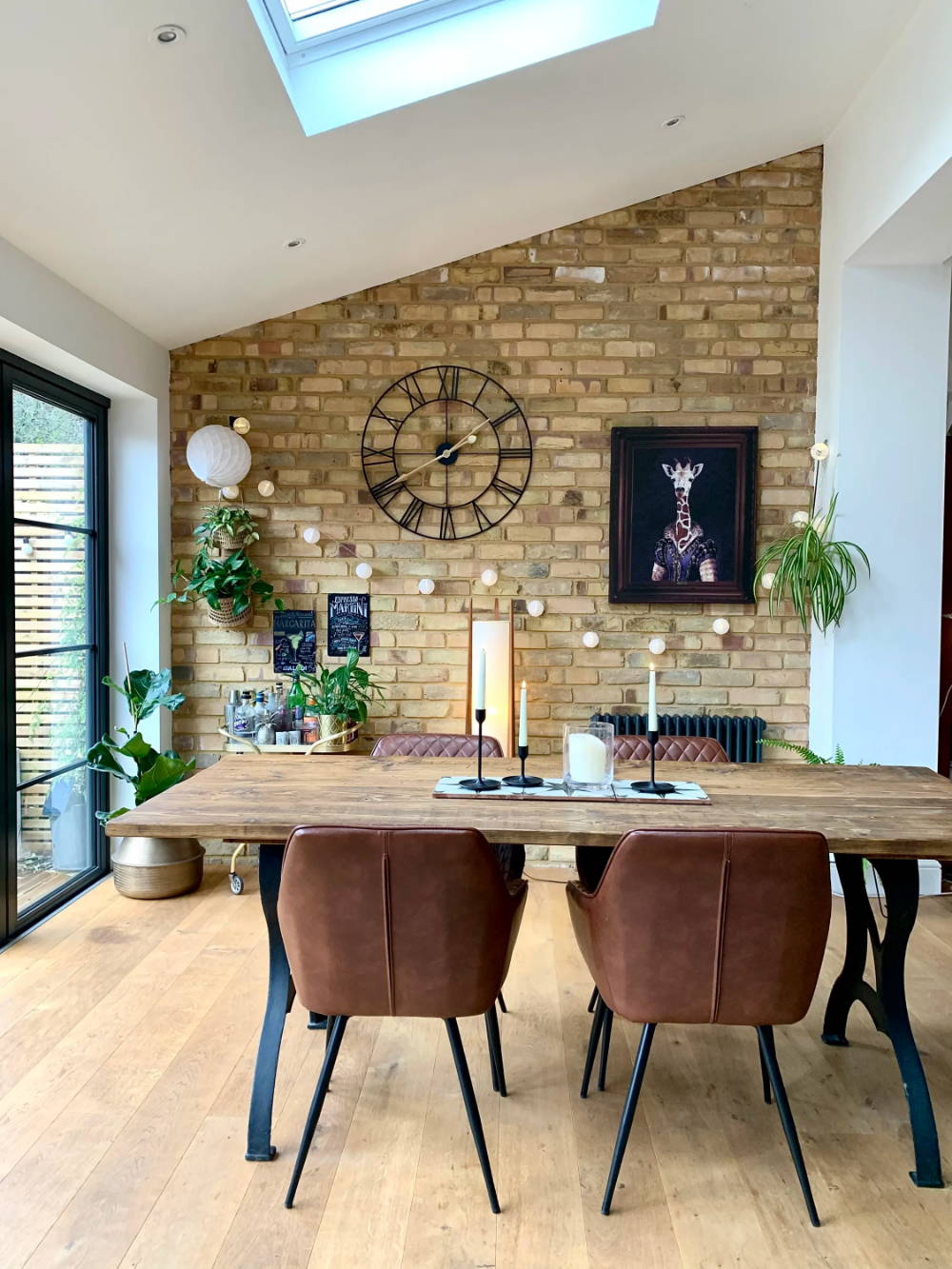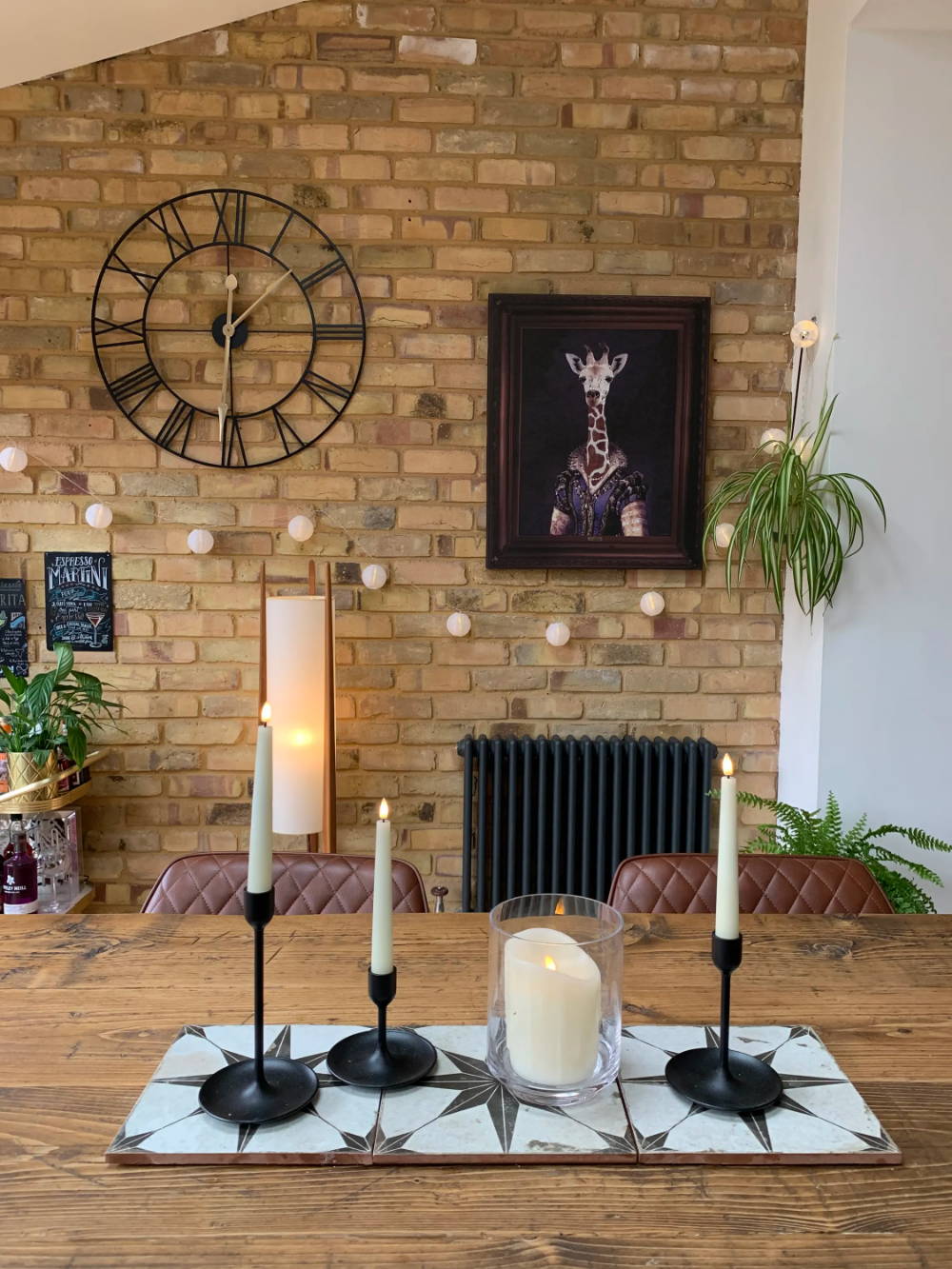 Abbotsford - About The Project
MID 20th CENTURY INFLUENCE
Designed by Mary Harrod
Designs used: Dame Giralda' Canvas
Creating a kitchen extension that blends mid 20th century influence with modern industrial and uses brick and wood to create seamless flow from inside outside.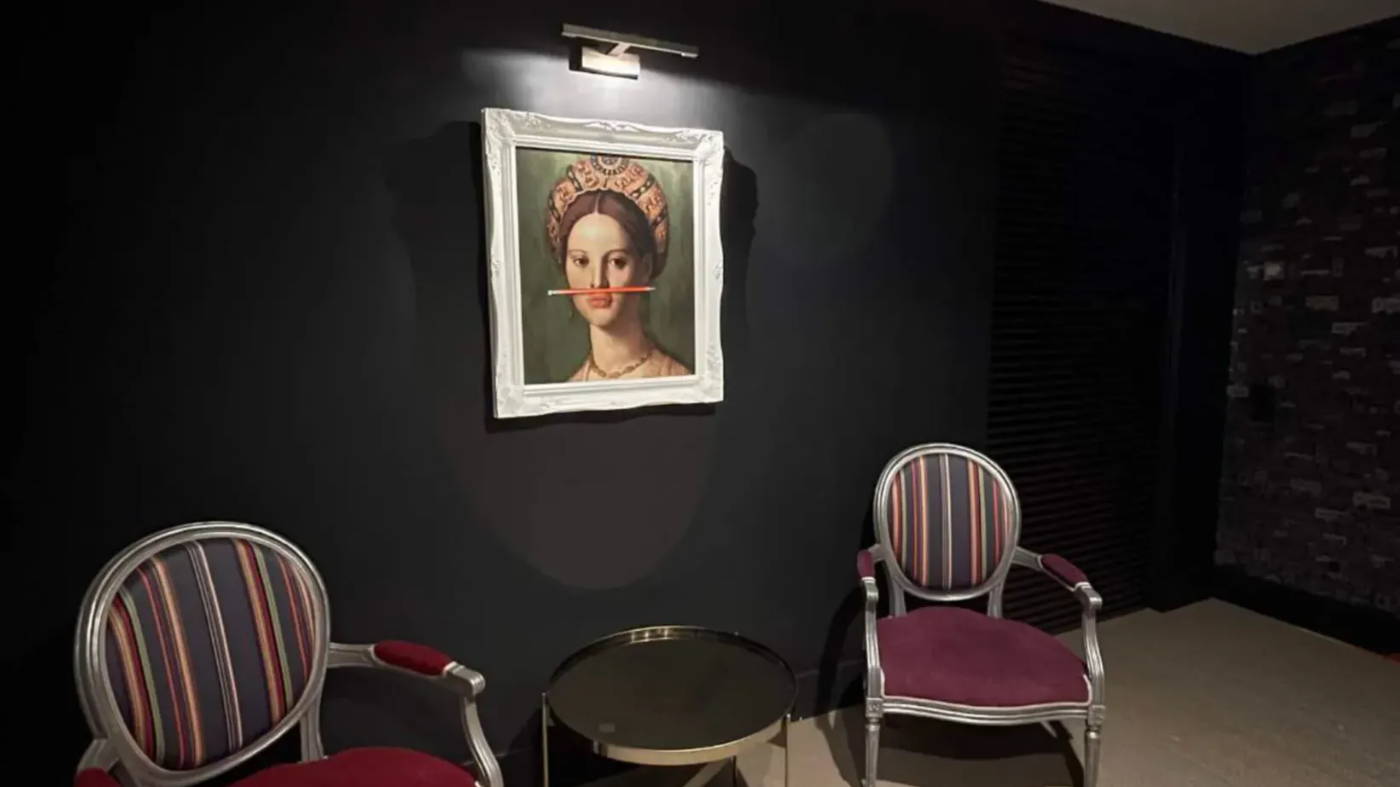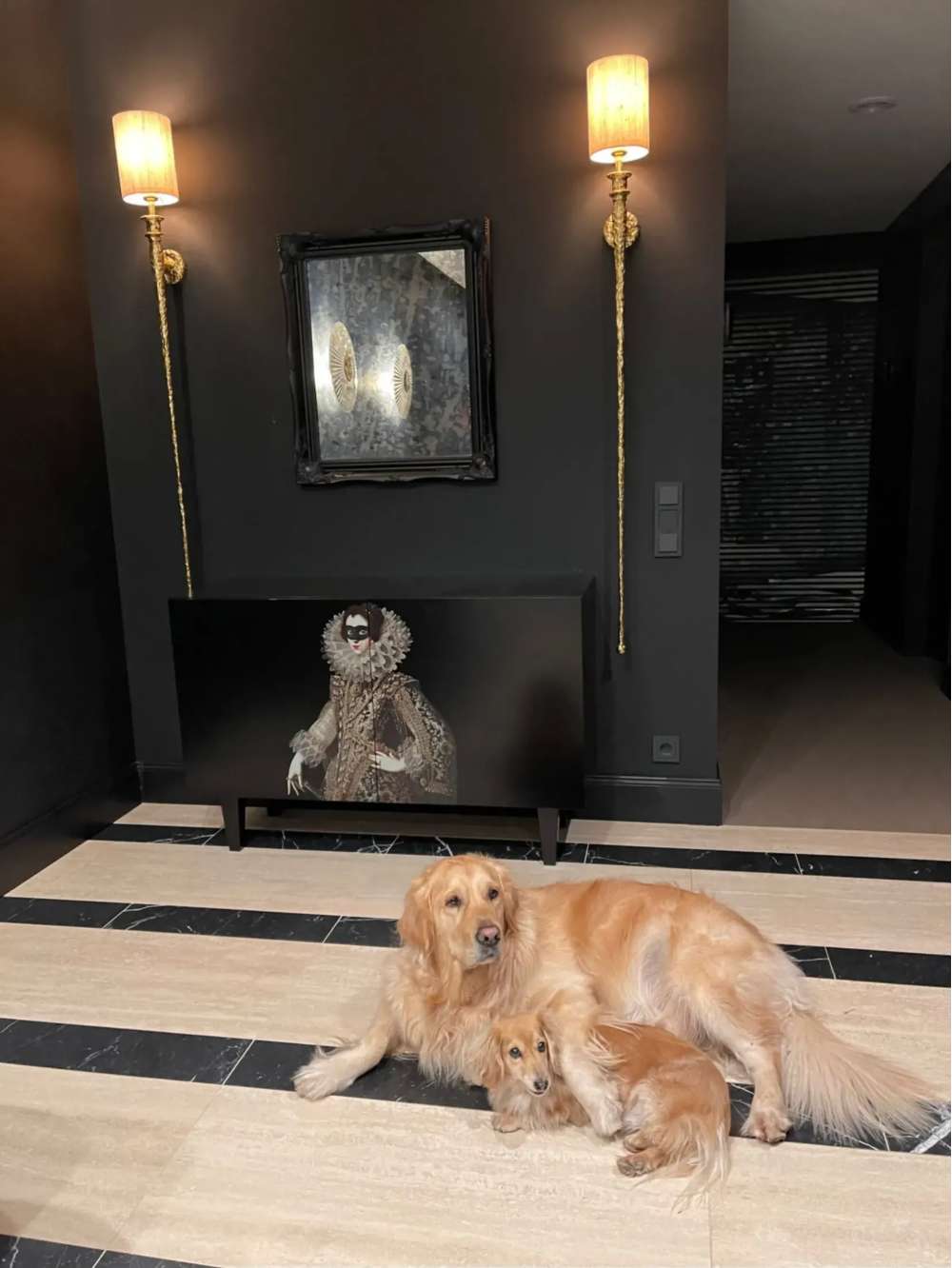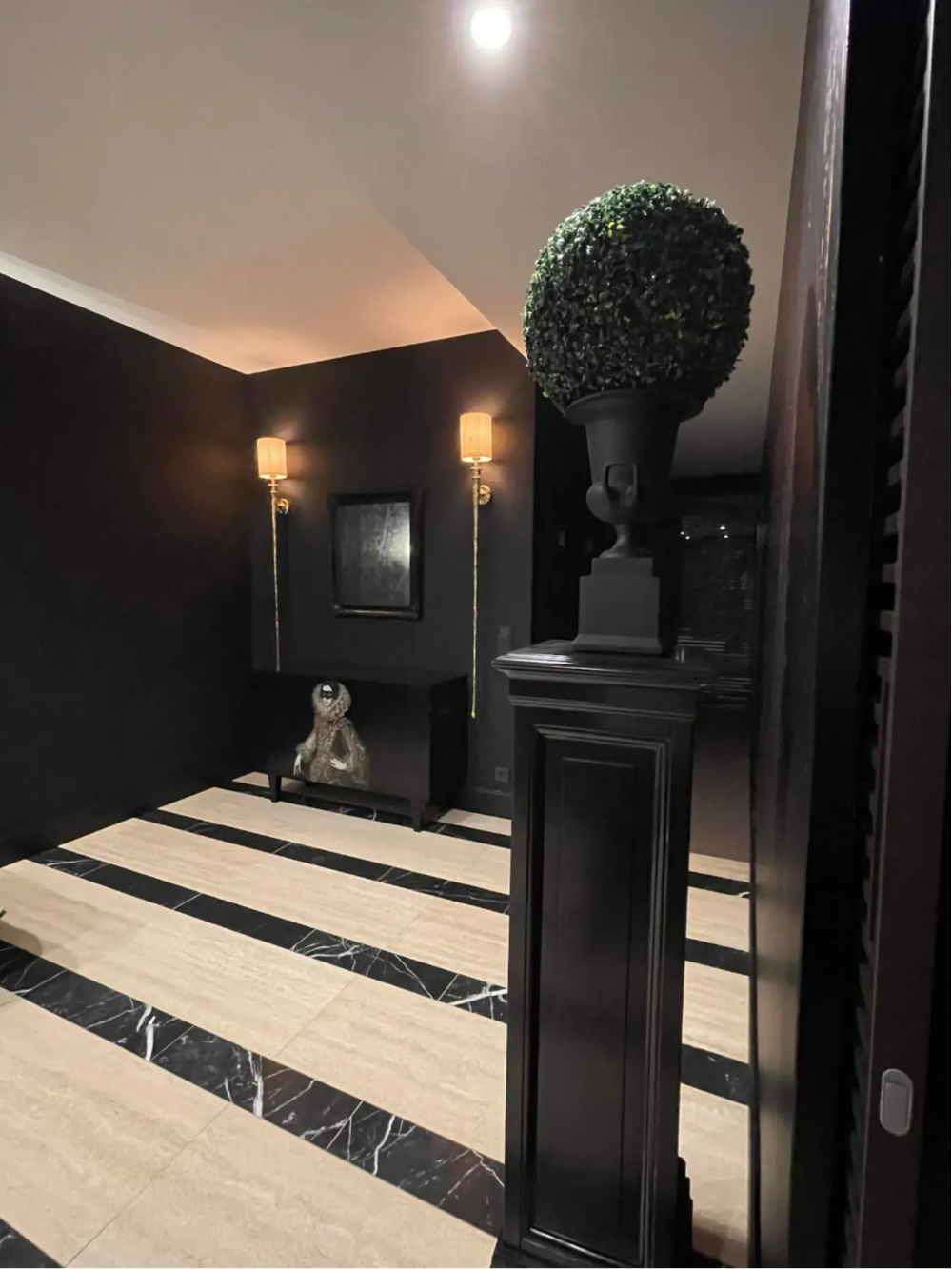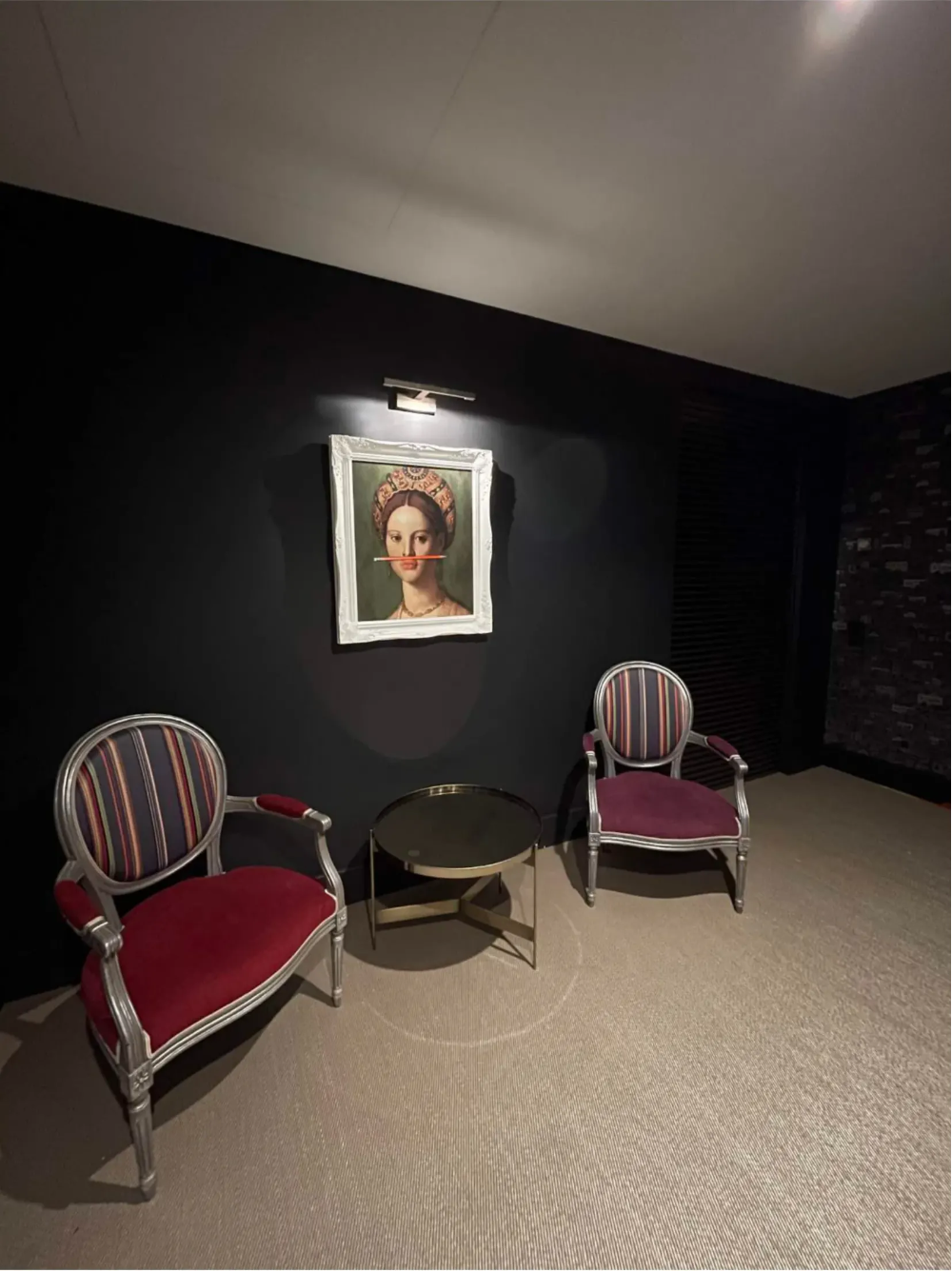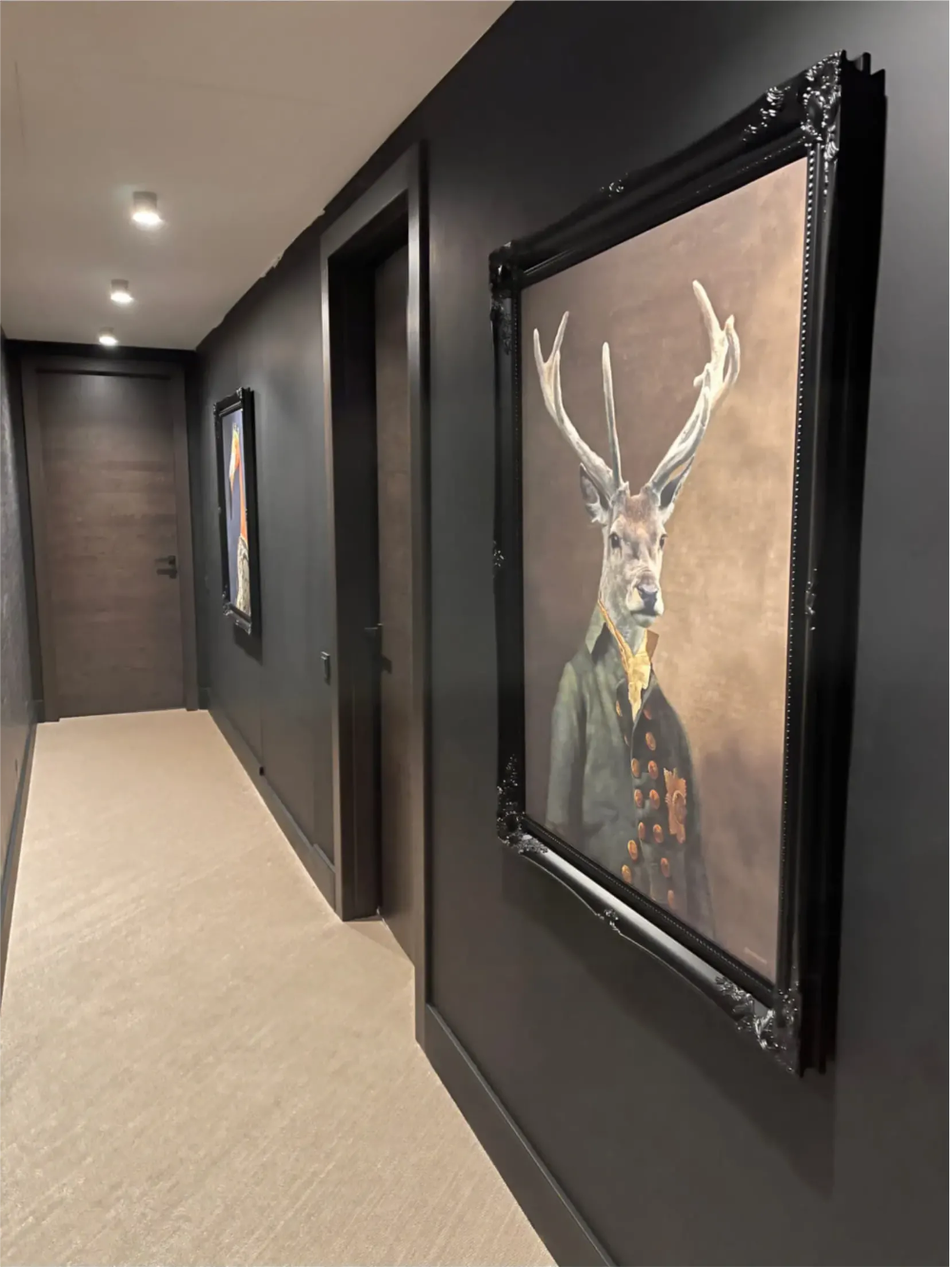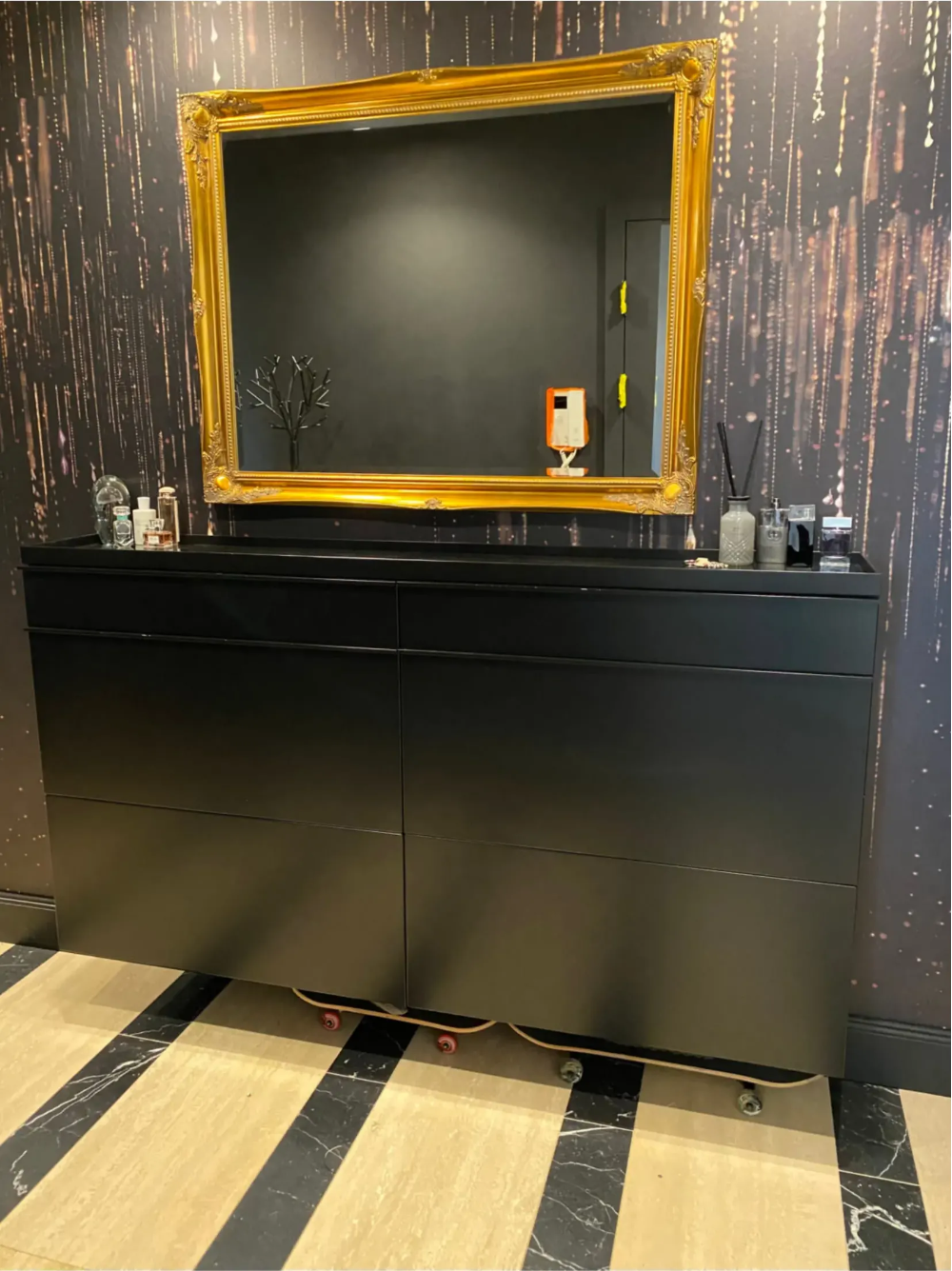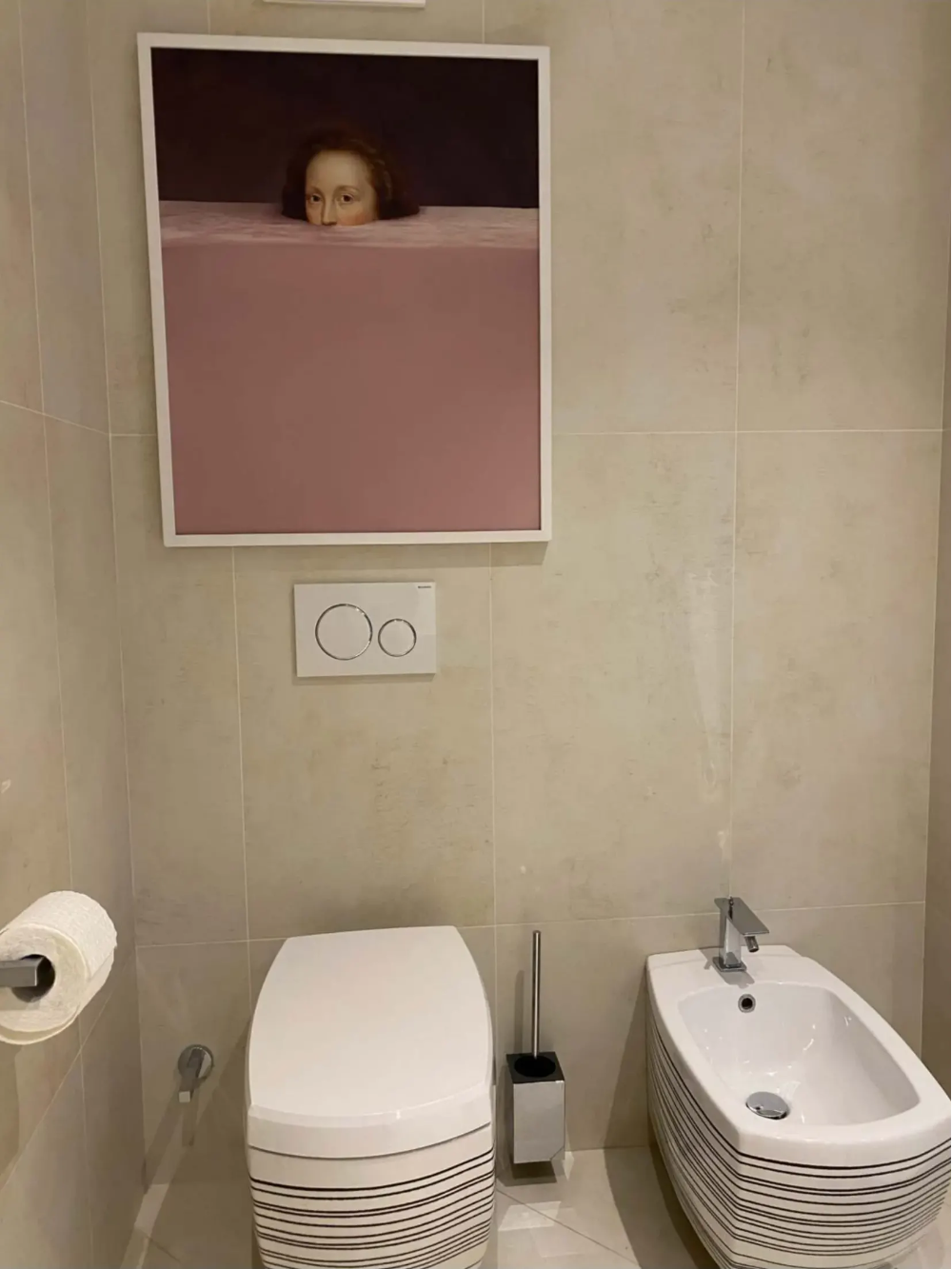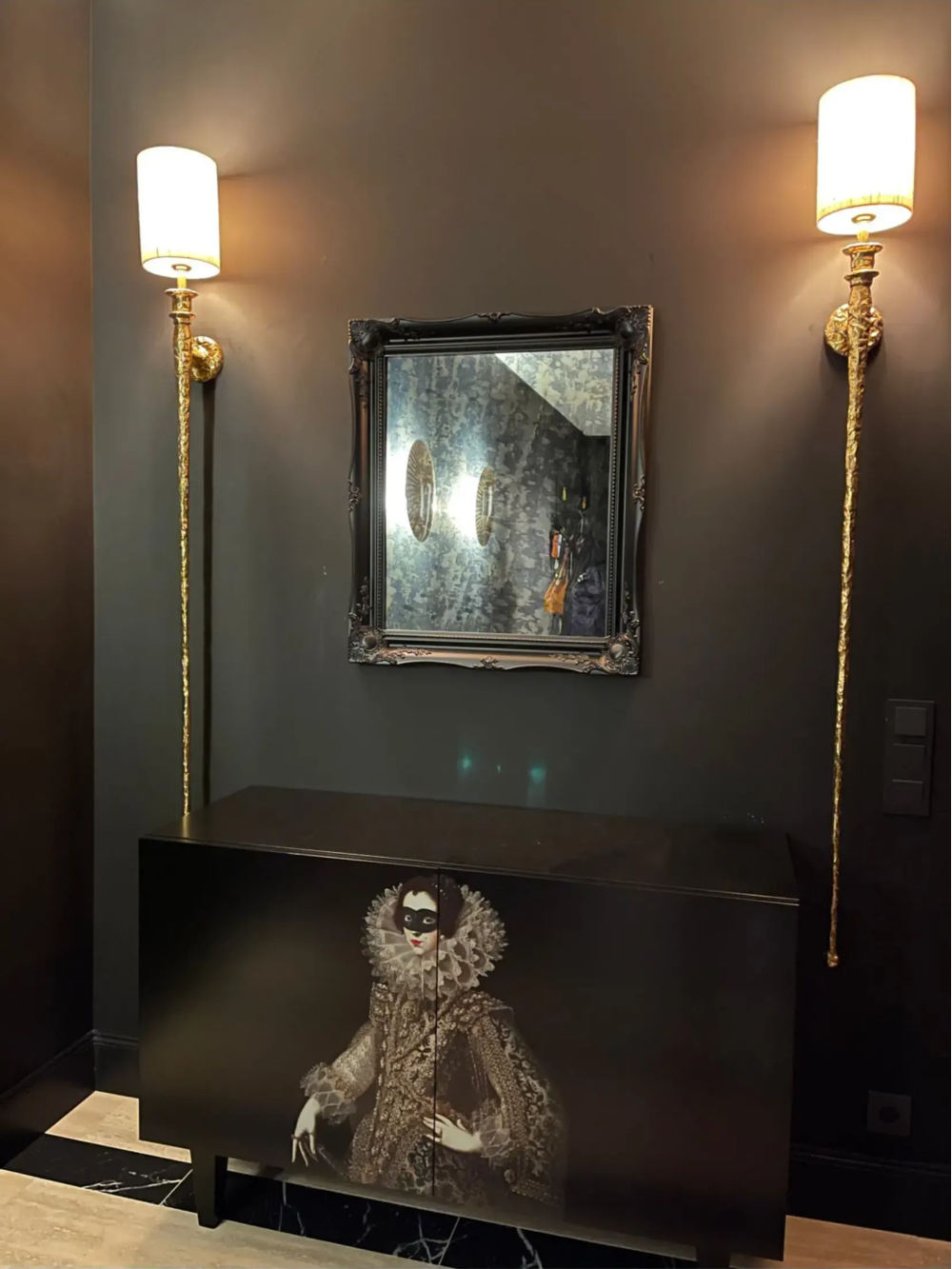 Vienna Flat - About The Project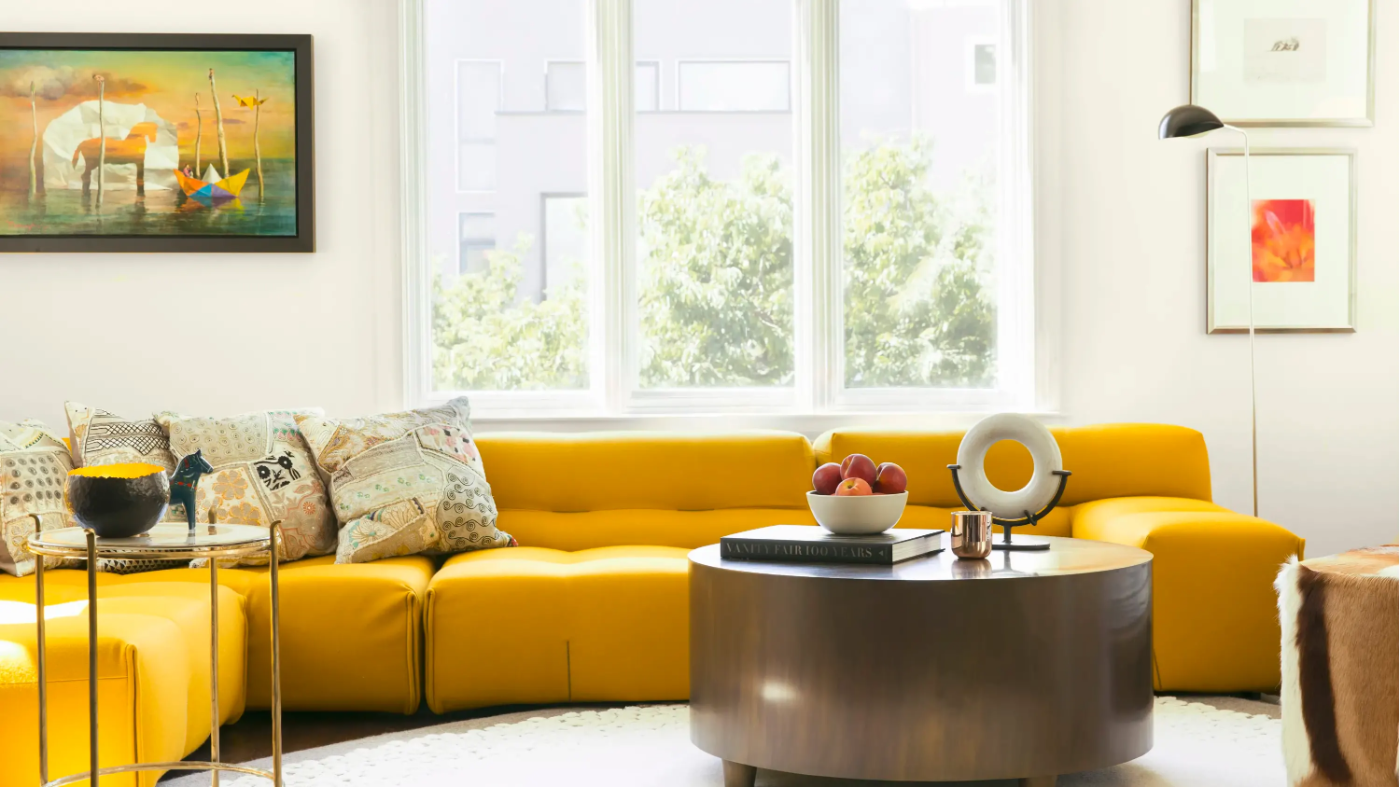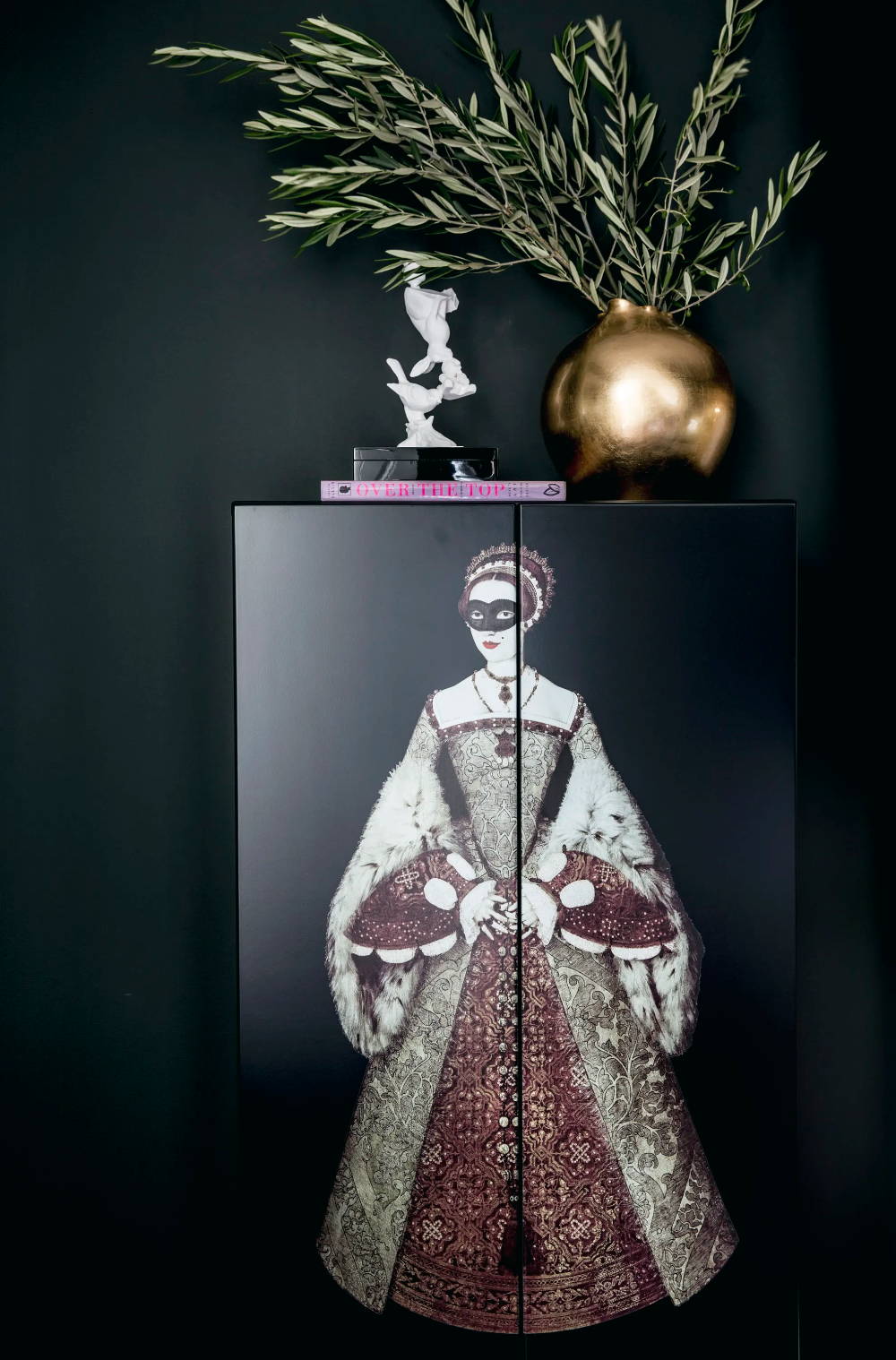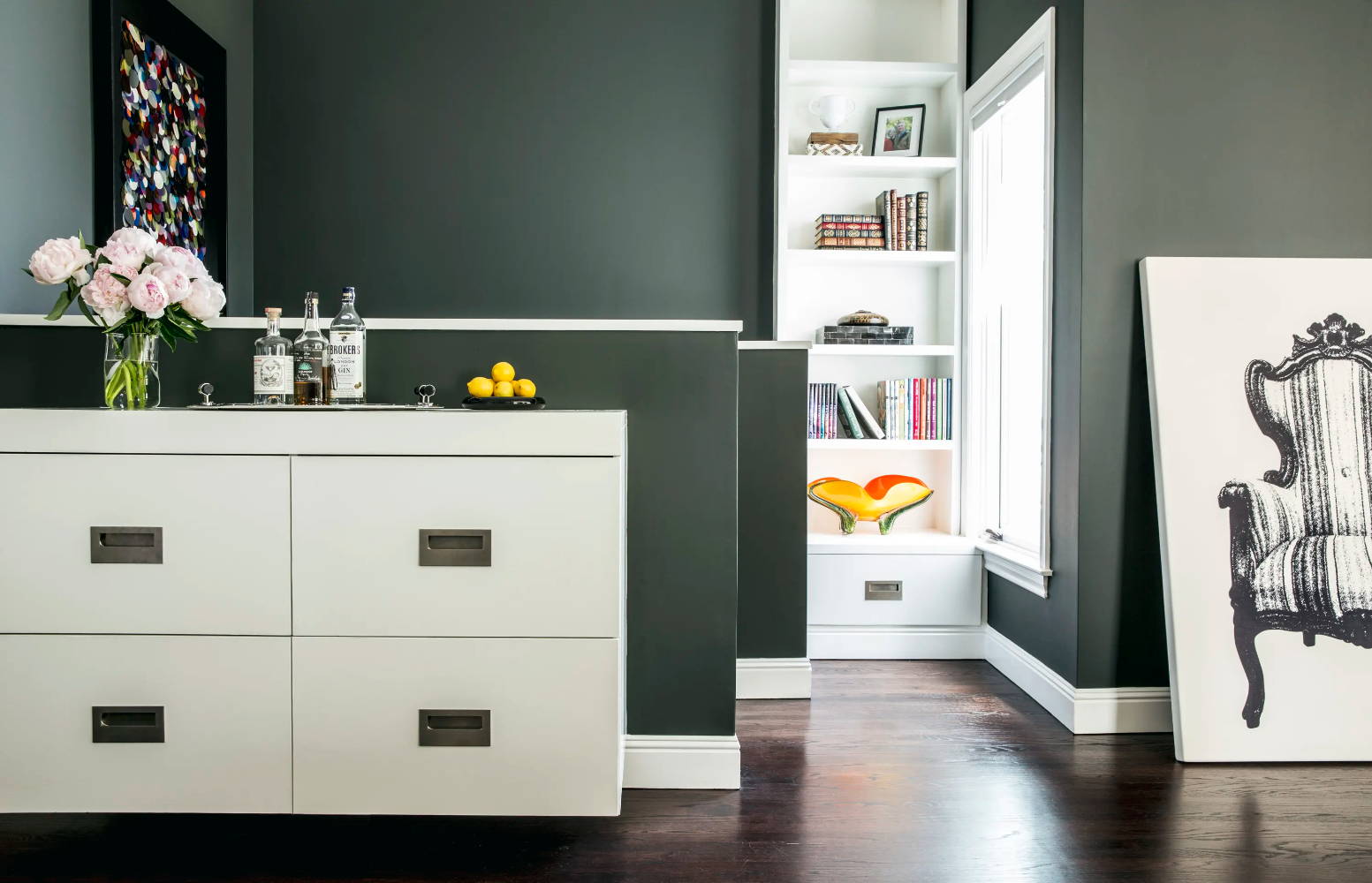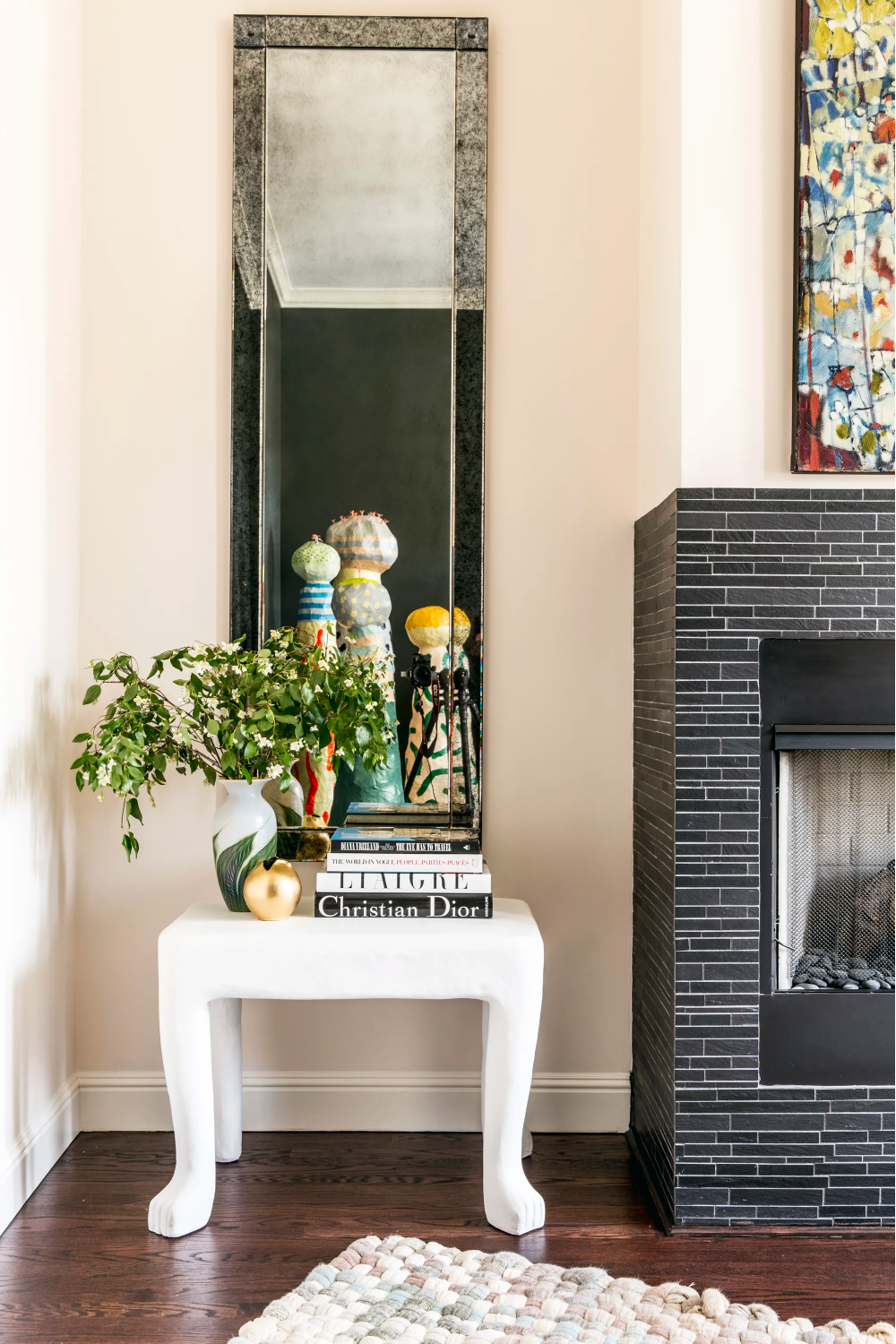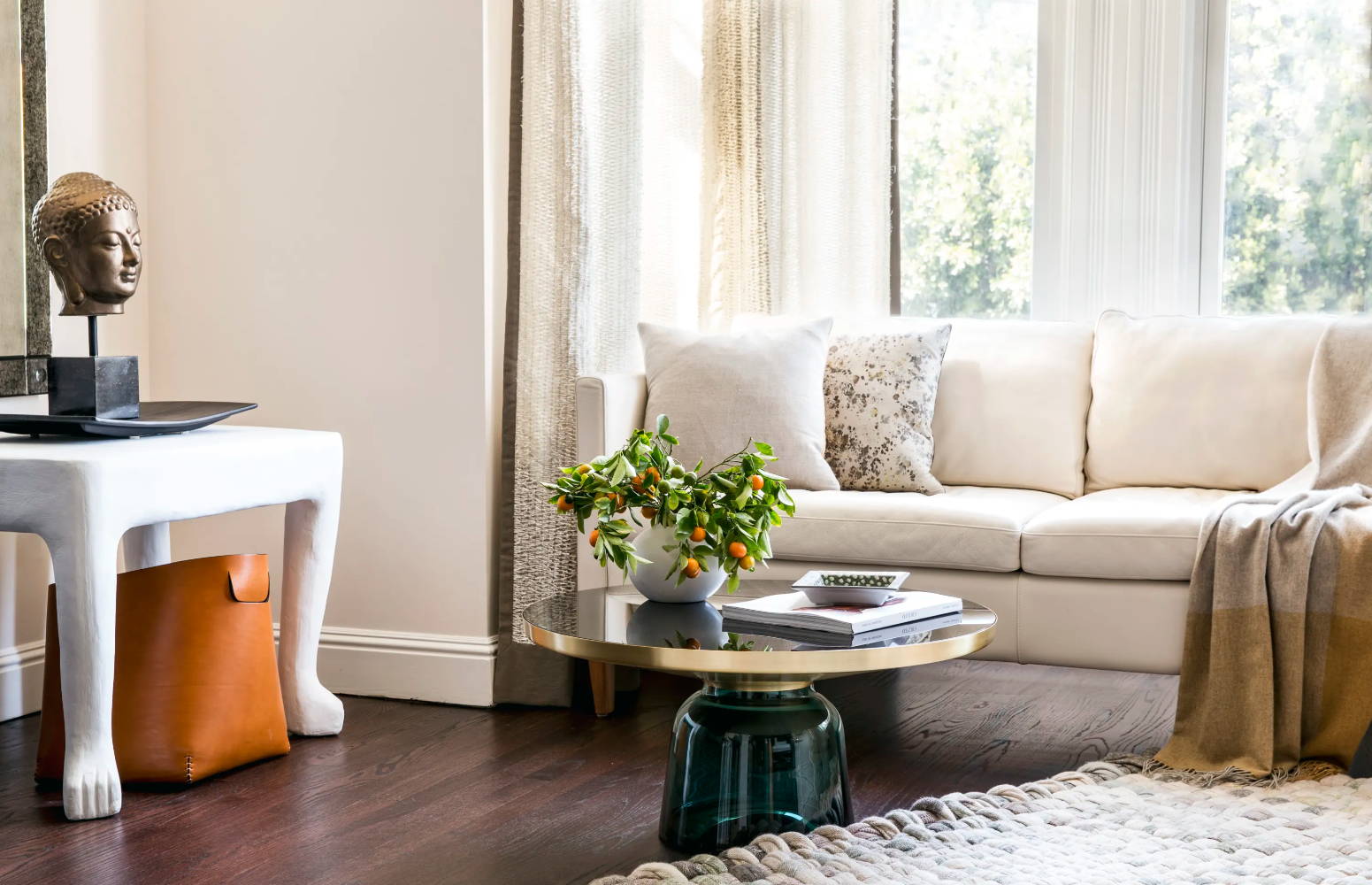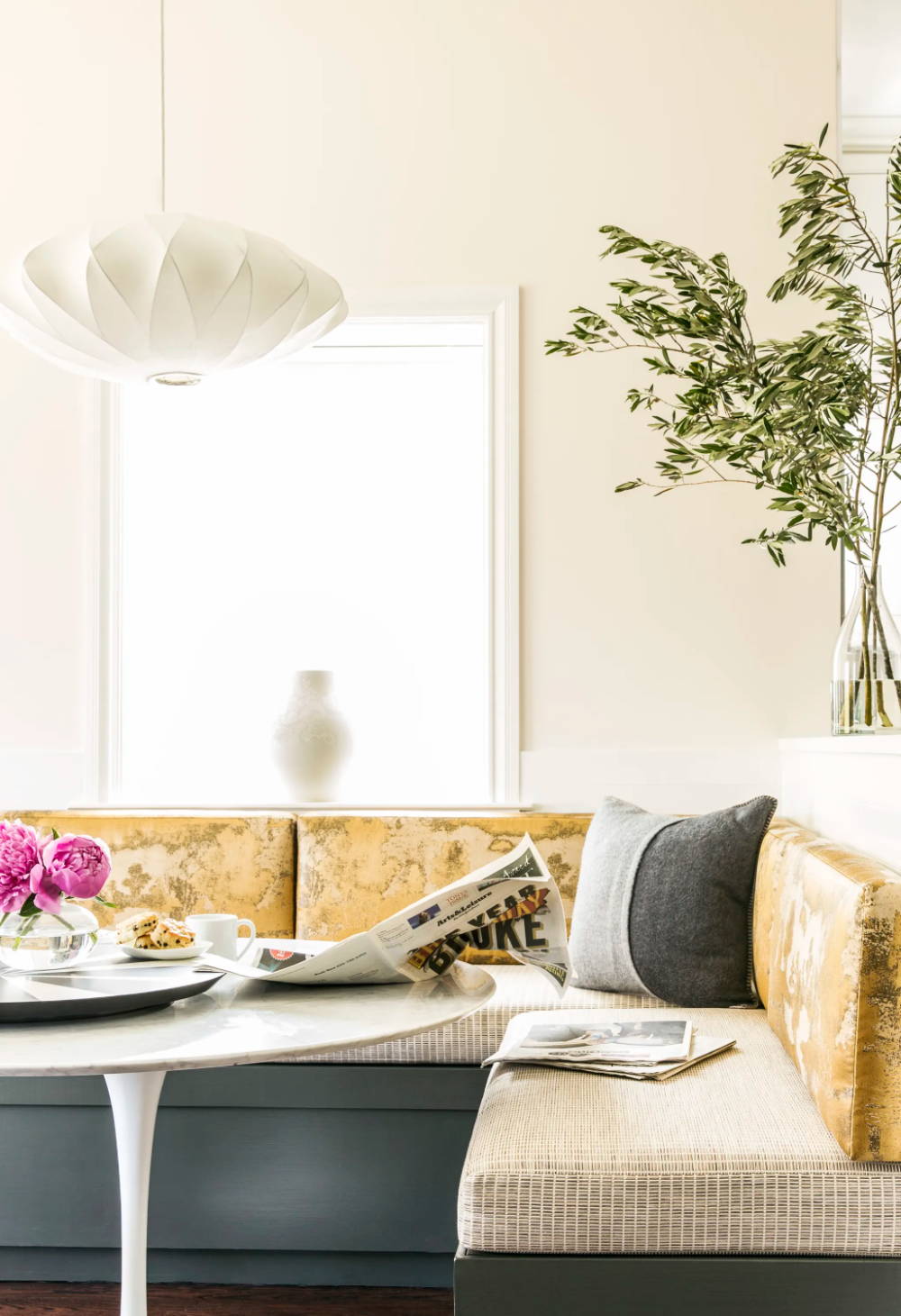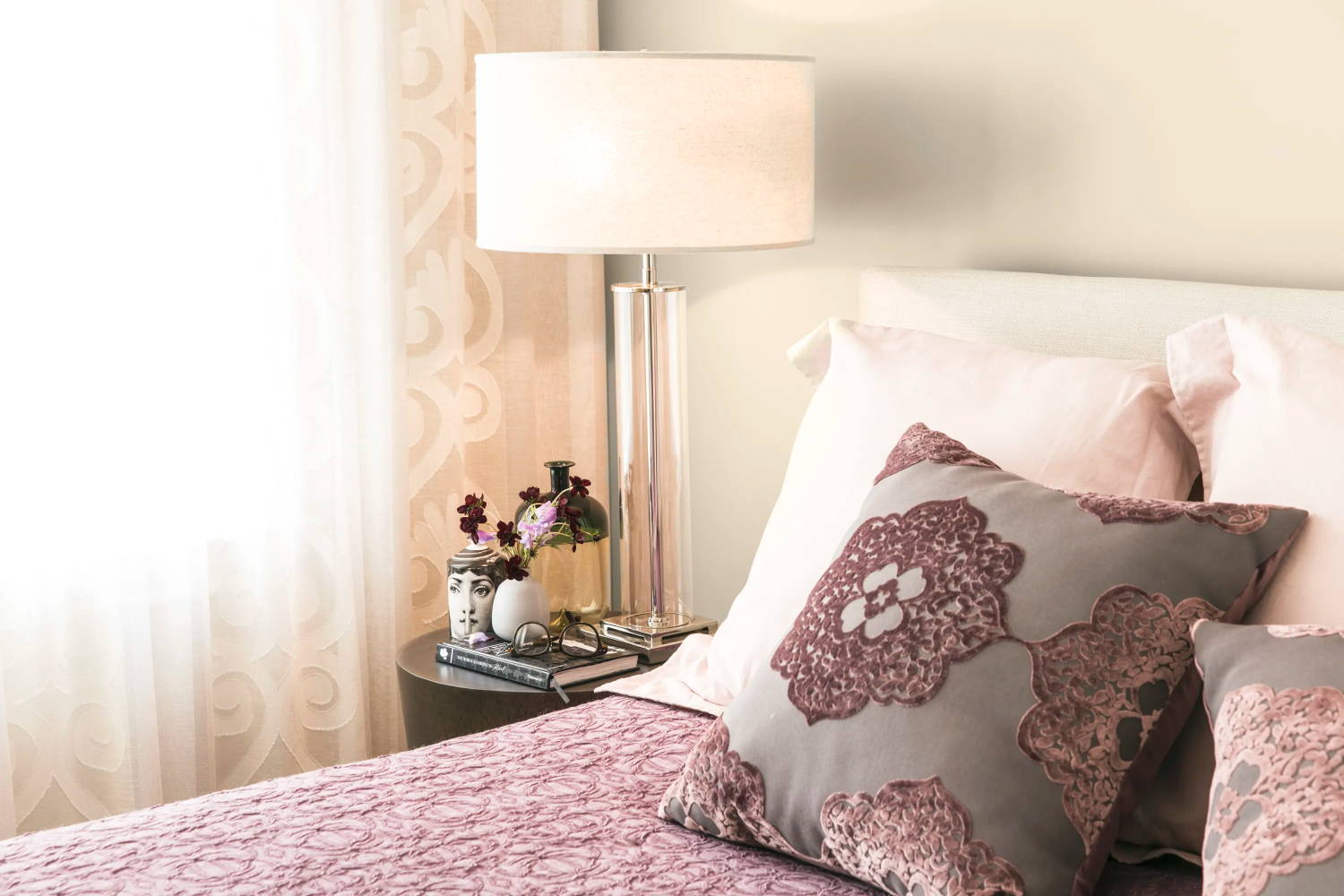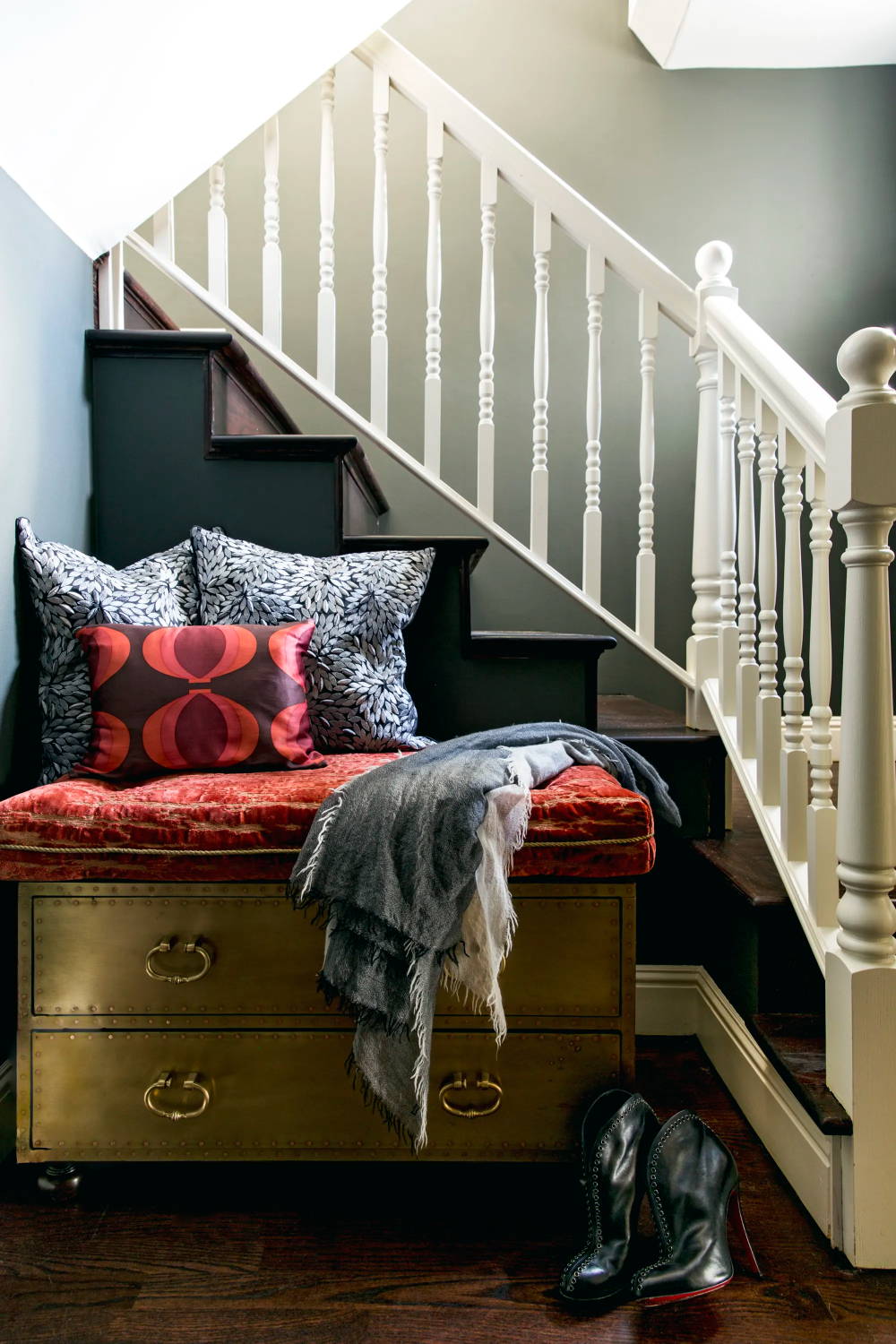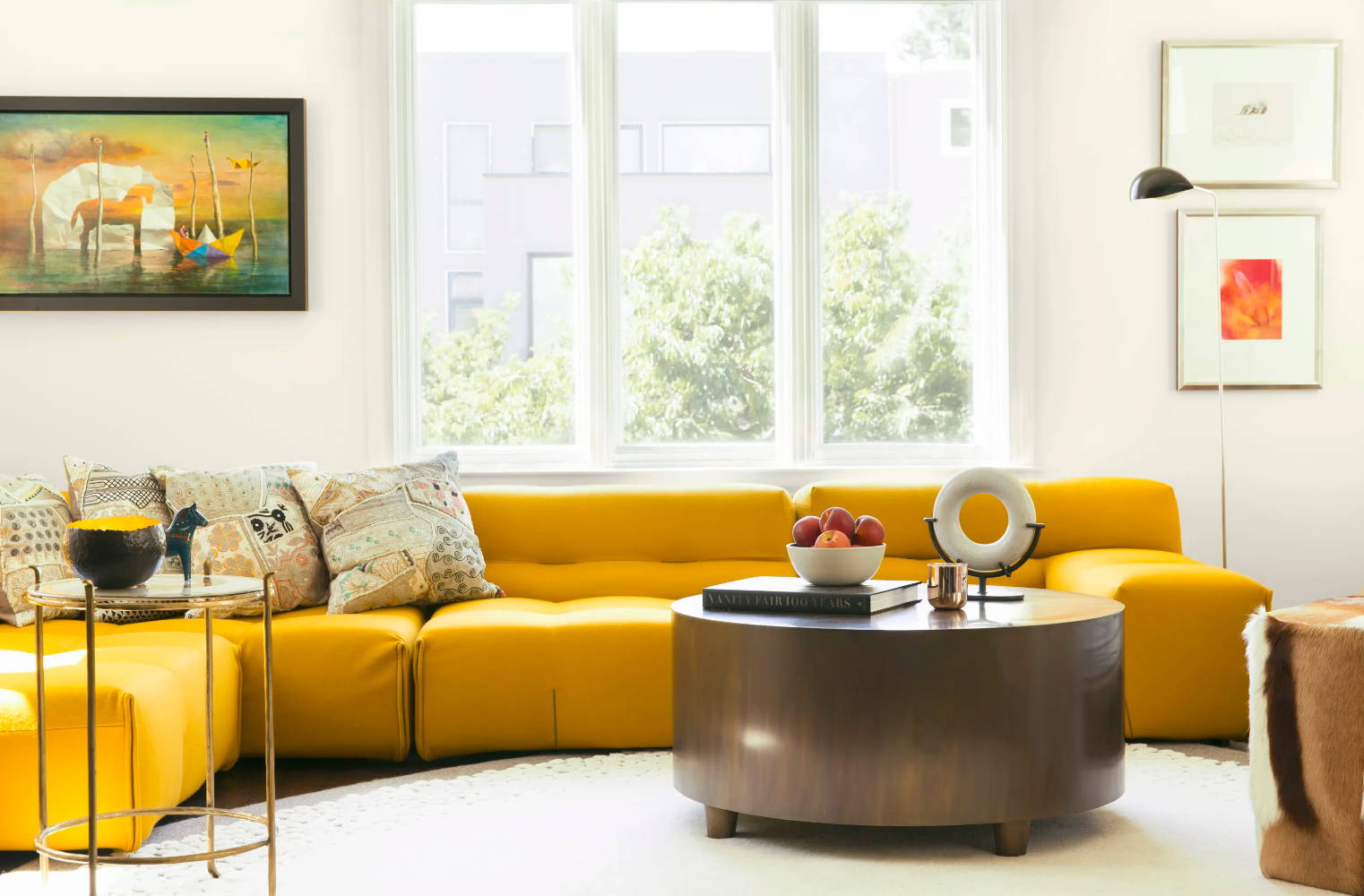 Clipper Street - About The Project
BOLD ART AND TREASURED FINDS
Designed by BAMO
Designs used: Maria Cabinet
BAMO's renovation of this San Francisco Victorian reflects the client's desire for easy entertainment, while showcasing her personality through bold art and furniture, and treasured finds. A high-low approach, mixing catalog with investment pieces, was established to give an authentic, eclectic, and casual feel. Getting the client to step "outside the box" became an exciting challenge. Her first reaction to the yellow B&B sofa was an adverse "that's so much color!" But after exploring how the vibrant hue would be visible through the long corridor, drawing you through the house, a bold streak of exploration was born. Art curation was another place the client agreed to have fun. "Levity" was the directive, with selections being touchable, verging on humorous. She fell in love with the works of Tracy Kendall, originally exposed to the "Jigsaw" puzzle-inspired piece but opting for the "Sequins" version with its three-dimensional movement. The Living Room was spatially complicated, with a large entry corner to fill. BAMO's discovery of the duo artists "Chiaozza", introduced a family of playful papier-mâché sculptures to the mix. In the Family Room, YoY's Canvas Armchair is always a conversation starter. The Primary Bedroom entry needed to keep in balance with the main floor. With her quirky smile and elegant costume, the Mineheart "Maria" cabinet was placed front and center welcoming the client back to their personal space. Moments of excitement are balanced with calm, reflecting their laid-back style. Entertaining is made easy with the open Kitchen/Family Room layout, accentuated by the client's Knoll Saarinen table and rawhide pieces. The Primary Bedroom's dreamy vibe is balanced by the sleek headboard, modern dresser, and traditionally-inspired yet contemporary Cowtan & Tout drapery. The Living Room became a favorite place to relax, with a cozy Liz Collins custom potholder rug underfoot. Clipper was completed July 2016.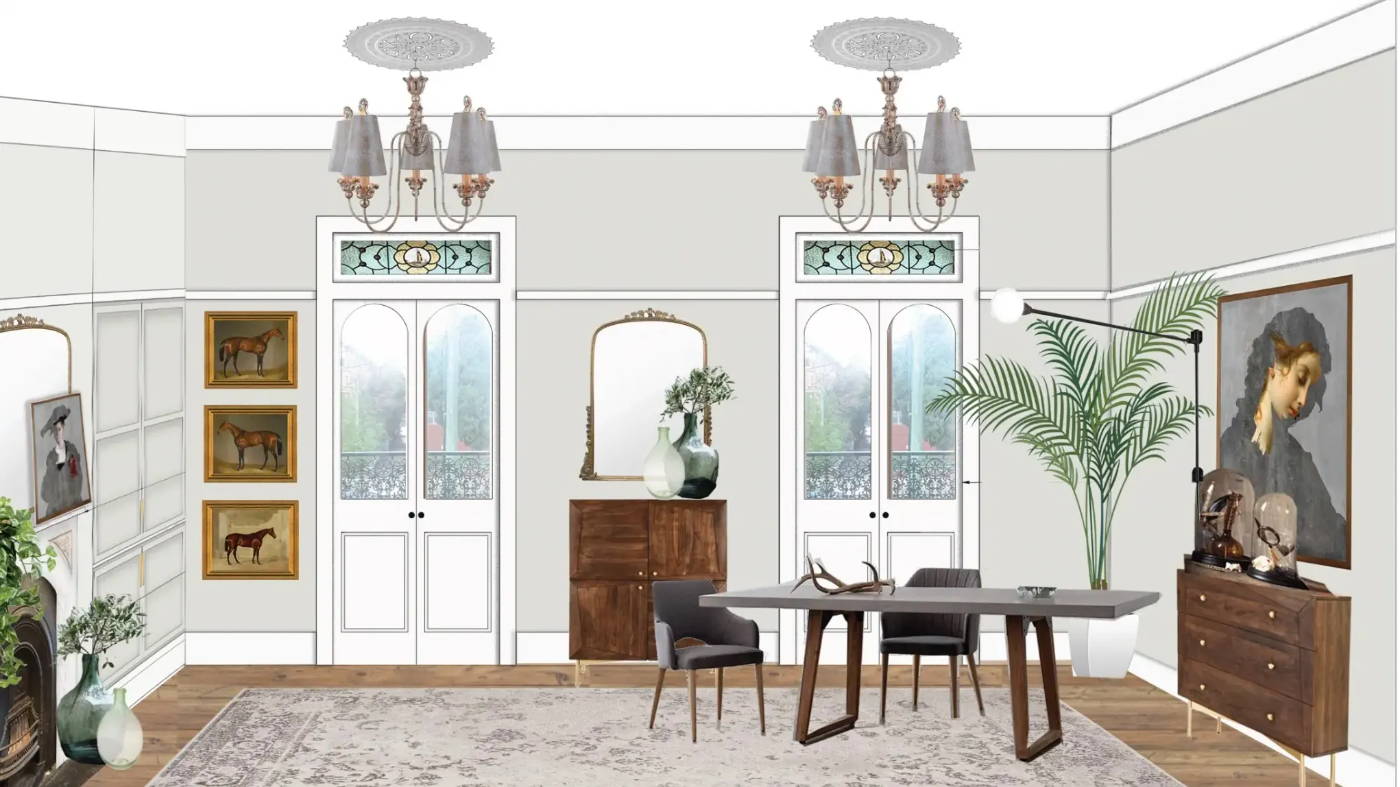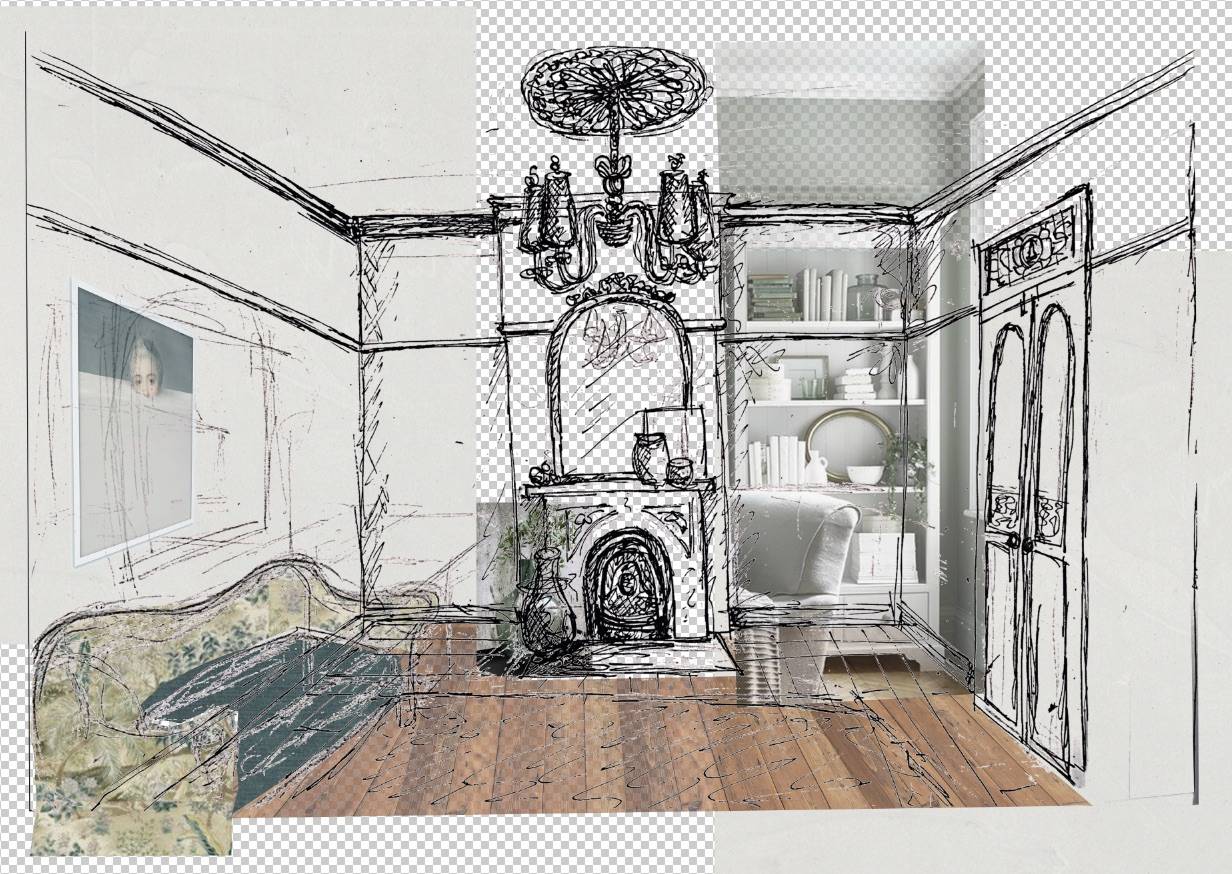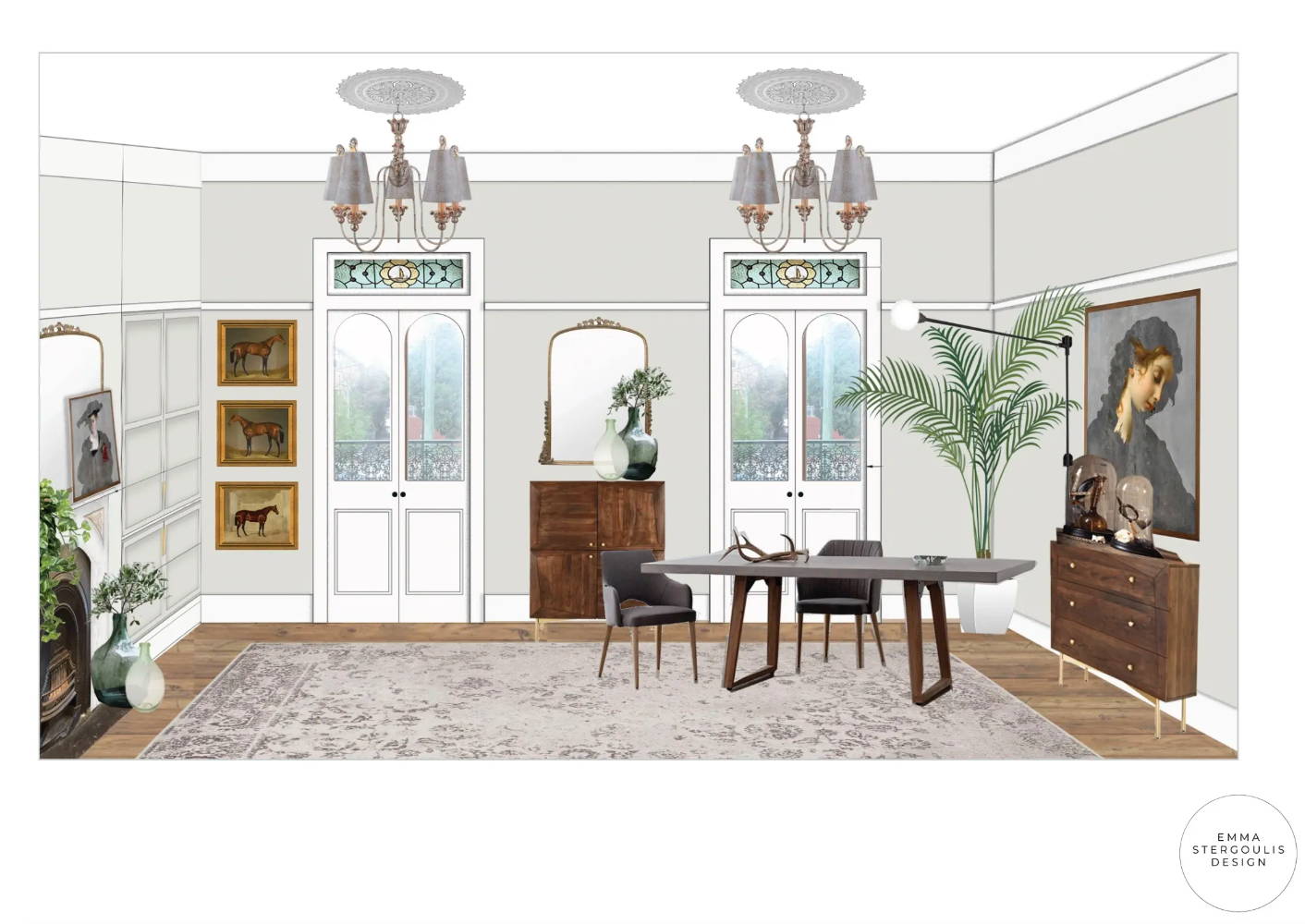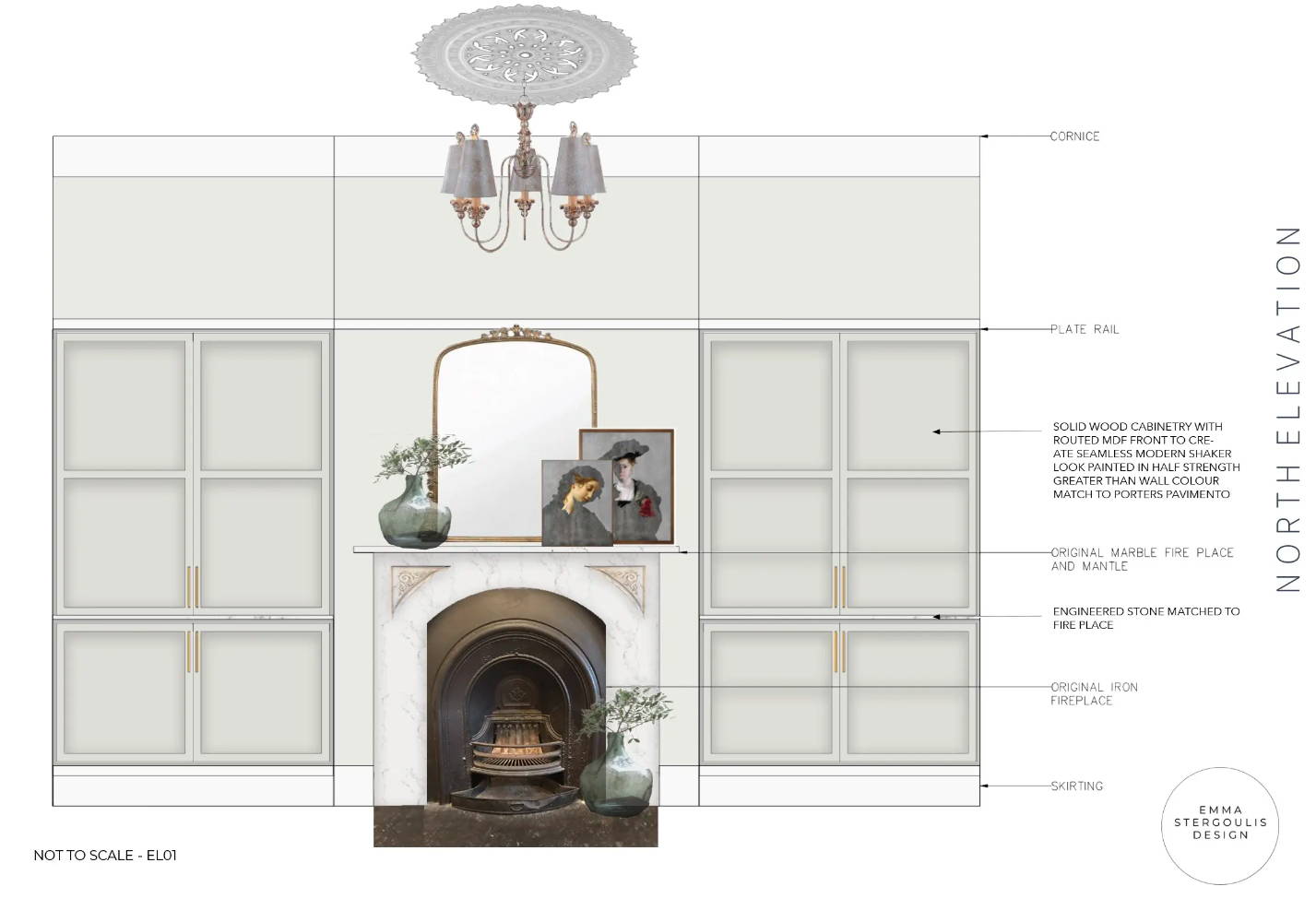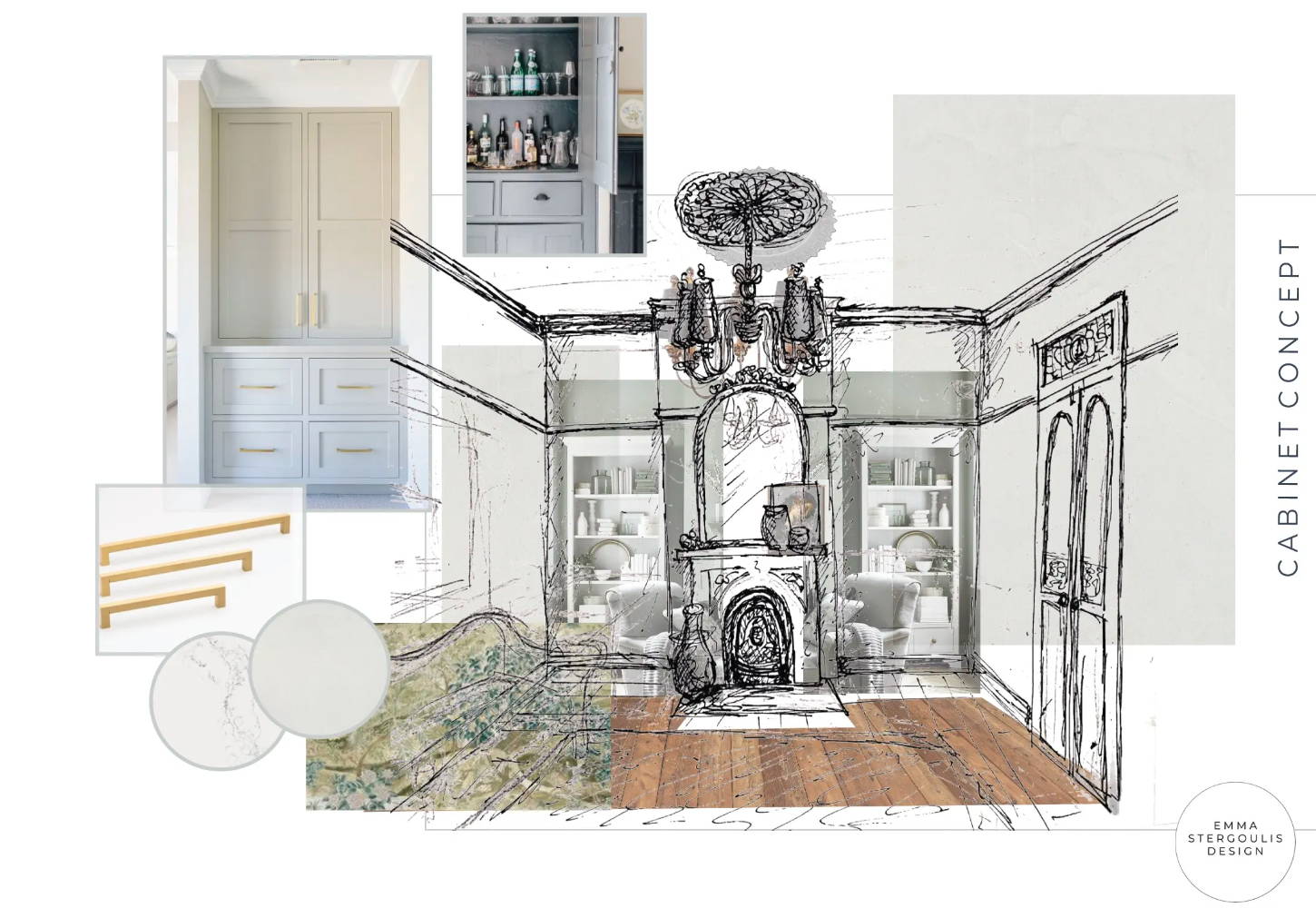 Victorian Terrace - About The Project
SOPHISTICATED WHIMSY
Designed by Emma Stergoulis Design
Designs used: Submerged 2 Framed Printed Canvas, Reveal Lady 1 Limited Edition Print, Reveal Lady 2 Limited Edition Print
The Heritage Victorian Terrace is situated in the heart of the Sydney suburb of Randwick. The upper level of the property is currently used as a storage space for the lower floor commercial use. The project is looking at transforming the upper level to an inspirational office space which pays nod to the Victorian and racing heritage of the location and building. The brief is an inspirational office space with a touch of whimsy that is very much pulling in the original features of the beautiful space. A space which is sophisticated without taking itself too serious. The Mineheart art collection was a perfect and original choice which showed a sophisticated whimsy. The project is not due to start until structural work has been completed which could be up to 18 months.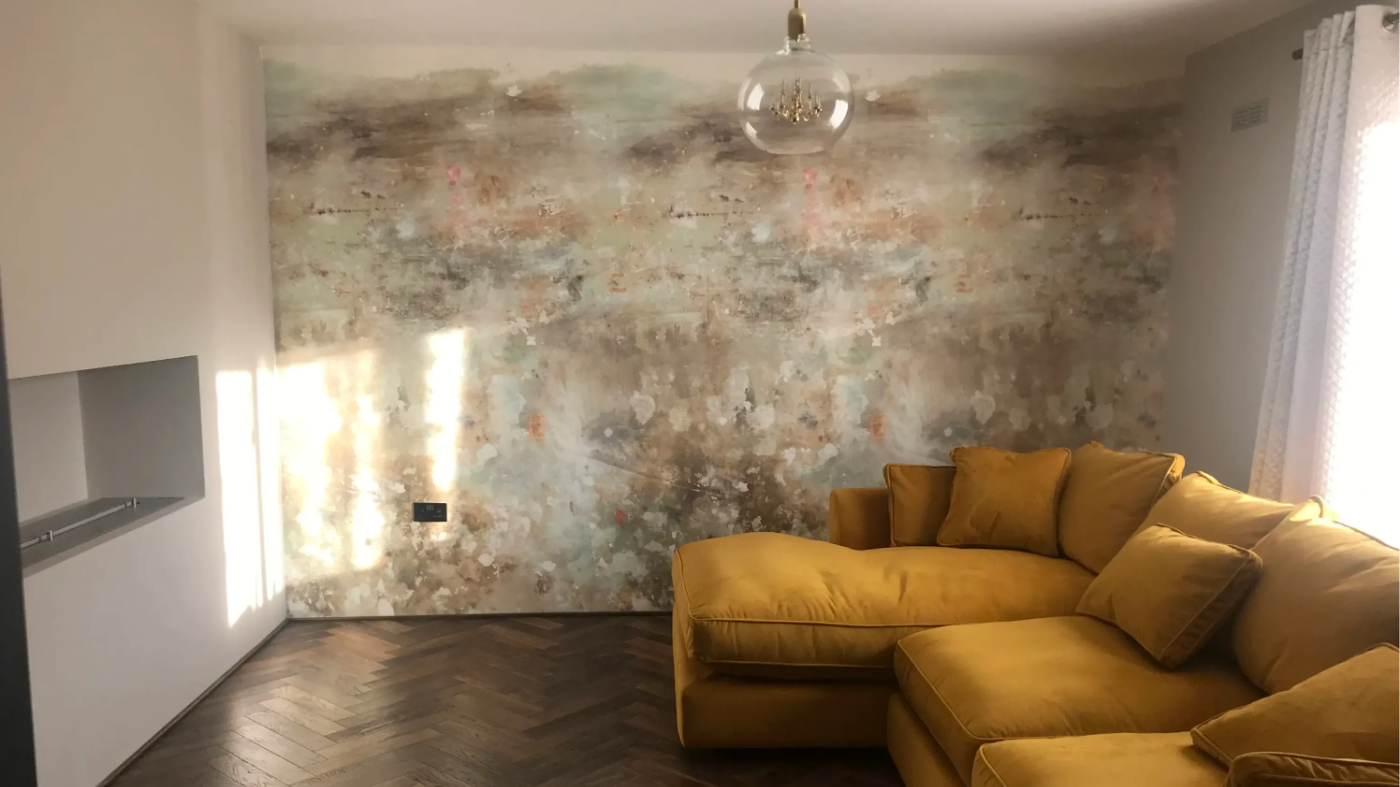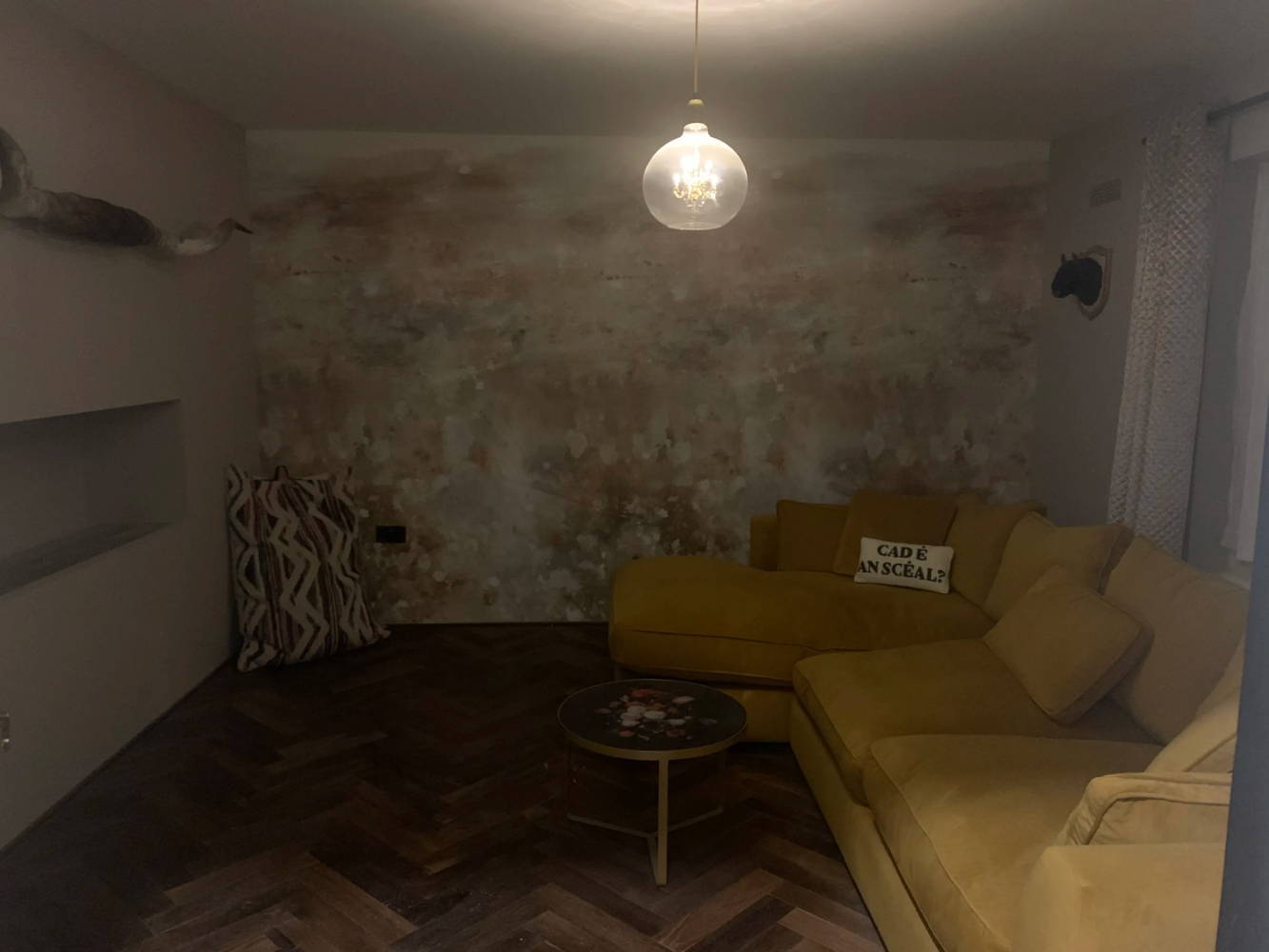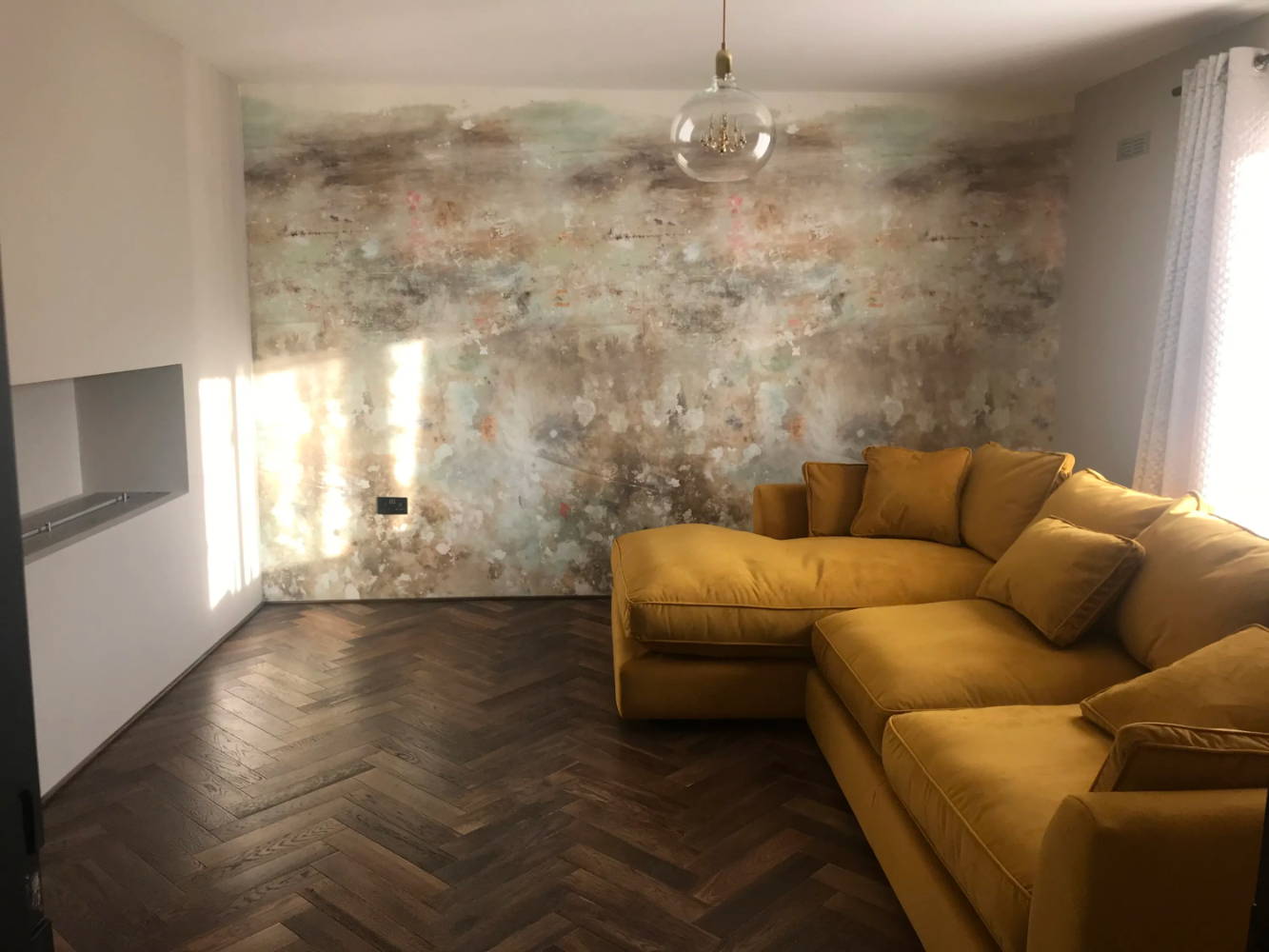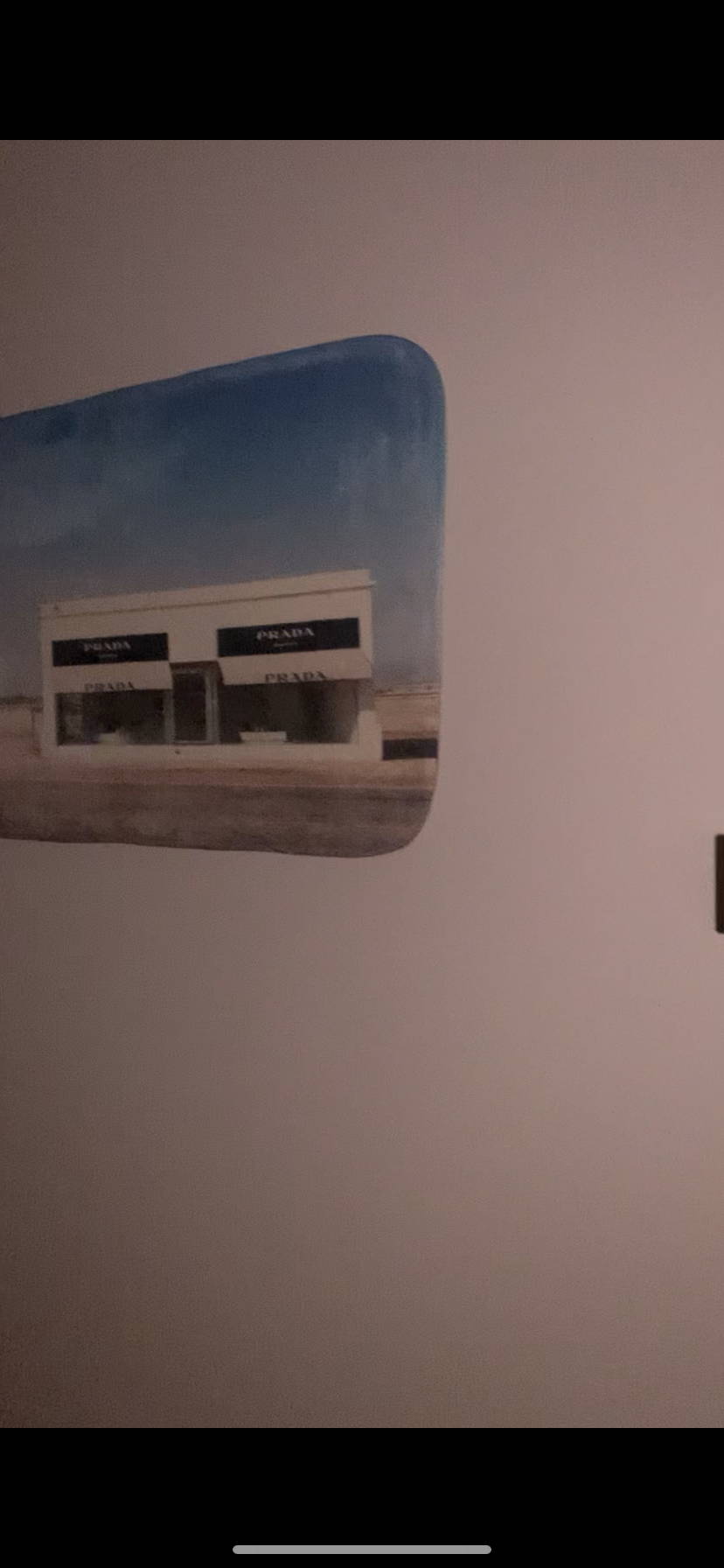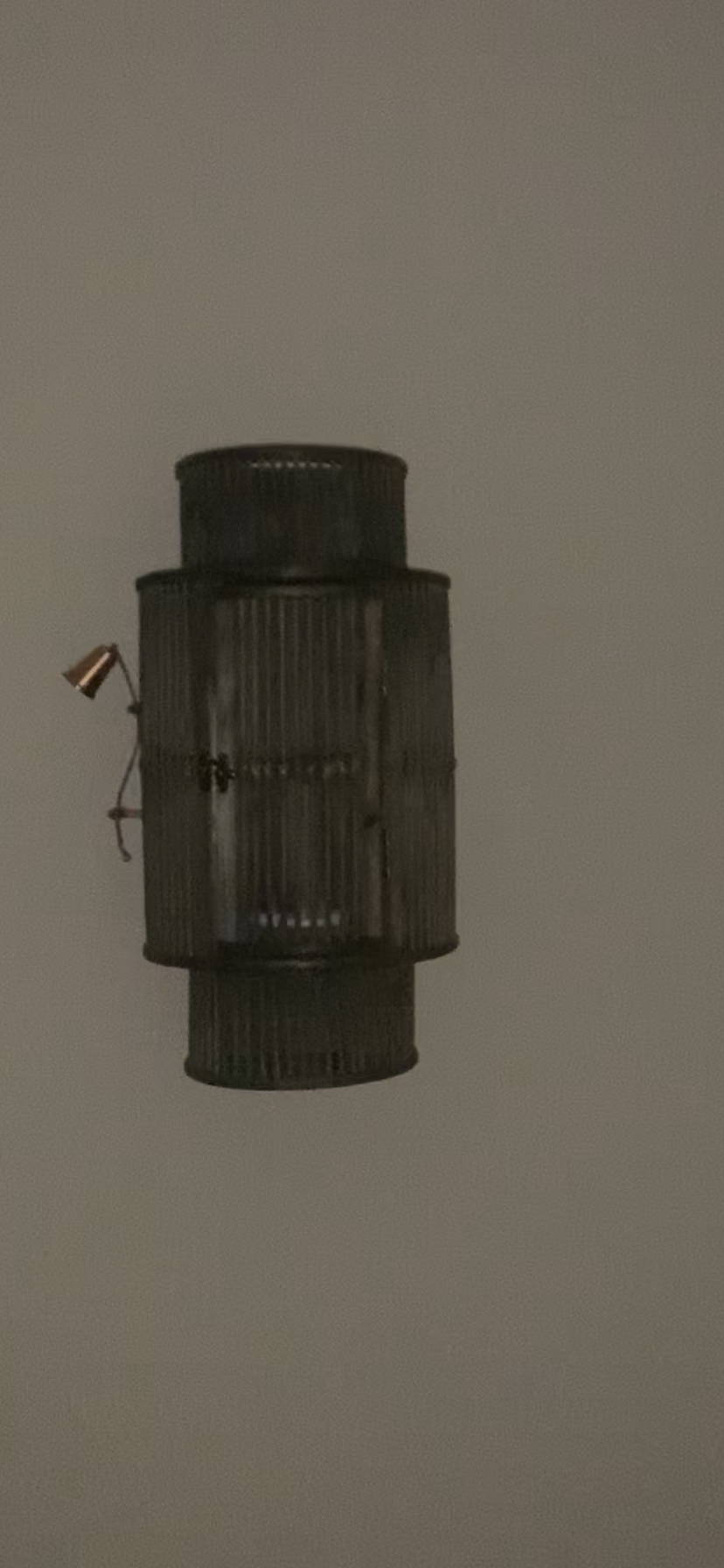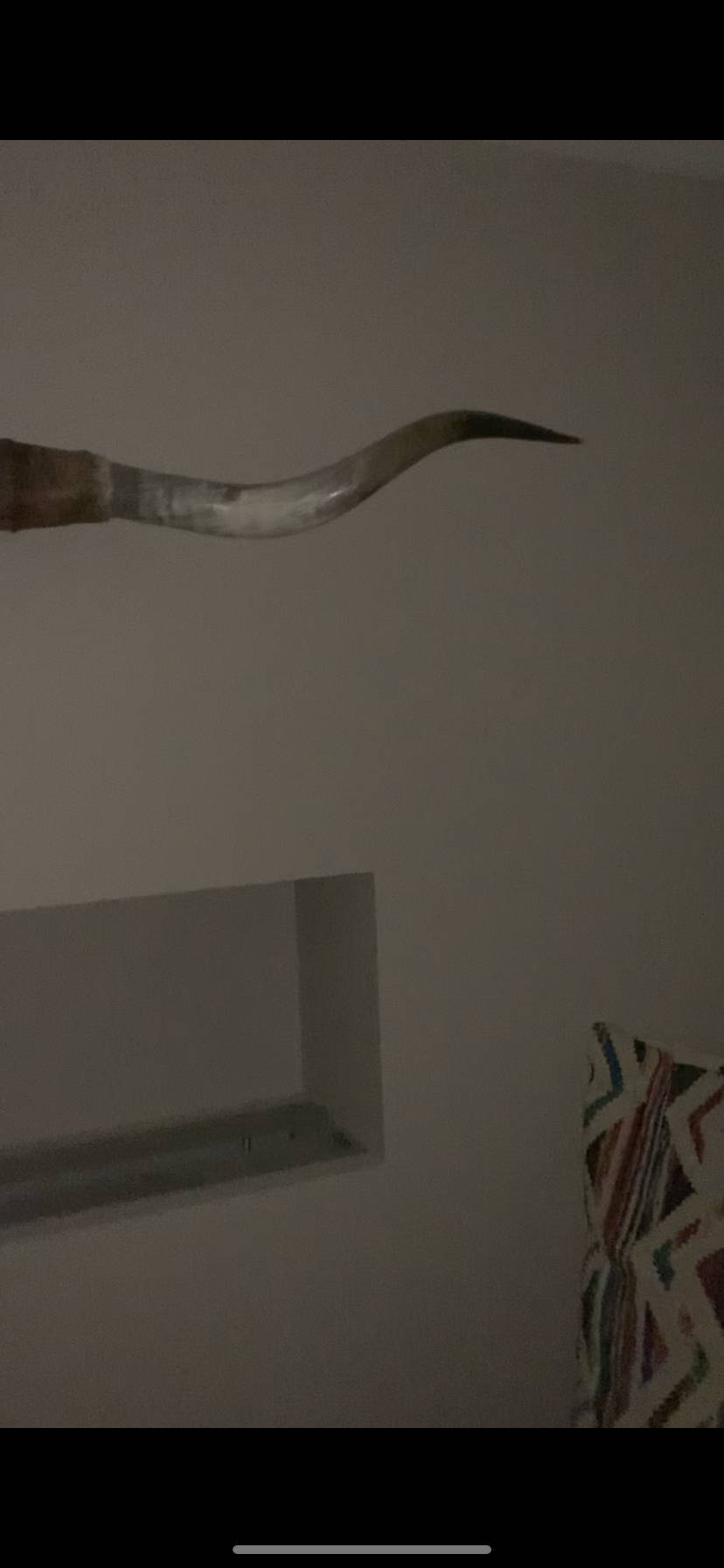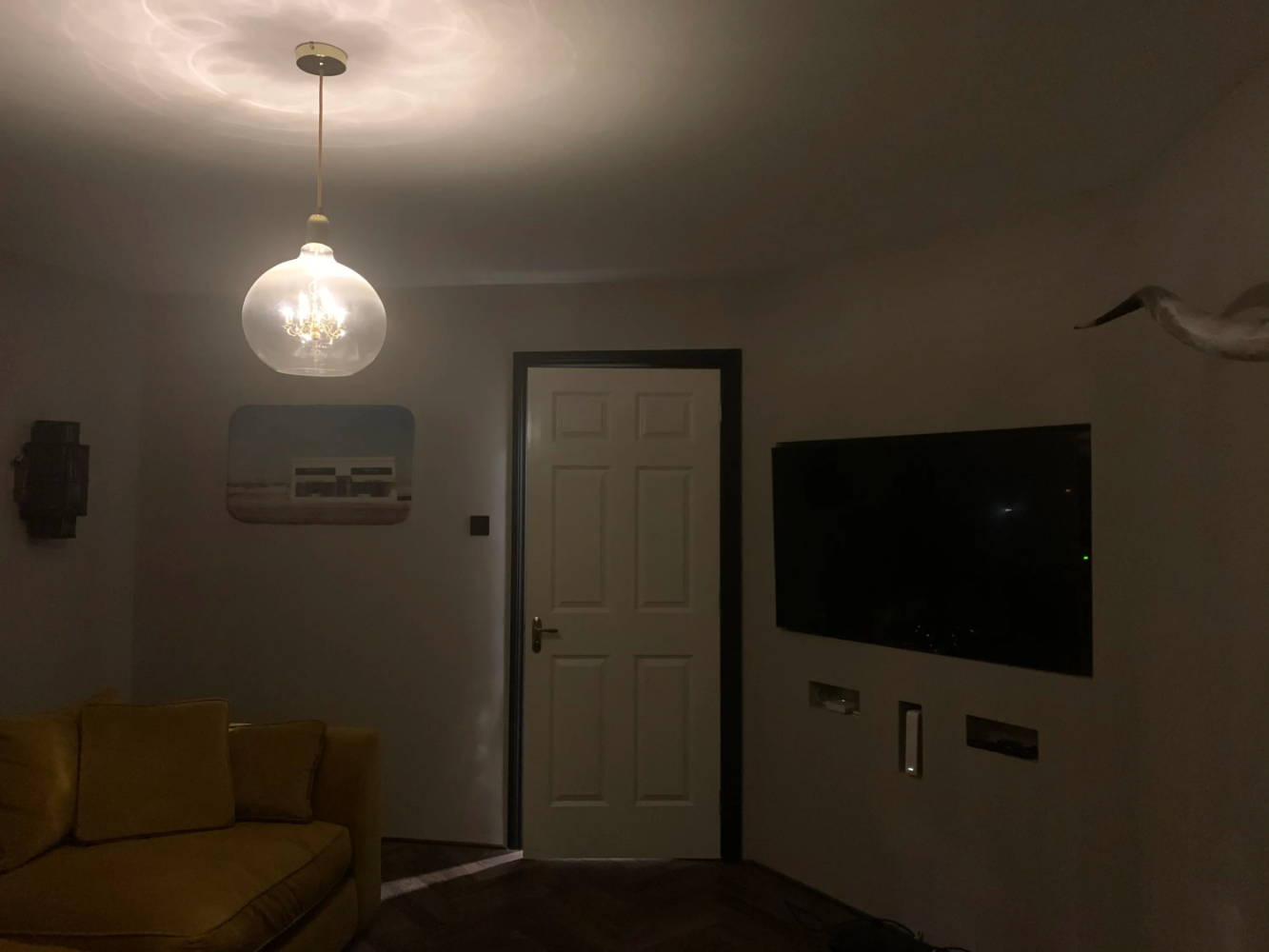 Throwback - About The Project
OLD AND NEW TIED TOGETHER
Designed by Tara Looby
Designs used: King Edison Lamp
Sitting room Kilkenny Ireland. Chandelier from mineheart was the first piece, from that the room evolved to include a mix of old and new tied together by the feature wallpaper.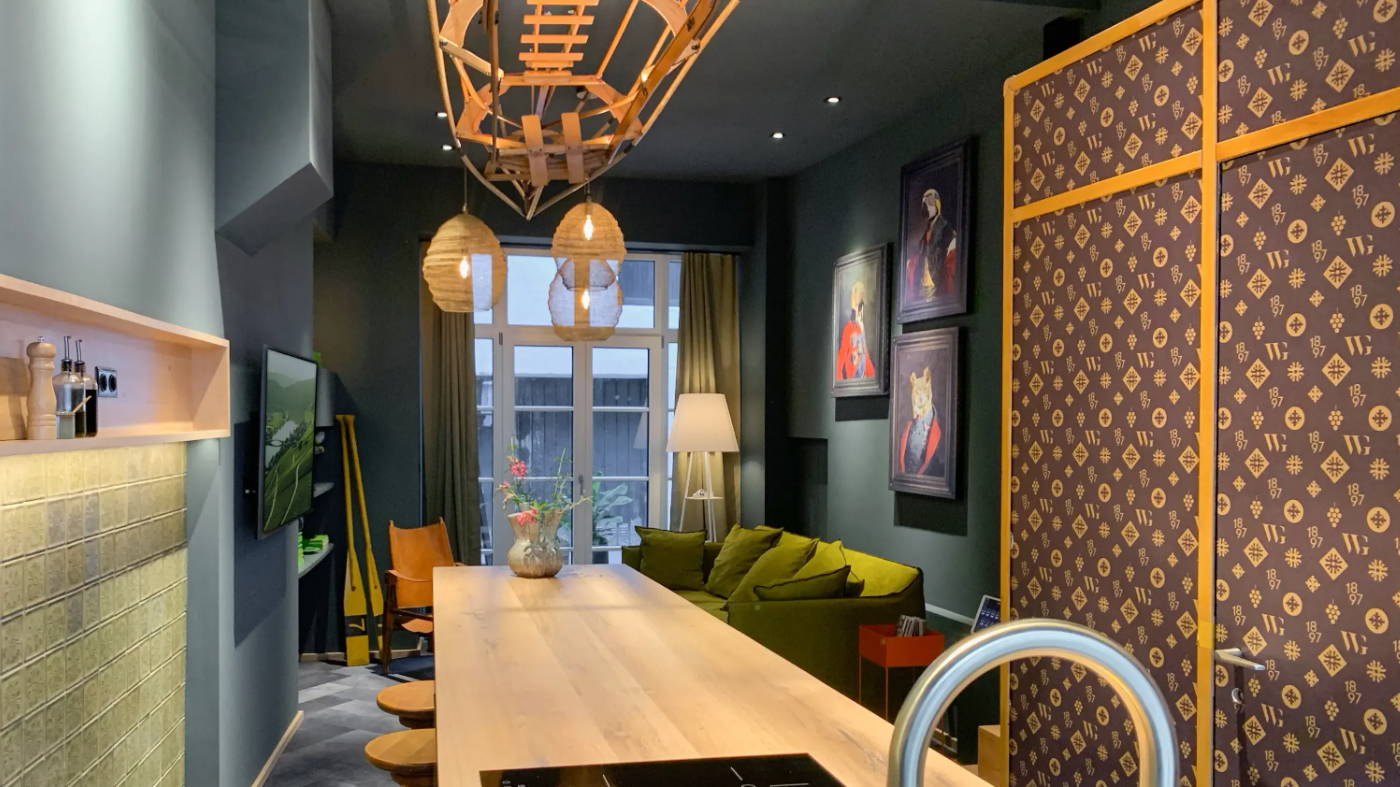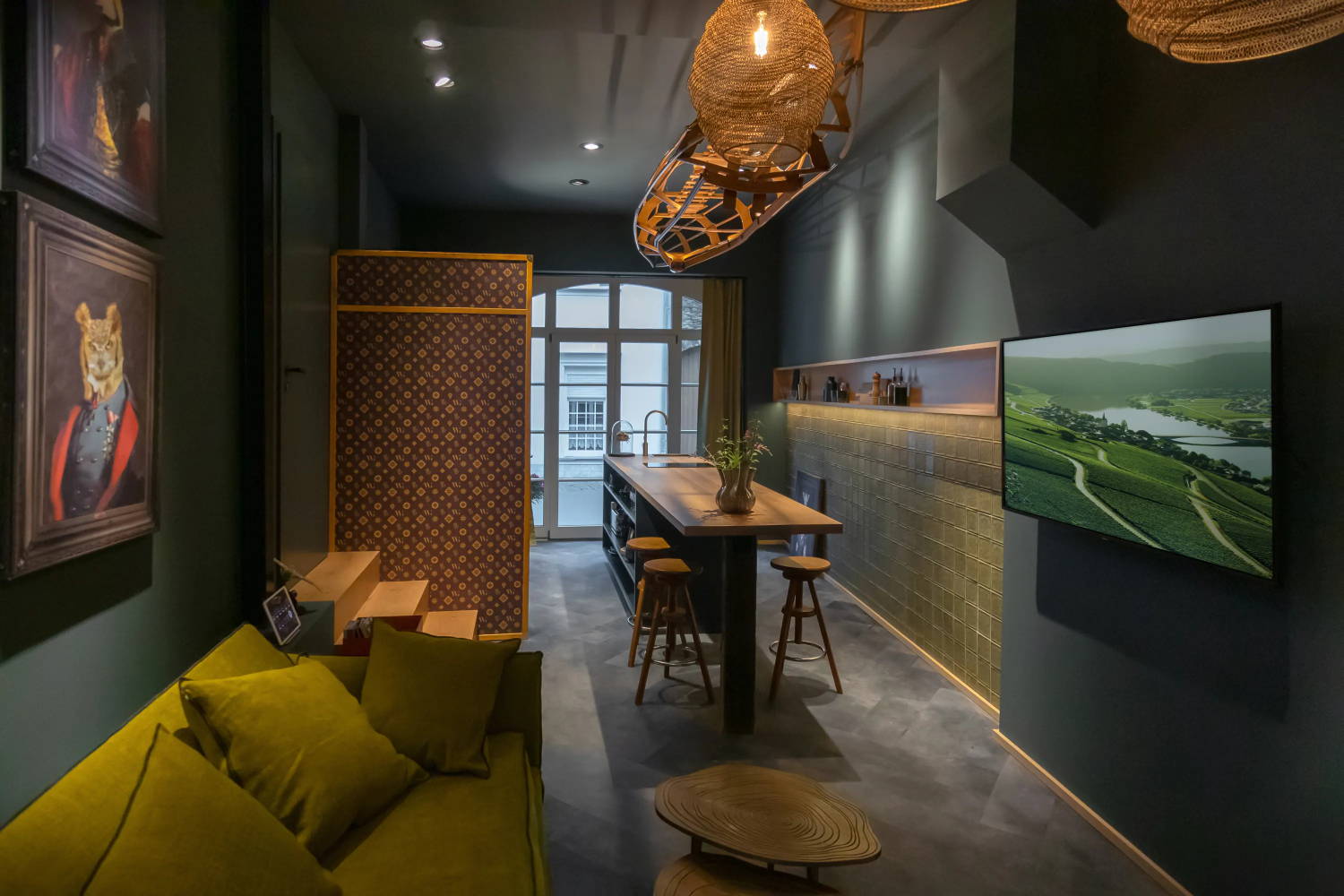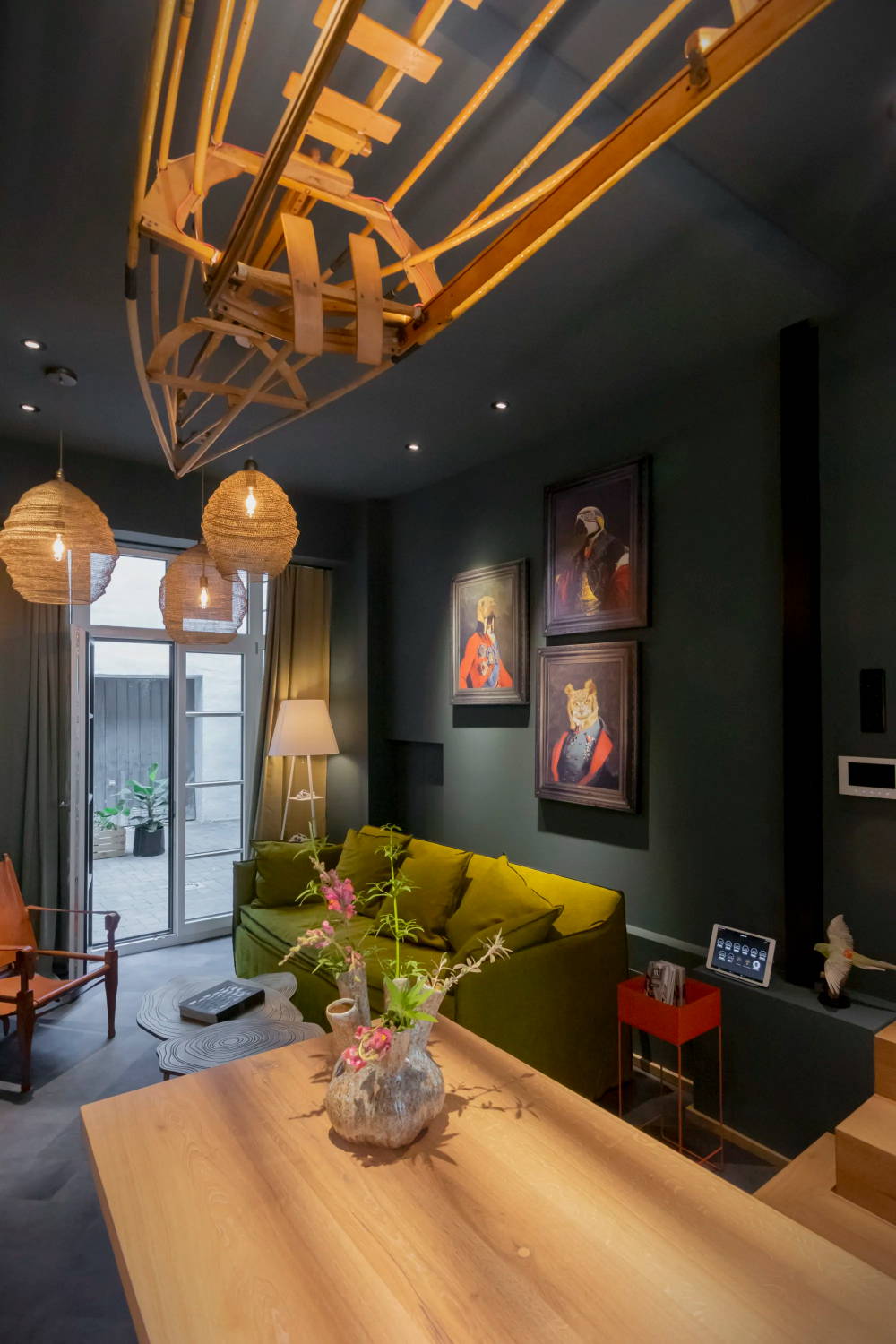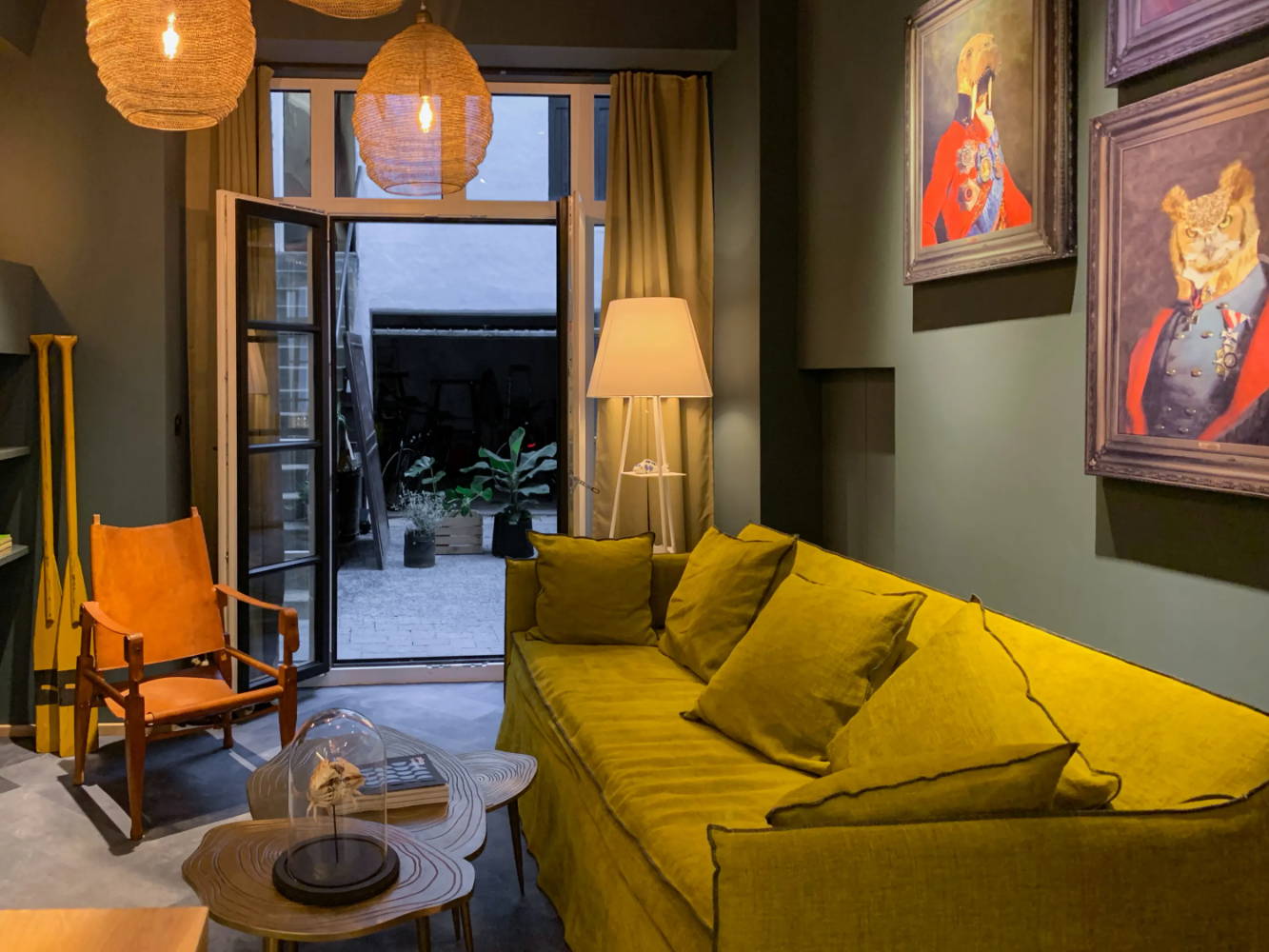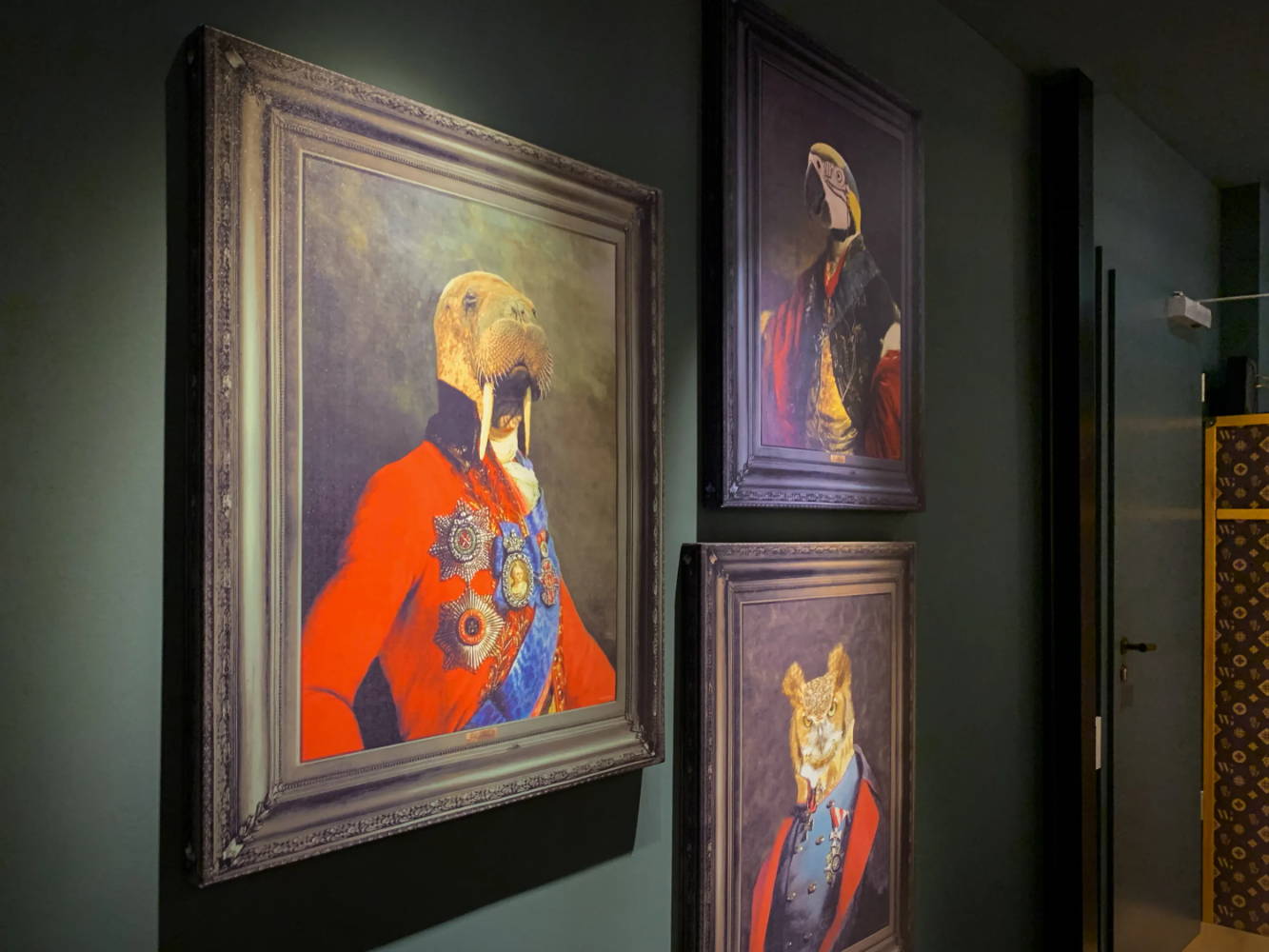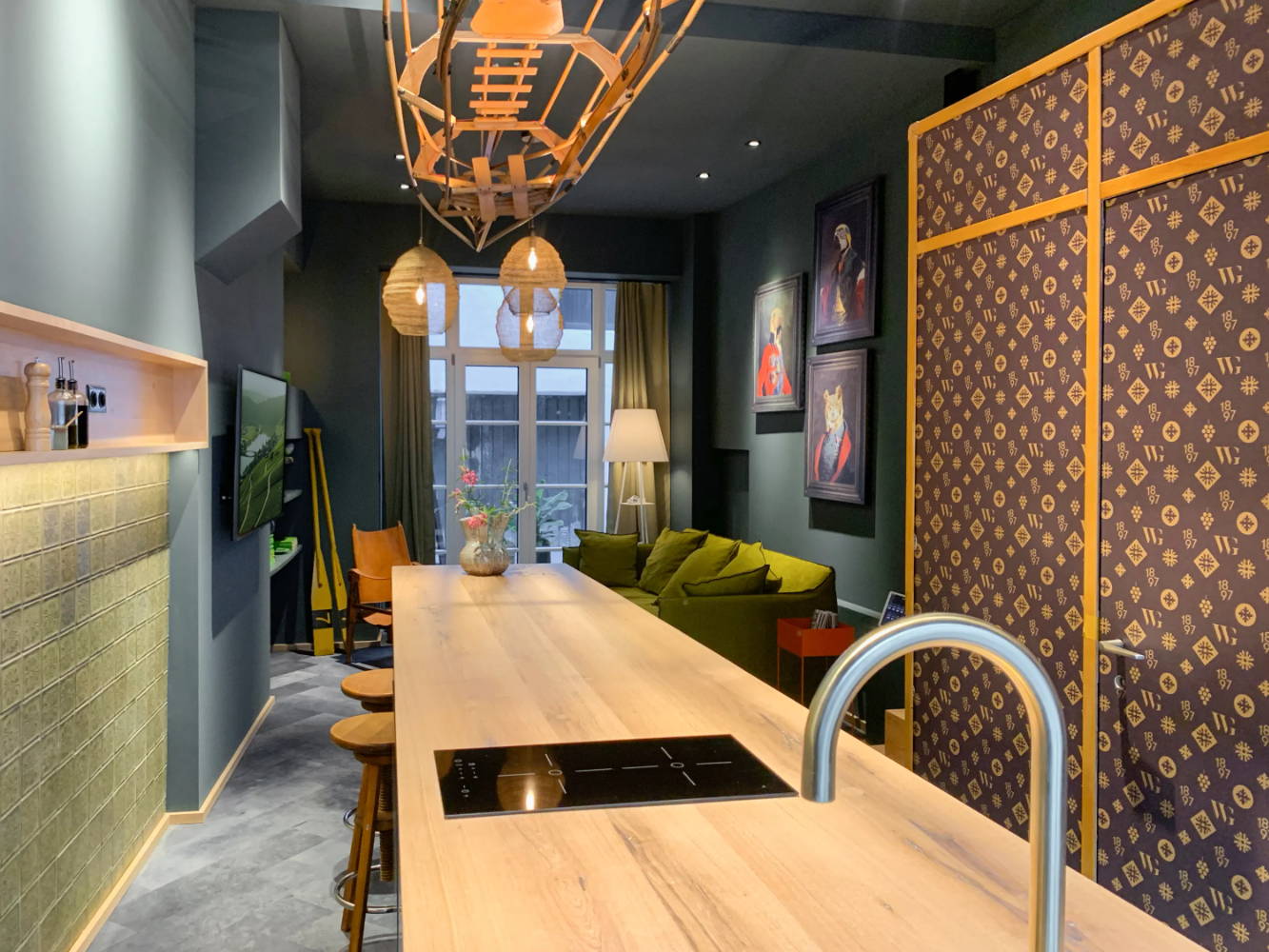 Apartment "Fritzi Bur" in Weingarten 1897 - About The Project
SPECIAL AND UNCONVENTIONAL
Designed by Kplus Konzept
Designs used: Cousin Parker Canvas, Grandfather Olaf Canvas, Uncle Walter Canvas
The vacation apartment 'Fritzi Bur' on the Moselle in Germany is tailored to guests who love the special and unconventional even in their vacation. The name, interior and atmosphere of the apartment tell the story of the (completely fictional) old Moselle fisherman Fritzi Bur, who had his retirement home here in the old winegrower's house after decades of sailing all the seas as the captain of a cargo ship. Photos, old documents and many souvenirs recall the adventures of the old sea bear on his voyages to the remotest corners of the globe - such as the antique diving bell, the boat hull on the ceiling or also, Bur's showpieces, the three old oil paintings with portraits of once powerful rulers of exotic island states. - At least, that is the legend, of which today no one knows for sure whether it has a grain of truth or whether it is a lie... The fact is that the apartment on just 27 square meters offers a maximum of atmosphere and storytelling, as well as every comfort for short vacations, temporary living & working, modern nomadism and business events. In other words: almost like a standalone Tiny-House, at the front with a separate entrance and at the back with direct access to the picturesque courtyard, a bathroom in a wardrobe trunk, pull-out sofa and a counter with cooking facilities, worktop and desk in one, it is a homey retreat for unconventional minimalists with a sense for individual interior. The apartment is also booked as a showroom and space for small business events. The apartment Fritzi Bur is the smallest of four apartments in the vacation apartment house Weingarten 1897 in Zeltingen-Rachtig, which was opened in 2020 as a special vacation location - also with the intention of making the touristically somewhat dusty Moselle region interesting for an urban audience. For this purpose, a former winegrower's house was renovated and carefully modernised. The tradition and retro charm of the house were preserved. The overall concept for the conversion and interior, which has already won several awards, was developed by Bettina Kratz, interior designer, and her husband Markus Kratz, communication designer. The two are also the owners of the vacation home. In their main residence in Düsseldorf, they run the company kplus konzept, Büro für Communication, Interior and Design.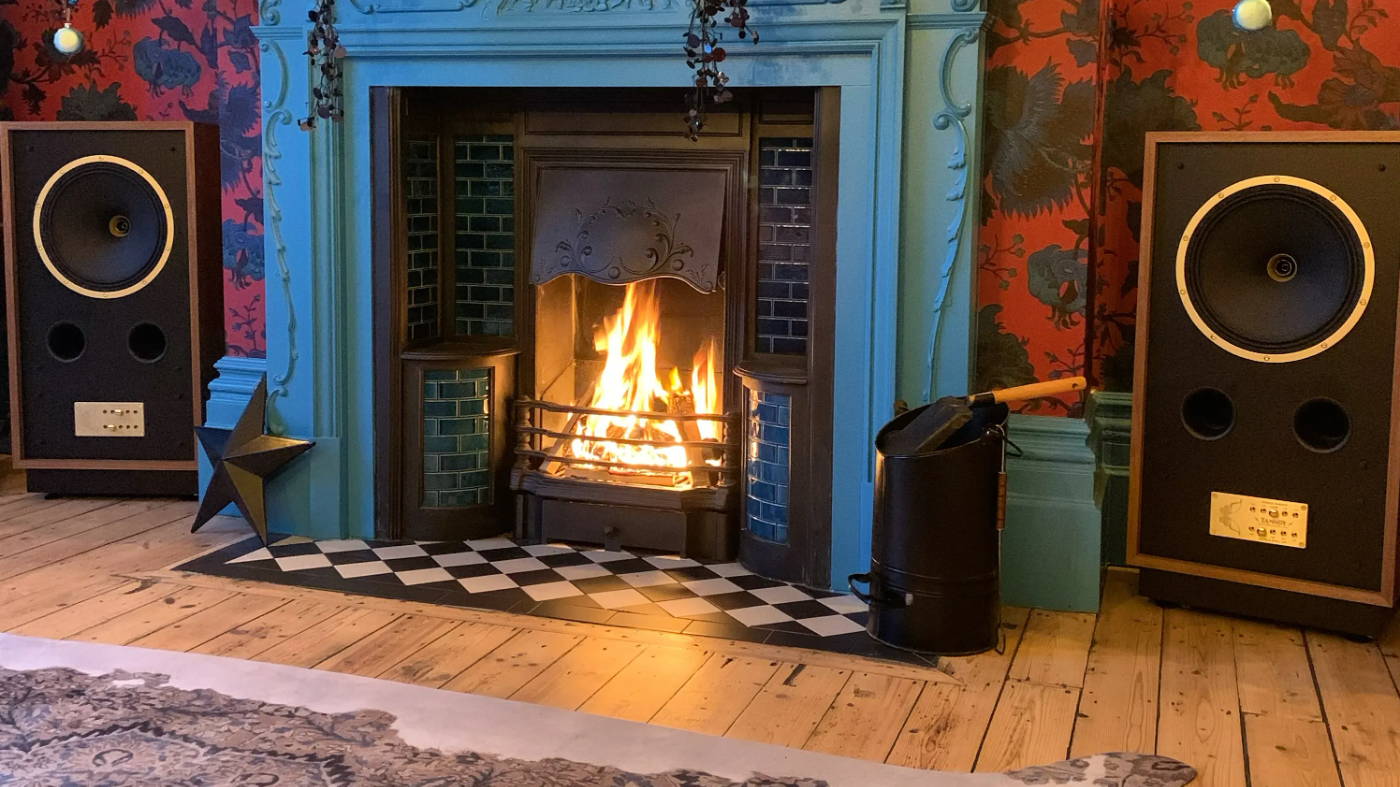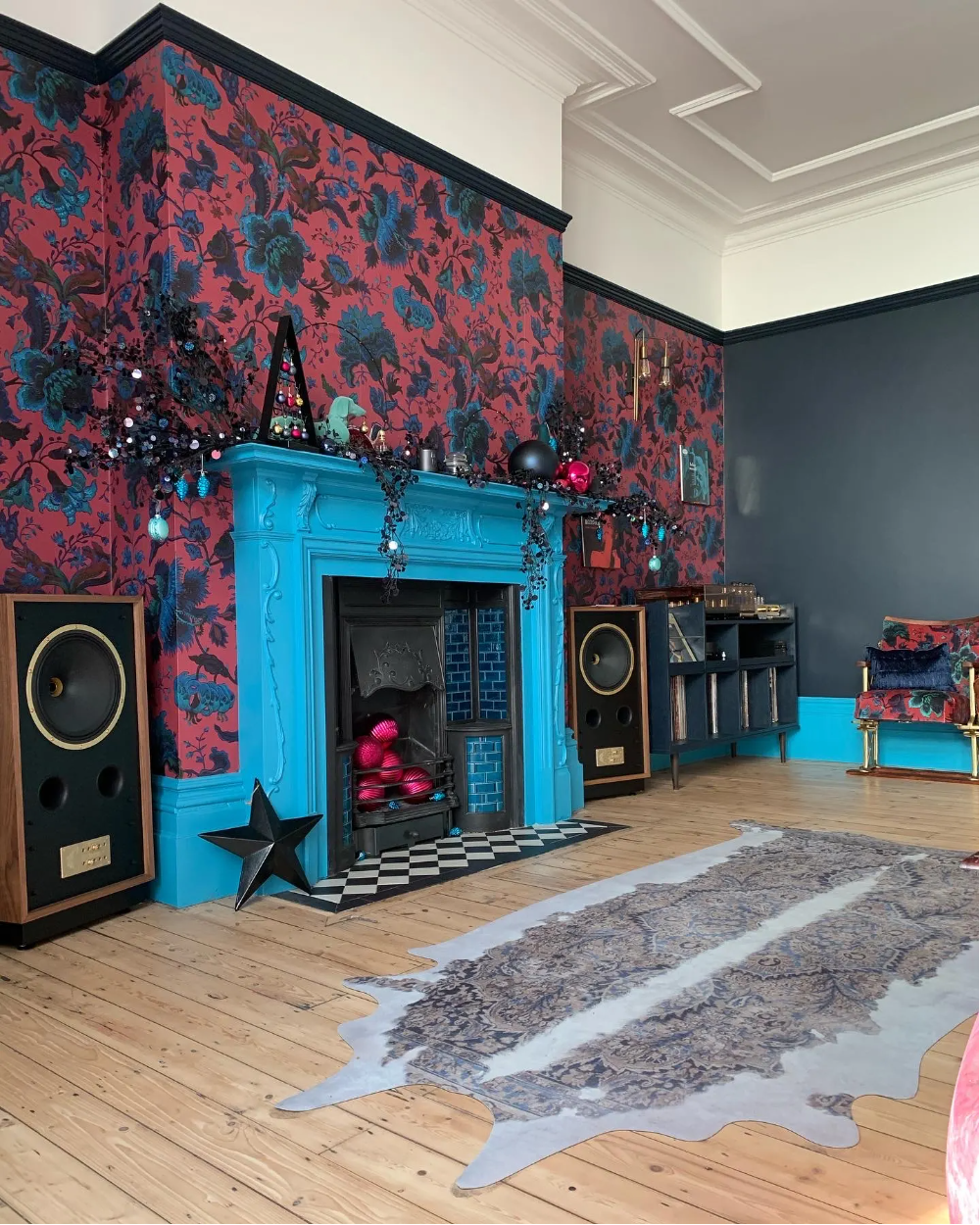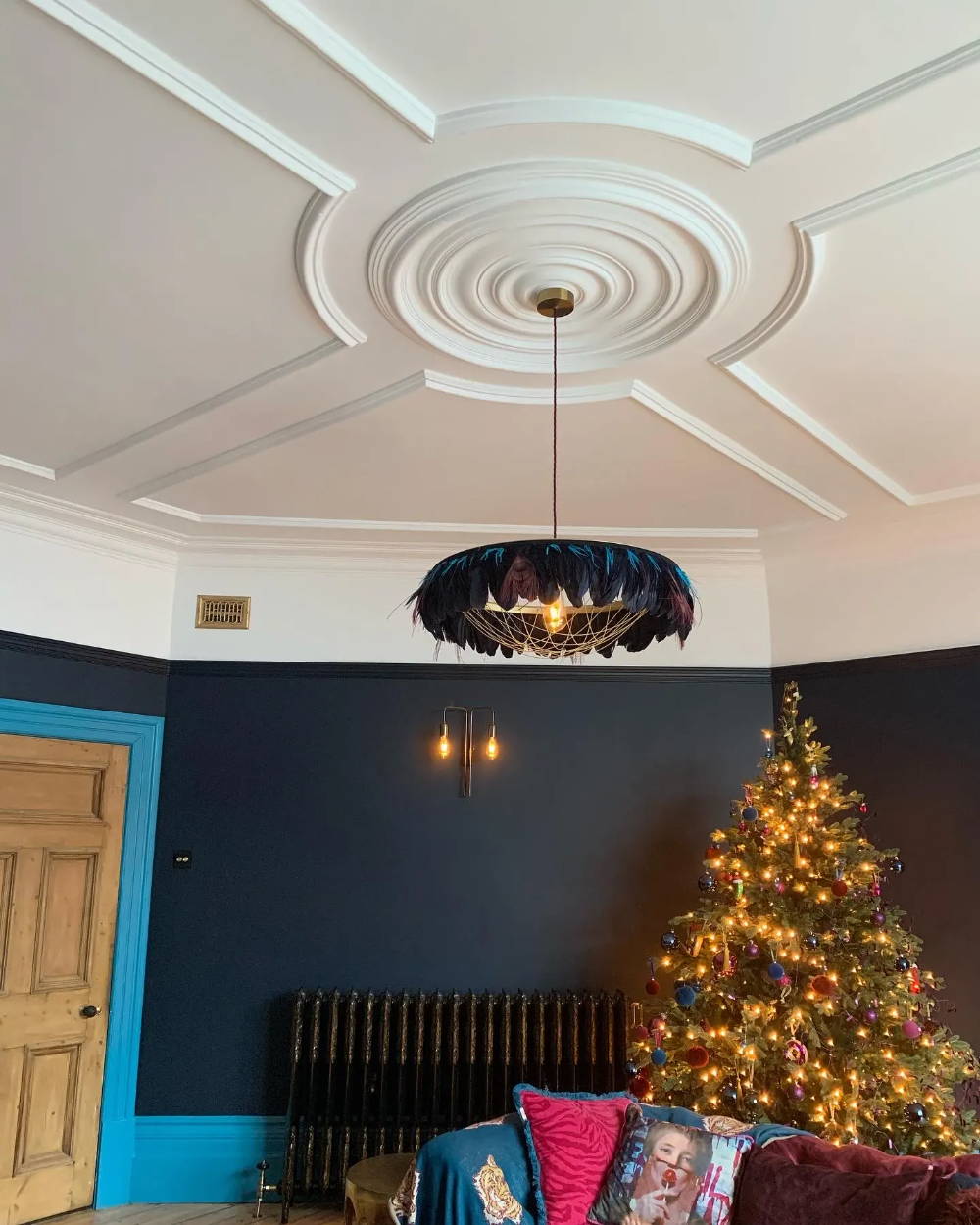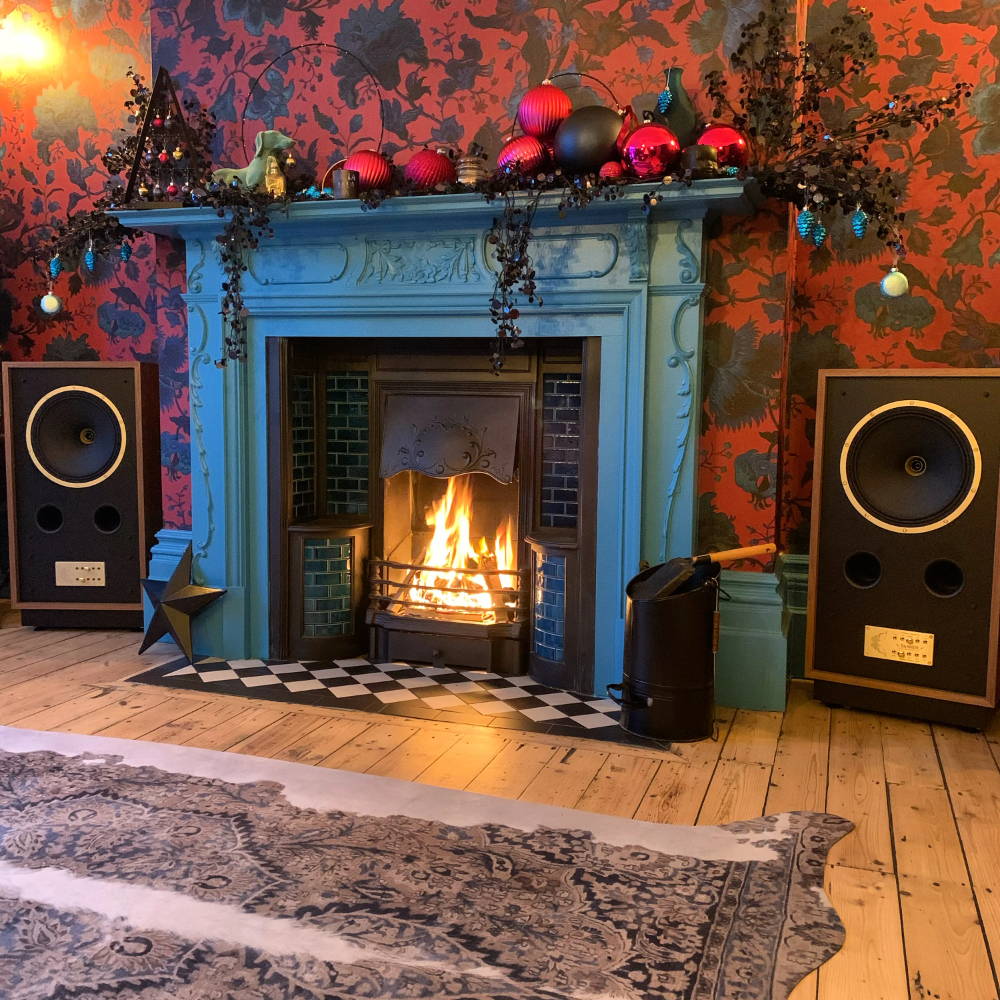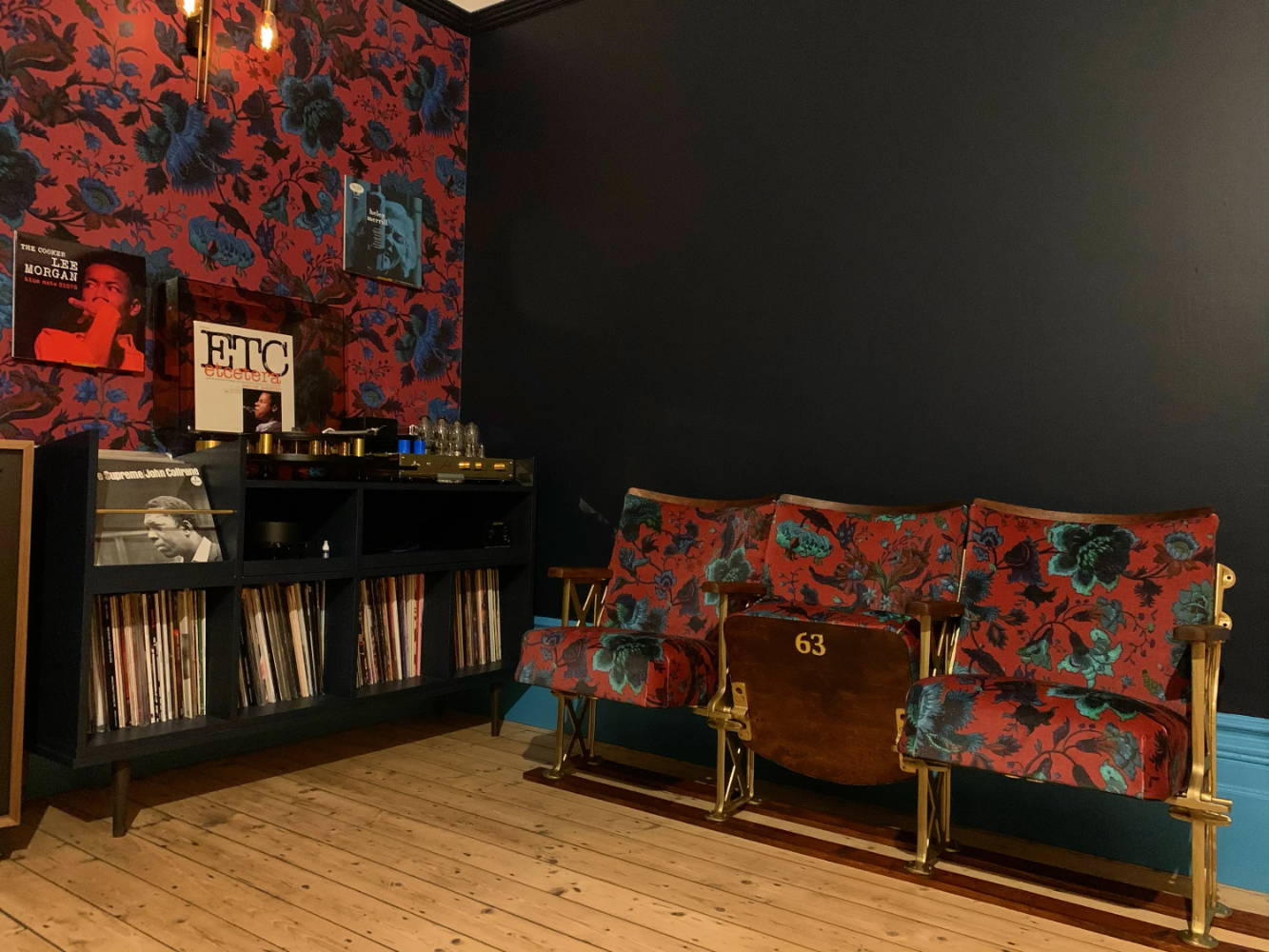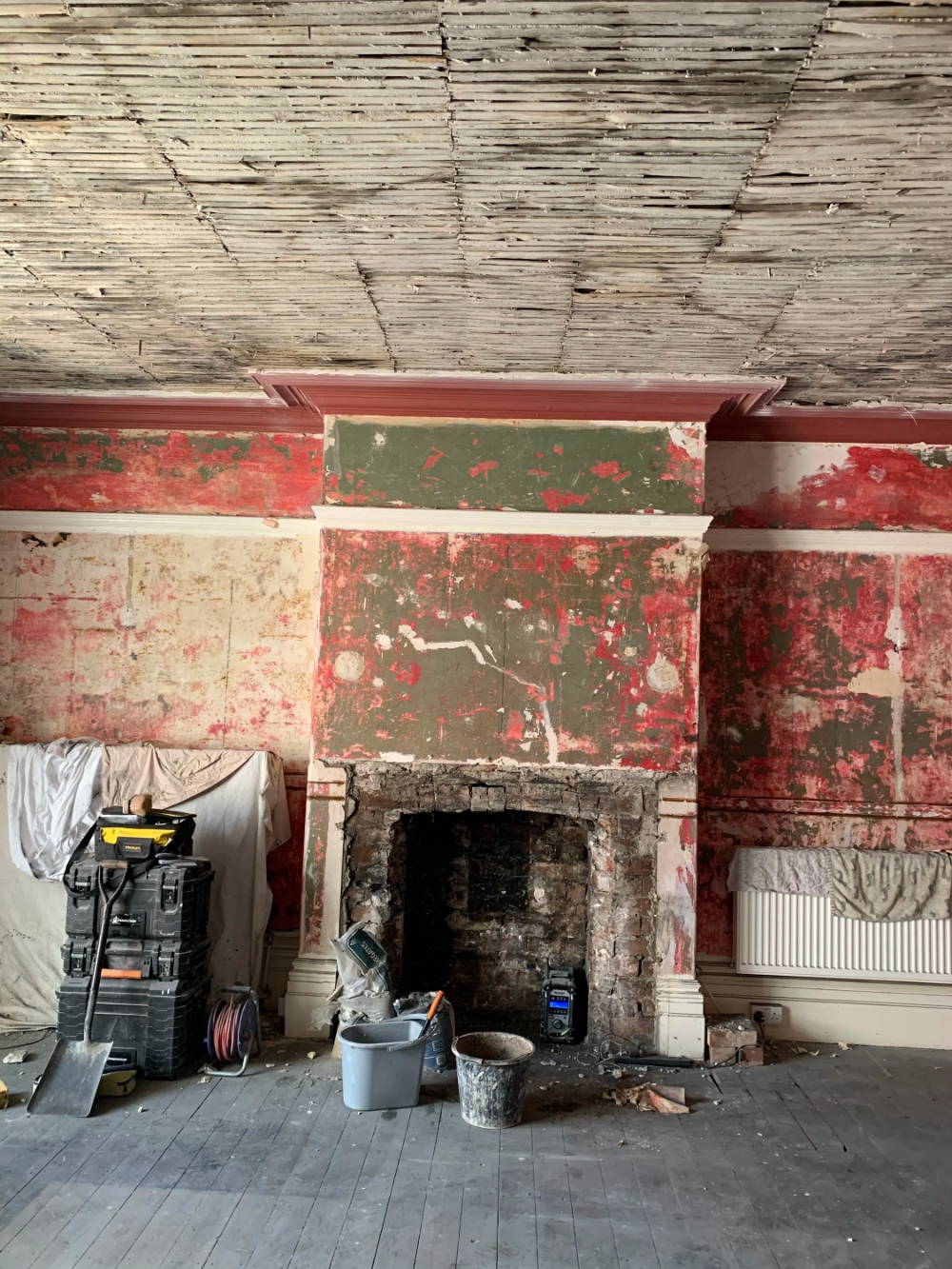 Damon Hardiman - About The Project
LIVINGROOM TRANSFORMATION
Designed by Damon Hardiman
Designs used: Blue Brown Persian Faux Cowhide Rug
After living in our home for 3 years the time had finally come to start the renovations on our living room! We went about this by completely stripping the room to its bare bones! Even taking the ceiling down! Then the process started! We rewired and altered the plumbing to have one huge cast iron radiator instead of the two convection radiators. Moved the sockets from the skirting boards (who would cut in to such a great feature?!) to the walls and buried the wall light cables in to the walls as they previously sat on the picture rail! We also removed an old gas fire and fit a traditional cast iron fire to bring our home back to its roots! We plaster-boarded the ceiling and plastered the ceiling and walls! We then fit plaster moulding to the ceiling to bring our Edwardian home back to its previous glory! The floorboards were sanded and then we began to decorate! With wallpaper from House of Hackney and paint from Little Greene! Final furnishings involved a bespoke unit for our sound system, cinema chairs upholstered in house of Hackney fabric and an old Chesterfield! We got a chandelier from Cold harbour lights and finally topped it all off with a fantastic rug from Mineheart! Hope you enjoy!.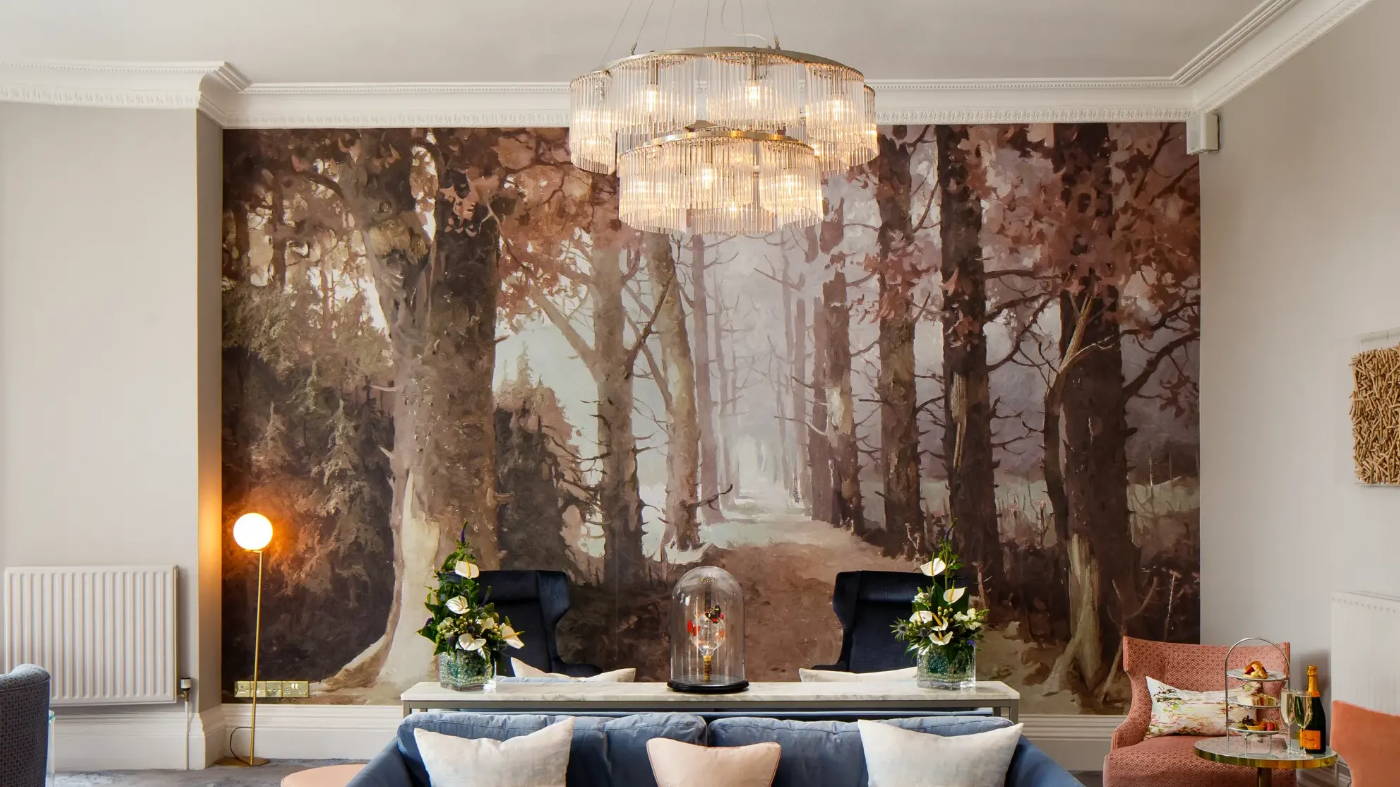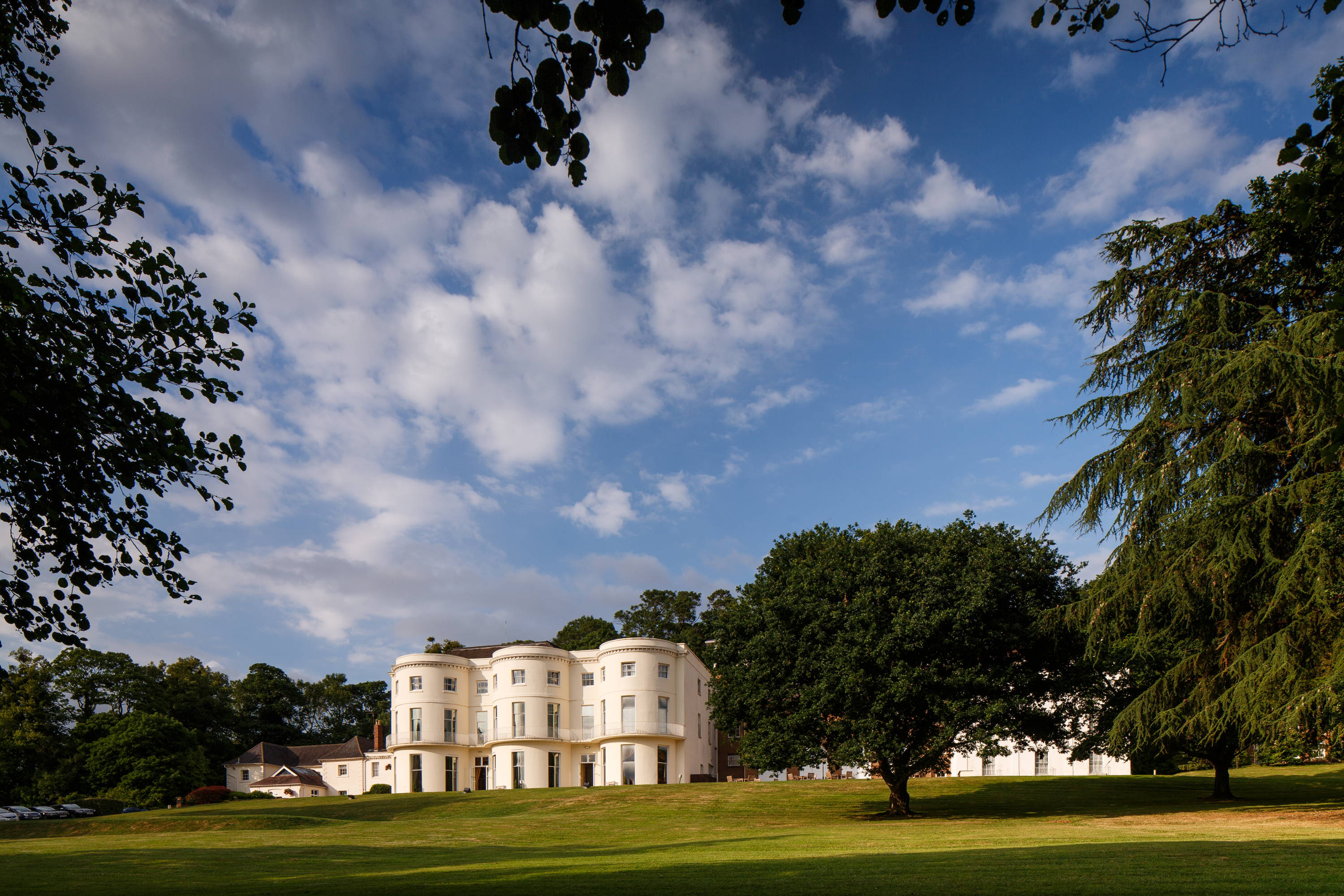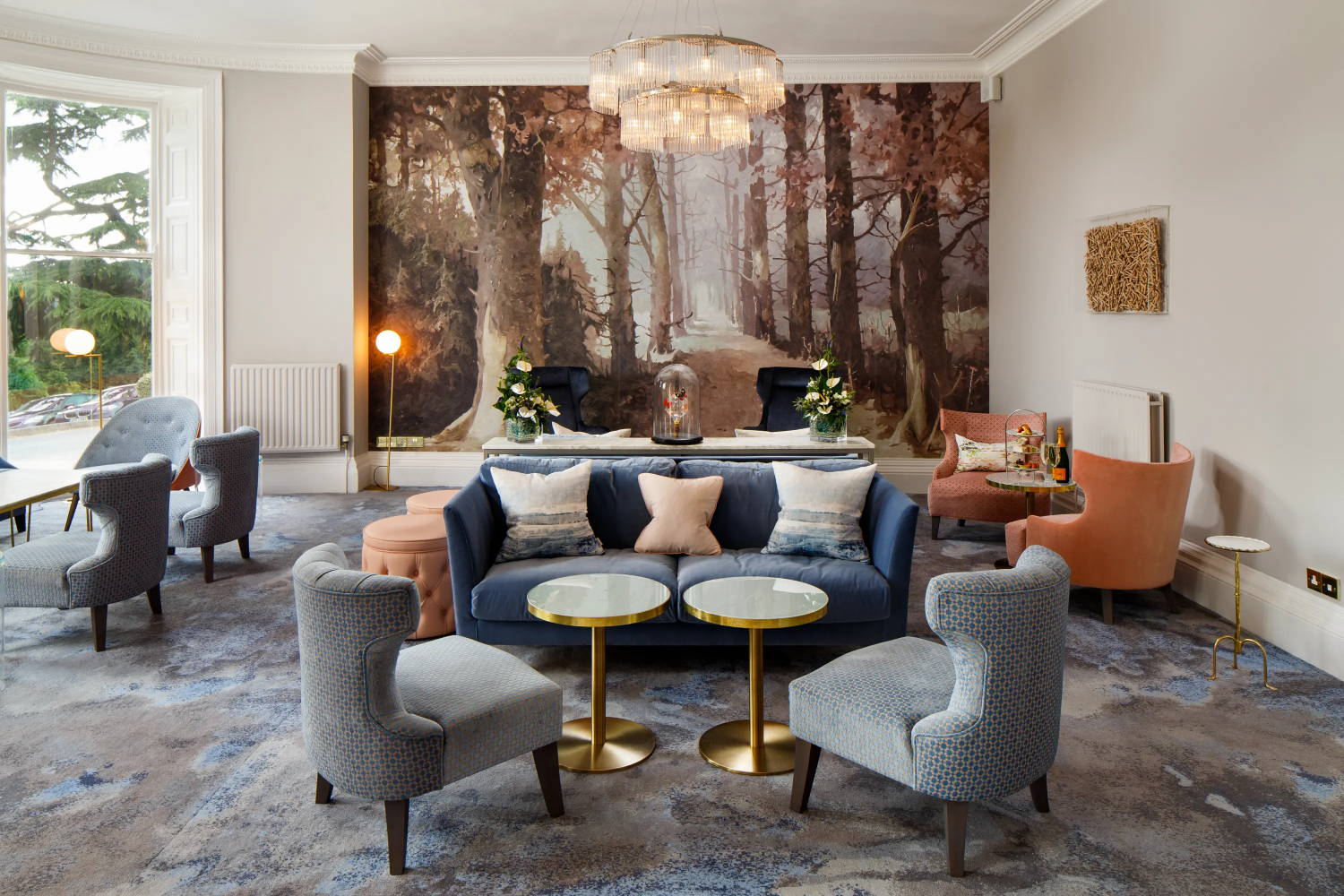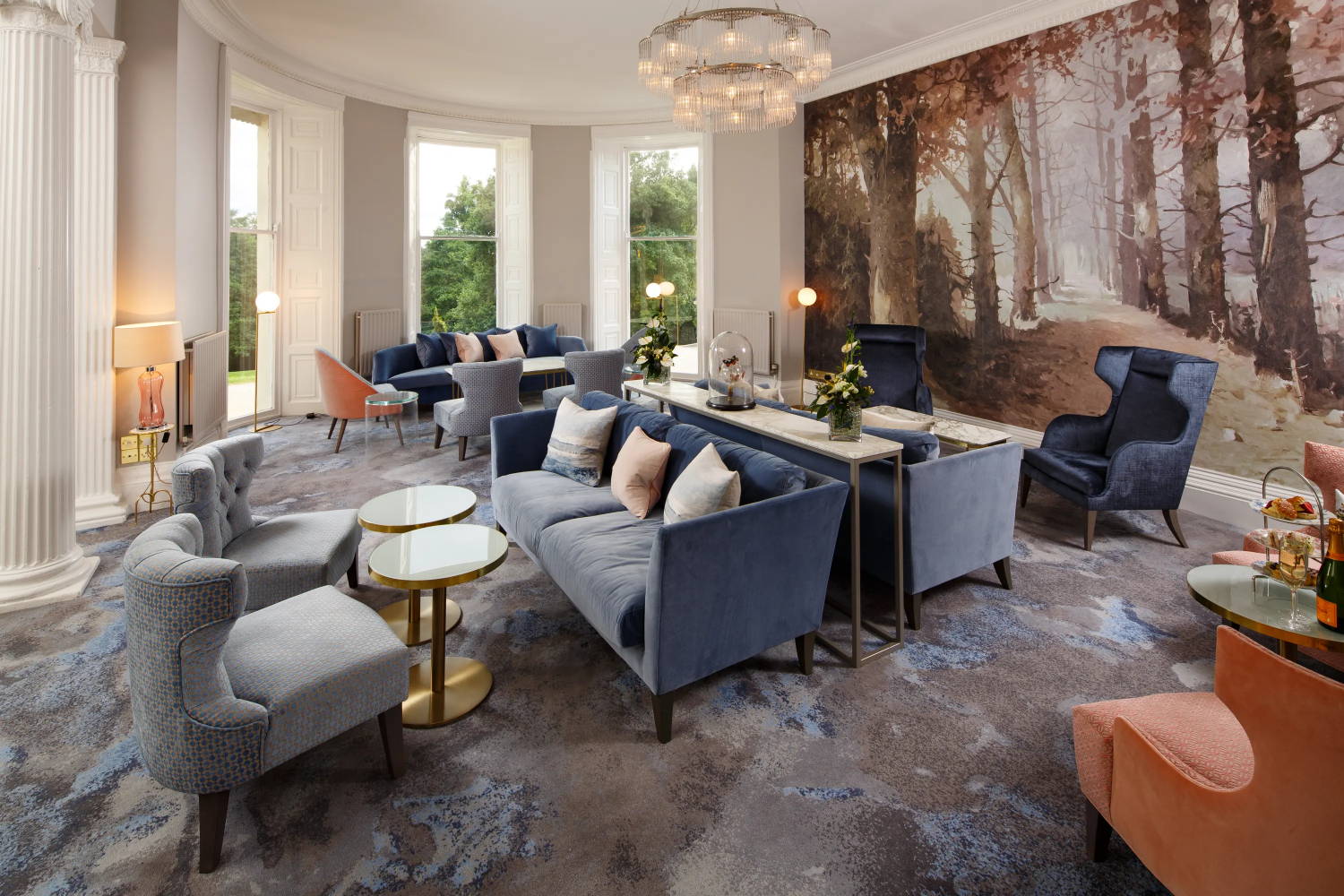 Bowden Hall Hotel - About The Project
GEORGIAN COUNTRY HOTEL
Designed by Helen Hooper Interiors
Designs used: Kings Wood Wallpaper Mural
Bowden Hall Hotel, Gloucestershire. A Georgian country hotel with a modern twist. We used your Kings Wood mural which worked brilliantly with our colour palate for the drawing room/lounge which gave a soft painterly effect to the room bringing in the gardens and surroundings really well . Providing a sense of calm, serenity and elegance to the atmosphere. As it is a paper backed vinyl wallpaper it is perfect for contract environments.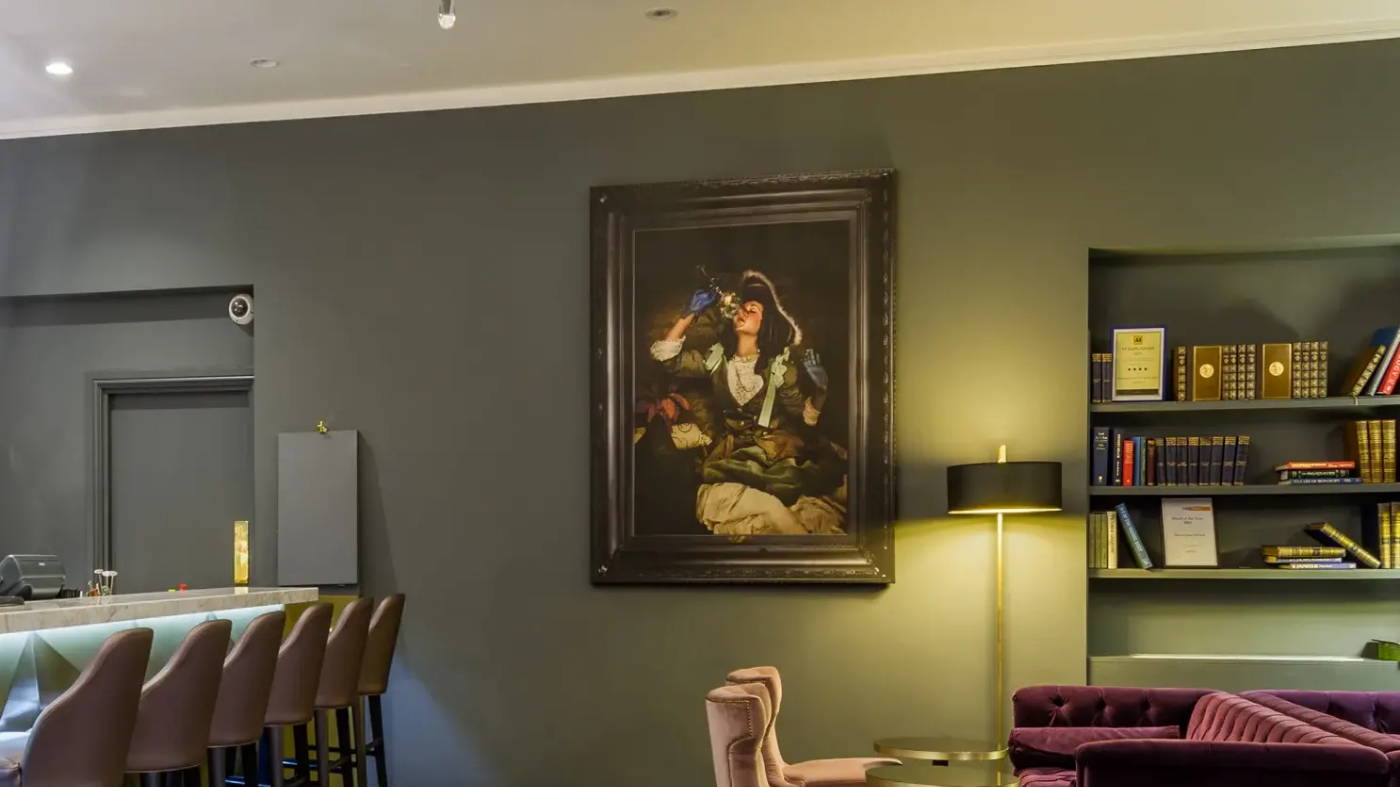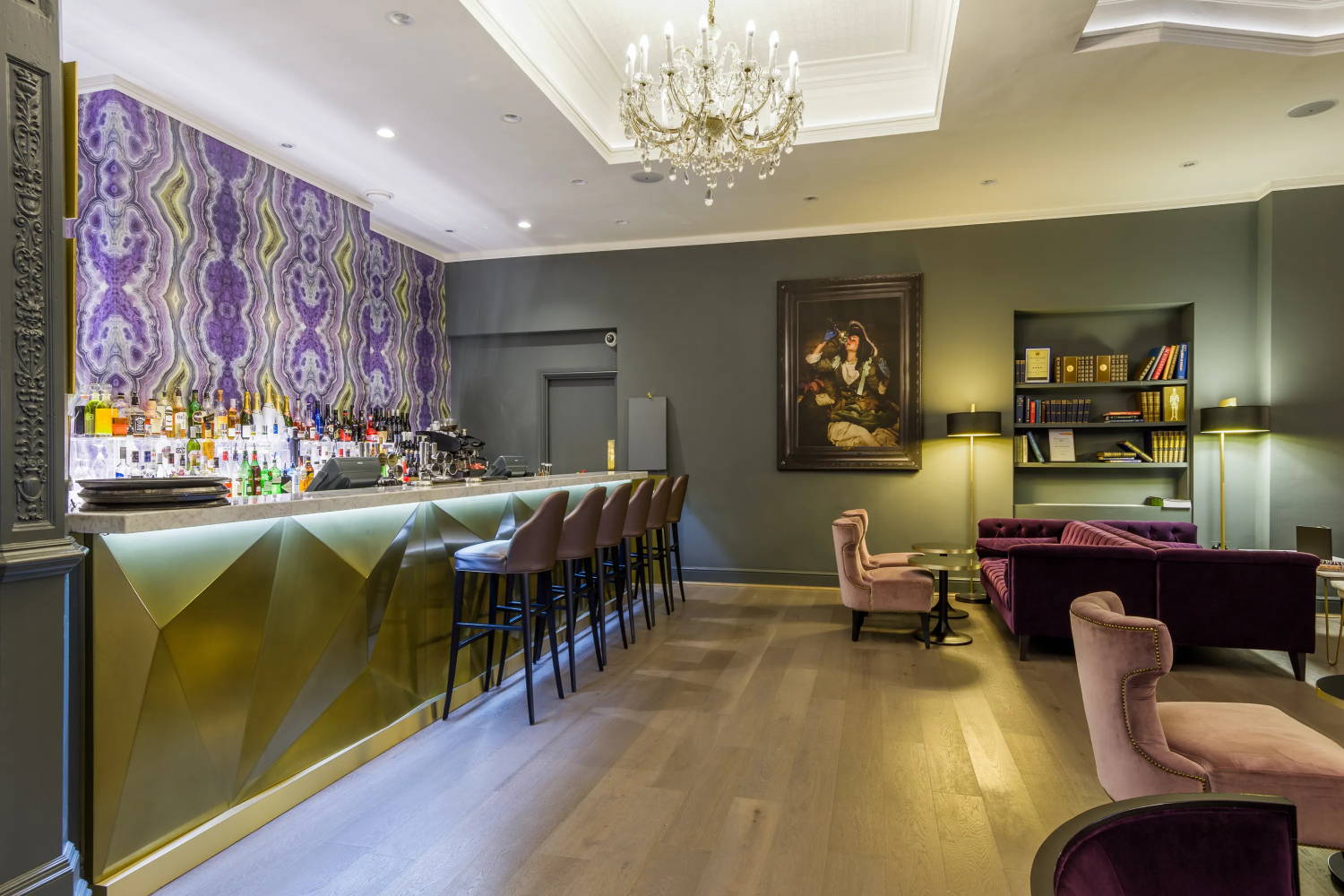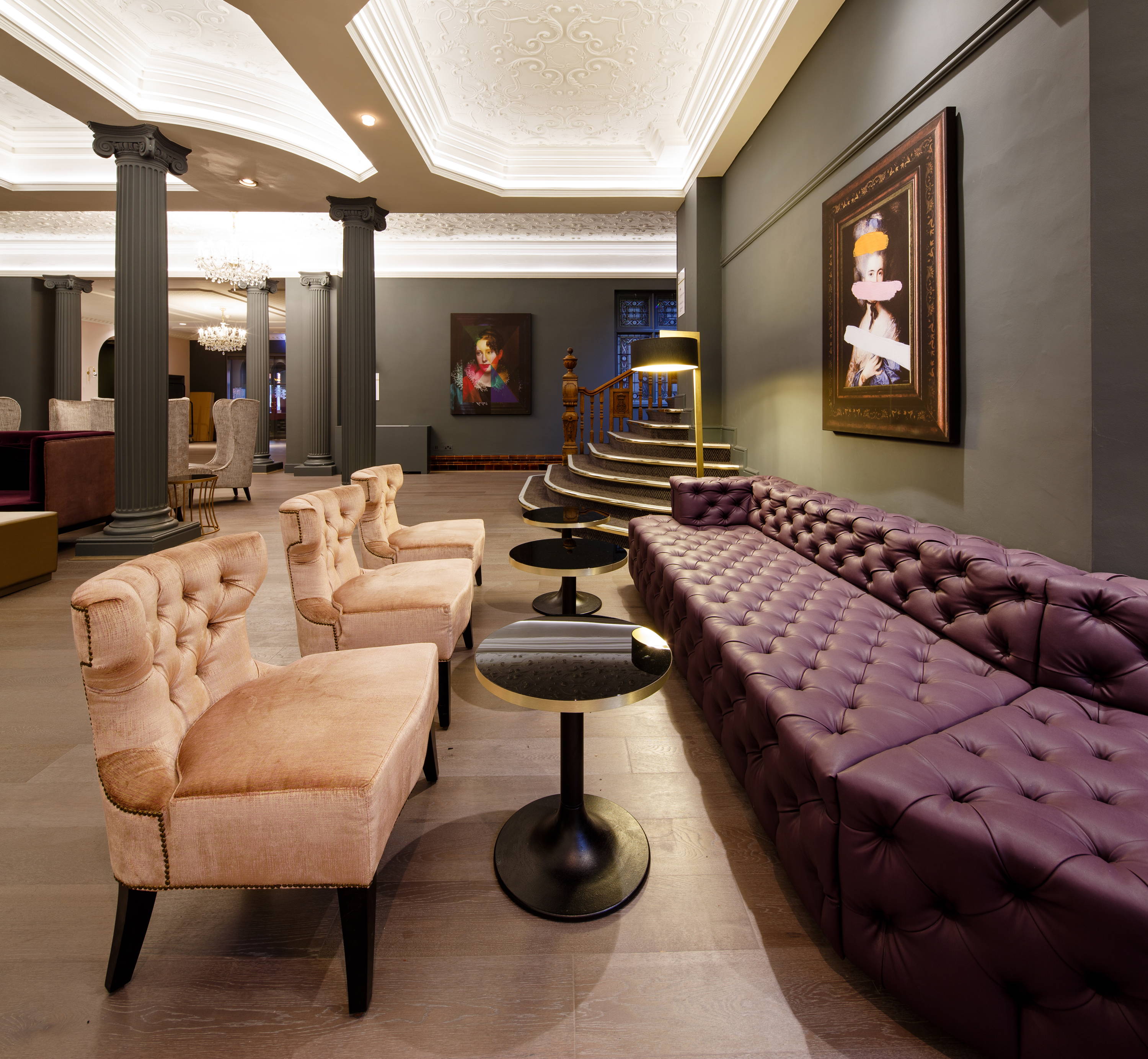 The Grand Hotel - About The Project
HISTORY AND ELEGANCE
Designed by Helen Hooper Interiors
Designs used: Air Is Not Enough Canvas, Rays of Spring Canvas
The same architecture as the Mandarin Oriental in Knightsbridge, London. I was looking for artwork that was befitting of such a grand hotel with history and elegance that had a modern and whimsical element to it and used The Air is Not Enough canvas as it was both large and lightweight for the space and befitting of the bar area where we hung it. The colours, costume and ornate 'frame" worked really well with the scheme.
By the main staircase we placed the Winters Morning canvas. I particularly loved the overlay of the strong prismatic shapes and colours over the soft delicate features of the girl. The same with the piece hung over the banquette seat. The strong grafitti-esh brush strokes over the aristocratic gentile lady of Regency times shows a marriage of traditional and bang on contemporary street art, perfect for the overall scheme to offset the traditional features of the room.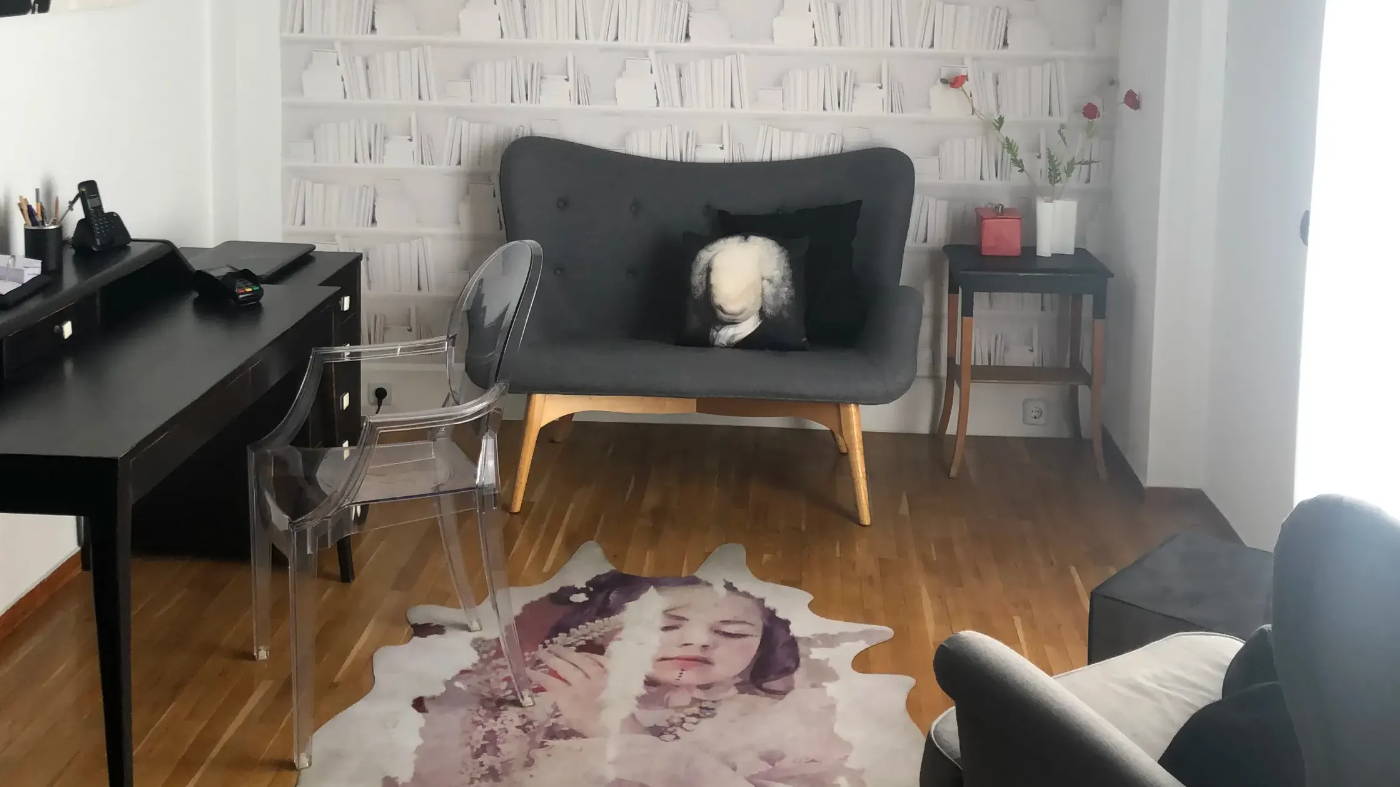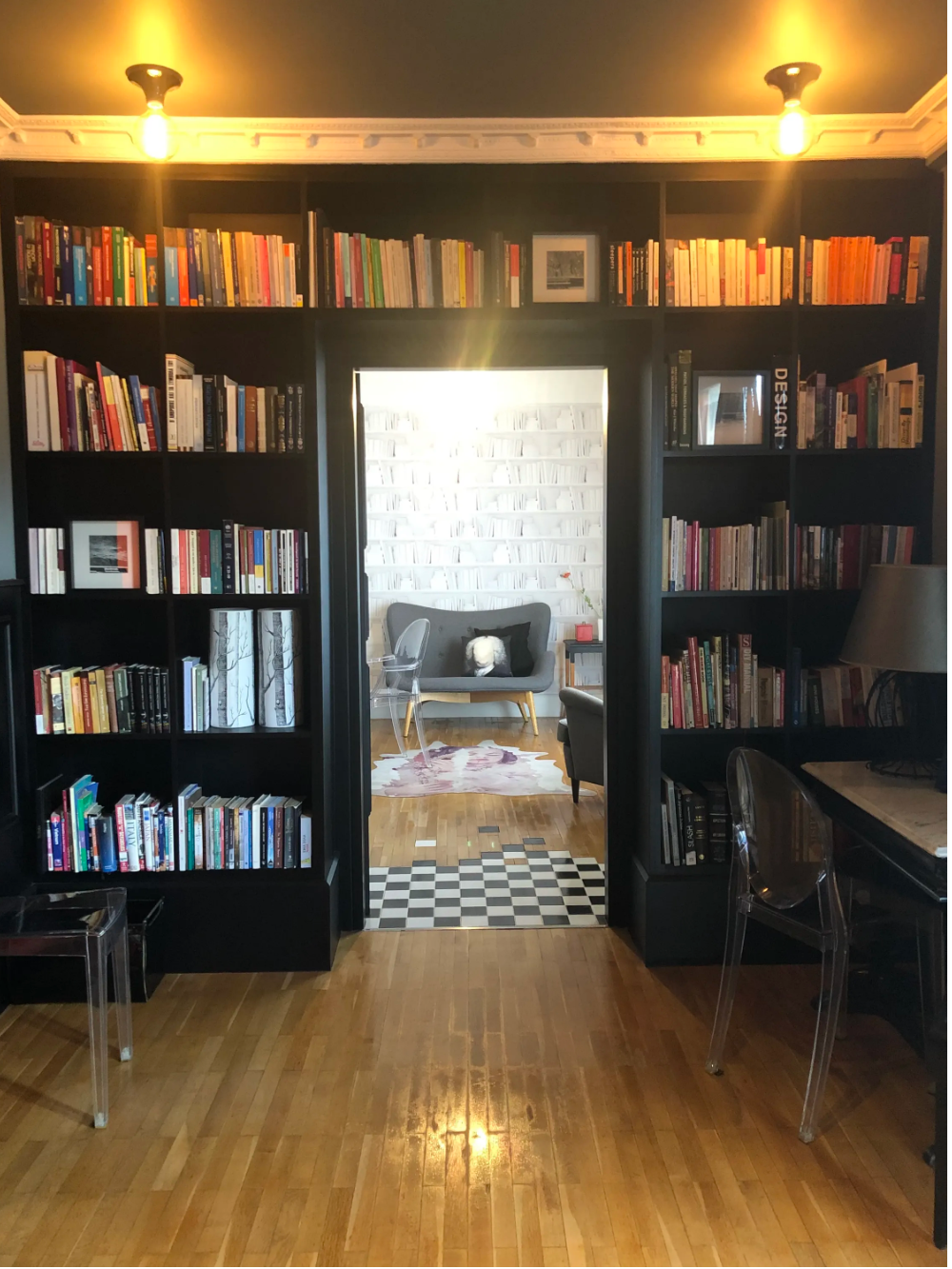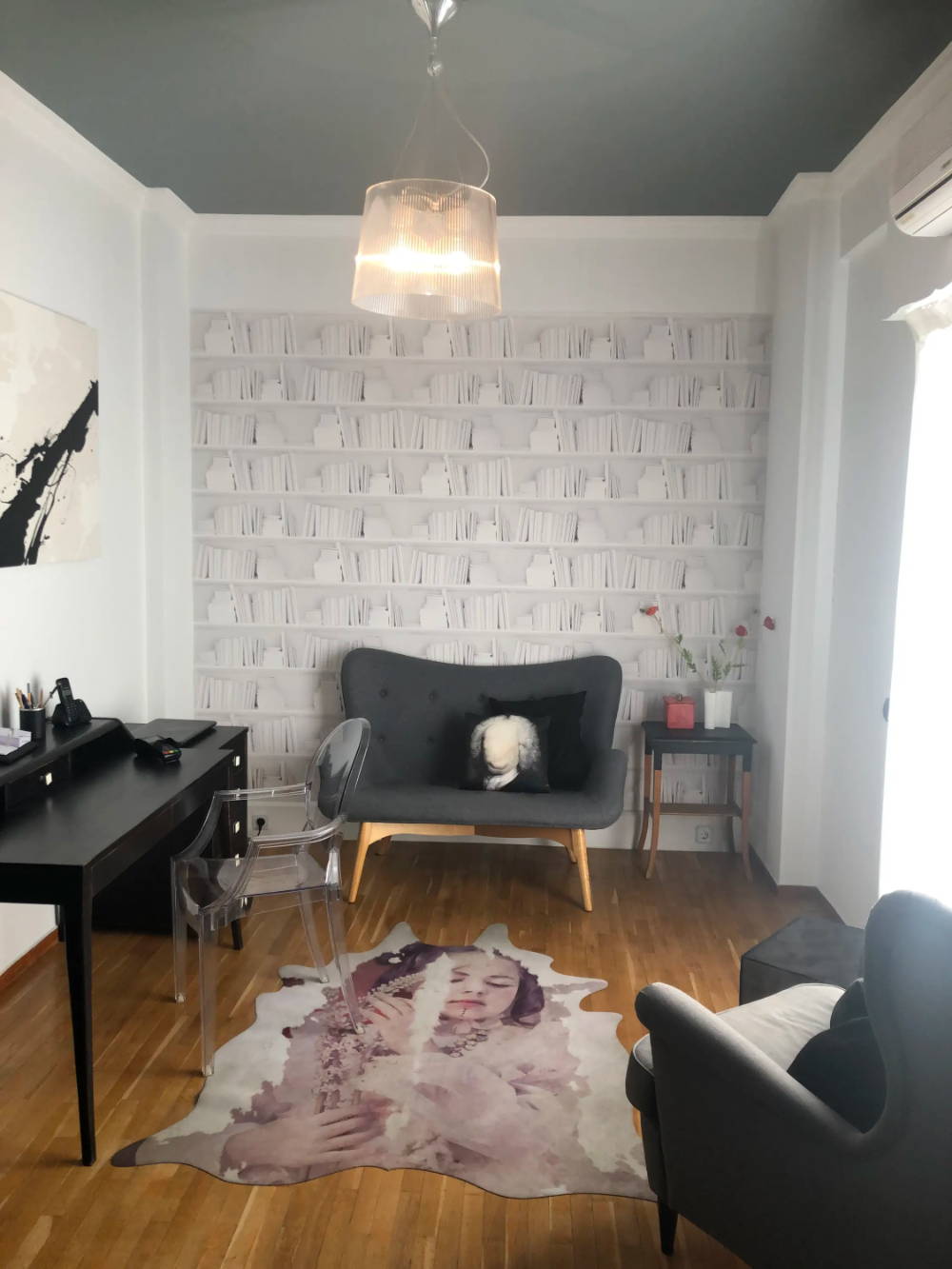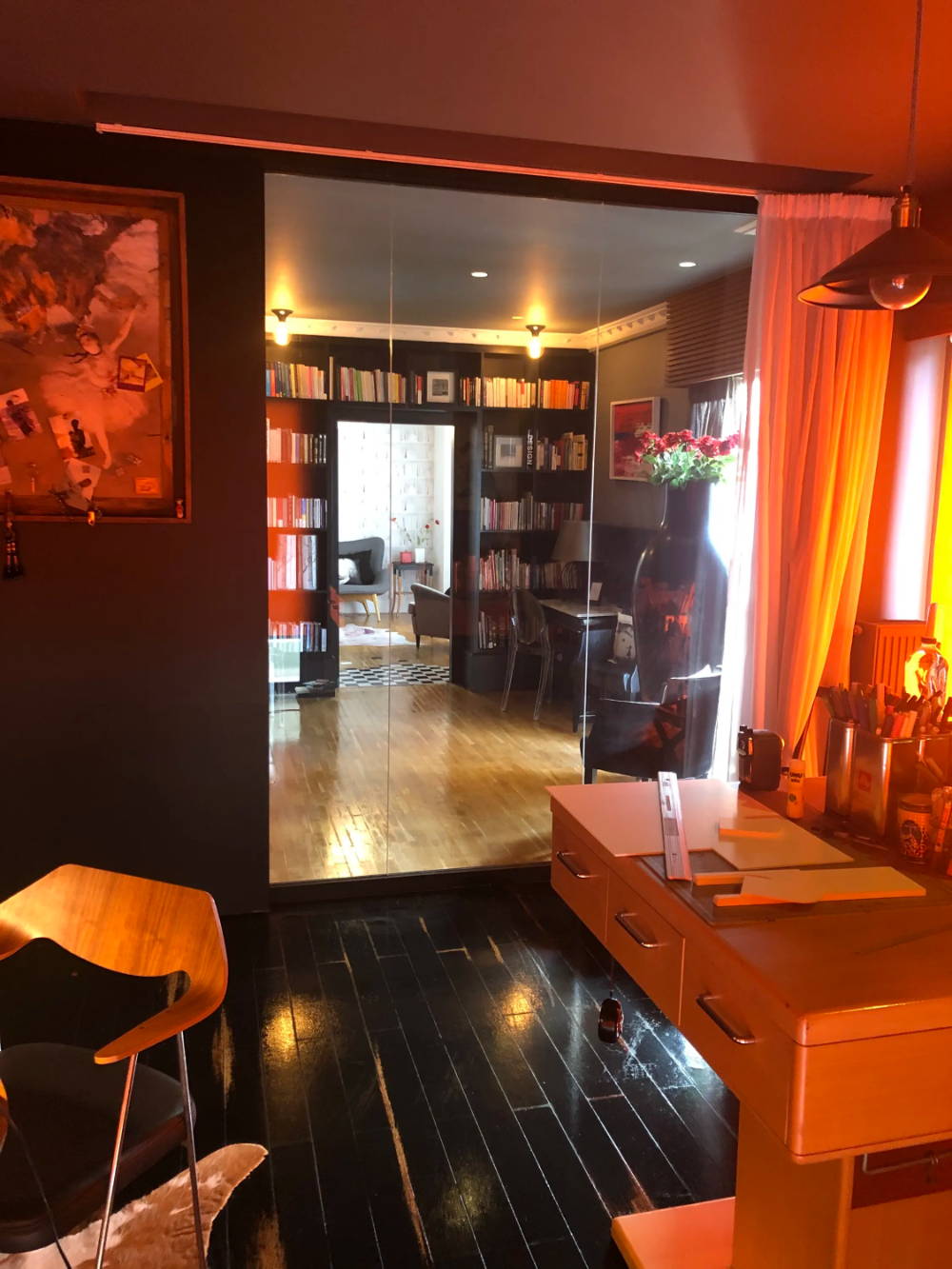 B B Design - About The Project
A TOUCH OF SURREALISM FOR A PSYCHOTHERAPIST
Designed by B B design - Michel Tsiantar
Designs used: Renaissance Faux Cowhide Rug, White Bookshelf Wallpaper
A dreamy, surreal space for a psychotherapist's practice in the town of Patras, Greece. The 95m2 space is partitioned off with a glass wall and sheer blinds for group therapy sessions. Secret, invisible doors, black mirrors to toilets and a kitchen area add to the Alice in Wonderland thread.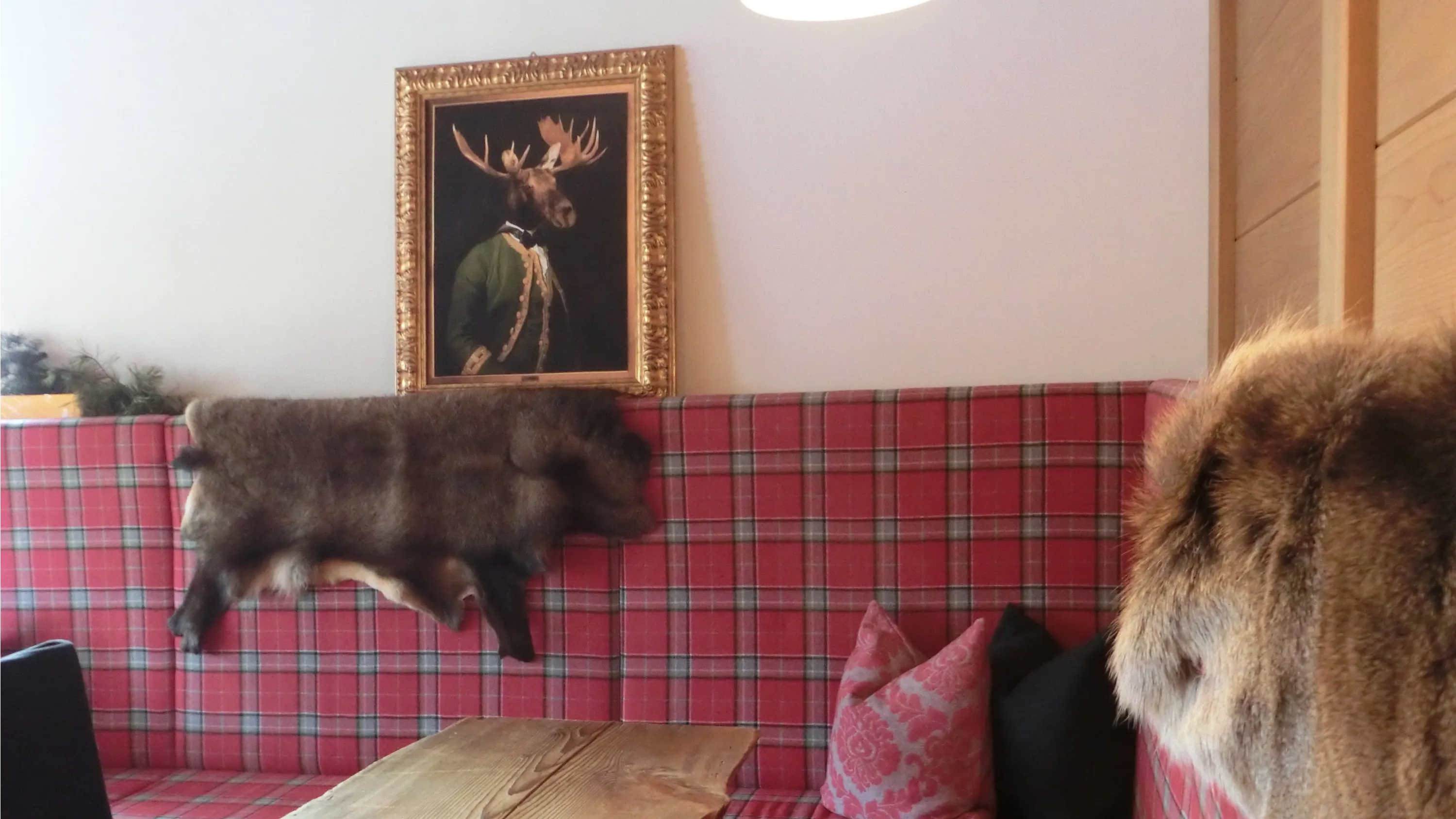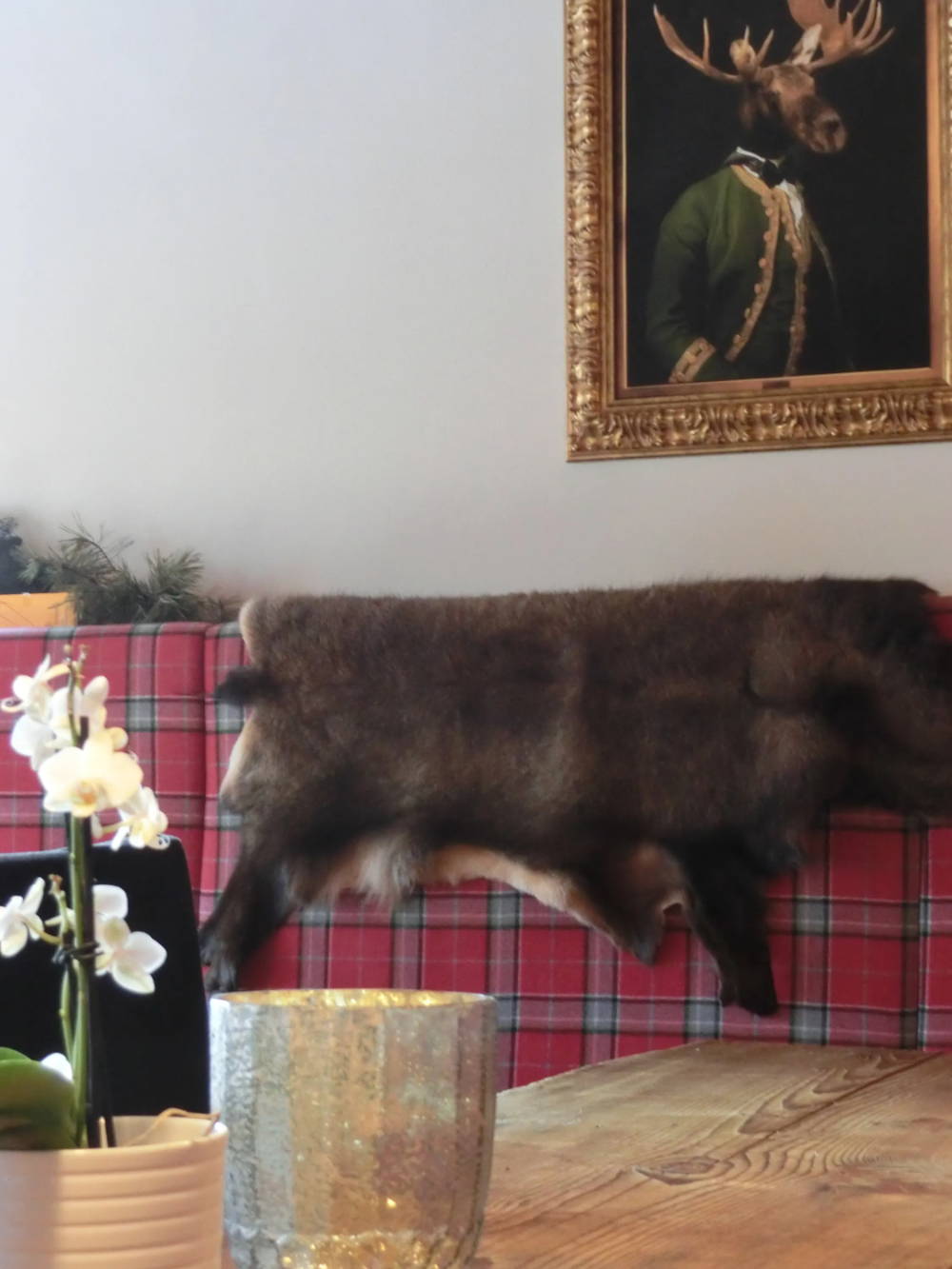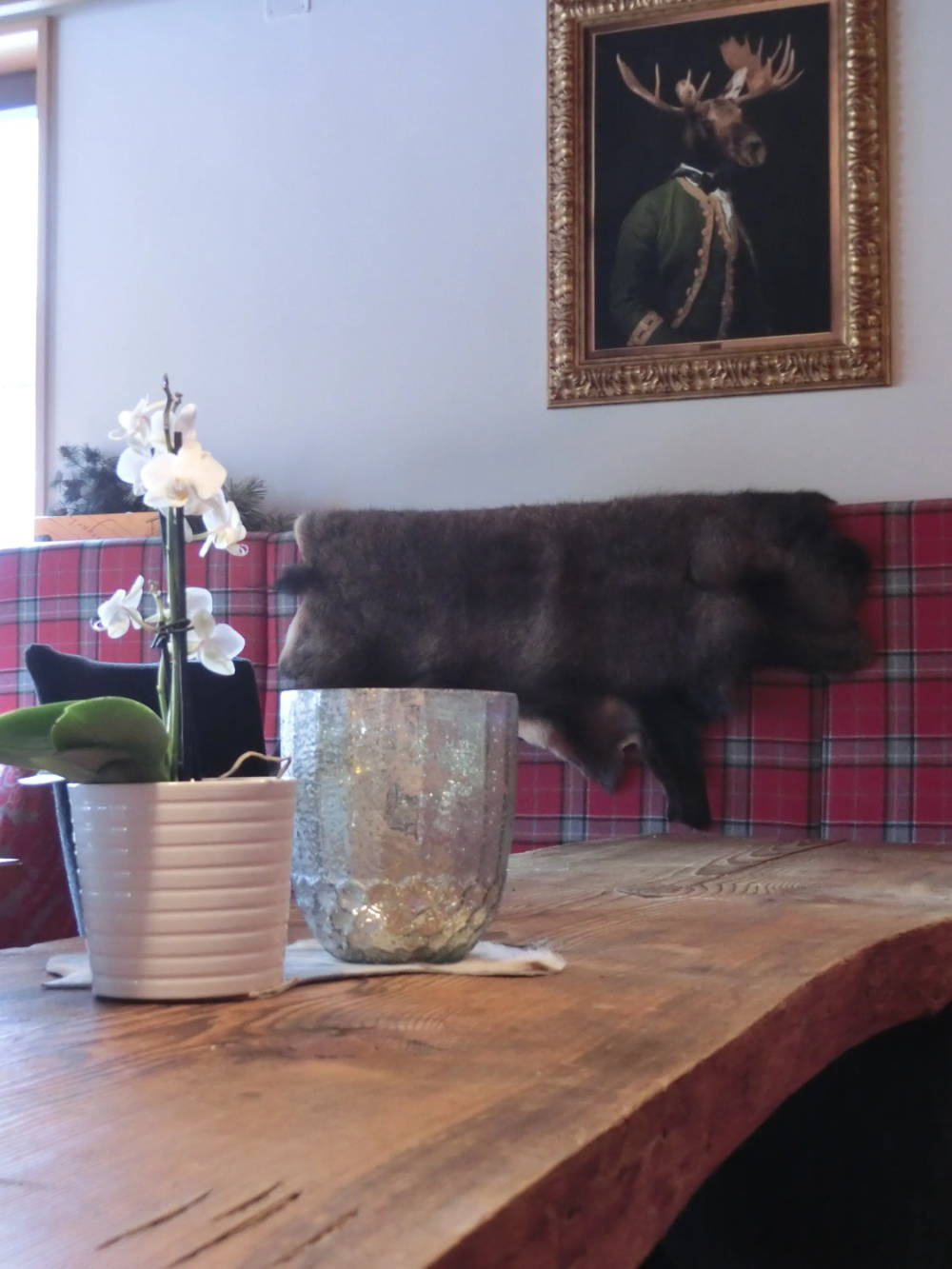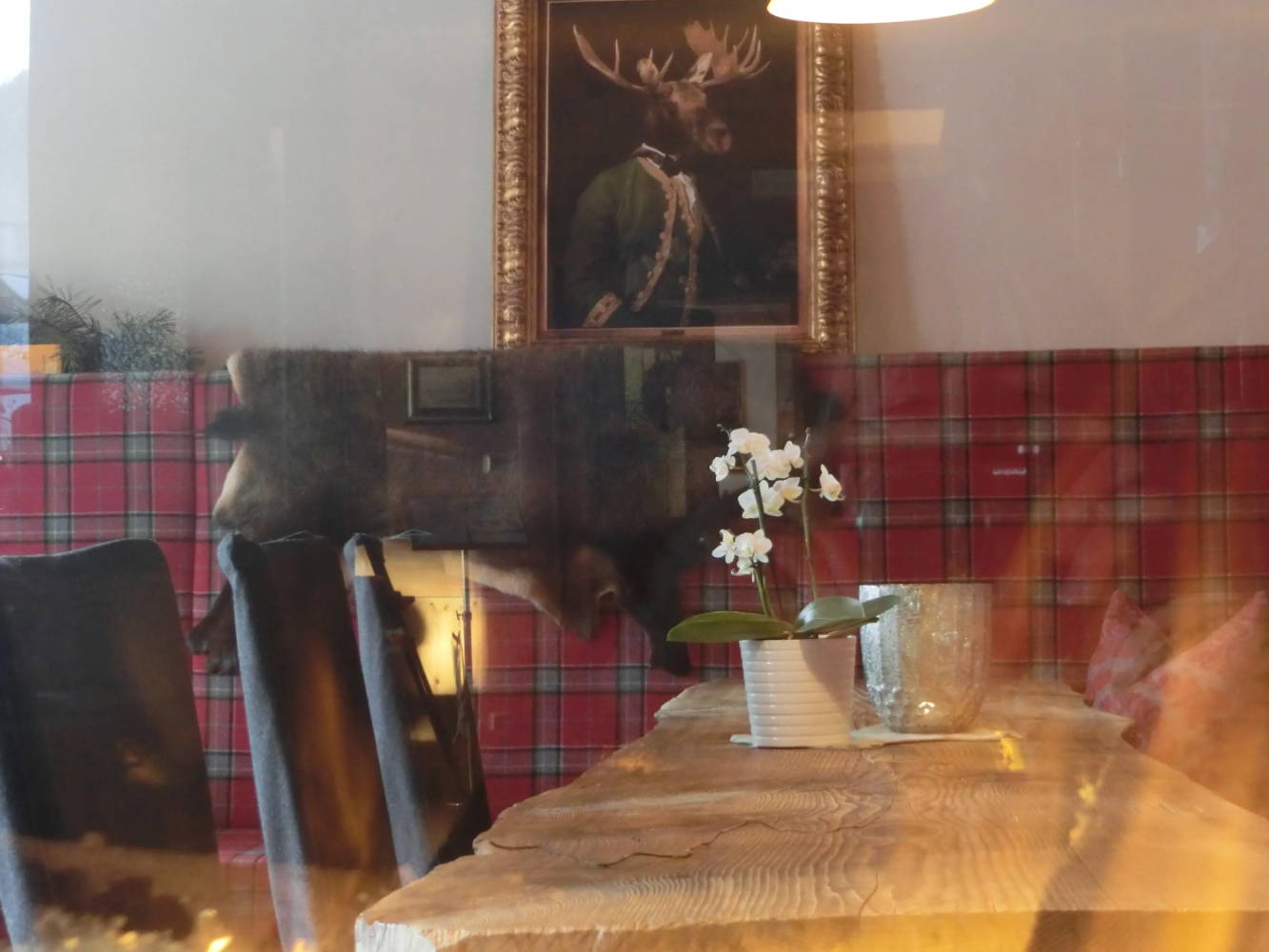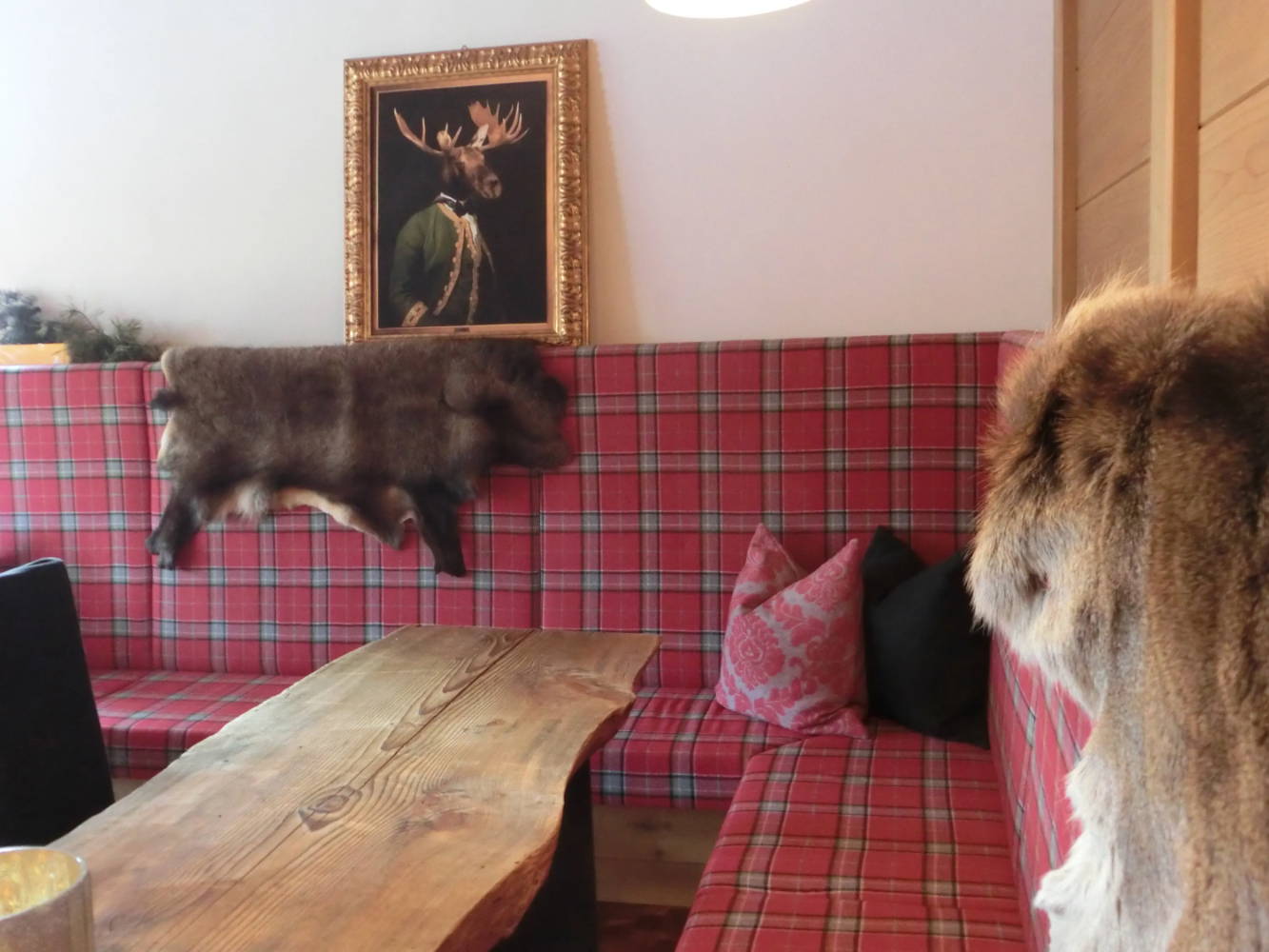 Beauty & Vital Hotel Maria - About The Project
ALPINE TRADITION
Designed by Hotel Maria Italy
Designs used: Lord Montague Canvas
The Lobby Bar at Beauty & Vital Hotel Maria a casual, traditional Hotel in the Dolomites. Alpine tradition and greatest comfort. South side of the Alps, Carano, Val di Fiemme, Trentino (Italy).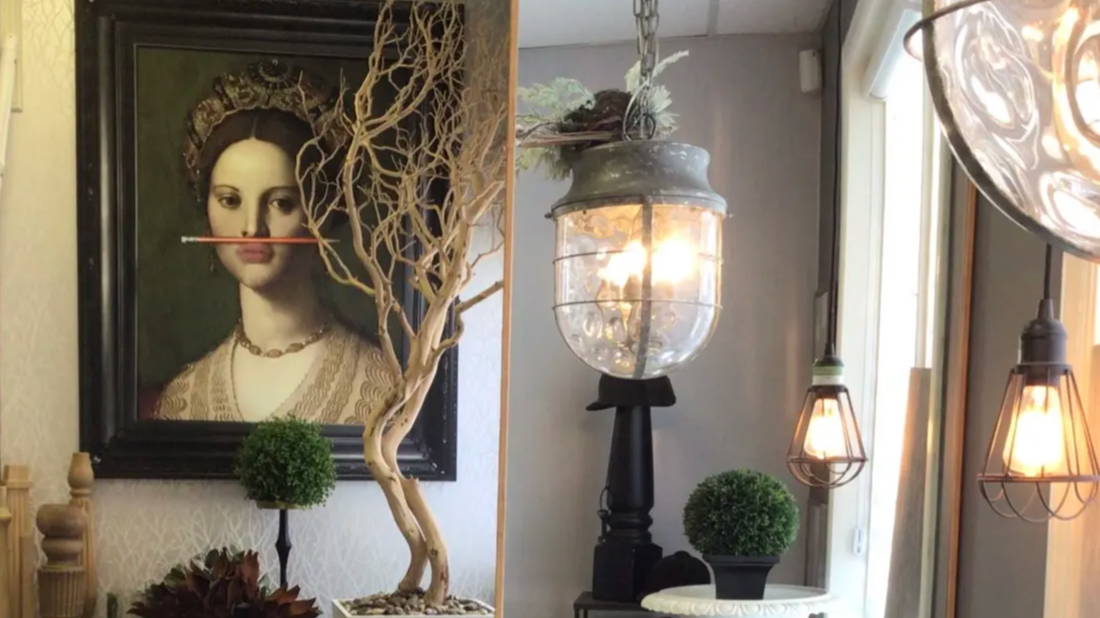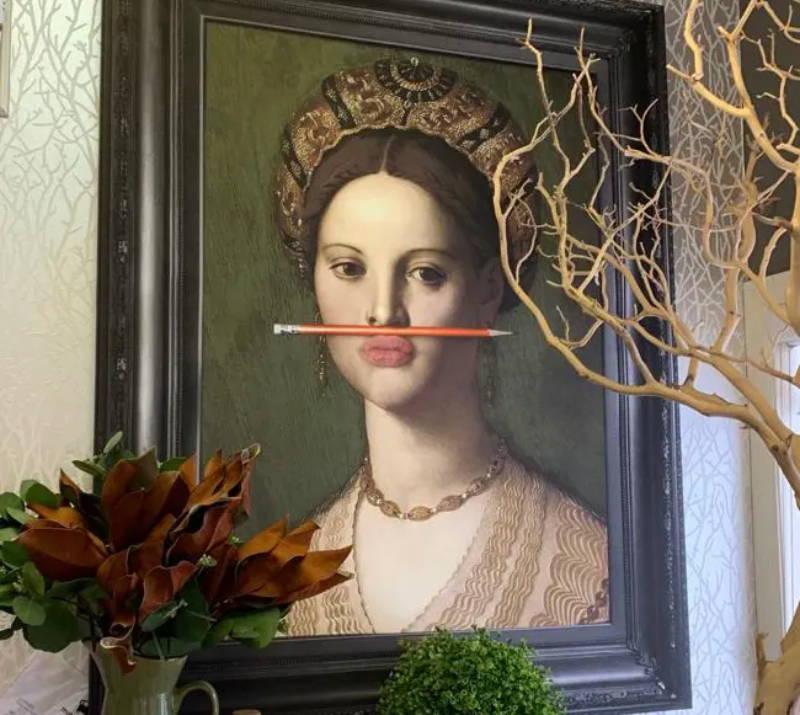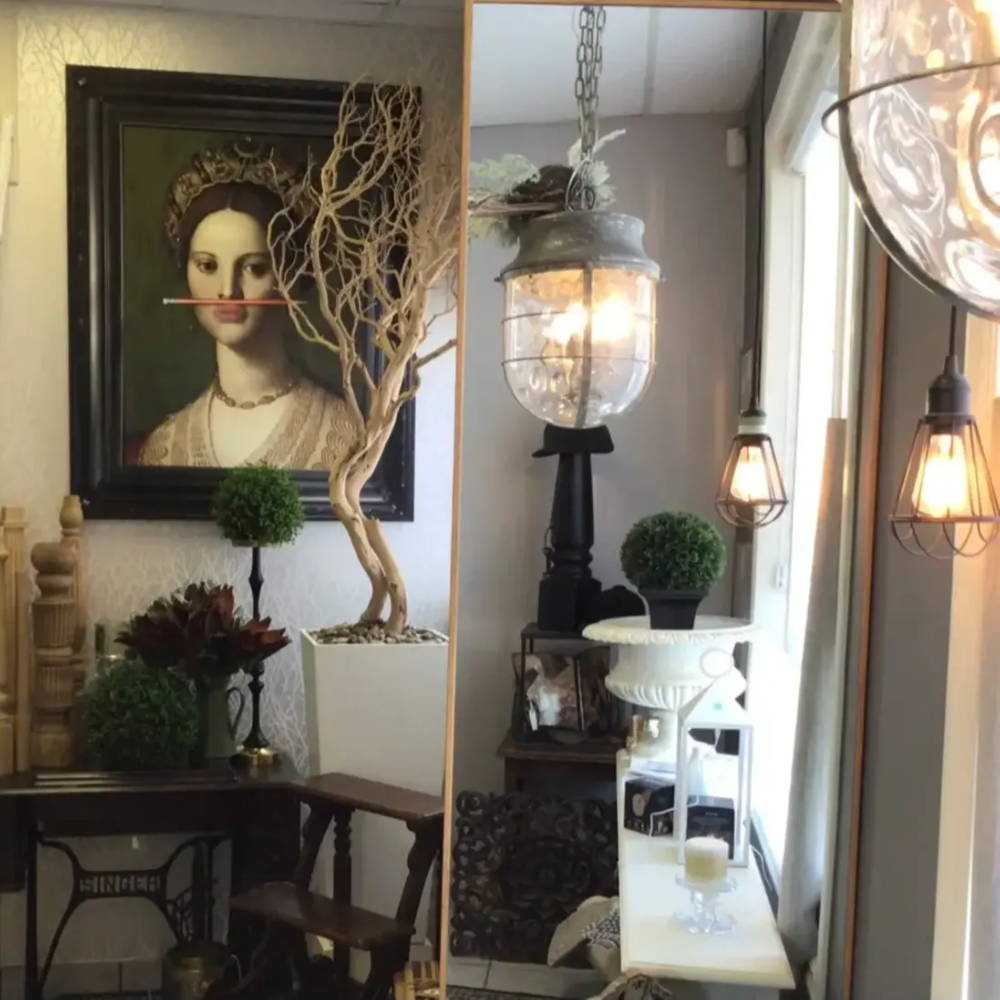 Crofts Interiors - About The Project
STRONG ARTS AND DESIGN
Designed by Crofts Interiors
Designs used: Orange Pencil Canvas
Our design philosophy is quite simple. The prefect design relies on three things, a realistic budget, creativity, and functionality. We ensure our clients have a realistic budget before jumping into a project, we come up with creative design solutions to tackle typical dilemmas and we always make sure we understand how areas function for the client before presenting any design.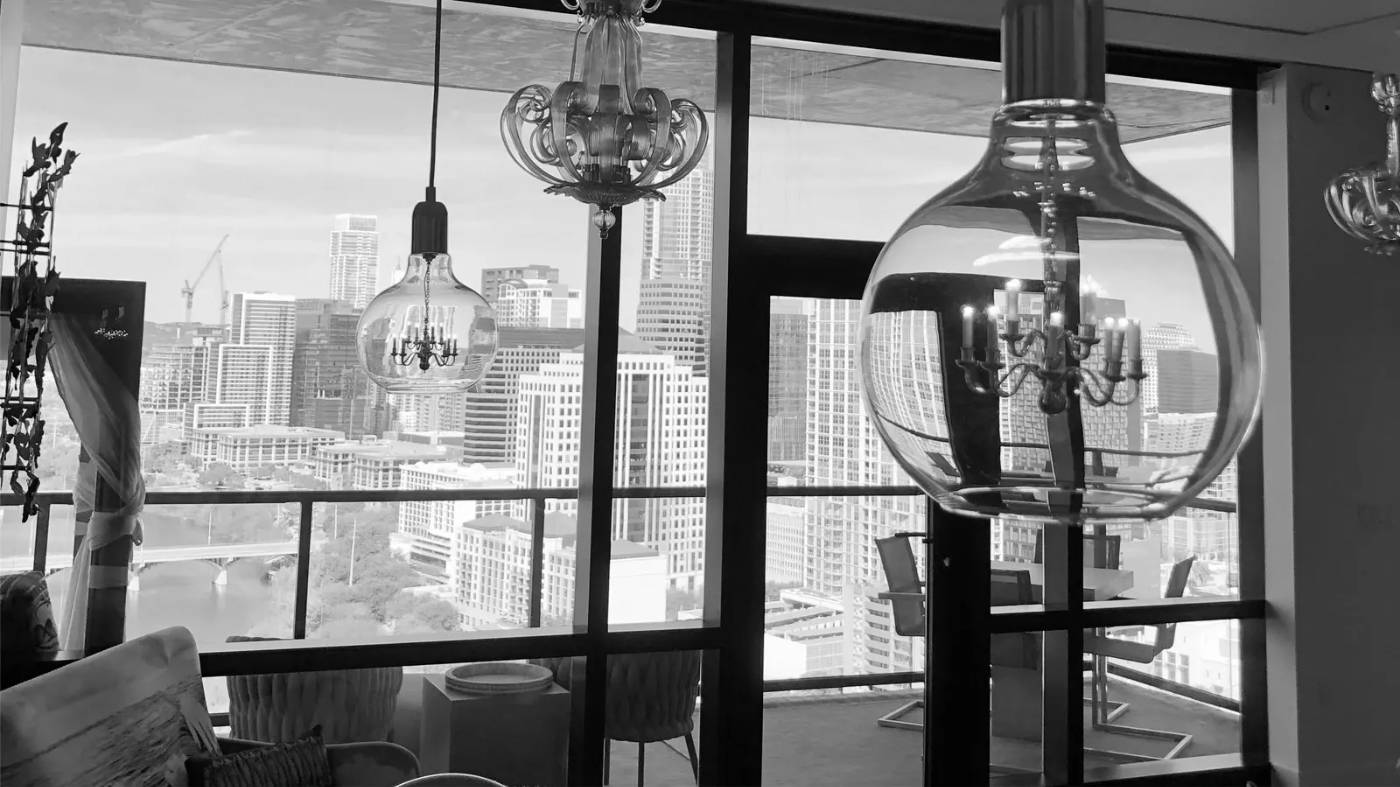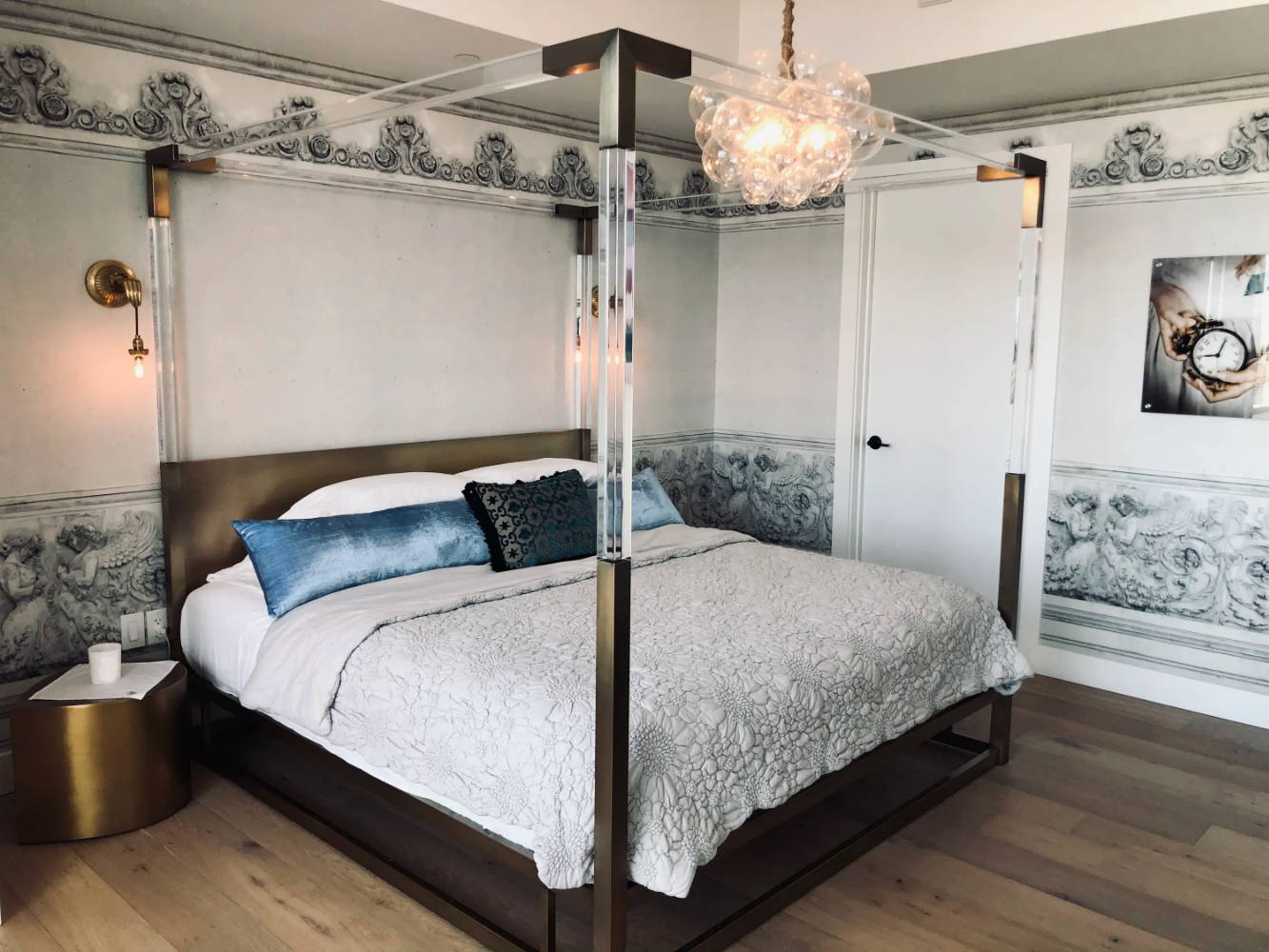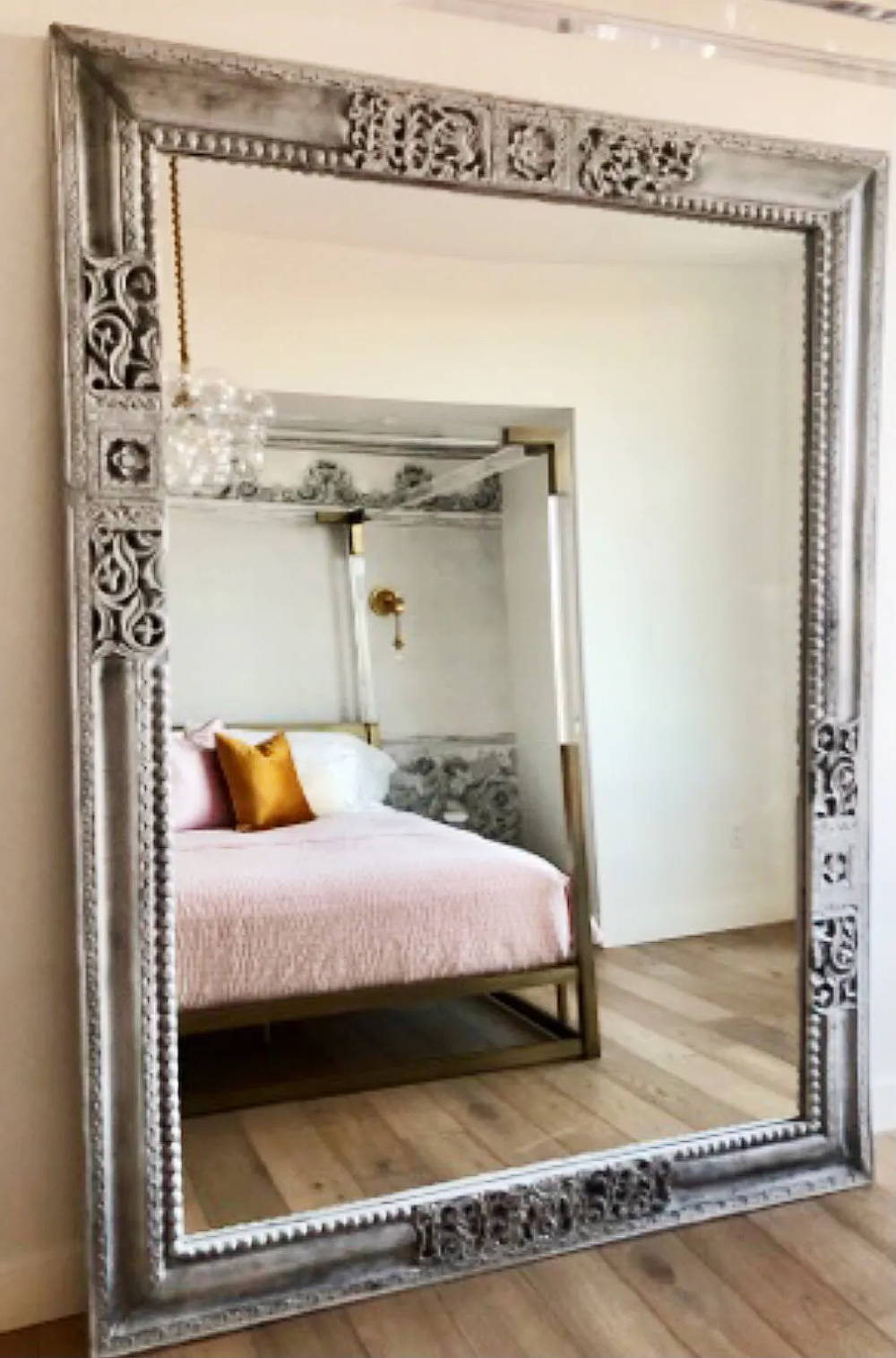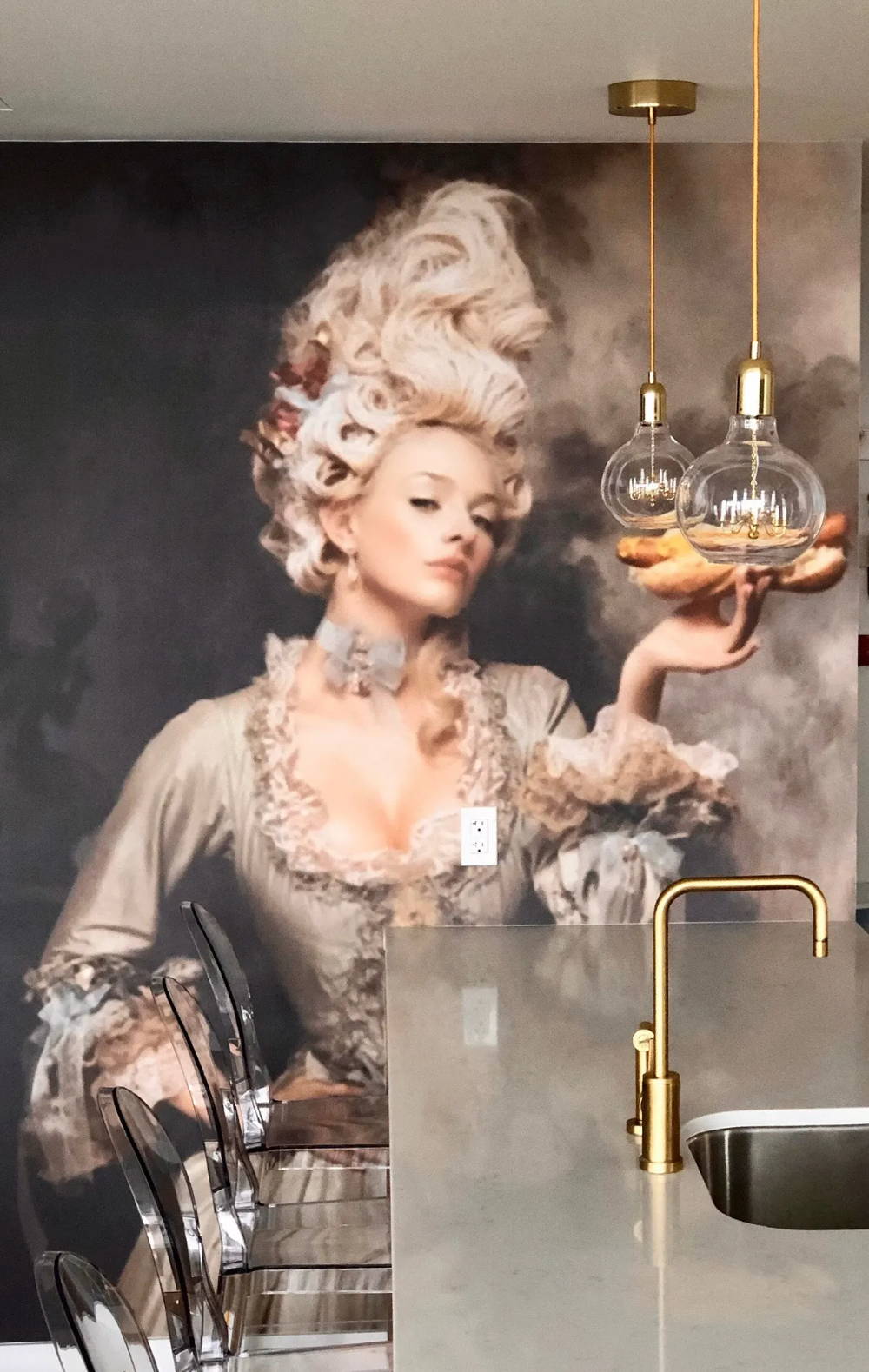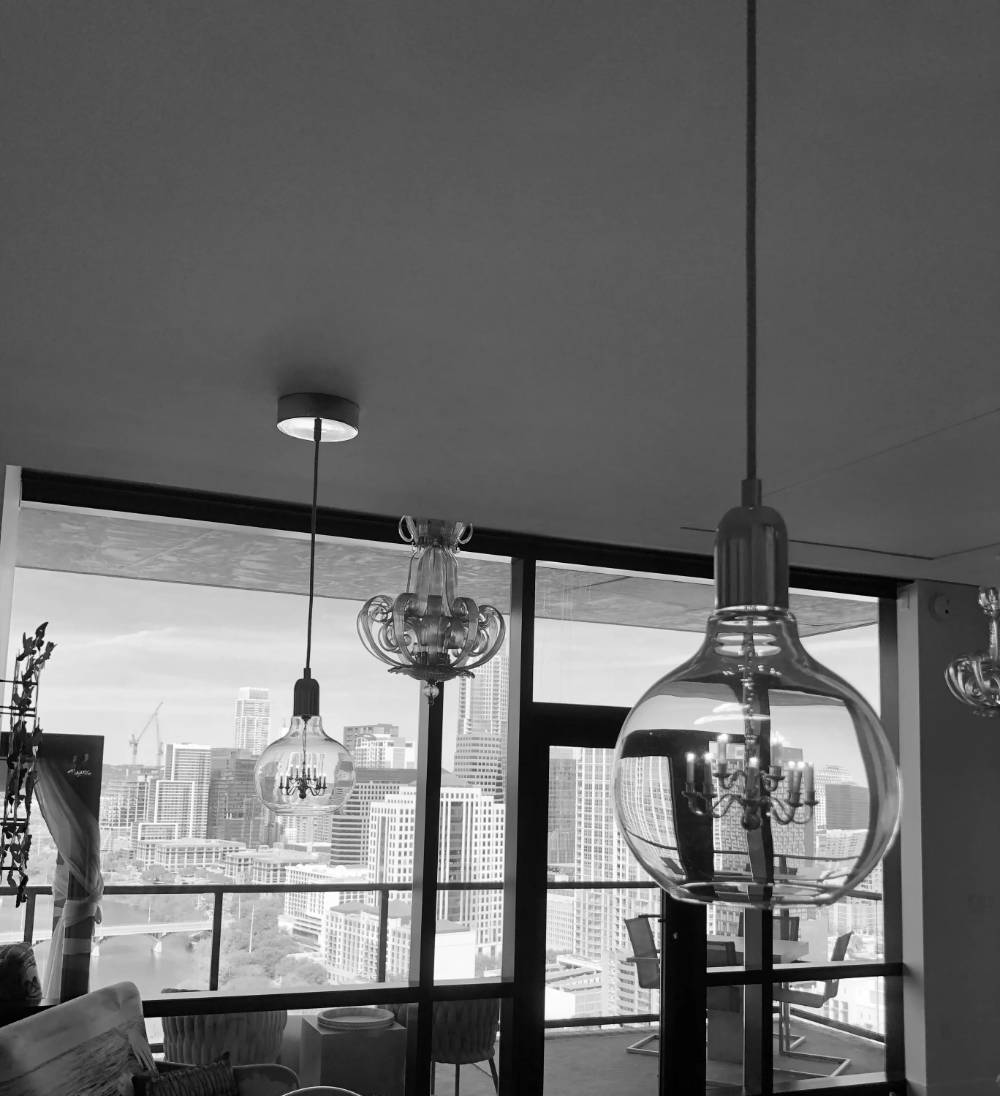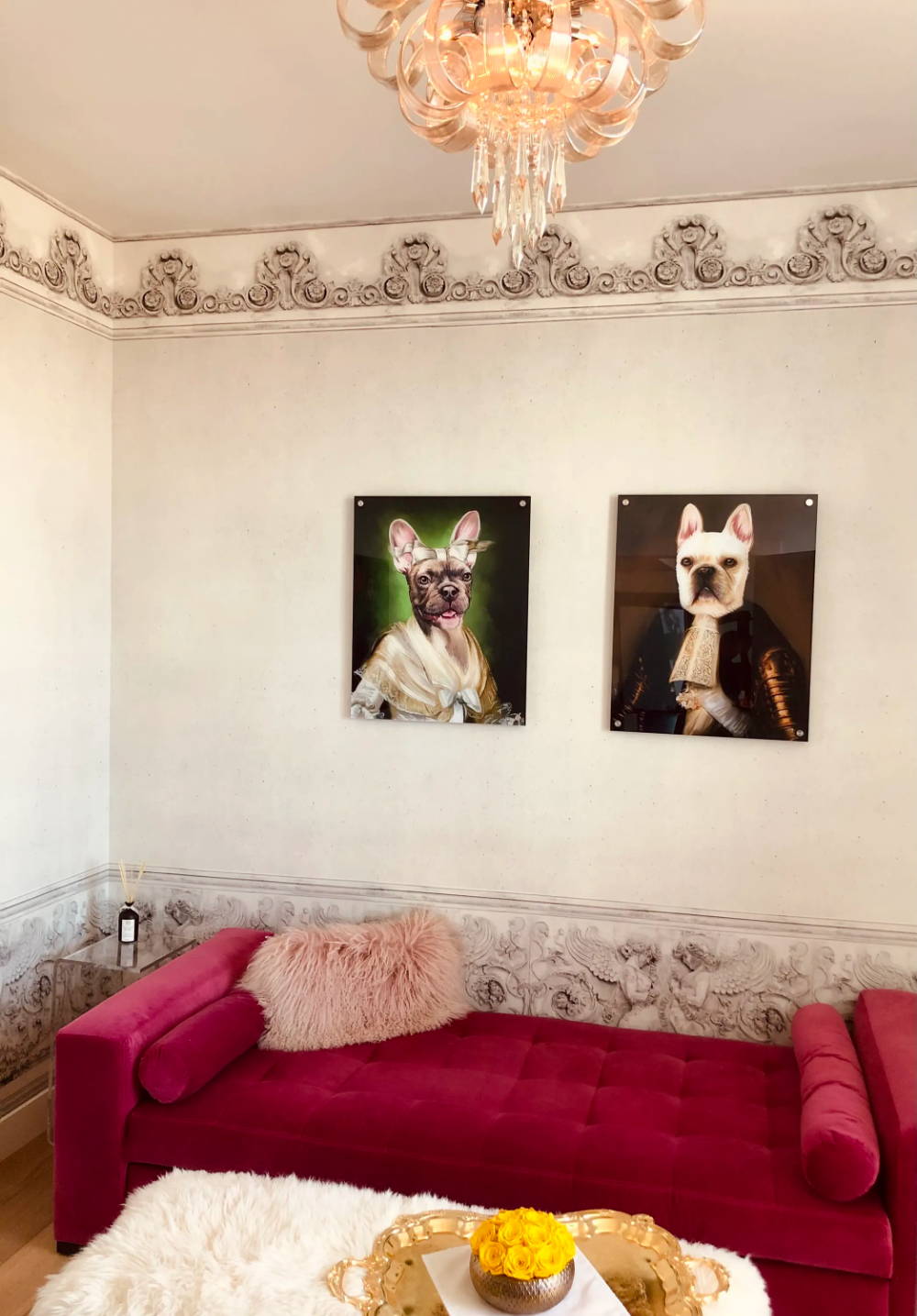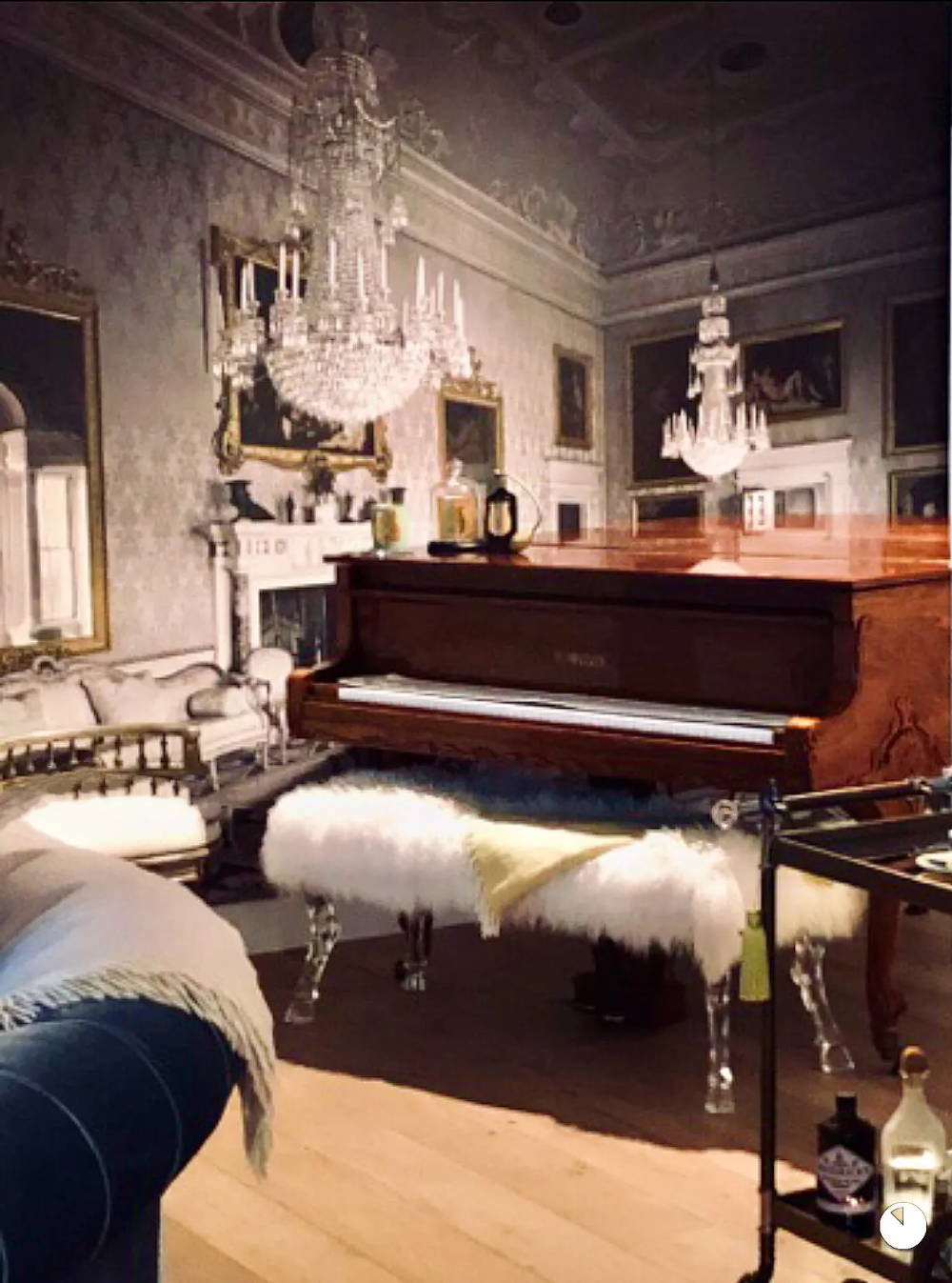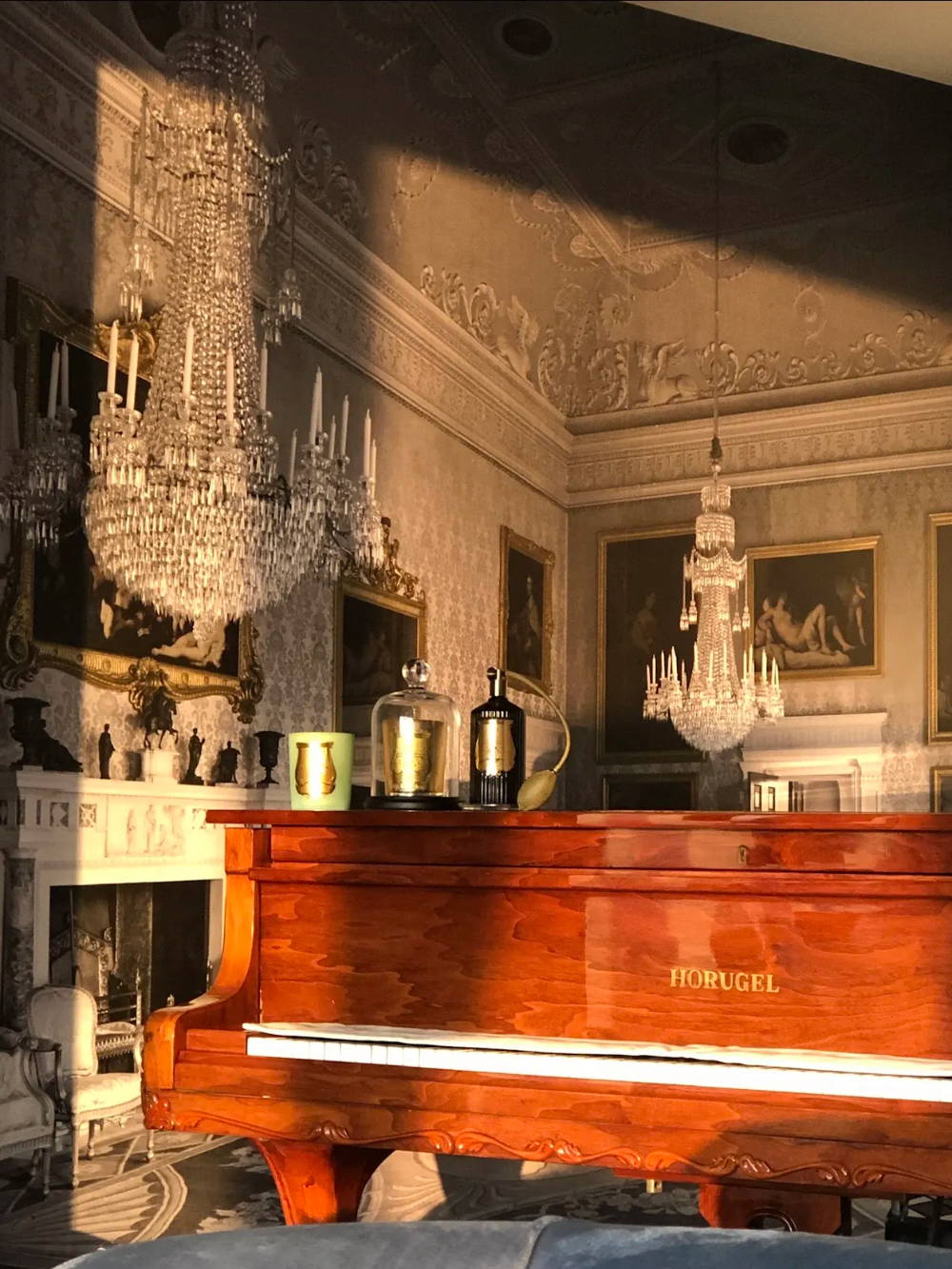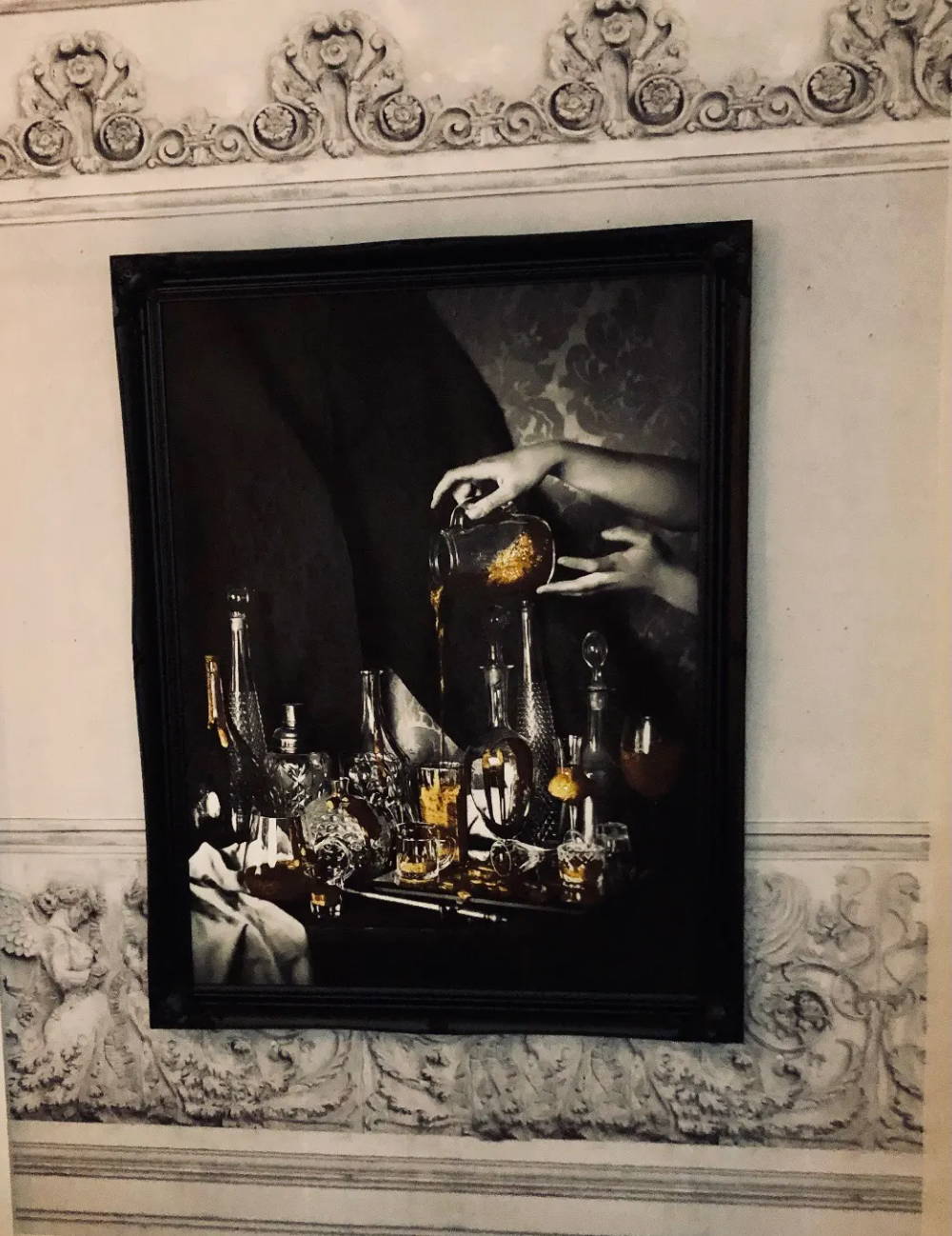 70 Rainey - About The Project
MINEHEART AS MY MUSE
Designed by Lori Williams
Designs used: King Edison Pendant Lamps, Still Life Pink Gold Edition, Mineheart Wallpapers
I designed/decorated a 1,300 sq ft. condo unit in Austin, Texas (USA). There were two major goals. One was to make a small unit appear much larger. The other goal, to create a most unique showstopper. The use of Mineheart wallpaper (in various locations) and mural, added fabulous dimension and dramatic warmth to this project. The King Edison pendants were added over the kitchen island. Being located in the epicenter of the home, they tied together the other rooms/areas where I used Mineheart, for a most cohesive theme and feel throughout the entirety of the home. A large mirror was brought over from Singapore and painted to match the stone angel wallpaper within the master bedroom. The large Still Life - Gold, added such warmth and drama to a bedroom wall. There are not enough accolades that I can give to the Palace mural; the vantage point it created in a very small space within the unit is absolutely tremendous. The antique grand piano was very out of place until the mural offered it such depth a most inviting space for it to call home. I could not have created my vision without Mineheart as my muse!!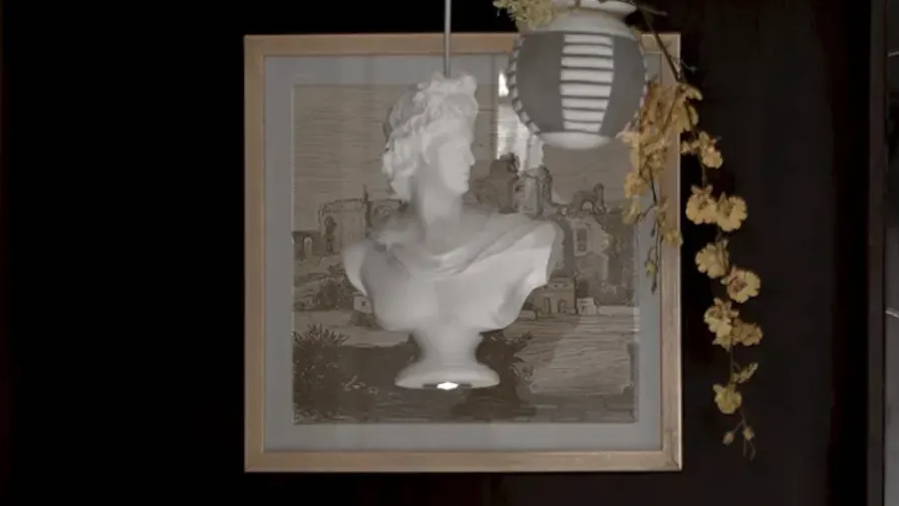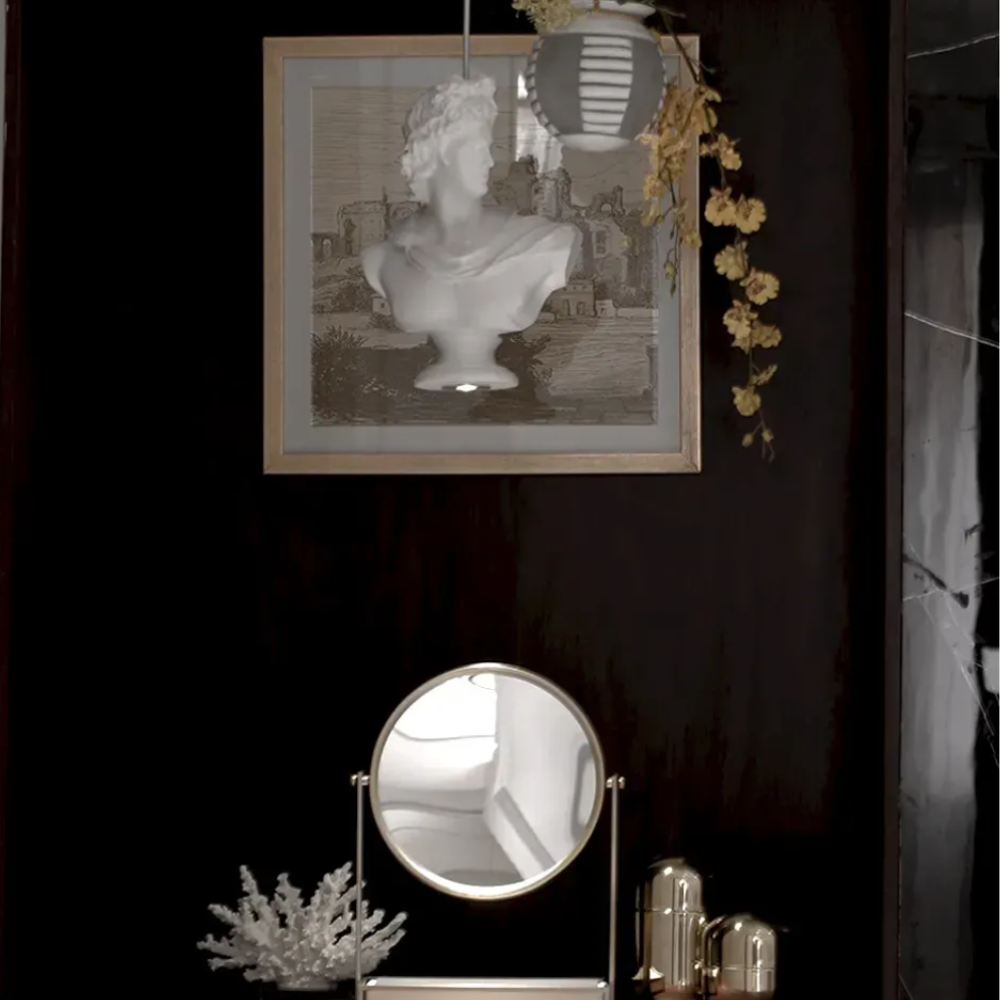 FINE LUXURY
Designed by Hans Interiors
Designs used: Hero Statue Lamp
007 | Prince Sultan Residence The project is located in Riyadh, Saudi Arabia, We wanted to create a remarkable guests vanity, so we used these beautiful fixtures to give a sense of fine luxury look with the walnut veneer cladding, and it sure did.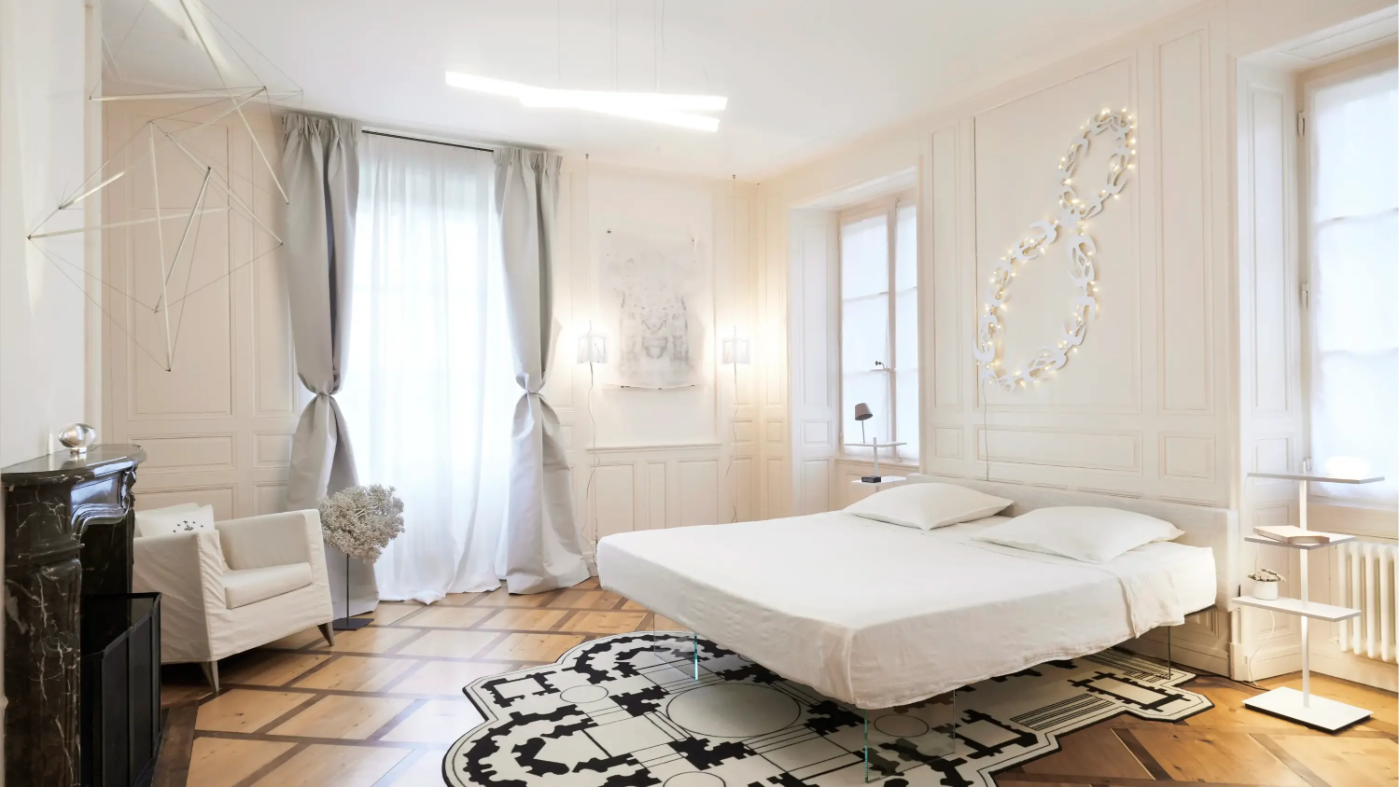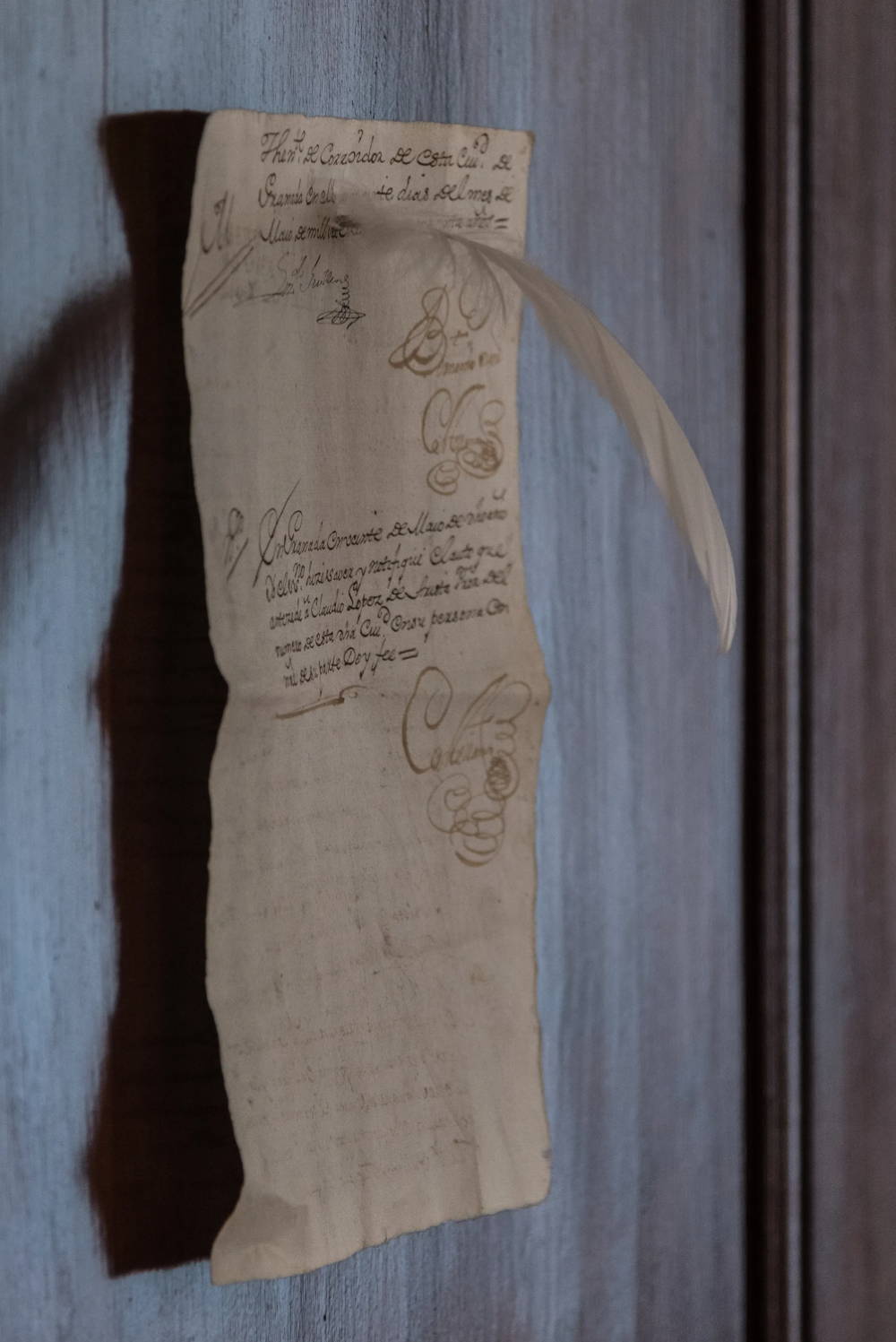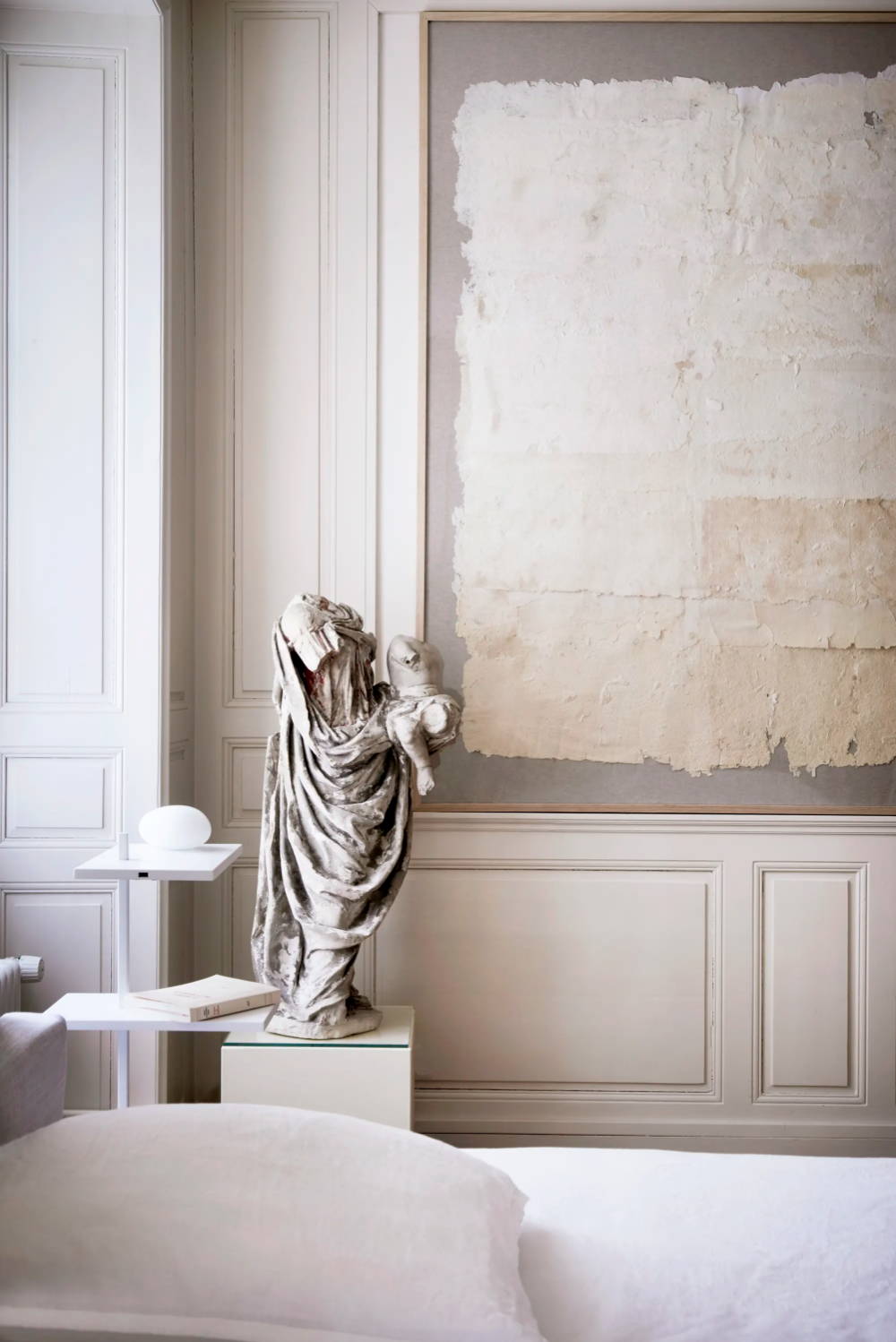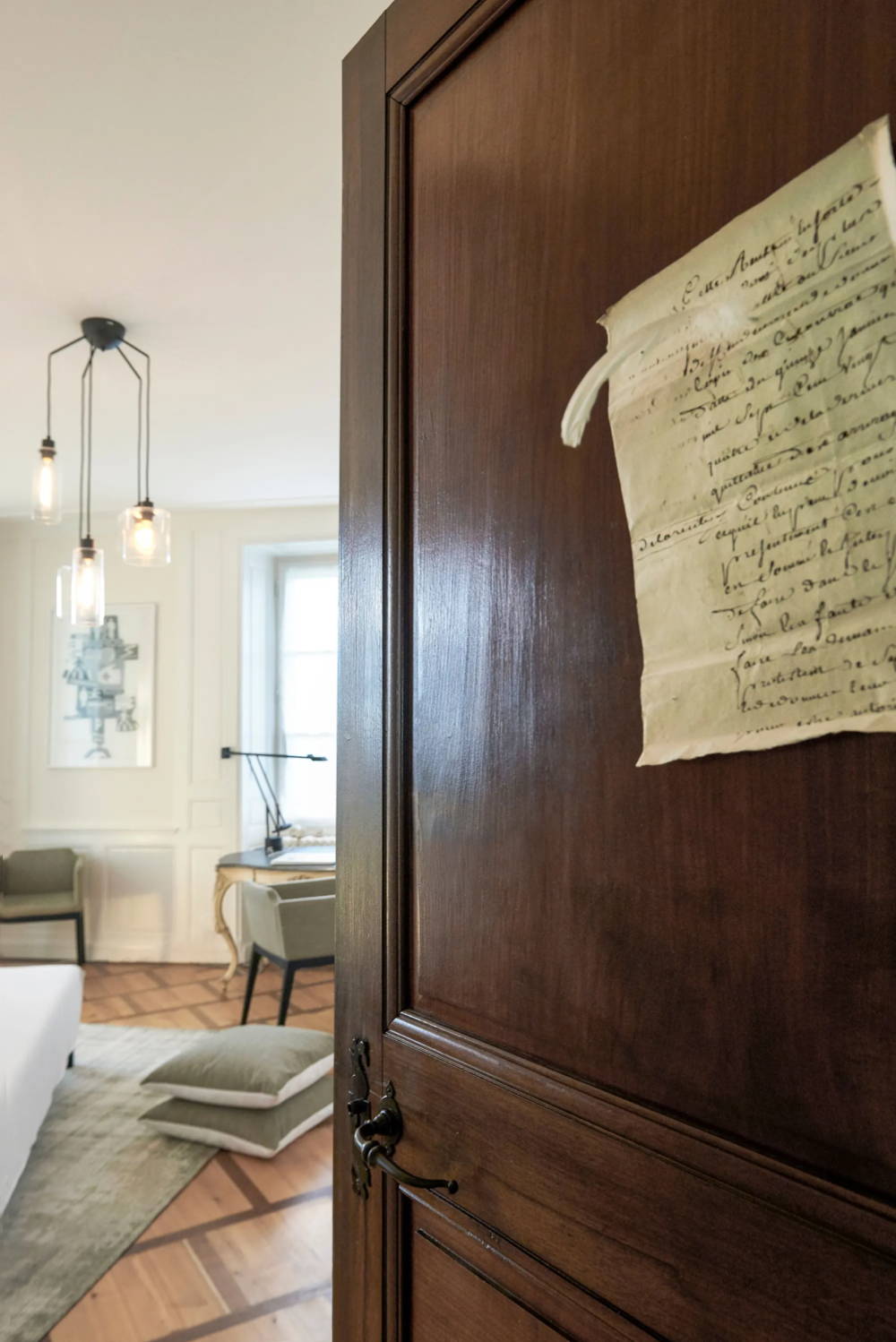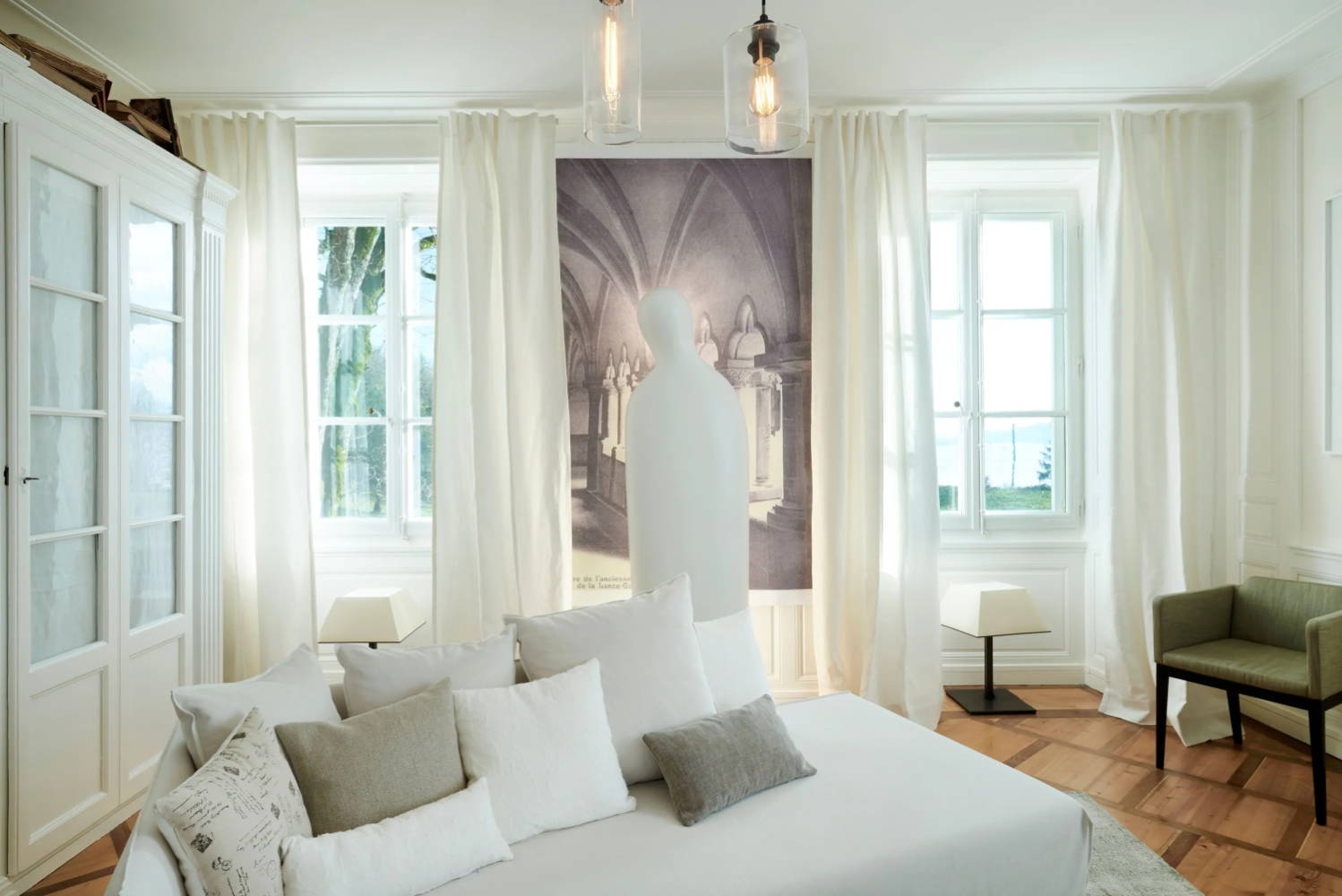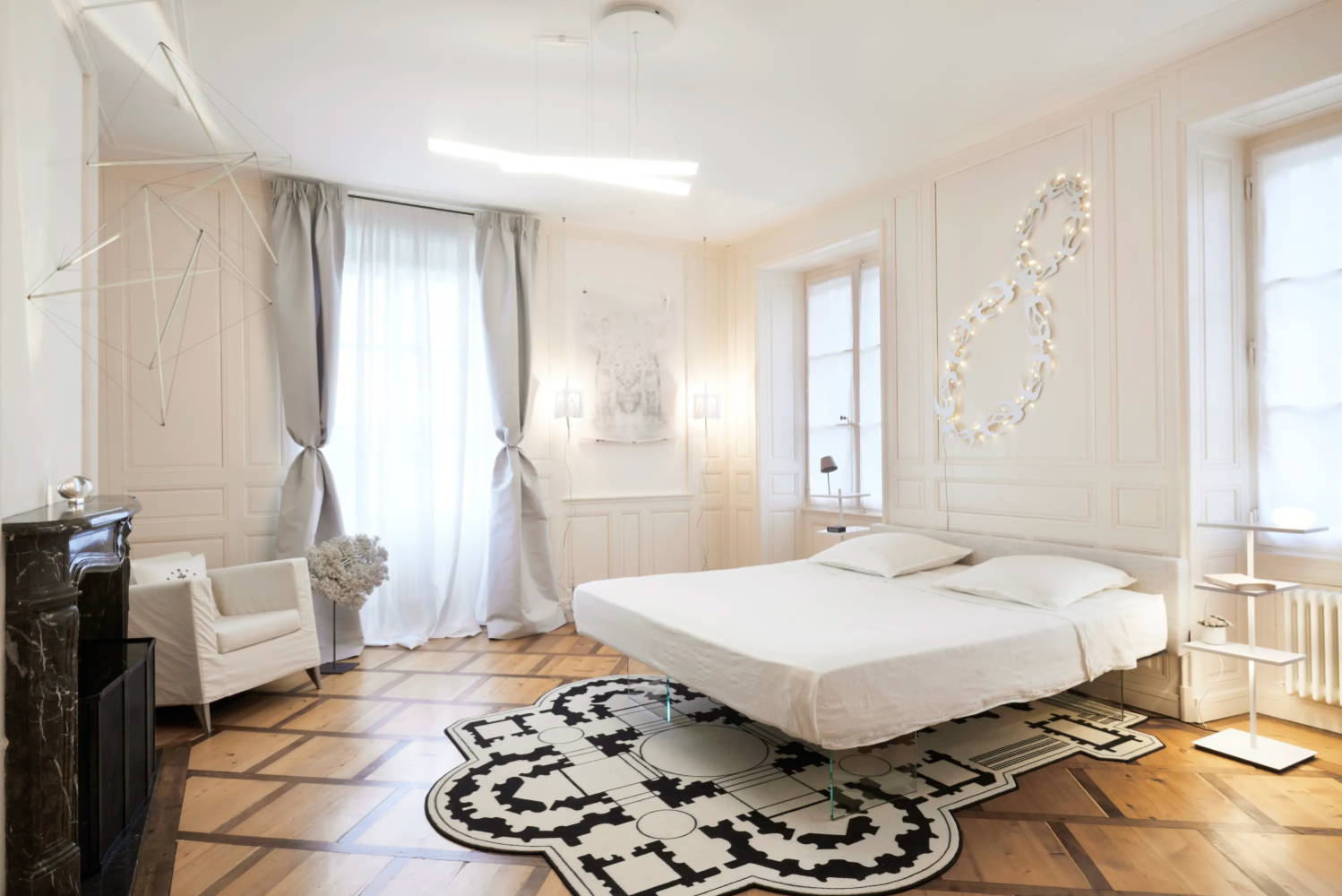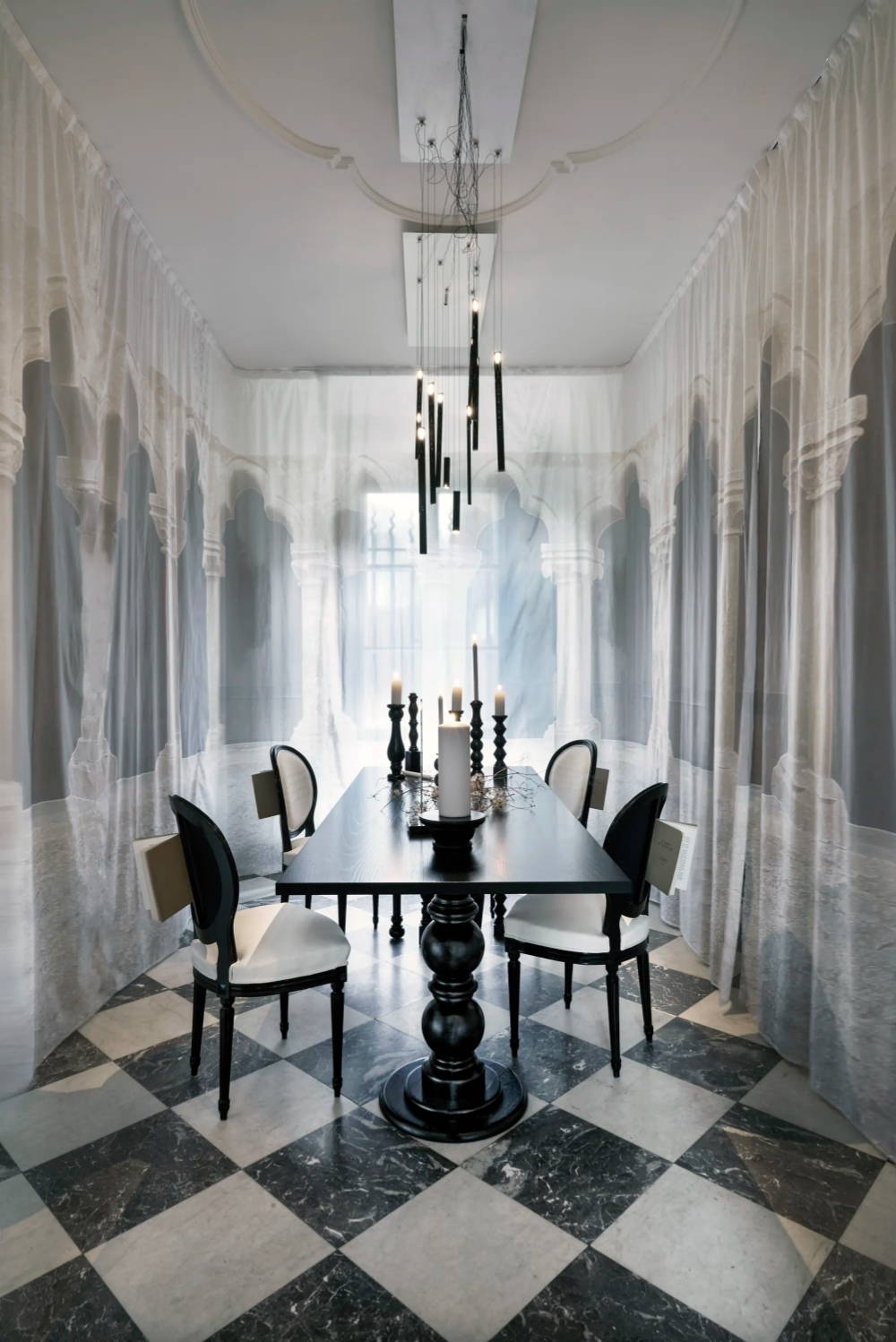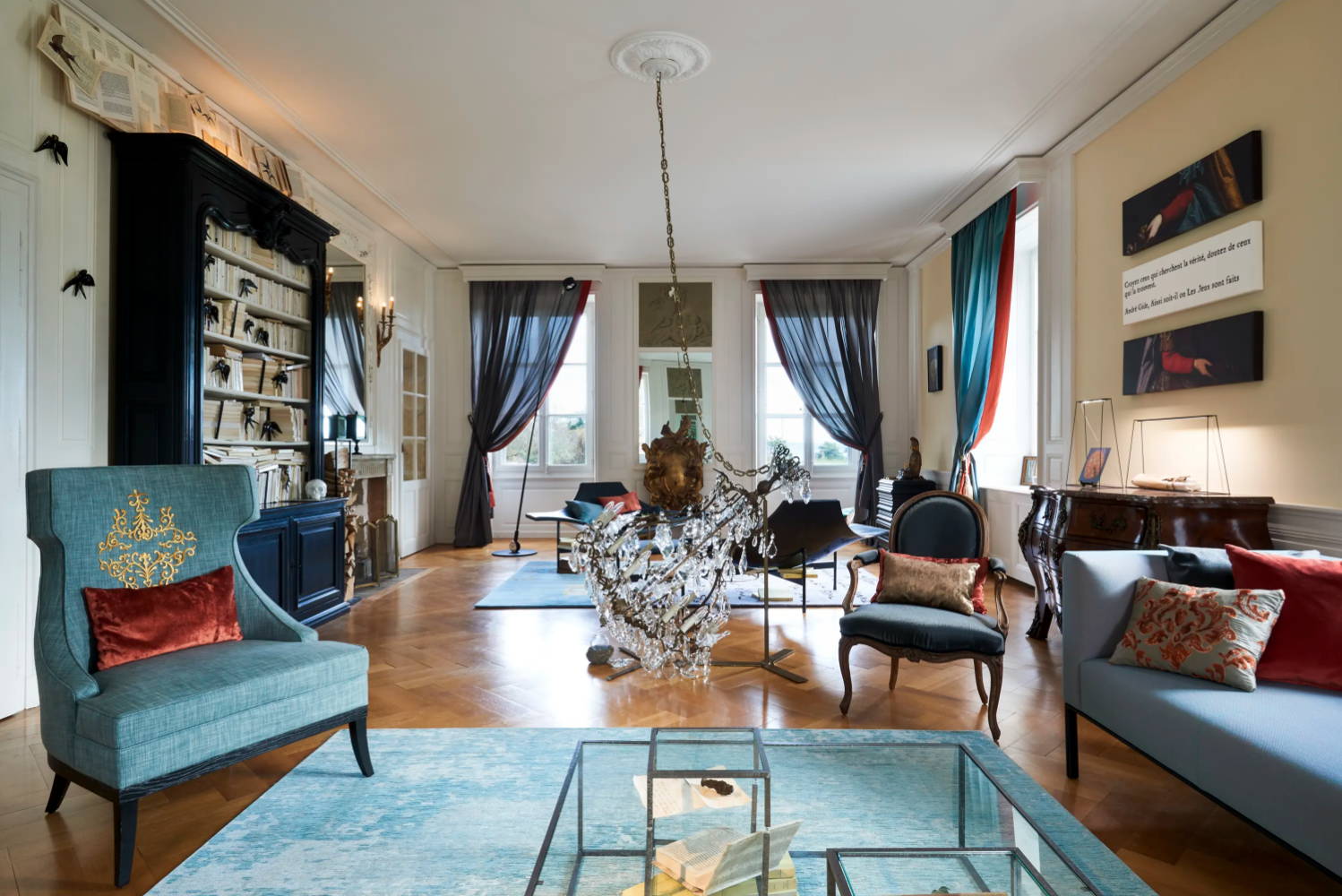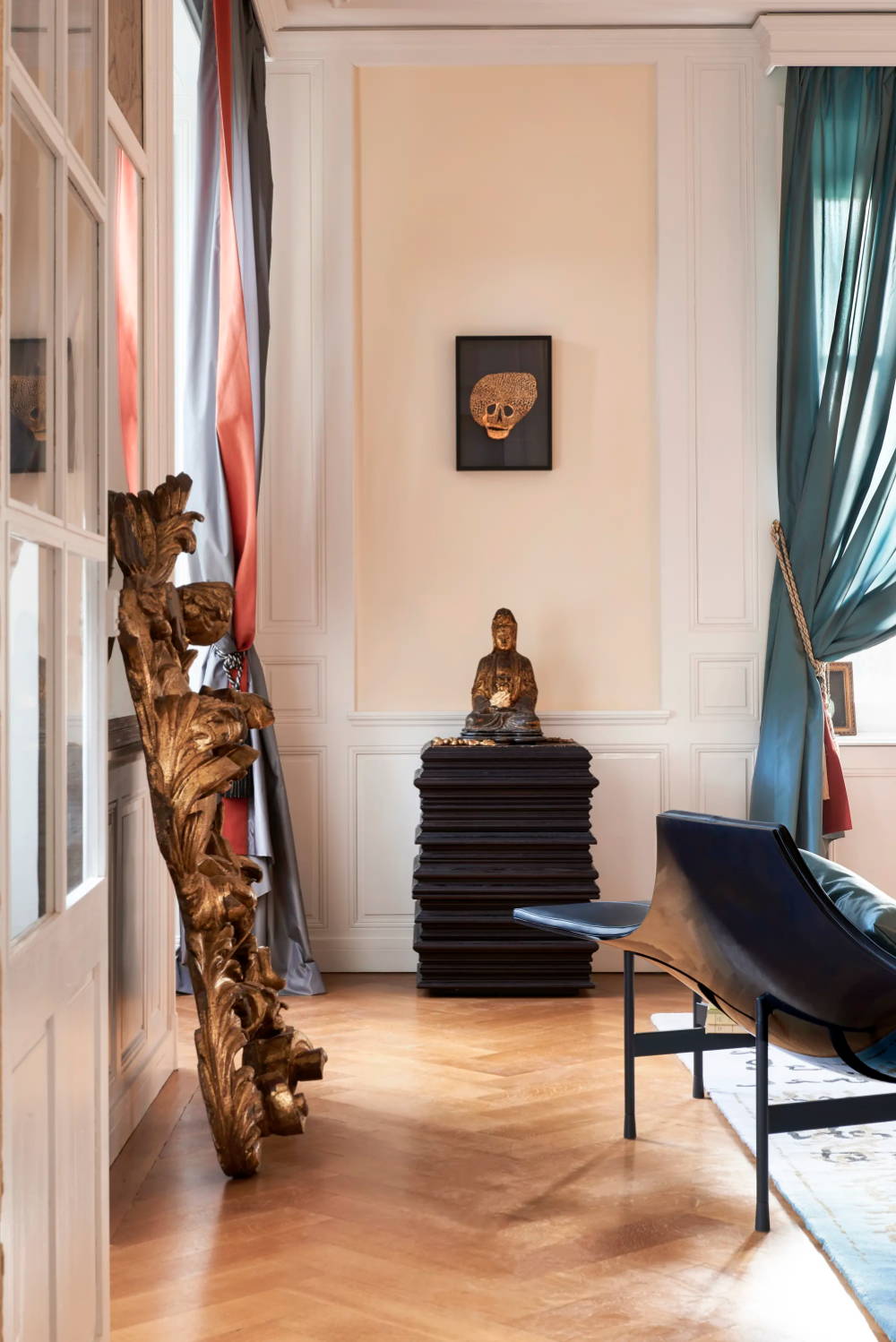 La Cartuja - About The Project
ITS VERY OWN PERSONALITY
Designed by Interior Design Philosophy
Designs used: Custom Products
LA CARTUJA An unlikely dream A place, like a human being, harbours mysteries and its very own personality. La Chartreuse de la Lance, the Carthusian monastery in Switzerland where this project is set, is steeped in an unusual history which dates back to the 14th century and does indeed hold many a secret. It is not known exactly how many monks resided there, but one thing is certain: spiritual intensity was the guiding force. Carthusian monks were driven out on 26 March 1538 by the Reformation, but it is startling to think, poetically, that they might have been able to join the Cartuja of Seville, as if by magic, as a last refuge (a Carthusian's habit hung on the wall alludes to this, as though forgotten in the rush). The project takes inspiration from this unlikely dream. The figure of the charterhouse ('Cartuja' in Spanish) is pivotal in this project and its evocative power, like a constellation, forges countless links with other sources of inspiration. This element has two sides: the first refers to the place itself, where the project is set, the Chartreuse de la Lance. This construction will feature illustrations depicting the monastery: a photo in 1:1 format of the cloisters has been printed onto the net curtains in order to replicate the geography of this peculiar place at will. An old post card of the La Lance monastery has also been enlarged and, as a tribute, a monk-shaped lamp stands in front of it. The second side refers to the monastery's Andalusian counterpart: the Cartuja de Sevilla monastery, which has strongly influenced the decor of this project. La Cartuja also leads us to a painter who was commissioned by the monastery: Zurbaran (1598–1664).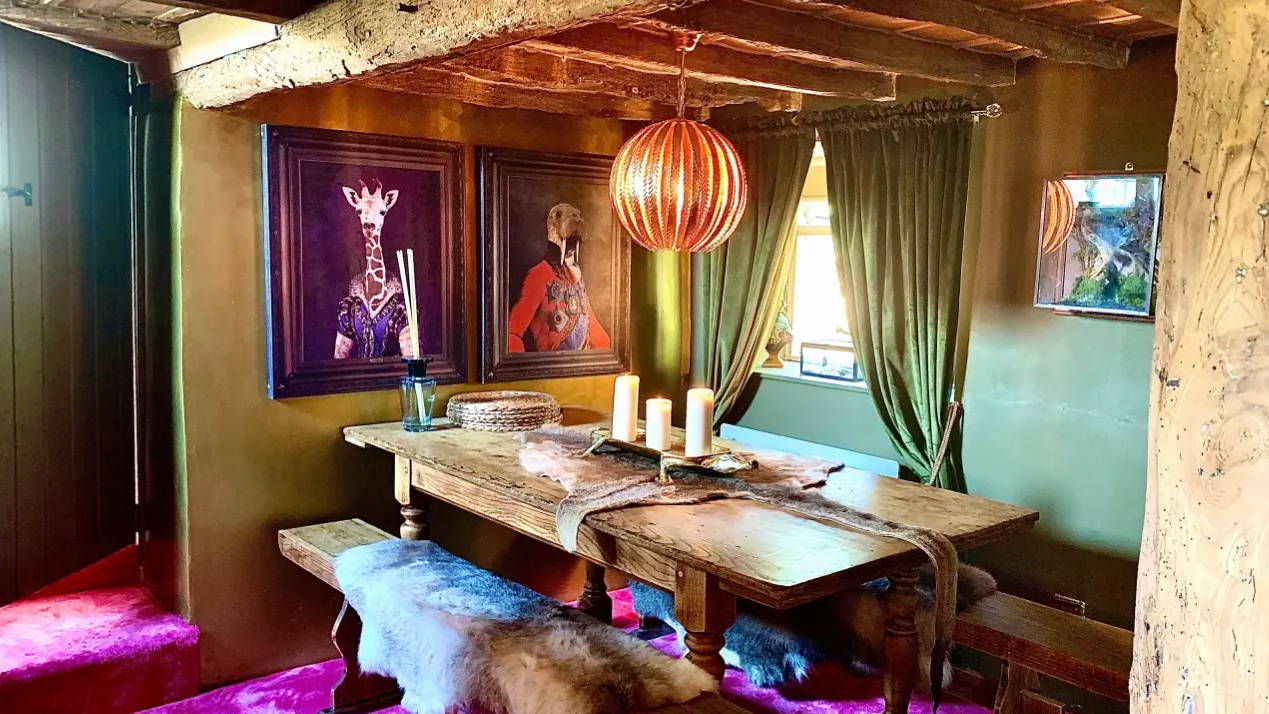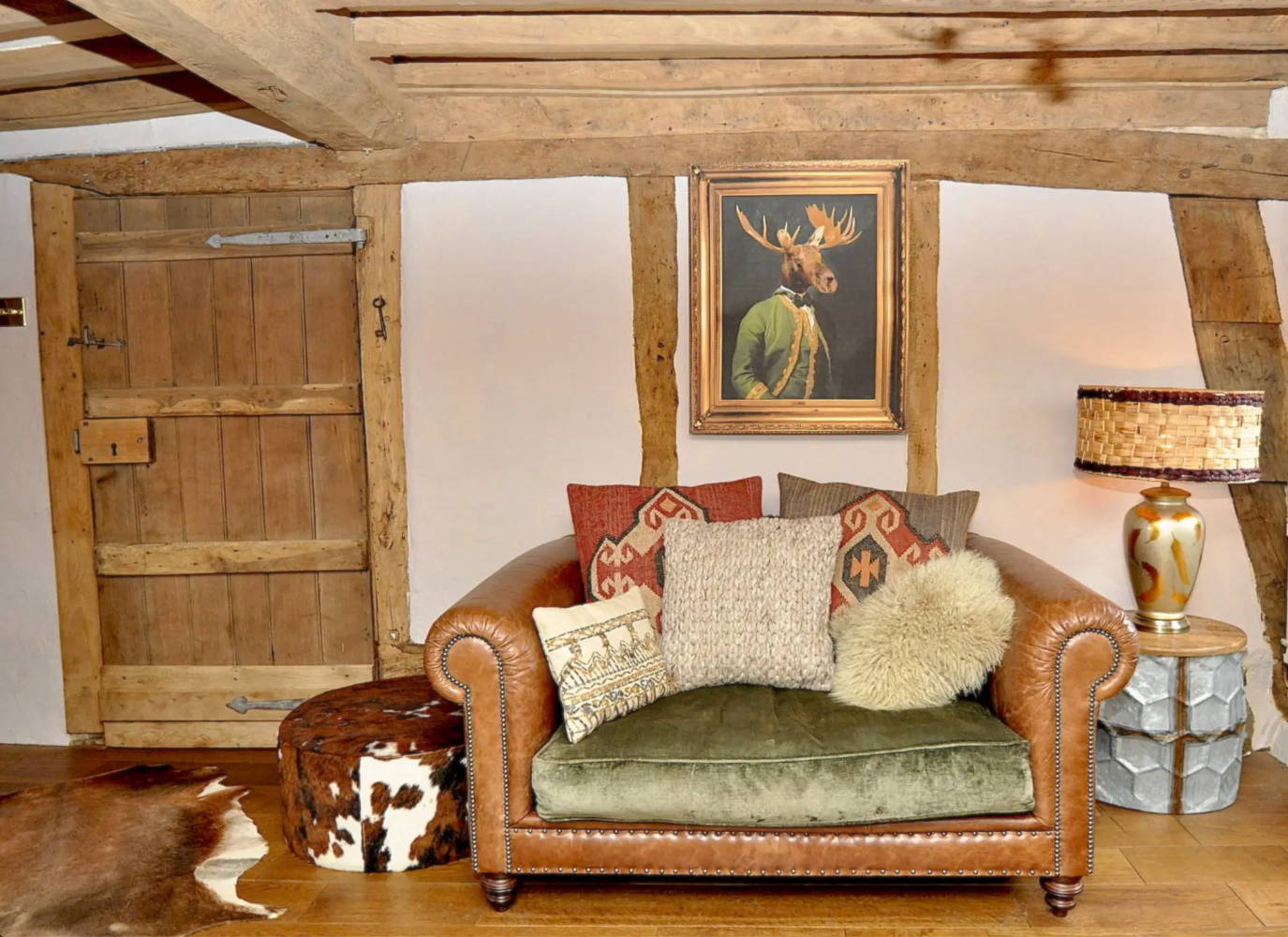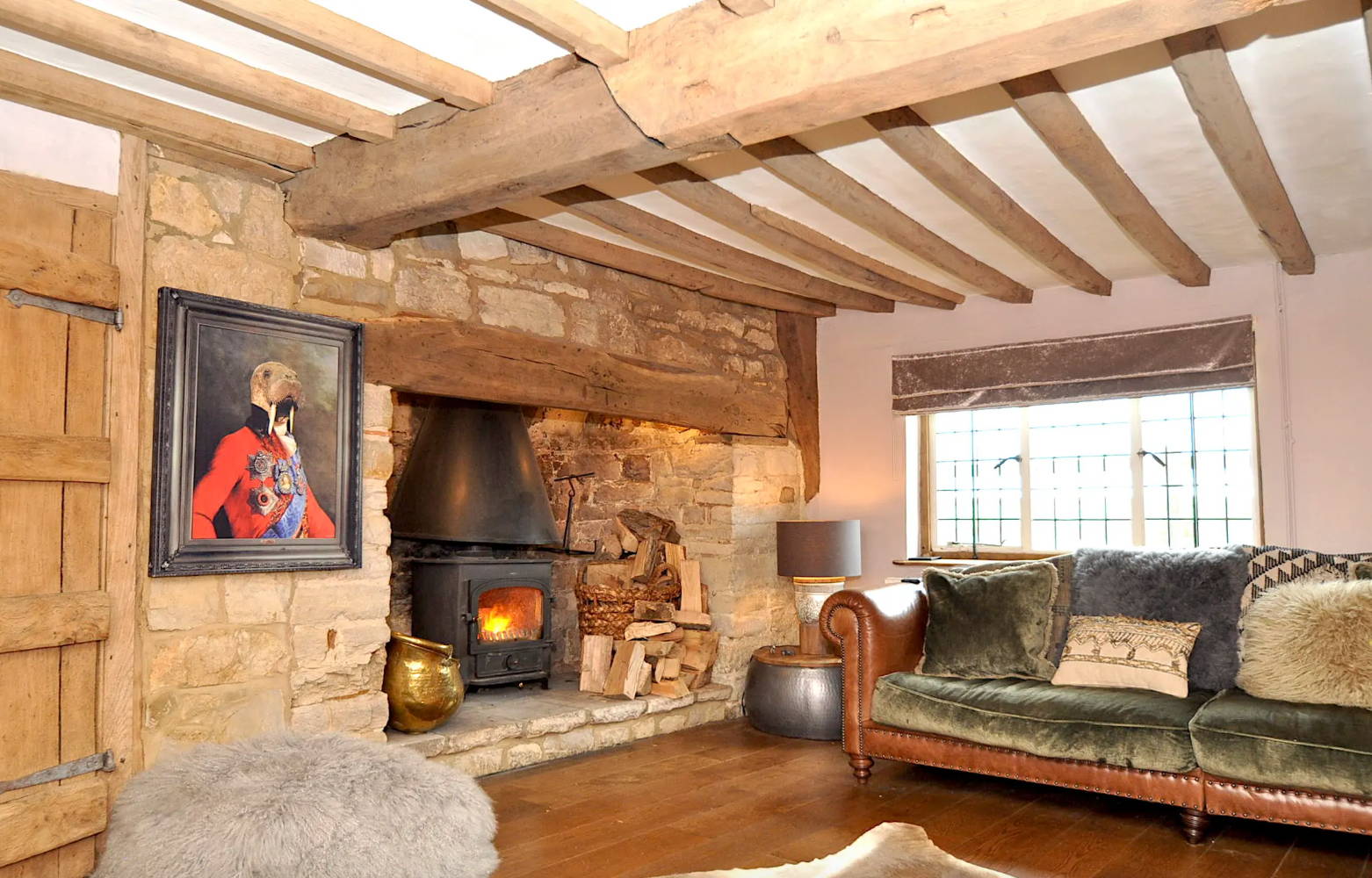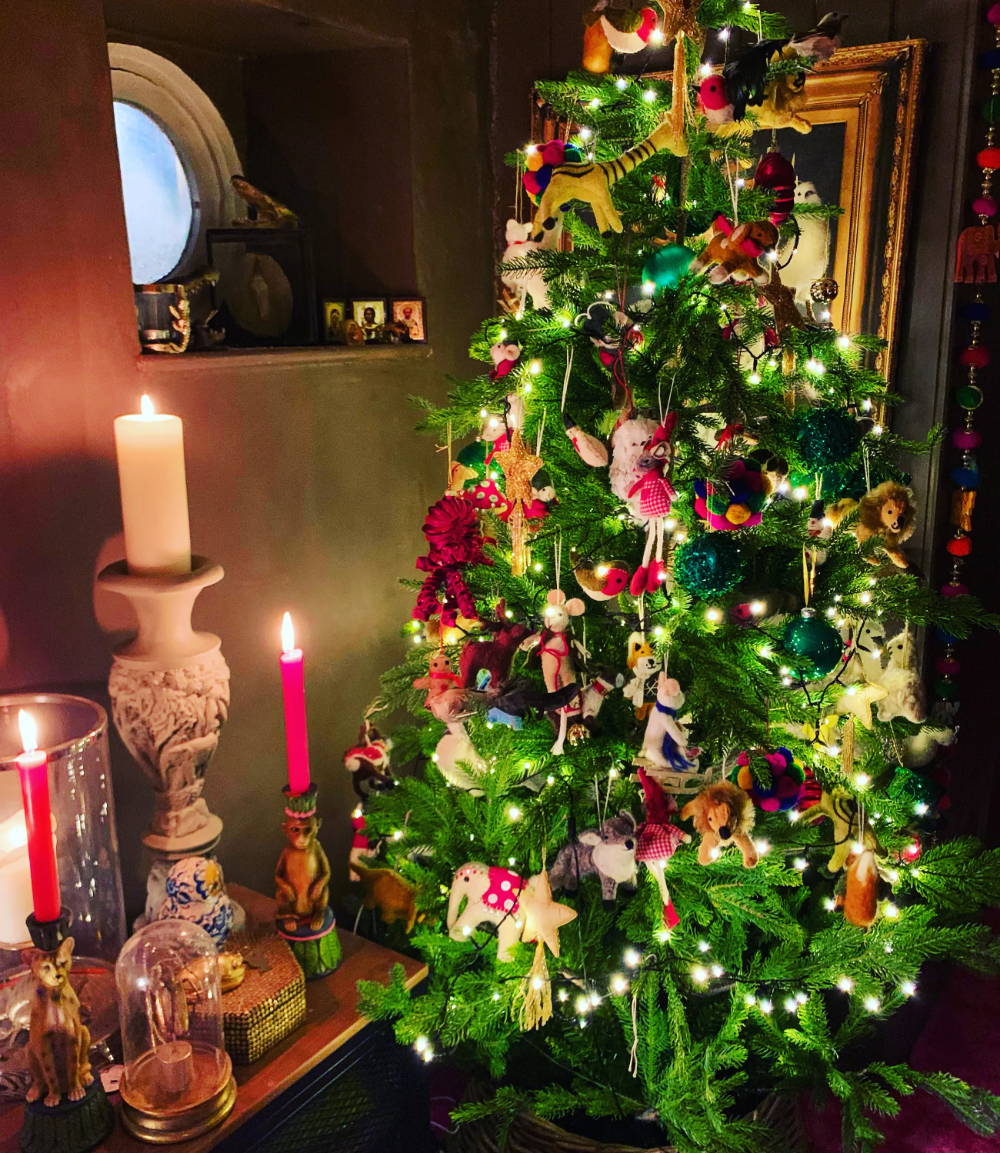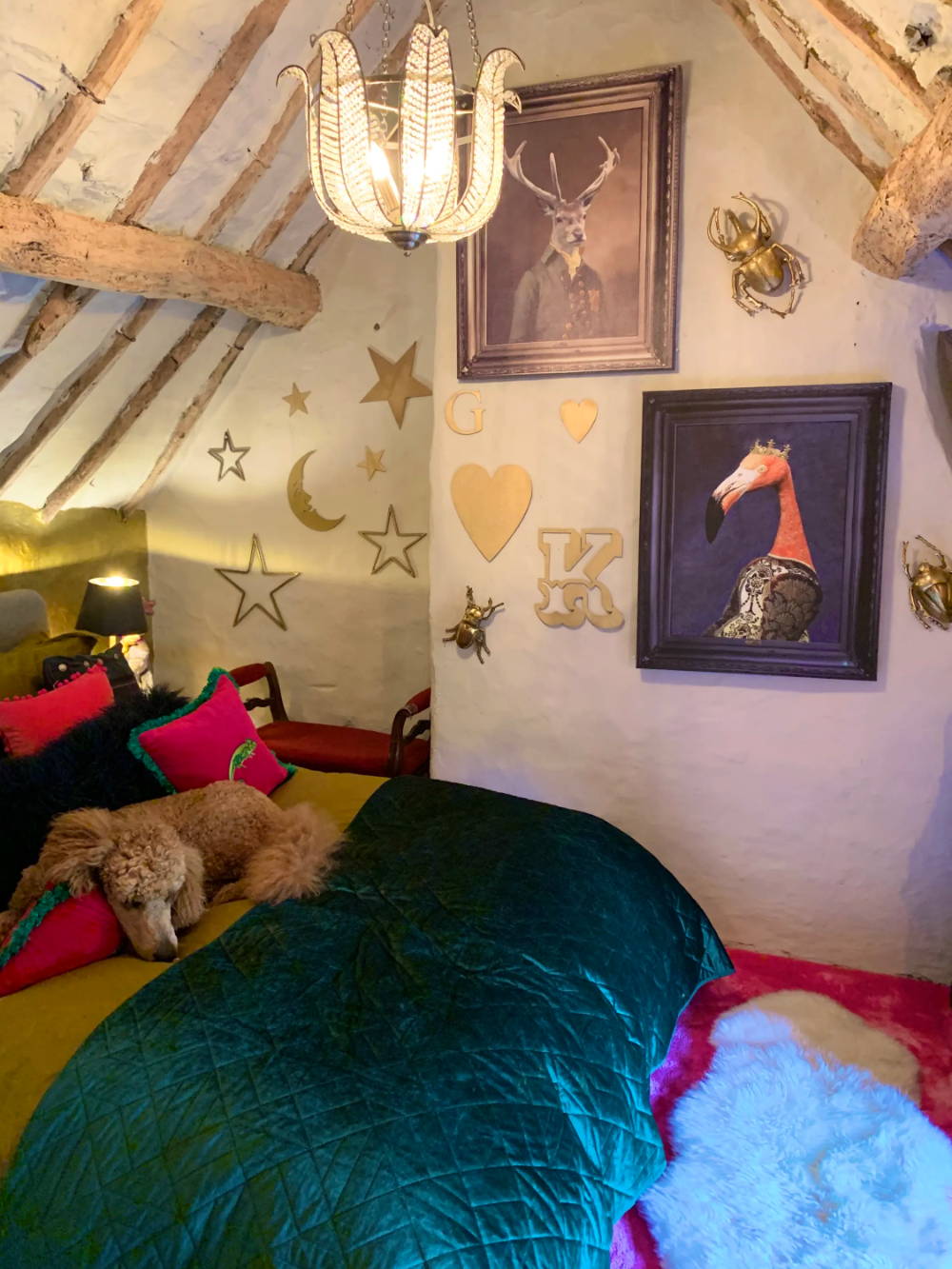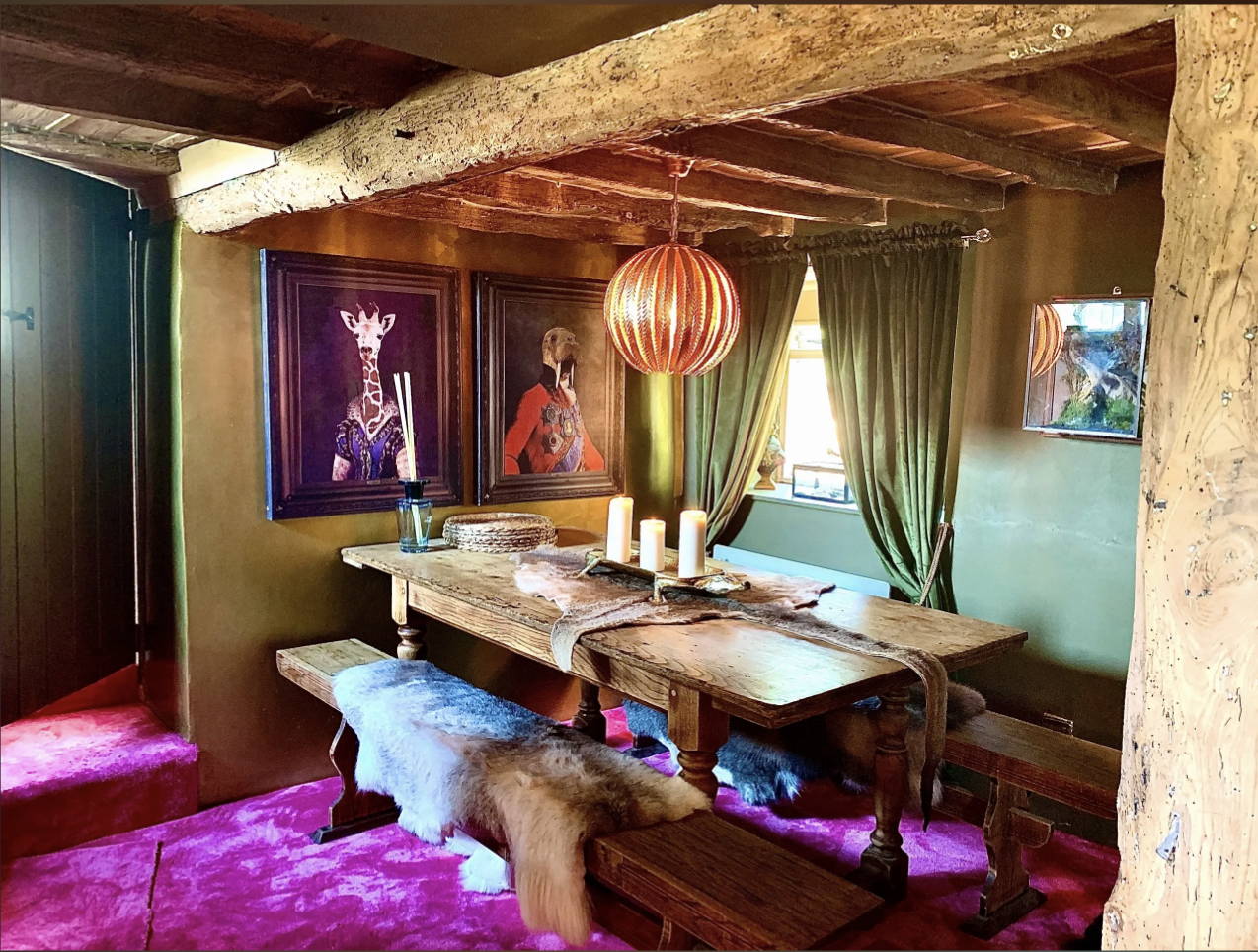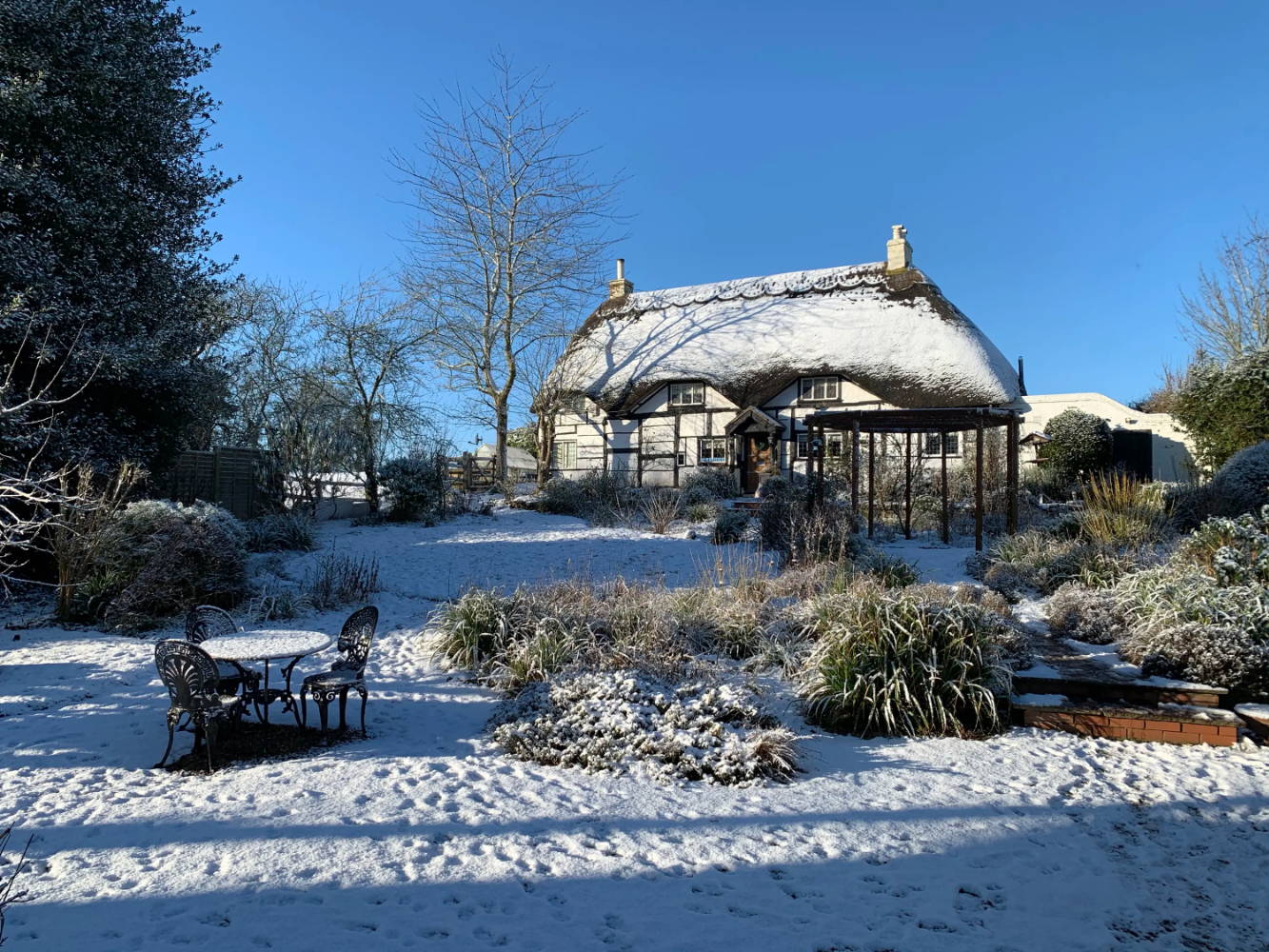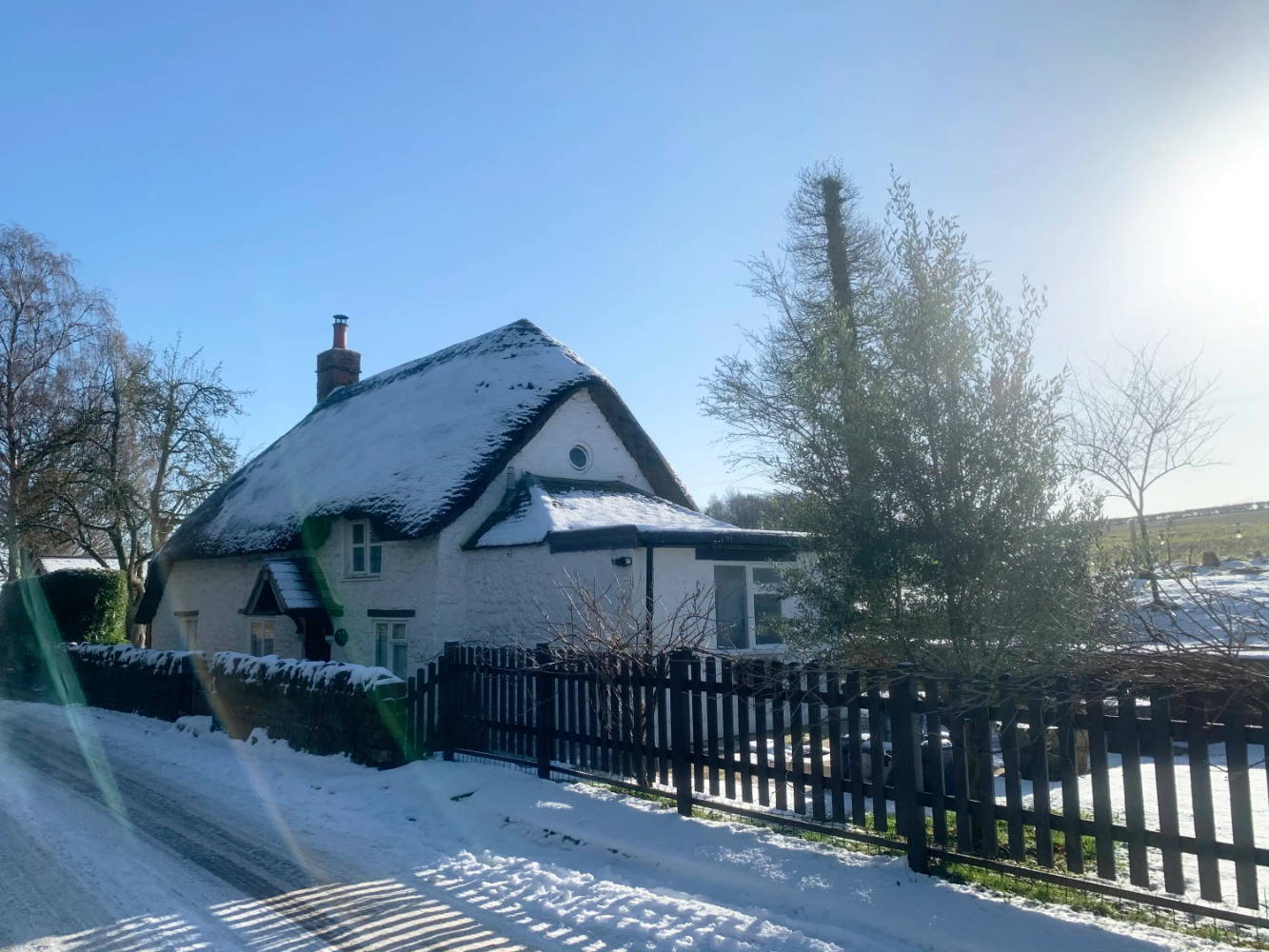 The Great Rehoming - About The Project
HEAD VS HEART
Designed by Lotti Kozlow
Designs used: Dame Giralda, Uncle Walter, Señora Emanuela, Grandfather Olaf, Lord Montague, Princess Flaminia and Brother Stanwick,
THE GREAT REHOMING - OXFORDSHIRE. In December 2019, we bought a gorgeous, but pretty rundown thatched cottage on the edge of the Cotswolds. At over 400 years old, it was a real head vs heart dilemma. Heart won and it was a twelve month labour of love to get everything perfect for Christmas 2020. When describing a blonde oak ceiling and beams, gold and khaki walls with almost neon pink carpet, people were dubious… until they saw it, somehow it suited the cottage perfectly. On Christmas Eve, the local drains failed to cope and our lovely little cottage was ruined by storm water. In the middle of the devastation, Dame Giralda, Uncle Walter, Señora Emanuela, Grandfather Olaf, Lord Montague, Princess Flaminia and Brother Stanwick sat brightly on the walls, totally unfazed. They've been temporarily fostered at Mum's, a medieval thatched cottage in Buckinghamshire. Now hung in a more muted environment, they remind me that we'll get our cottage back to normal where they'll be going, pride of place. My only regret? Not getting professional photos in time of our "before", so here's to plenty of "after"!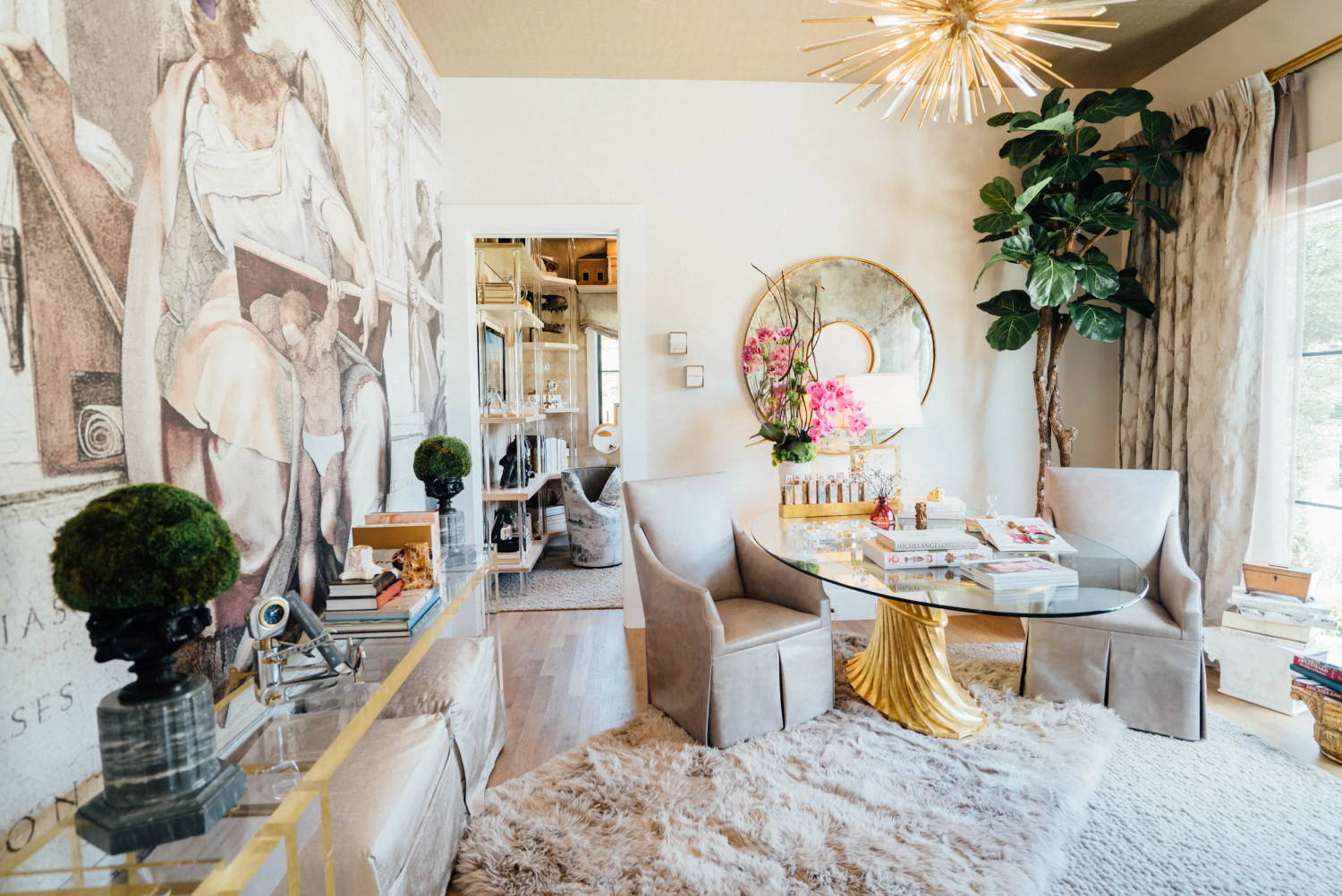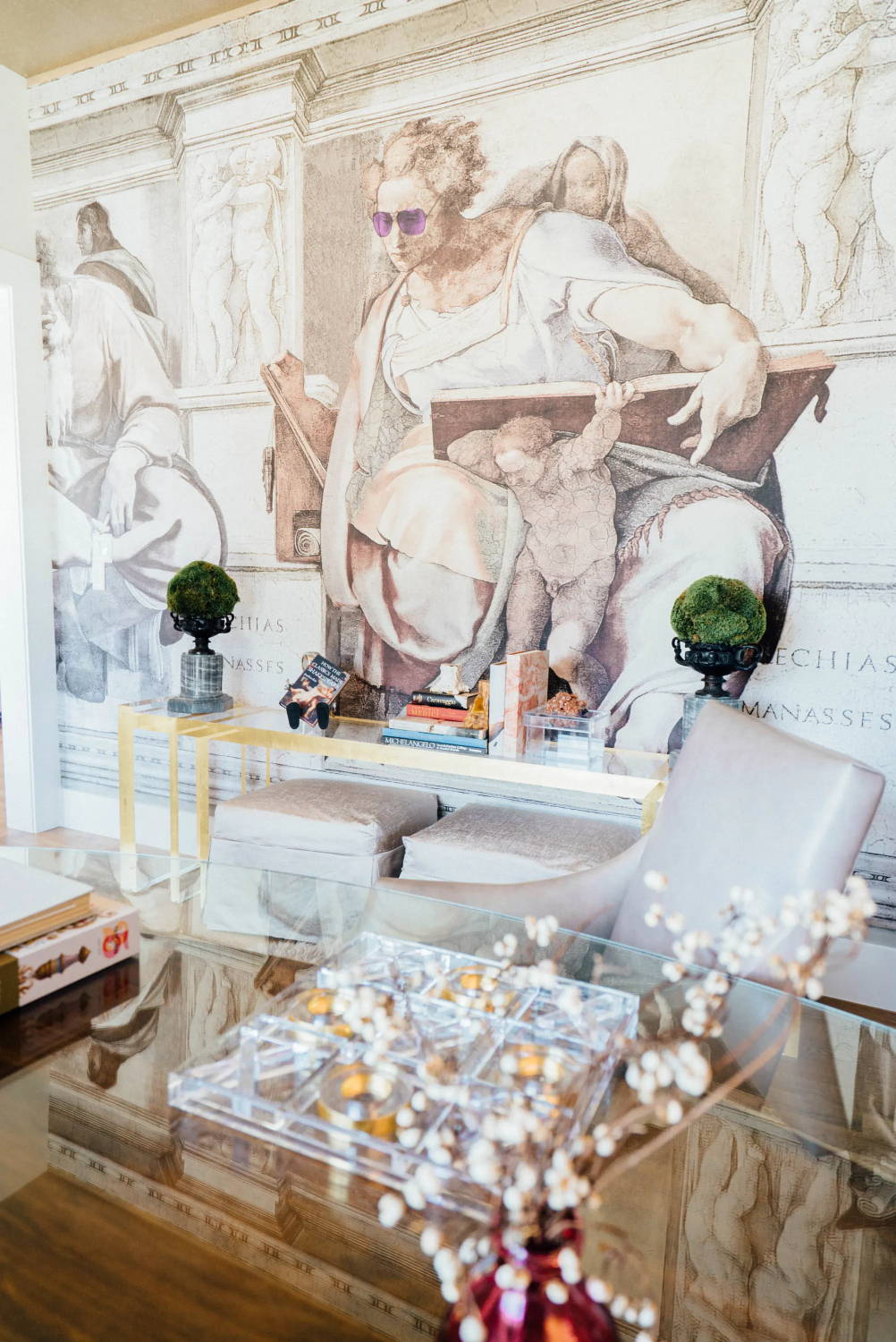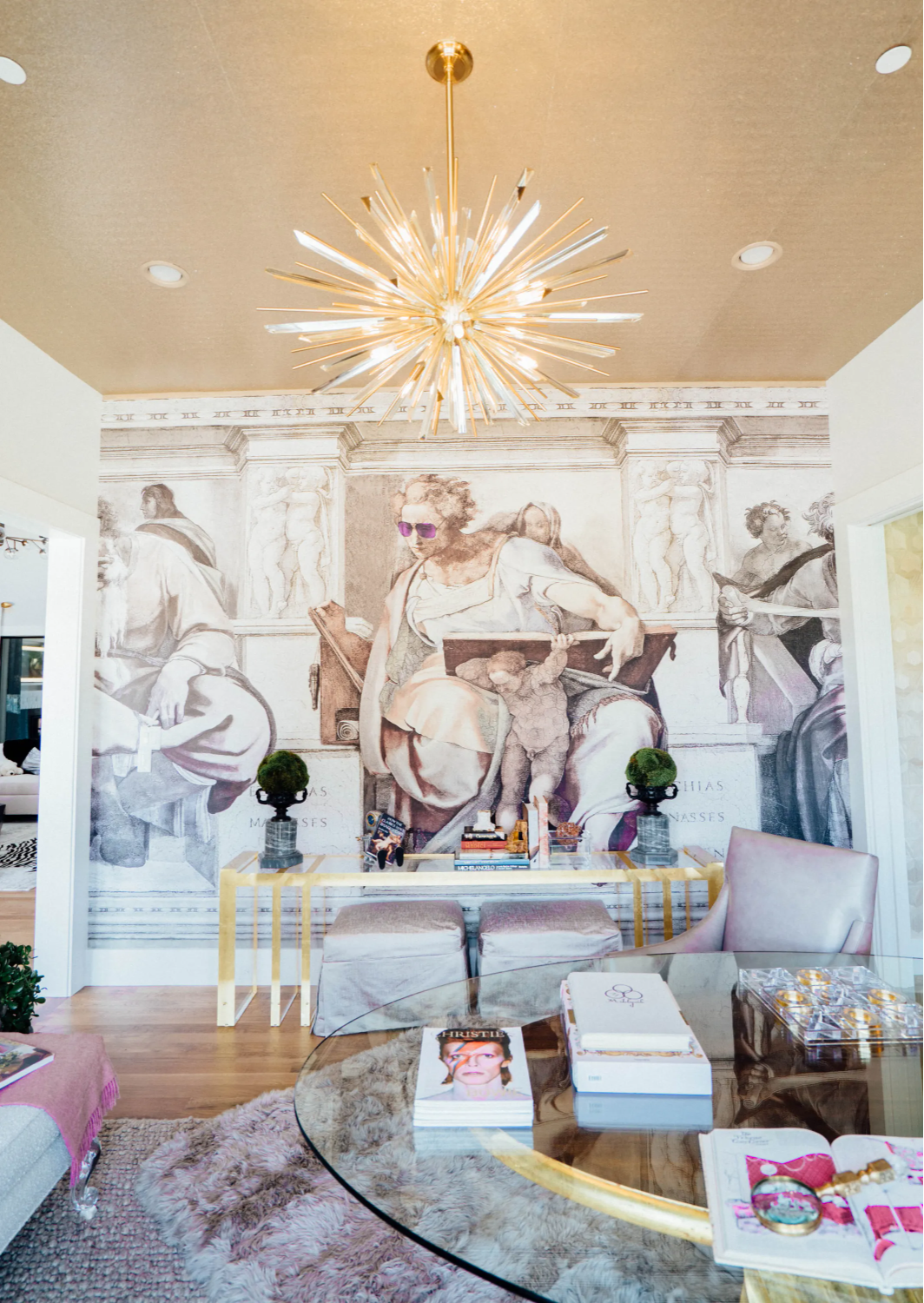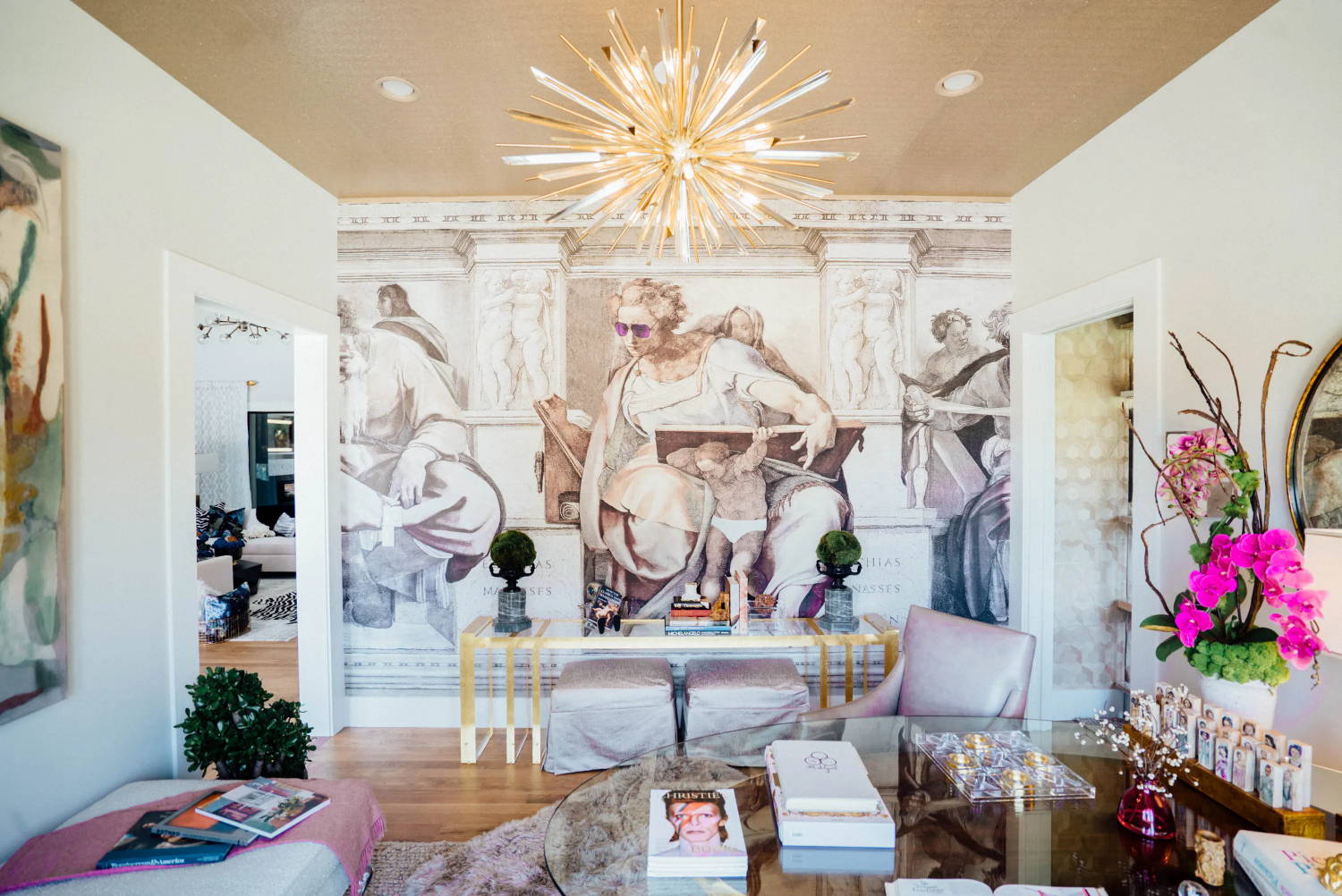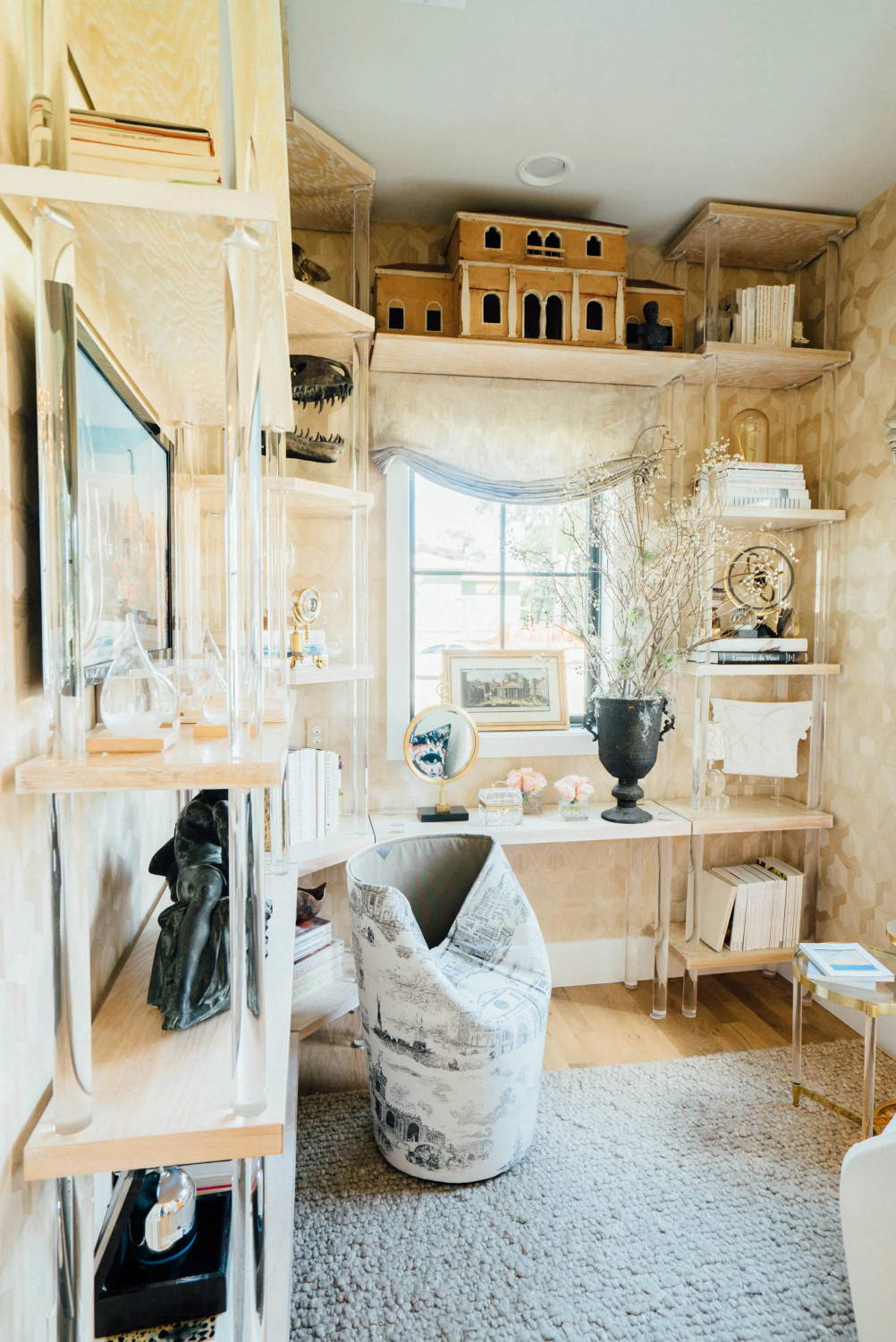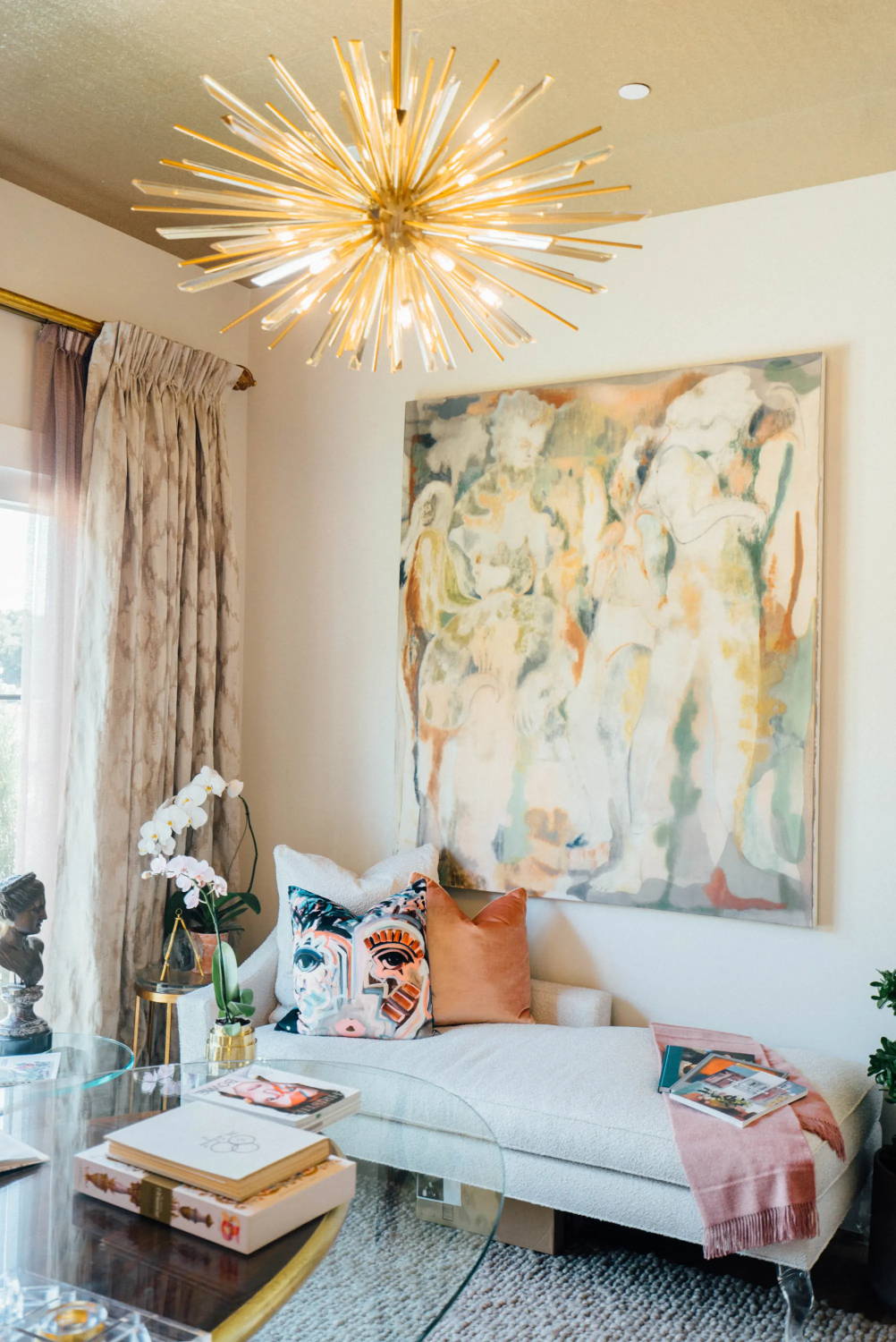 Michelangelo Study - About The Project
PERFECT BLEND OF OLD MASTER AND IRREVERENCE!
Designed by Sherry Hayslip Interiors
Designs used: Fresco Wallpaper Mural,
Who says Michelangelo is unattainable in our present world? Even in small-town Texas, the master can inspire and, well, also tease us. When designing a study and mini library for a young but very cool couple, the designer discovered the perfect aesthetic blast. Browsing through Mineheart's varied offerings, a Renaissance-style wallpaper of a scholar deep in thought immediately solved the design challenge of being beautiful, classic, and completely modern. It turned out to be a supersized image of David from the Sistine Chapel, complete with the very contemporary addition of Aviator style sunglasses while casually holding a half-smoked cigarette - The Fresco Wallpaper Mural designed by Young & Battaglia. It was the perfect blend of old master and irreverence! Mineheart worked with the designer to make the scale even larger, so the image covered an entire wall – a stunning revelation to every visitor, even when glanced through the windows open to the courtyard outside. A custom perplex and gold leaf 8-foot-long console displayed books, a robot iPad holder, and a pair of antique miniature marble urns with topiaries while still offering a clear view of the mural. Few people recognized King David, but all were amazed at the incredible artwork. Elsewhere in the space, a large Maja Ruznic painting over a luxurious chaise lounge, a mahogany parcel-gilt hand carved oval desk, and a glistening starburst chandelier provided a comfortable setting of classic elements seen through fresh eyes. The colors of the study and adjacent "cabinet" of shelves full of curious and wondrous things complemented the mood of classical fun. The result – Classically Modern.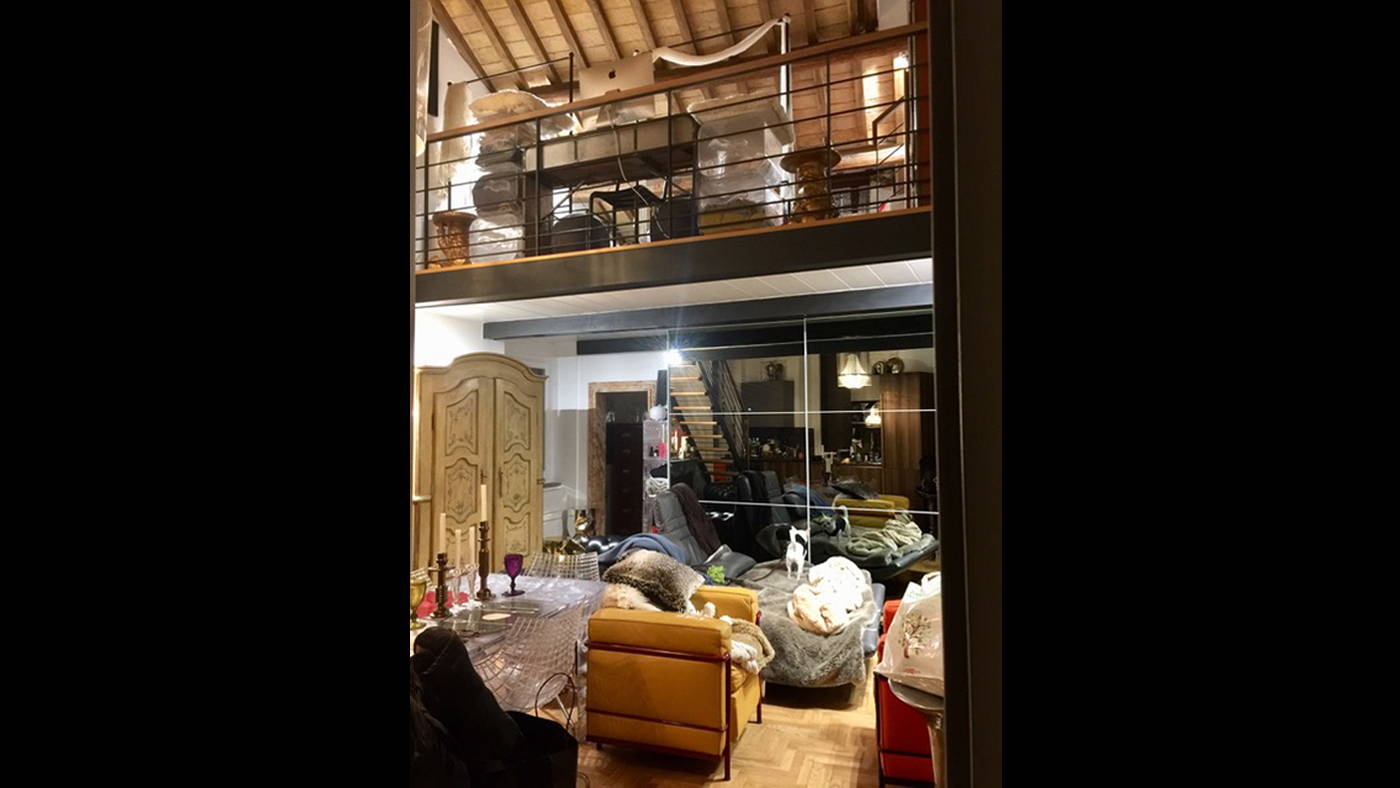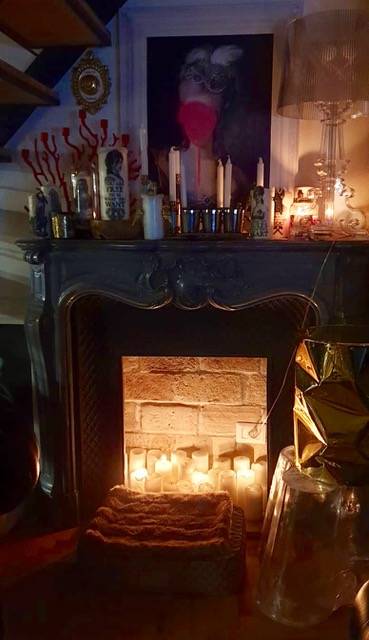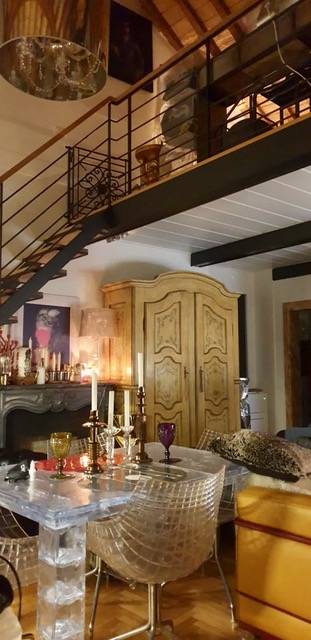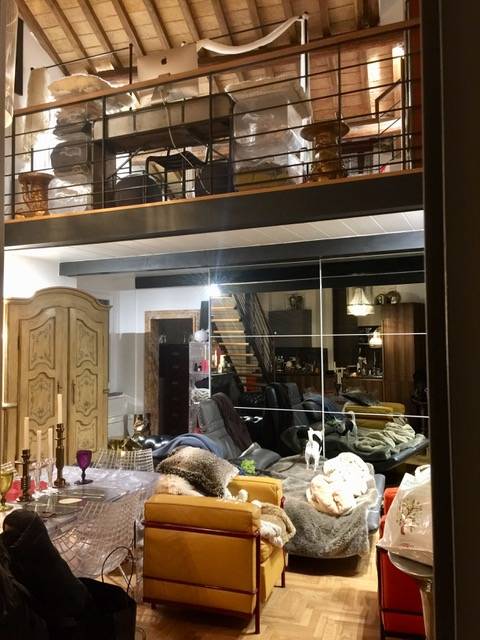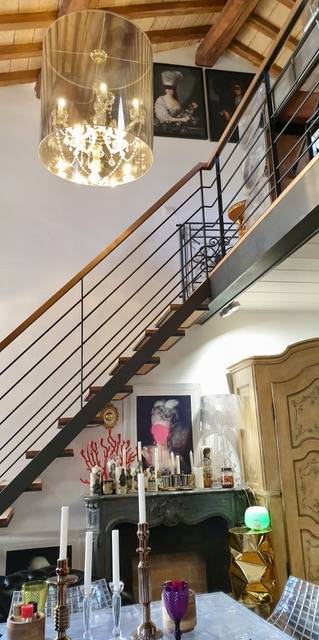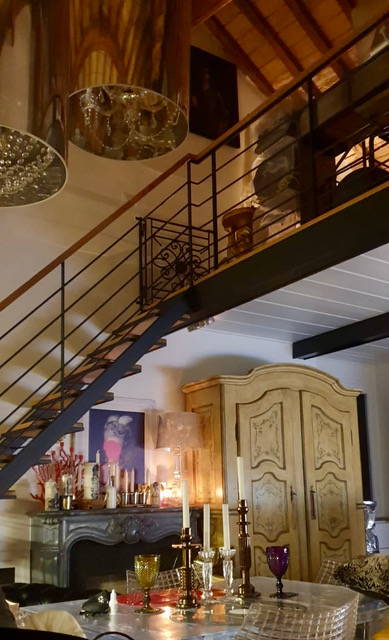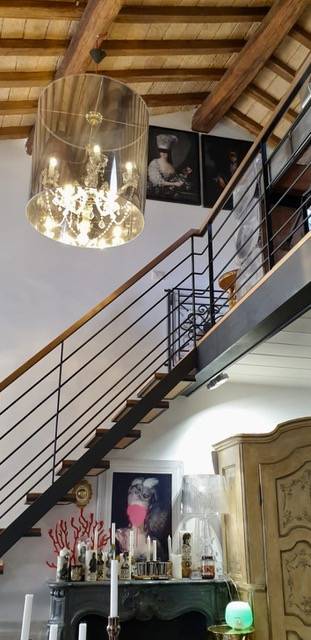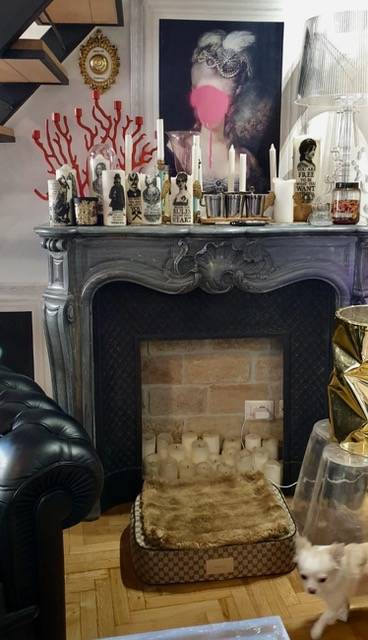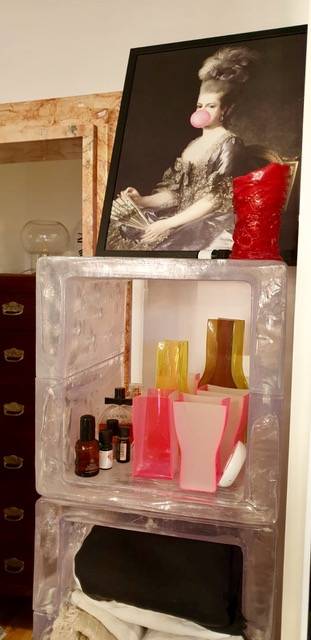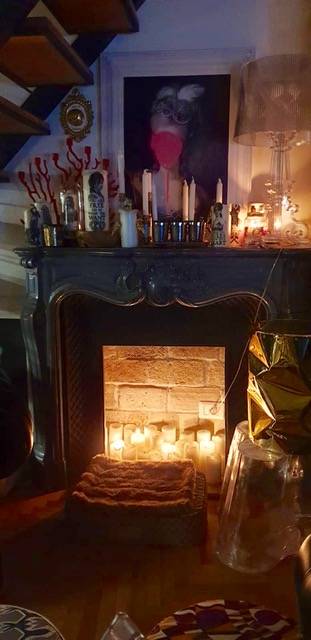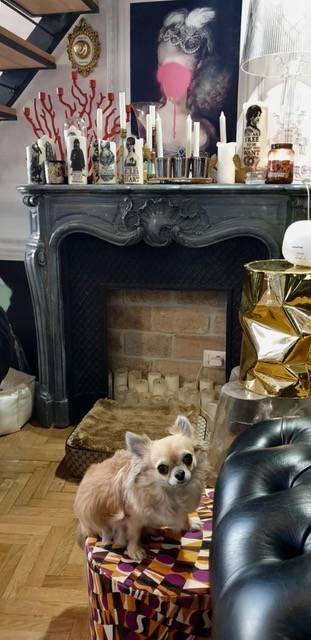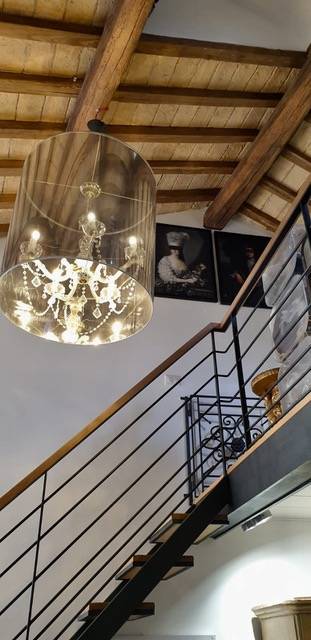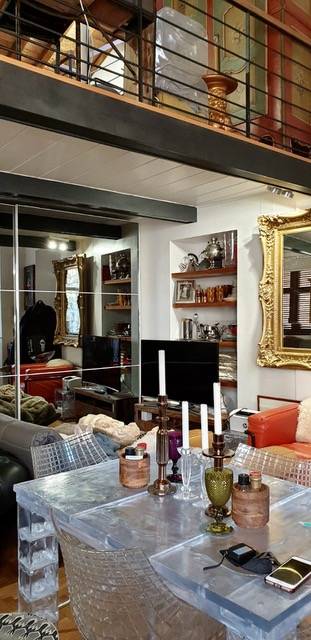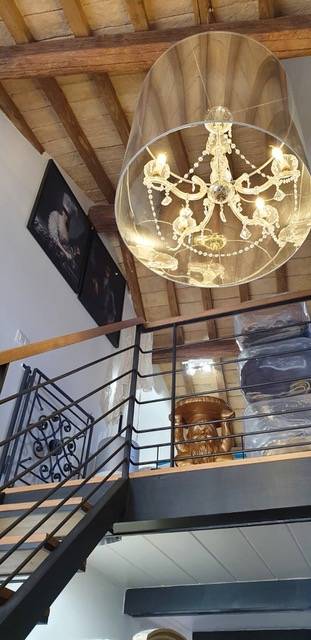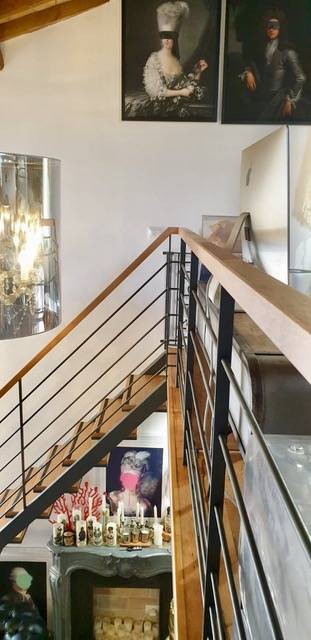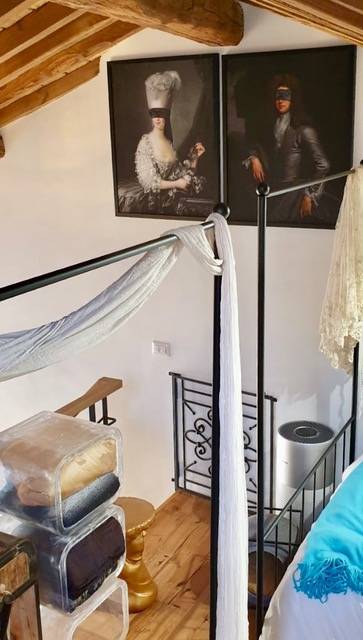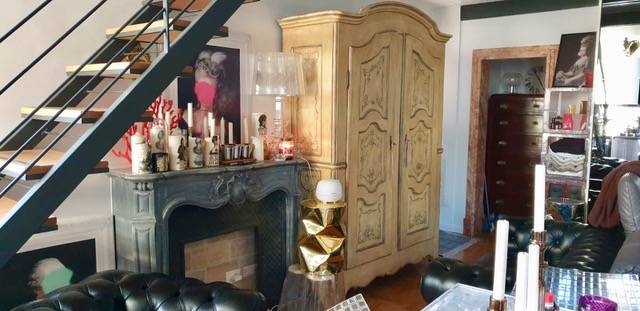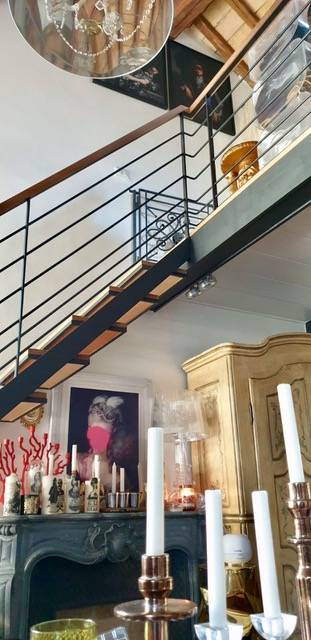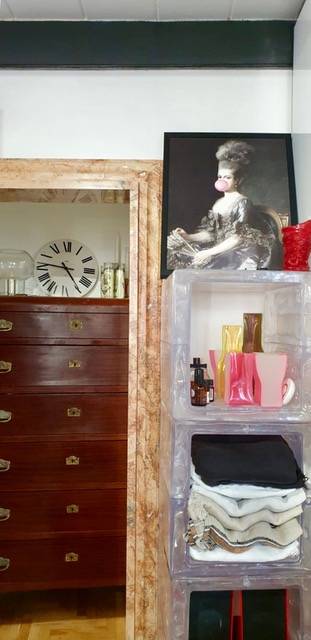 Home in Rome - About The Project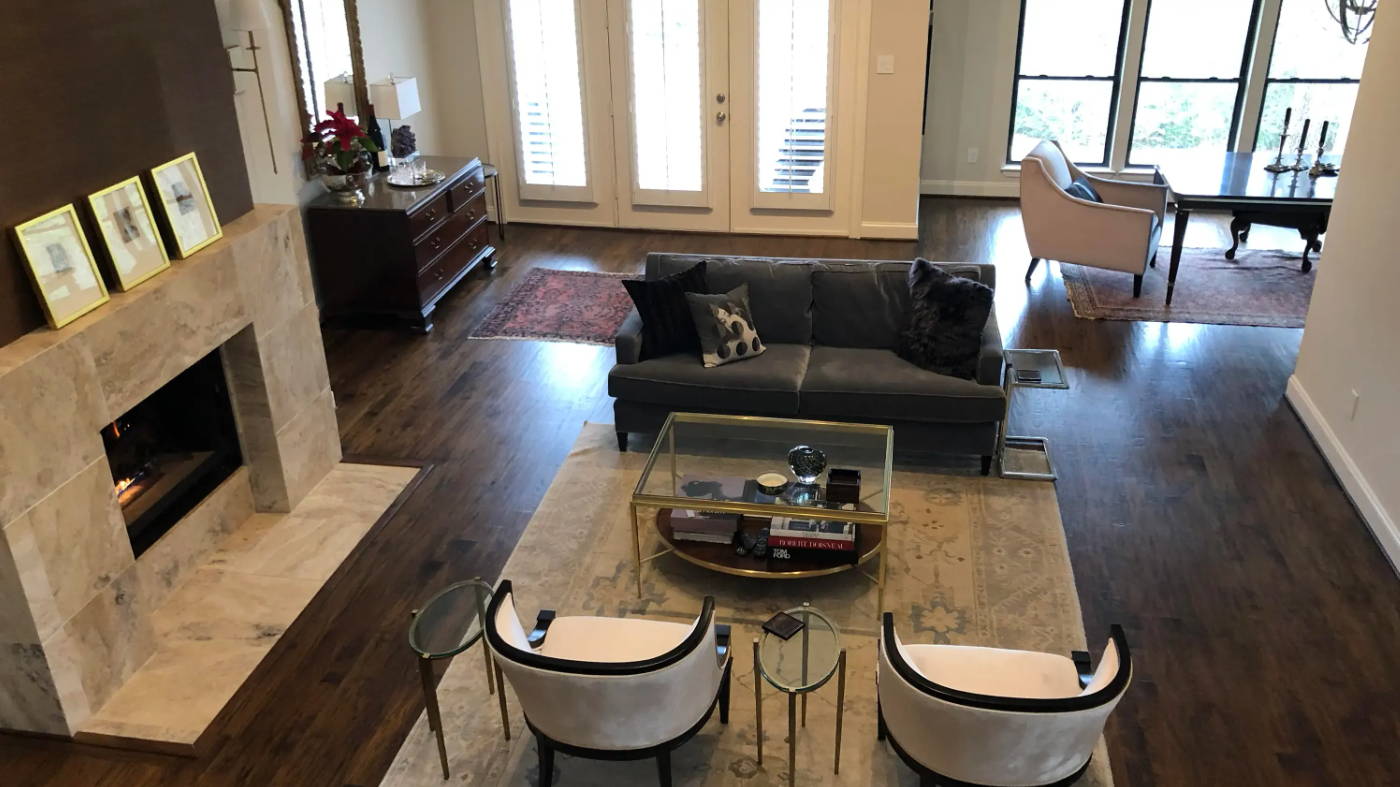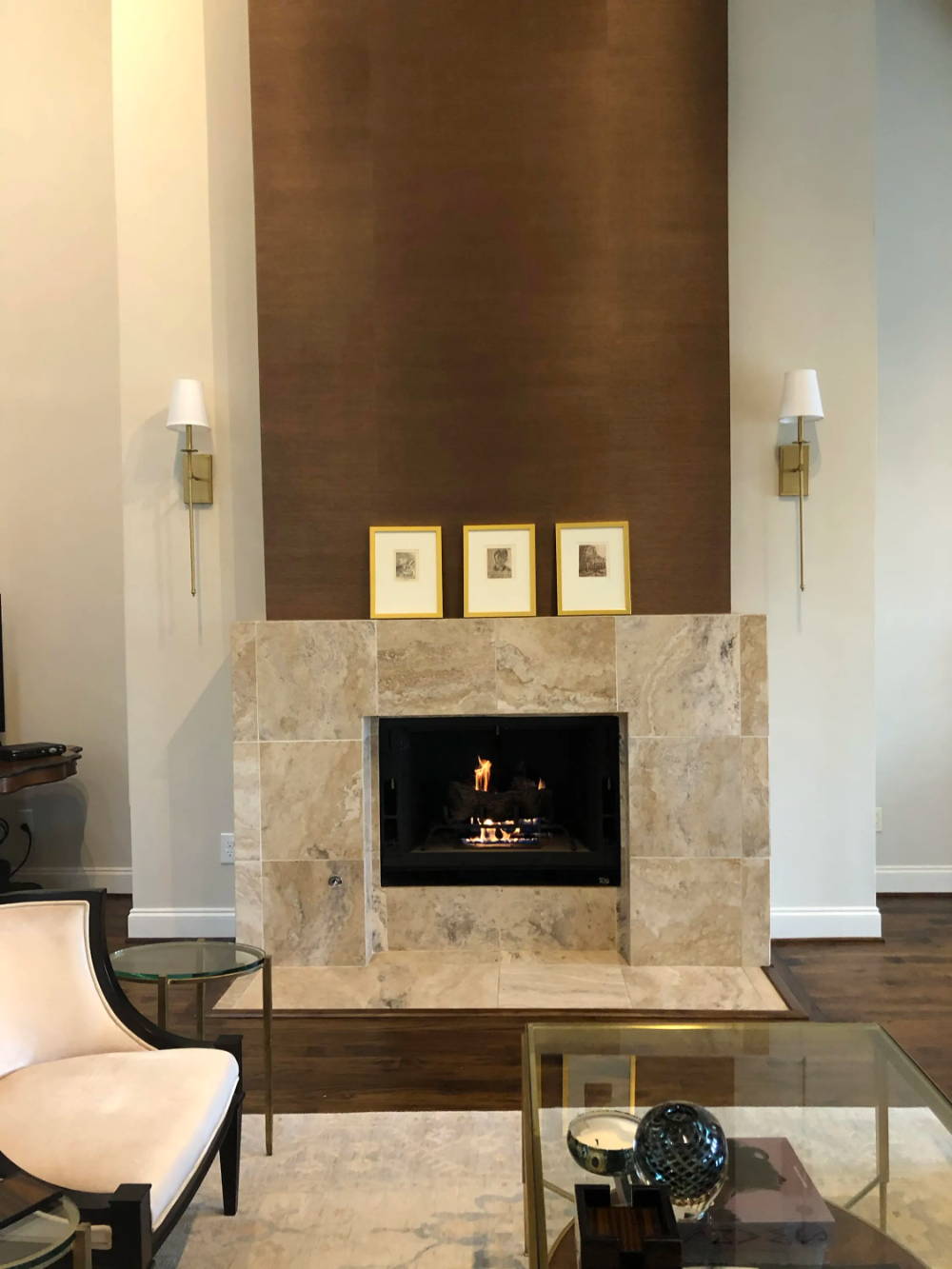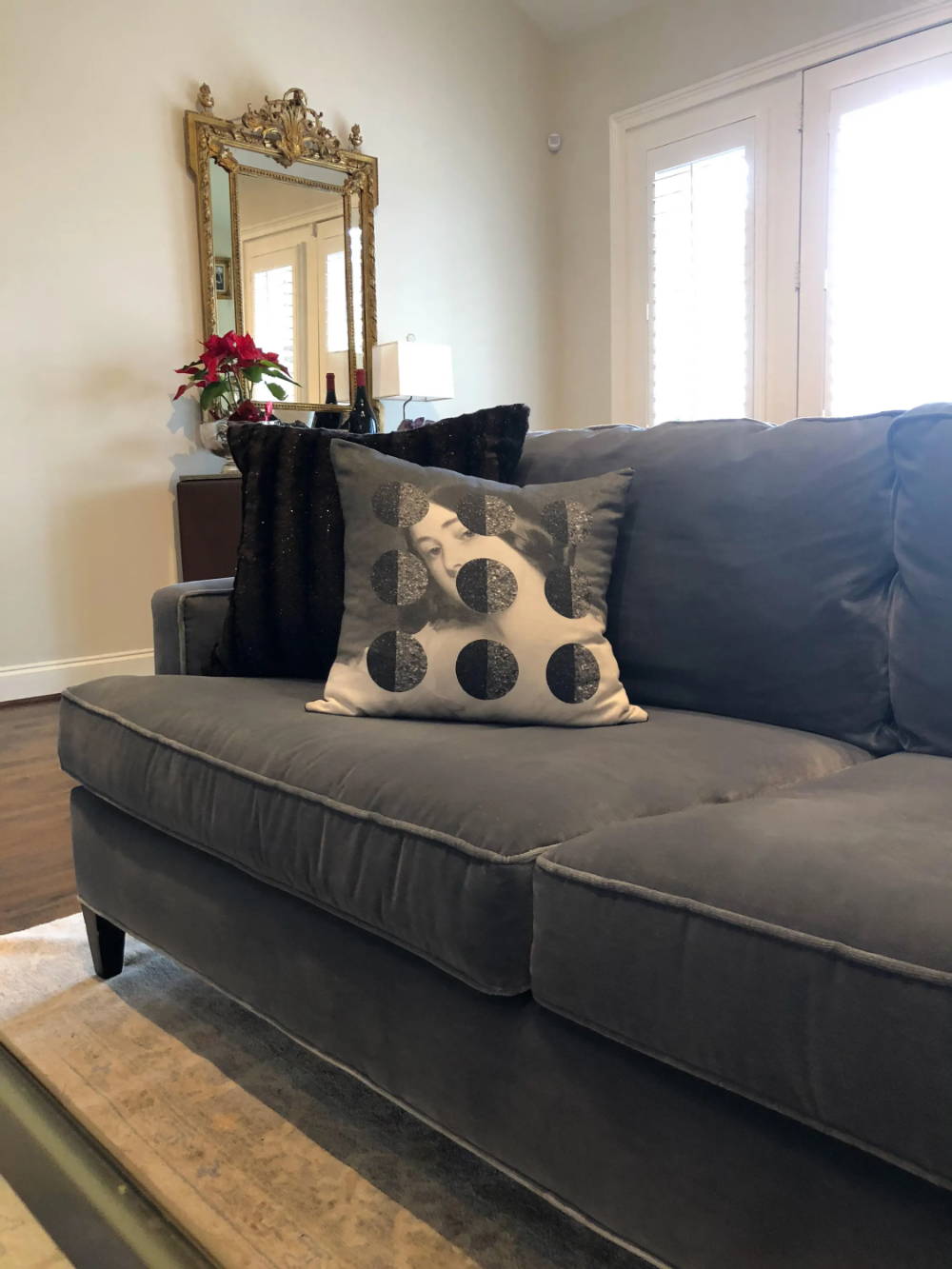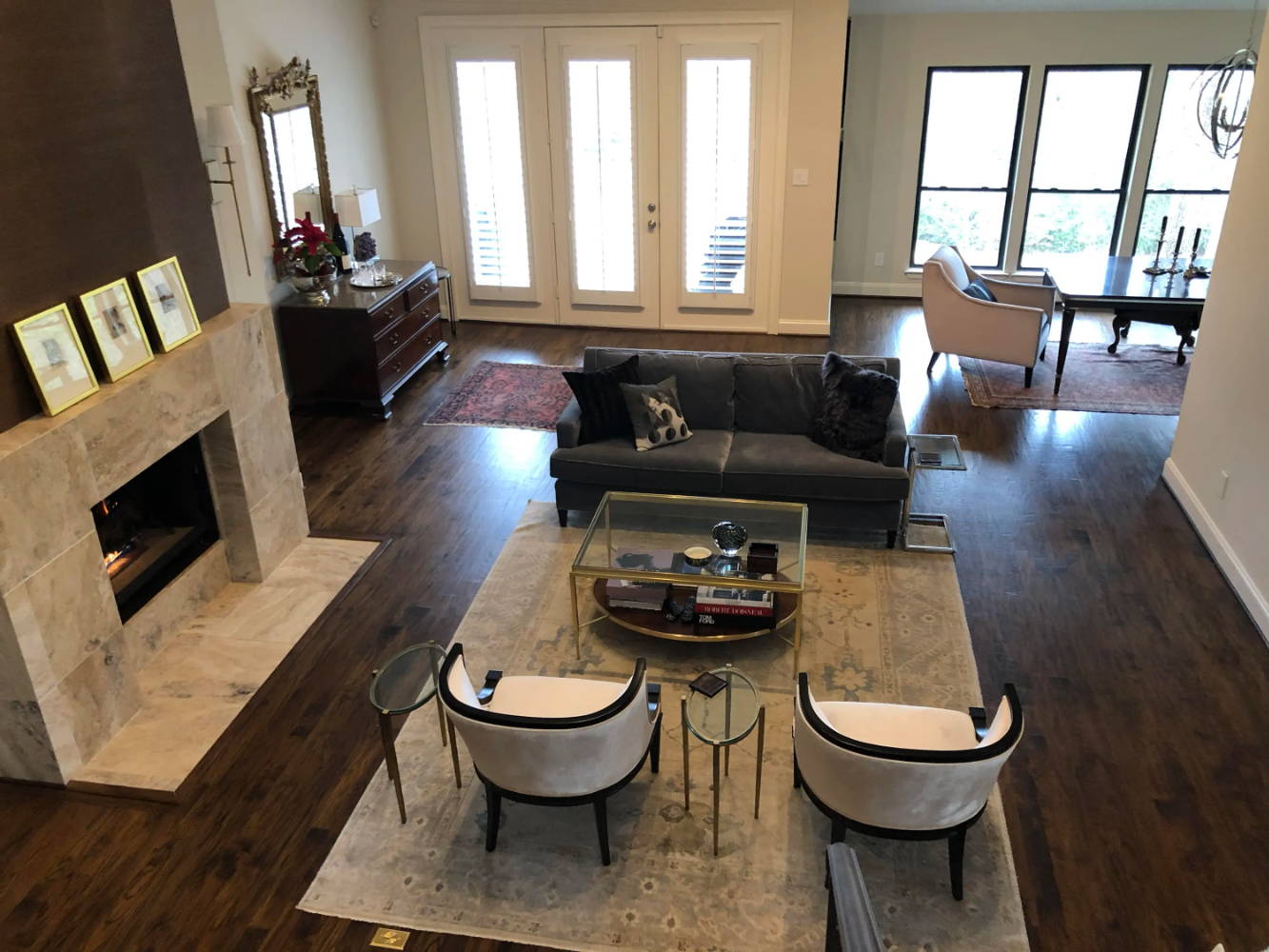 Dallas TX Project - About The Project
PURITY OF LIGHT
Designed by Courtney Price Interiors
Designs used: Blink Cushion,
Project started Dec 2020. Still in progress.
This split level home was built in the 1970s and has been modified throughout the years. Mineheart pillow is on the sofa in the living room. Beautiful trees and grass surround, providing breathtaking views from all rooms. Nature inspires the design choices, as does the purity of light. Windows, porches and skylights make this beautiful light-filled home feel like a treehouse. The project is ongoing.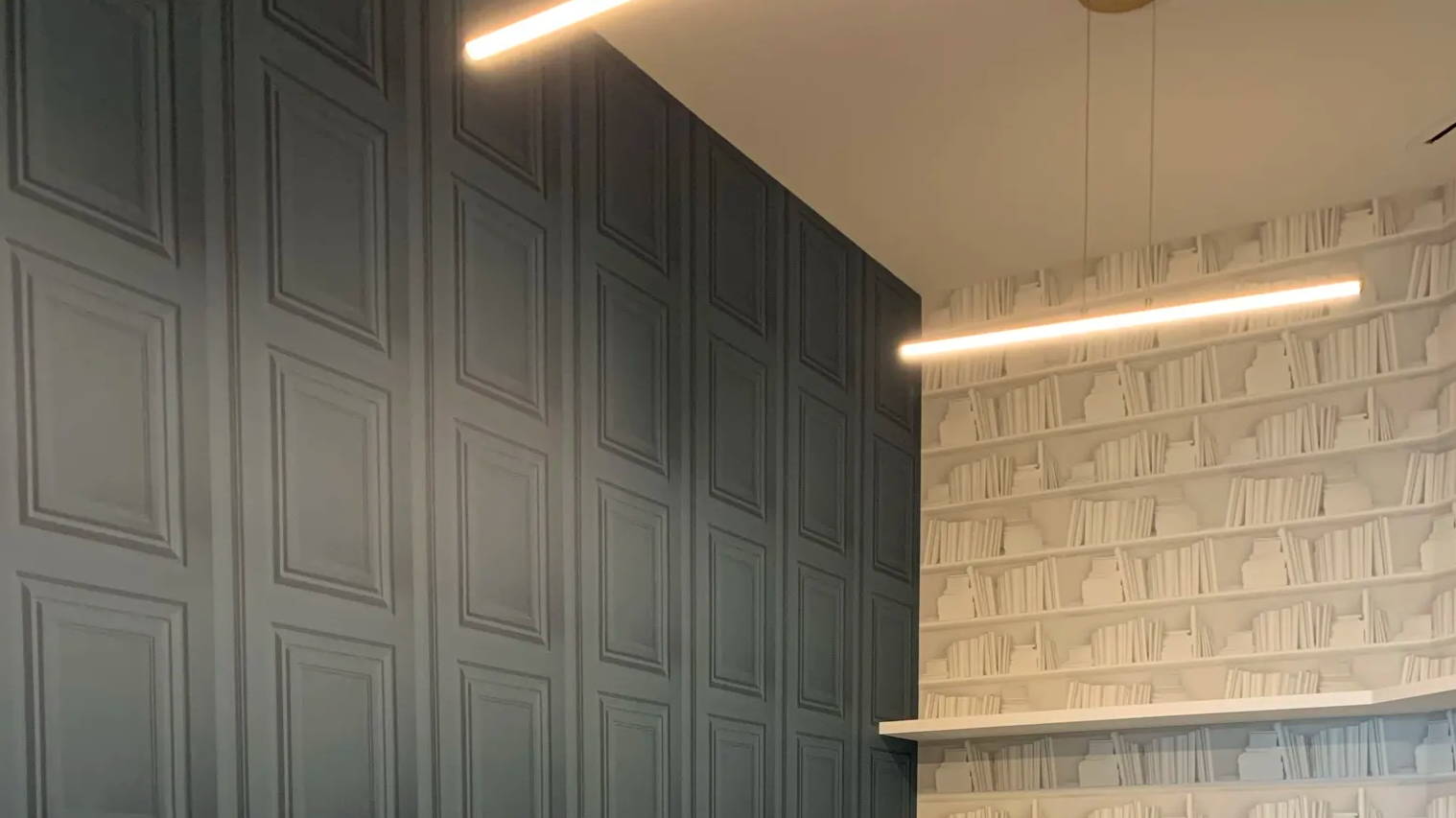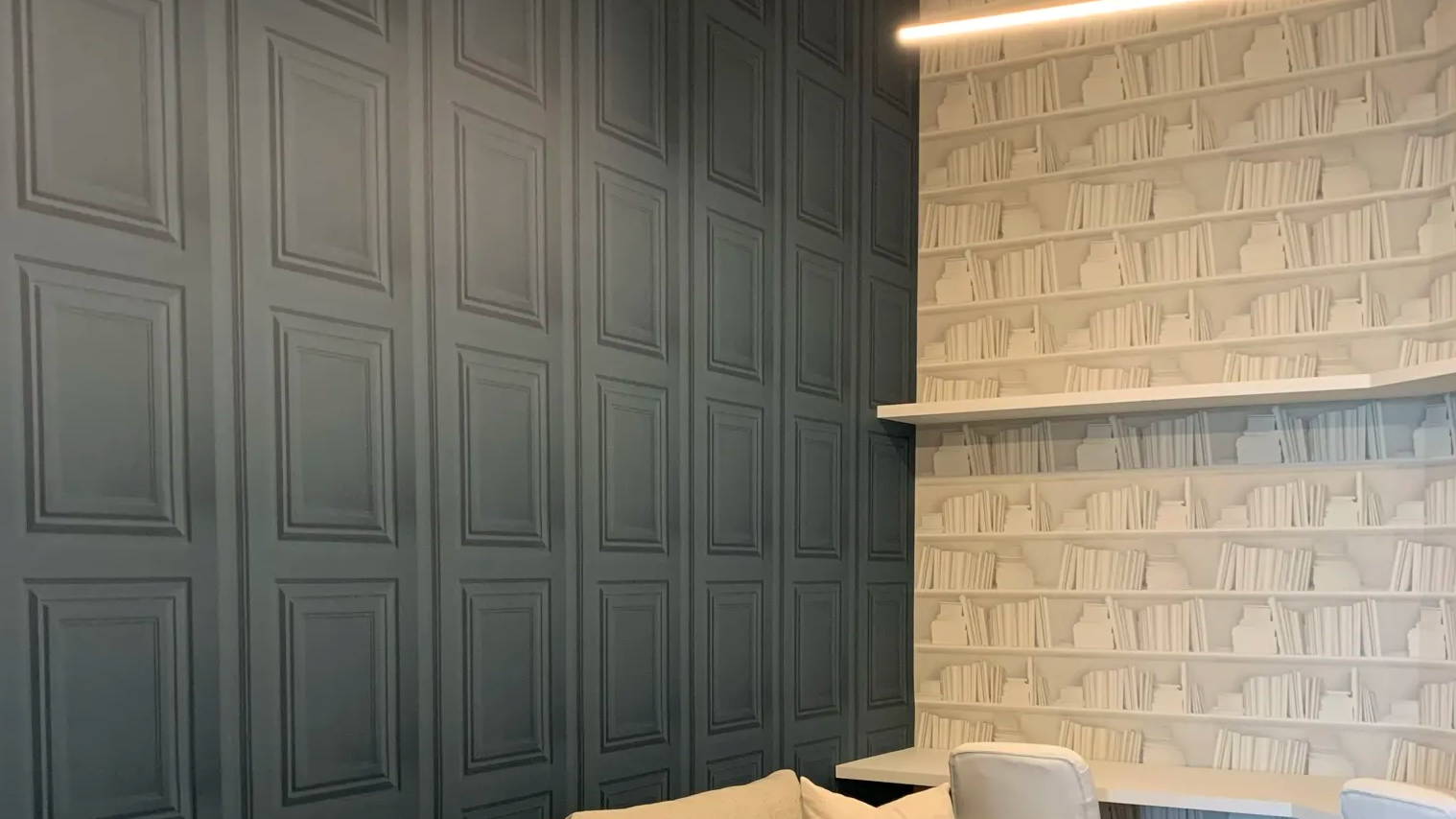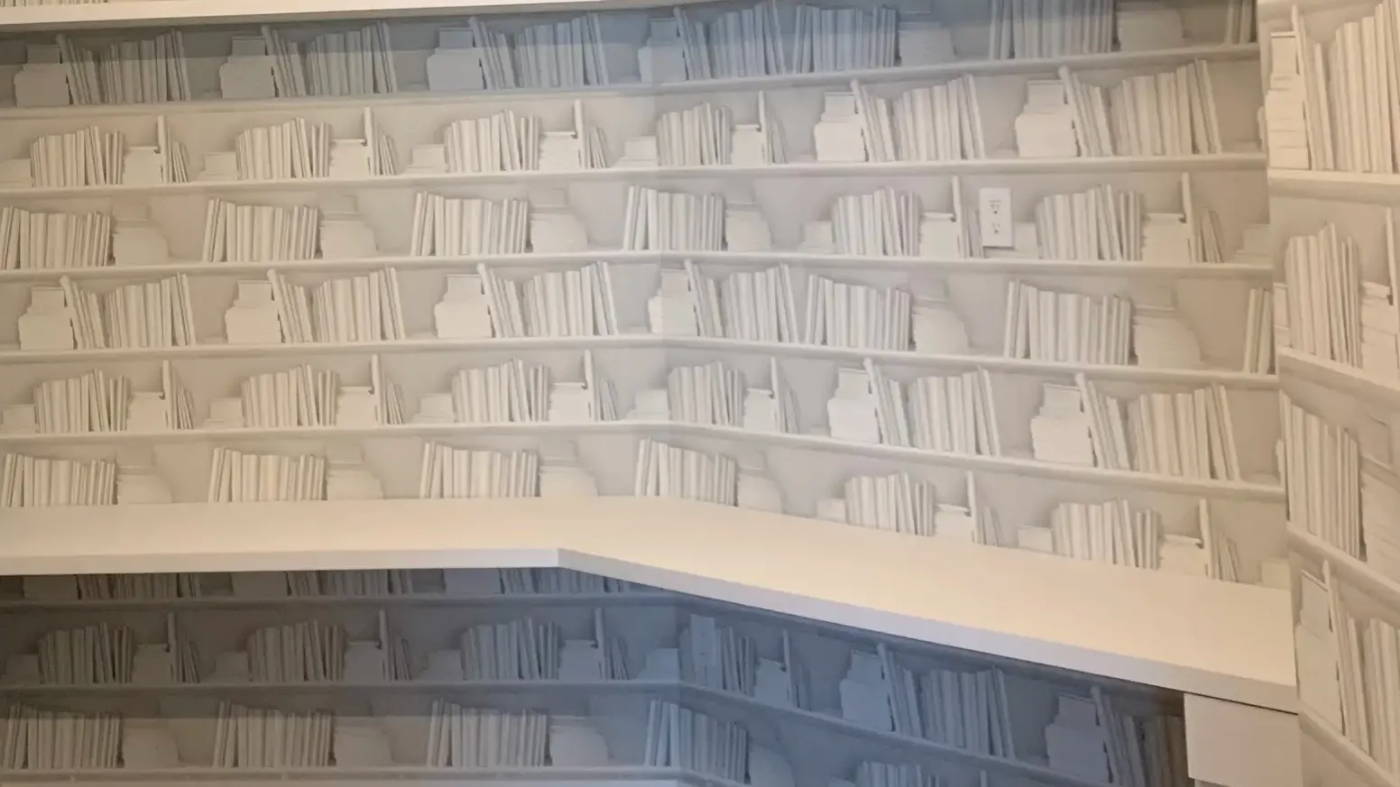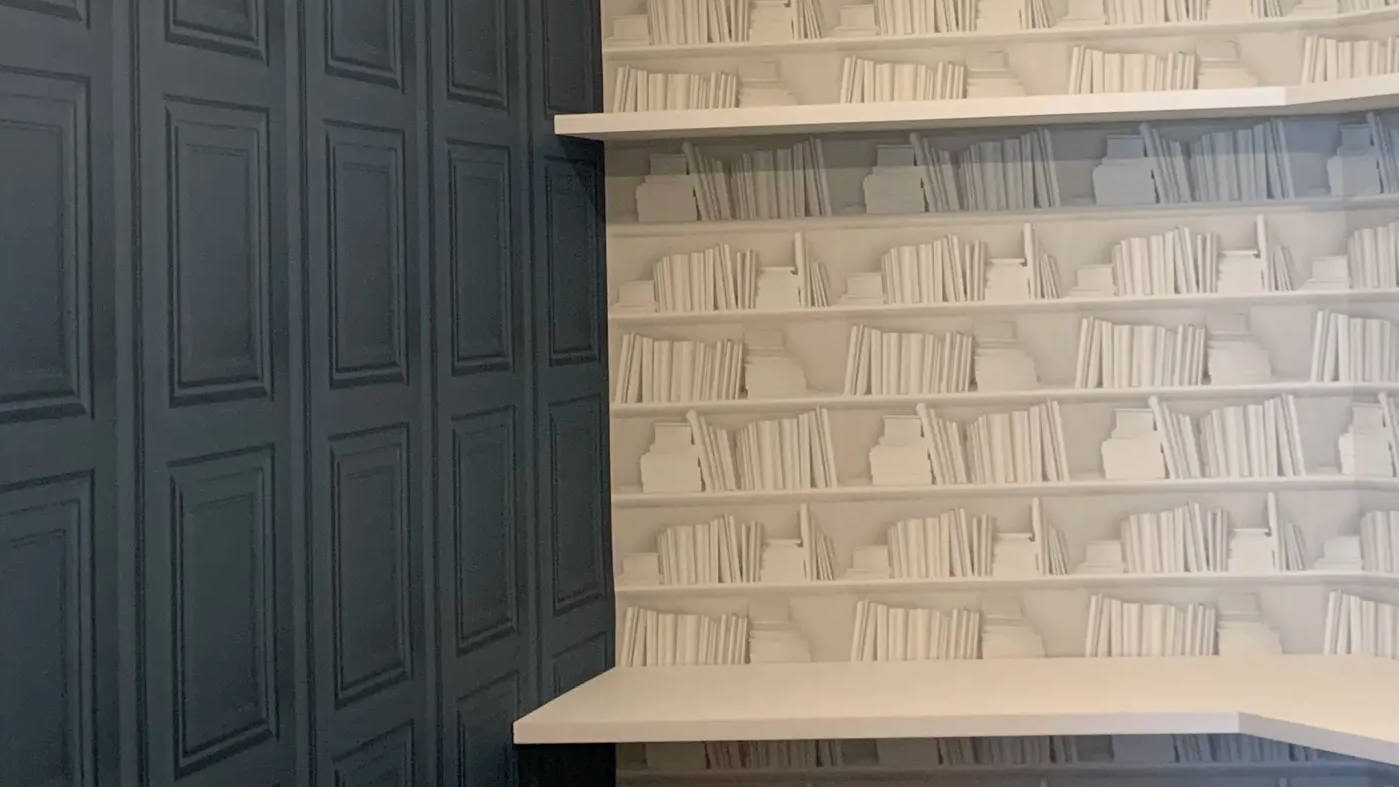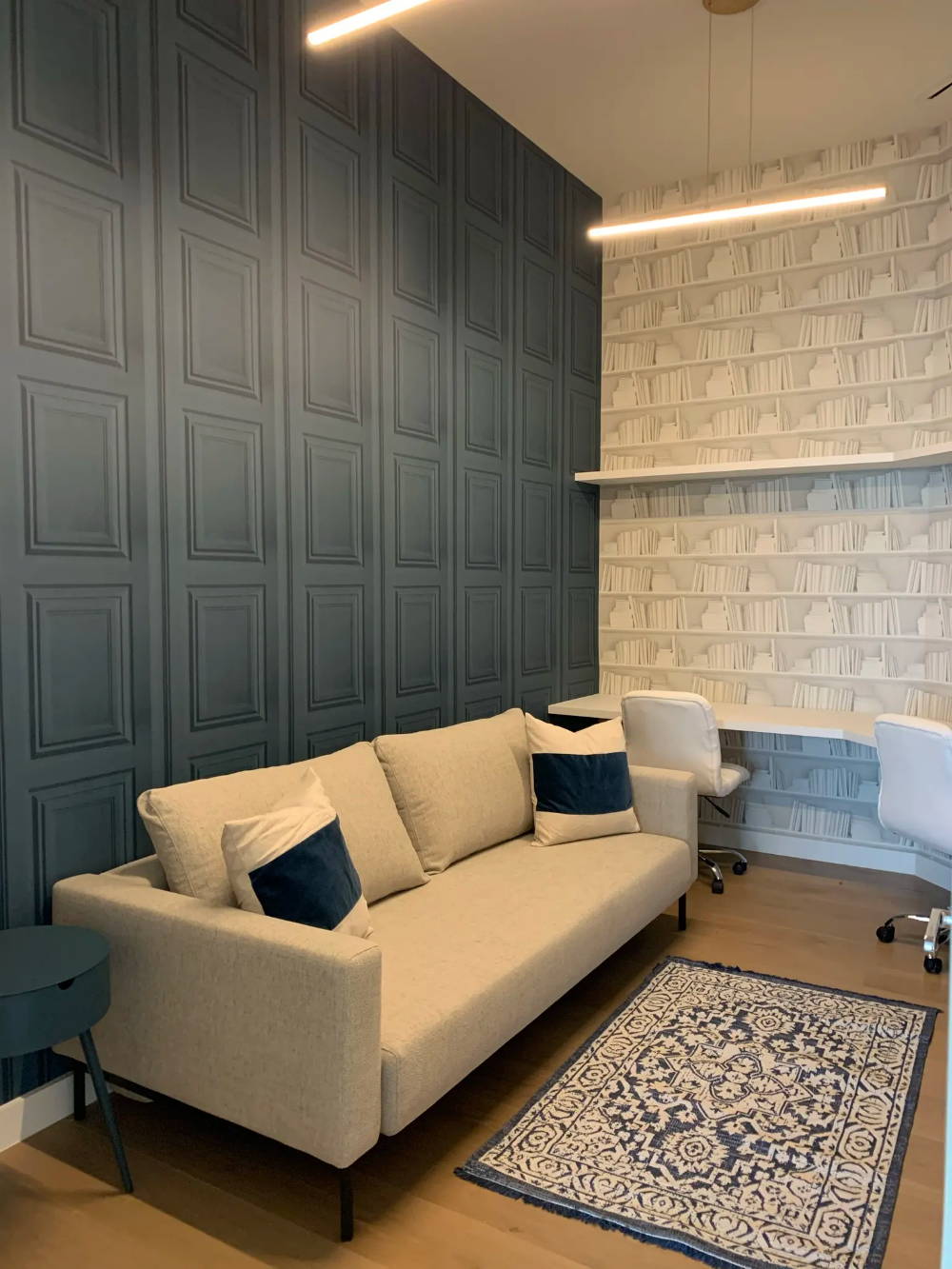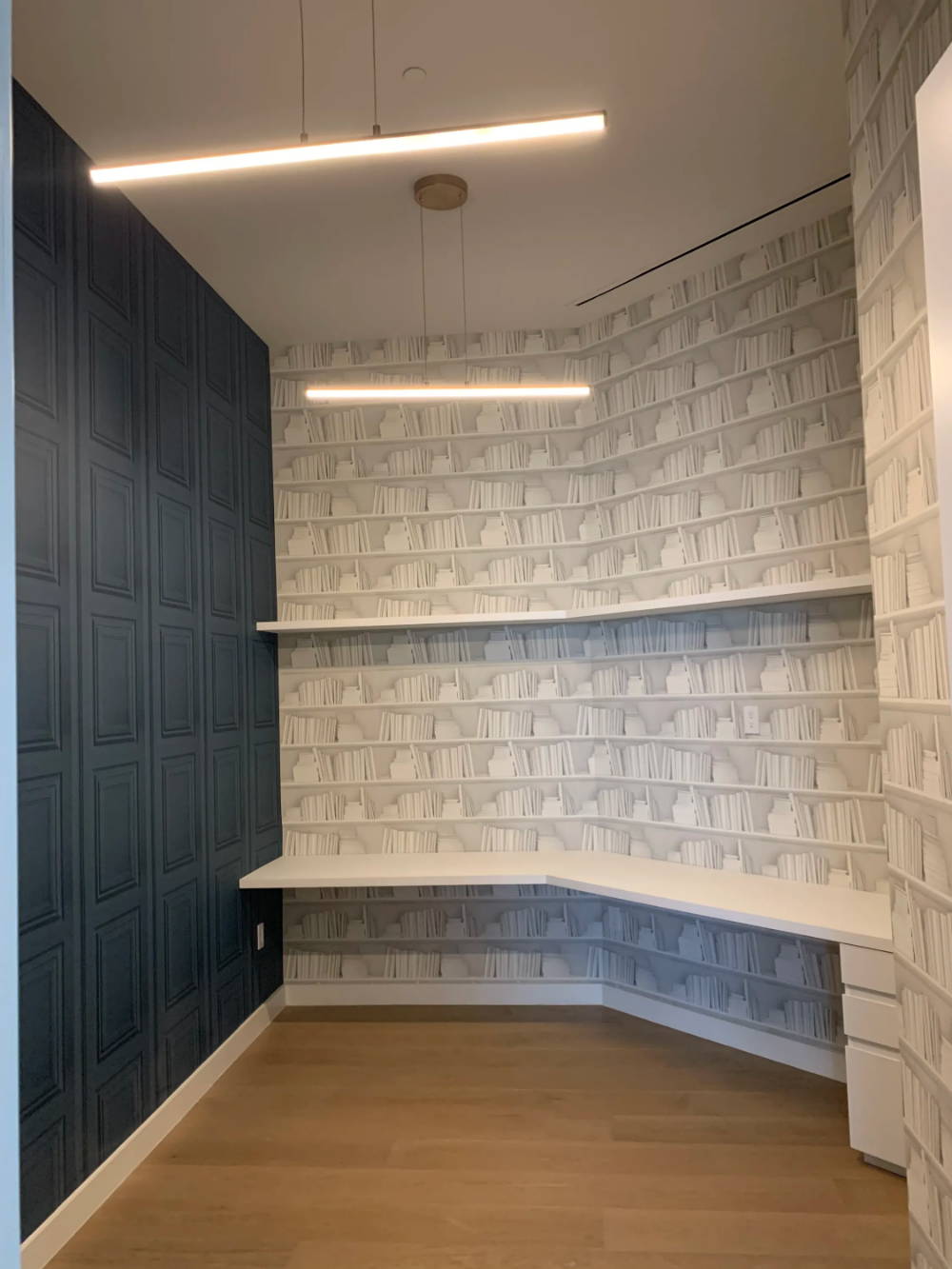 Erika Galsky Interiors - About The Project